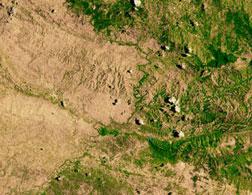 The human toll of the Jan. 12 earthquake in Haiti has been devastating, with the government reporting more than 150,000 dead in the Port-au-Prince area alone. What, if anything, does the disaster mean for the environment?
It's a small solace, but the terrifying 7.0-magnitude earthquake seems not to have caused any major, immediate damage to Haiti's ecosystem. According to Asif Zaidi, operations manager of the U.N. Environmental Program's Post-Conflict and Disaster Management Branch, there has been one small spill neara coastal oil terminal, some minor warehouse fires, and a few small landslides close to Port-au-Prince, but nothing that requires a significant emergency response.
As the situation stabilizes, clearing away the waste and debris will become an urgent priority. It's too early to estimate just how much building rubble must be moved, but considering that 80 percent to 100 percent of the structures in some areas were destroyed, Zaidi says it's likely to be "a staggering amount." Some of the demolition material, like steel and iron bars, can be salvaged and recycled; the rest can be crushed and used for rebuilding roads. (Ideally, debris management will also provide employment for many local workers.) The growing amount of medical waste, particularly from makeshift tent hospitals, is also an increasing concern: At the moment, it's unclear whether there are any safe disposal options for this hazardous material. Public-health experts are also worried about all the human waste generated by survivor camps.
However, the earthquake is only the latest wrinkle in a much longer environmental saga. Even before this most recent disaster, Haiti was being described as a nation on the brink of ecological collapse.
The country's most pressing, and visible, problem is rampant deforestation. In 1923, forests covered 60 percent of the country; by 2006, they covered less than 2 percent (PDF). Though logging in the area dates back to the late 17th century, when the French cleared vast swathes of virgin forest to plant sugarcane, cotton, and coffee, most of Haiti's remaining trees are now being chopped down for fuel: Firewood and charcoal currently supply 75 percent of the country's energy demands. Poverty exacerbates the problem, since wood-derived charcoal is often the most profitable commodity that can be eked out of the land.(Dwindling supplies and a high demand for charcoal have led to a rash of cross-border smuggling out of the Dominican Republic.) Satellite images of Hispaniola, the island Haiti shares with the Dominican Republic, provide a stark illustration of just how bad the situation is.
Those ripped-out trees and vegetation are not only an environmental concern but also a safety hazard: Loss of forest cover can make some natural disasters even more dangerous than they would be otherwise—a major concern in the hurricane-prone Caribbean. Trees help buffer high-velocity winds, and their root systems stabilize topsoil, increasing the ground's ability to absorb precipitation. Loose topsoil and lots of rain make for dangerous mudslides and flash floods, as witnessed during the four devastating storms that battered Haiti in 2008. Chronic erosion, coupled with unsustainable, intensive agricultural practices, also makes Haiti's mountainous landscape even less arable than it already was—and that contributes to food scarcity, which worsens poverty, which in turns speeds up the rate at which trees get cleared.
So far, it's unclear whether the Jan. 12 earthquake and its aftershocks have shaken loose more soil, but further damage to the land remains a distinct possibility. The one saving grace is that the rainy season is still several months away—so landslides and flooding aren't an immediate danger. However, as residents of urban Port-au-Prince stream out into the countryside, some experts fear that logging there will intensify.
Something good might come of all this. Now that Haiti has the world's attention—and some of its money—this could be the opportunity the country needs to make long-term capital investments in things like safer, sturdier buildings or the introduction of new, non-wood-based fuel technologies. In any event, Haiti won't be starting from scratch when it shifts from short-term crisis management to long-term environmental planning. Though the 2008 storms were undoubtedly catastrophic, the quadruple-punch of Fay, Gustav, Hanna, and Ike energized attempts to revive the country's ecology and economy. In the wake of those storms, the Haiti Regeneration Initiative—a coalition of U.N. agencies, government entities, NGOs, and technical institutes—came together with a 20-year mission to develop natural resource management programs aimed at reducing poverty and restoring the ecosystem (which includes Haiti's degraded coastlines and coral reefs). The challenge now is figuring out how to incorporate earthquake-related reconstruction into Haiti's overall rehabilitation plan—but at least there's an infrastructure in place to help guide the process, which wouldn't have been the case just a few years ago.
Is there an environmental quandary that's been keeping you up at night? Send it to ask.the.lantern@gmail.com, and check this space every Tuesday.
---