For criminy's sake. What is it with people and all the rending of garments over the impending doom of NASA?
First:
1) The reports of Spirit's death are greatly exaggerated.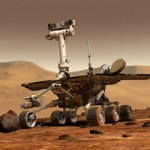 OK, yes, Spirit is now stuck. It looks like even if it survives the Martian winter it may no longer be able to traverse the Red Planet's landscape. But that doesn't mean it's dead. Instead of a rover, it's now a stationary platform capable of doing a lot of science on the cheap (since most of the cost was getting it there).
If you'd rather not have a lander sitting on the surface of Mars doing science that we simply cannot do from millions of kilometers away on Earth, then fine. But astronomers and scientists and science journalists should know better. Stop saying it's dead.
[And I can picture Opportunity on the other side of Mars, waving its mast frantically, saying, Hey, remember me? Still moving, still doing cool stuff!]
Next, and more importantly:
2) The reports of the manned spaceflight's death are greatly exaggerated.
OK, yes, it does look like (assuming the rumors are true) the Obama budget for NASA is cutting out the Constellation rocket program in general and Ares in particular. But that doesn't mean manned spaceflight is dead.

As I said in that above link, private space companies are still a ways off from putting people in orbit. However, I strongly suspect they'll be doing it before Ares would've been ready to do it anyway. Private companies like Space X may be two years from that, while Ares wouldn't have been ready for five, assuming NASA could even get Ares ready by the scheduled time and in the assigned budget (which I would give a chance of, oh, say, precisely 0). So it's possible, perhaps even likely, that after the Shuttle retires later this year (or early next) companies like Space X will be able to reach the International Space Station with rockets before NASA could.
As far as going back to the Moon, we still don't know exactly what the budget for NASA will be like, but it was made clear in the leaked reports (again, assuming they are true) that money will be spent to look for a better heavy lift vehicle than Ares. No specifics were given (though the Commercial Spaceflight Federation says it may be 6 billion bucks, a huge chunk of change), so let's wait until we actually see the report, hmmm?
Also, a lot of folks thought Ares was a waste of time, money, and with little or no chance of working well. Heck, the Space Frontier Foundation praises the killing of Ares! So not only is it unfair to lament the death of manned spaceflight, some people think – with some evidence, mind you – this will spur it on even more.

That last sentiment rings true to me. NASA's manned program has been endlessly circling the Earth for almost 40 years now, with no real end in sight. I don't have a lot of faith, so to speak, that Ares can do the job in breaking this cycle. I suspect a lot of the same folks who are decrying this move by Obama are the same ones who would be first in line to say that NASA has had its wings cut for decades now, making one bad decision after another when it comes to space exploration. Maybe it's time – maybe it's long after time – that we let someone else have a stab at this.
When I look at the Moon, I see a place where people will one day work, live, breathe, play, and explore. I also see that future receding two years for every year NASA doesn't have a rocket to go there, and I've been watching that movie play for many years now.
I'm tired of it. When I look out my window now I see a future I've been dreaming of my whole life, a future that seems just out of my reach. When my children, my grandchildren, look out their windows in that future, y'know what I want them to see?
The blue-green crescent Earth hanging in a pitch black sky over a cratered horizon.
Let's give space a chance.