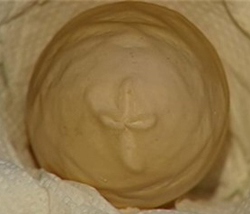 A couple living a bit south of Fort Worth, Texas, are claiming that a cross found on an egg laid by a chicken on their farm is a sign from God.
OK.
You can see the egg there on the right. I have some comments… like, if this is a sign from God, wouldn't the cross have looked better? The proportions are off from the way the cross is usually depicted. The arms are curved too. Held sideways, it looks more like a seagull in flight. Even right side up it looks more like a saguaro cactus.
Also, note the egg itself. Yegads. It's wrinkly and folded. Any chicken ranchers out there seen eggs like this? I've seen my share of home-grown chicken eggs, and they've never looked like that. But be that as it may, given the wrinkly nature of the egg shell, a cross at the tip isn't all that suspect.
This is the first time I've heard of someone seeing a random cross pattern and claiming it's a divine sign. Frankly, I'm not surprised; a cross is too simple a shape, and you can see them everywhere. Plus there's something about a face that grabs our attention. We're genetically wired to recognize faces, so when we see them outside of a head we tend to take notice. But a cross? A Mogen David would be a little more convincing.
And for those of you who will give me the usual hand-wringing comments taking me to task for arrogantly trying to take away someone's token of spirituality: you've missed the point. I think it's a wee bit more arrogant to think that a divine omniscient omnipresent omnipowerful timeless spaceless being would send you, personally, a sign. Especially on an egg. Or an oil stain, or wood pattern, or dew, or a thin film interference pattern.
So, as always, I will point you to this. Tip o' the infundibulum to gdarklighter. Image credit: KTVT/KTXA
---