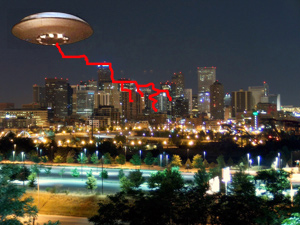 Hey, remember the reality-impaired guy in Colorado who claims to have a really amazingly cool video of an alien peeping Tom but won't show it to anybody and also claims that Aliens Are Among Us and that we need To Take All This Very Seriously?
No? Well, maybe this will remind you, or this.
So yeah, Jeff Peckman is in the news again: he's collected enough signatures in Denver to get a ballot initiative up for vote, enabling the creation of a Denver Extraterrestrial Affairs Commission. Yes, an actual commission to investigate UFOs.
Now, I'm not going to say this would be a complete and utter waste of money… oh wait! Yes I am.
Sadly, since he did get enough signatures, this will go to the citizens of Denver to vote on. He claims he can fund this 7 member commission using private grants and it won't cost the government anything, but that's ridiculous: just having them testify to the government, heck, just setting up the vote, will cost money ($100,000 according to the article linked above). Not to mention the colossal waste of time.
Oh wait! I mentioned that too!
Anyway, my mocking here is complete (unless Denver actually votes this thing up), so I will relegate you to the tender mercies of one Karen Stollznow, an ex-pat Australian Skepchick who is far less polite than I am about all this, if you can imagine.
But, I wonder: if this commission does get set up, will they take people from Boulder? Hmmmm.
---