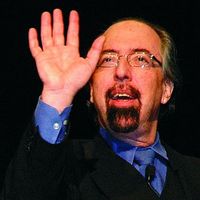 I just found out that my friend, fellow skeptic, multiple TAM speaker, and top-notch magician Jamy Ian Swiss will be performing his Heavy Mental show on Saturday at the HQ for the American Association for the Advancement of Science (!) in Washington, DC. I've seen this act before, and it's a terrific mentalism performance. The show starts at 7:30 p.m. on October 24.
Also, earlier that day at 1:00, Jamy along with my friends and fellow skeptics D. J. Grothe and Chip Denman will be doing a lecture/workshop called "Science, Magic, and Skepticism: A Natural Relationship". They've been doing this together for quite some time and it gets rave reviews. You'll learn a lot about critical thinking if you go.
If you're in the DC area on Saturday and looking for something to do, then this is what you want. For a taste of Jamy's abilities, check out this video interview I did with him at TAM 5.
---