I have a pretty strong stomach when it comes to gore, violence, and such. I've watched the movies, I've seen a few things in real life, and basically you can give it to me straight, doctor, I can take it.
But this totally and whole-heartedly freaks me the hell out.
BEFORE YOU CLICK THAT LINK, let me warn you: seriously freaky deaky stuff. It's a rendering of Homer Simpson as if he were a real, live person. I'd post the picture here myself, but it seriously freaks me the hell out.
You have to understand. When I was a wee lad my brothers and sister liked to watch a scifi TV show called "The Outer Limits". This is not the terrible, terrible, terrible remake from a few years ago, but the original, in black and white. They would watch it in the living room, and I would want to watch it, I really would. But, being like 3 years old at the time, the show scared the bejeezus out of me. Even now, oscilloscopes showing sine waves send me into fits of terror.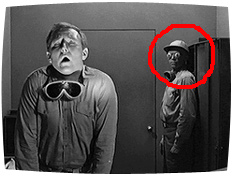 But nothing really touched the raw nerves of my soul with a hot wire like the episode "The Mutant". In that episode, a man gets mutated by radioactive rain, and he loses his hair and gets these huge bulging eyes… and the sight of him profoundly terrified me as a kid. I saw the mutant in that episode and ran screaming from the room. But inevitably, hypnotically, I would come back in, drawn like a moth, but then the mutant would come on screen, and I would dive behind the couch.
I was seriously freaked out.
And now someone comes along and takes one of my favorite characters of all time and turns him into the one remaining thing in this Universe that actually and supernaturally freaks me the hell out. Perfect.
For what it's worth, years later, I found a picture of the mutant in a scifi mag. It looked like a guy with fried eggs stuck to his face. I laughed, and despite the decades of gulf separating me from that frightened kid, I felt like a fool. I guess it's true: you can't go homer again.