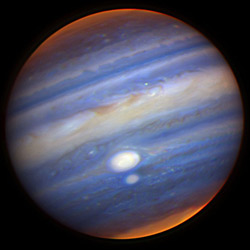 Yeah, you know Travis Rector: he makes pretty pictures. In fact, in my opinion, he made the prettiest picture of 2007! He also put together the image of Jupiter you see here.
He is a master of astronomical photography, and has the very enviable job of taking images off of various professional telescopes and creating the epic beauty we've now come to expect from astronomy.
As it happens, he was in the press room at the American Astronomical Society a few minutes, and mentioned he has a gallery of his images! W00t!
I surfed through it, and he has a great selection of fantastic images of astronomical objects, as well as panoramas of more earthly delights as well (check out the shadow of Kitt Peak at sunset).
You can also subscribe to his site so that you'll get a notice via email when he updates it. So go there and poke around; you'll be very glad you did.