Astronomers announced today that the star 55 Cancri – known to have had a system of planets for some time – is now known to have at least five planets orbiting it. The existence of a fifth planet was just confirmed.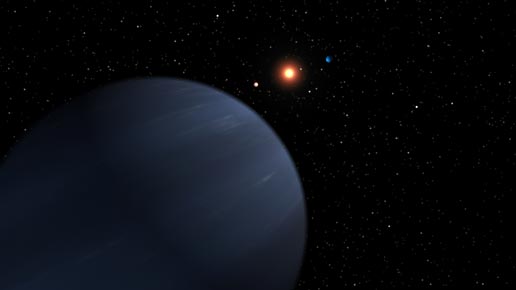 Artist's illustration of the newly discovered planet orbiting 55 Cancri.
This is extremely cool for several reasons. For one, 55 Cancri is a sunlike star– it has roughly the same mass and age as the Sun. This means that systems like this might be common for stars like the Sun. Moreover, 55 Cancri is pretty close by: 41 light years, a short walk as far as the Milky Way is concerned (the MW is 100,000 light years across). Finding a system so close implies that they are common throughout the galaxy.
Second, this newly-discovered fifth planet orbits 55 Cancri in 260 days at a distance of 116 million kilometers, putting it smack dab in the "habitable zone" of the star. In other words, a normal run-of-the-mill planet at that distance will have a temperature range likely to include that of liquid water. This does not mean it has water, or life, or is earthlike in any way! It just means that it's in the right spot, which is an important, but not sufficient, condition for water.
Most likely this is another gas giant planet; its mass is 45 times that of Earth. This is half the mass of Saturn and twice that of Neptune, so that makes it a giant. So it won't have life as we know it, most likely. However, gas giants tend to have big moons, and in our solar system they can be as big as Mercury! It's not too much of a stretch to imagine a large moon around this planet orbiting 55 Cancri that might look a lot more like Earth. There's now way to know now– our tech is nowhere near good enough to detect any moons around the planet, let alone get an image of them. Someday…
I'll add that that some news articles online will breathlessly call this an earthlike planet; it's not. Let's be clear about that right away. It's a giant, probably more like Neptune.
Still, this is extremely cool. No other star is known to have this many planets. Most planets that have been discovered, in fact, have giant Jupiter-like (or bigger) planets orbiting close in to the star, and models of how they form indicate it's unlikely those systems would have lots of other planets; the big planet would have tossed them out of the system. So seeing a system with five planets (and they all have roughly circular orbits, too, indicating a lot of stability in the system) indicates that our own solar system is not unique. There is at least one more out there… and all the indicators point toward there being more systems like this out there. A lot more.
Incredible. In 1995 we didn't know if there were planets at all orbiting sunlike stars, and here we are, barely a decade later, finding entire solar system analogs around nearby stars. This news is so exciting!
The next step is to find more like this, of course, and to keep banging away on this and other stars to find lower and lower mass planets. The goal is to find a planet that has roughly Earth's mass (I'll be happy with twice our mass) in the habitable zone of a nearby star. When that happens… well, won't that be a day?
I'll note that it took 18 years of observations to nail down this planet, because it was so hard to detect. The labor that went into this is phenomenal. We keep looking, and we keep learning more, and we keep finding cooler stuff the more we look. That's what this is all about.
Note: Sorry if email and feed readers got this sent to them more then once. An ad was overlapping the image, and I had to edit the entry.