On March 17, Colin Kaepernick celebrated the success of a joint effort to prod Turkish Airlines to fly 60 tons of food and aid to people in Somalia. That same day, Bleacher Report's Mike Freeman reported that, in the words of an anonymous NFL executive, a good proportion of league decision-makers "genuinely hate" the anthem-protesting quarterback "and can't stand what he did. They want nothing to do with him. They won't move on. They think showing no interest is a form of punishment. I think some teams also want to use Kaepernick as a cautionary tale to stop other players in the future from doing what he did." Three days after that, the president of the United States bragged in the third person that "NFL owners don't want to pick [Kaepernick] up because they don't want to get a nasty tweet from Donald Trump."
Five months later, Kaepernick—who threw 16 touchdown passes and just four interceptions for the San Francisco 49ers last season—remains unsigned, just as Trump predicted. Back in August 2016, when Kaepernick made the simple, radical decision to stay seated for "The Star-Spangled Banner," nobody noticed or cared. When reporters finally asked him about it a few weeks later, the quarterback explained he was protesting police brutality and noted that in some jurisdictions cosmetologists get more rigorous training than cops. Kaepernick's on-field demonstration, and his explanation for it, spawned a level of hatred—Exhibit A: Tomi Lahren's vow to "eviscerate [Kaepernick's] mouth diarrhea"—beyond even what New York Jets fans direct toward their team on Sunday afternoons. At the same time, he won the grudging respect of then-President Barack Obama and earned plaudits from a huge proportion of the press and pro football fans, who made his jersey the top seller in the league's online shop.
Colin Kaepernick can't reasonably be described as an unpopular figure. He is a uniquely polarizing one. One year after he began his protest, Kaepernick has won with the media and lost with the man. We should not be shocked that a league that polices players' touchdown celebrations would not abide a quarterback who took a knee for social justice. The NFL has always been and will always be a redoubt for reactionaries. It is also a closed system, one controlled by billionaires whose views are much further outside the mainstream than Kaepernick's.
In November, the Guardian reported that NFL owners donated 42 times more cash—$8,052,410 vs. $189,610.72—to Republican causes as compared with Democratic ones in 2015 and 2016. The Daily Beast subsequently wrote that of the $107 million raised to finance Donald Trump's inauguration, the NFL's money men chipped in roughly 7 percent, with Washington's Dan Snyder, the Cowboys' Jerry Jones, the Rams' Stan Kroenke, the Patriots' Robert Kraft, the Texans' Bob McNair, the Jaguars' Shahid Khan, and the Jets' Woody Johnson giving $1 million each. Johnson, for his part, was recently confirmed as the U.S. ambassador to the United Kingdom.
Seven months into Trump's tenure, with the president's approval rating plunging to depths that Kaepernick's never did, NFL owners remain the commander in chief's most steadfast constituents. With the exception of the South Korea–born Kim Pegula and the Pakistani-American Khan, who gave to the Trump inaugural but opposed the administration's immigration ban, every one of the league's majority owners is white, and they've been conspicuously silent as other corporate honchos have spoken up about Trump's heinous personal behavior and racist policy proposals. What NFL owners have said publicly is that Kaepernick's protest is "an emotional, emotional issue for a lot of people." That statement came from the Giants' John Mara, who said "a lot" of fans had told him, "If any of your players ever [protest the anthem], we are never coming to another Giants game." (Some Giants players discussed protesting the anthem last year but ultimately decided to continue standing.)
The disparities in how the public received Kaepernick's protest are unsurprising. A poll conducted last fall by Quinnipiac University found that 63 percent of white Americans disapproved of anthem demonstrations while 74 percent of black Americans approved. Given that the NFL fan base is much whiter than the general population—in its 2013 Year in Sports Media Report, Nielsen noted that white viewers make up 77 percent of the league's TV audience—it's not surprising that owners like Mara would hear from a lot of outraged men and women in replica jerseys. Even so, there's a risk of overselling the level of fan disgust. Consider the results of a widely misunderstood opinion poll in which NFL fans identified anthem protests as their No. 1 reason for watching fewer games. As David Dennis Jr. noted on Twitter, just 12 percent of respondents said they reduced their NFL consumption in 2016, and 26 percent of that 12 percent—a grand total of 3 percent of those surveyed—cited Kaepernick and his ilk as the reason why, placing players' protests just barely above the league's agglomerated "off-field image issues," annoyance with commercials, and the presidential election as self-reported reasons for tuning out. (After the election, NFL ratings basically returned to 2015 levels.)
Owners aren't registering the complaints of Kaepernick haters because they're the only voices to be heard. Rather, their ears are perking up because this sliver of aggrieved fans is telling the league's ruling cabal what it wants to hear.
Two weeks ago, ESPN's Dianna Russini reported that the coaches and/or personnel departments of at least two NFL teams—the Baltimore Ravens and one unnamed franchise—wanted to sign Kaepernick but had been blocked by ownership. Although the Ravens denied that owner Steve Bisciotti was standing athwart a potential contract and yelling stop, Bisciotti did ask fans at a public forum to "pray for us" as they "[tried] to figure out what's the right [tack]." Bisciotti, who said he "embraced" nonviolent protest but didn't "like the way [Kaepernick] did it," acknowledged that signing the quarterback would "upset some people," while others would be "happy that we stood up for somebody that has the right to do what he did." The Ravens, whose starting quarterback Joe Flacco is recovering from a back injury and whose backup Ryan Mallett threw five interceptions in a single practice, subsequently signed Thaddeus Lewis, who hasn't thrown an NFL pass in four years. No matter how much Baltimore fans pray, that guy is going to be worse than Colin Kaepernick.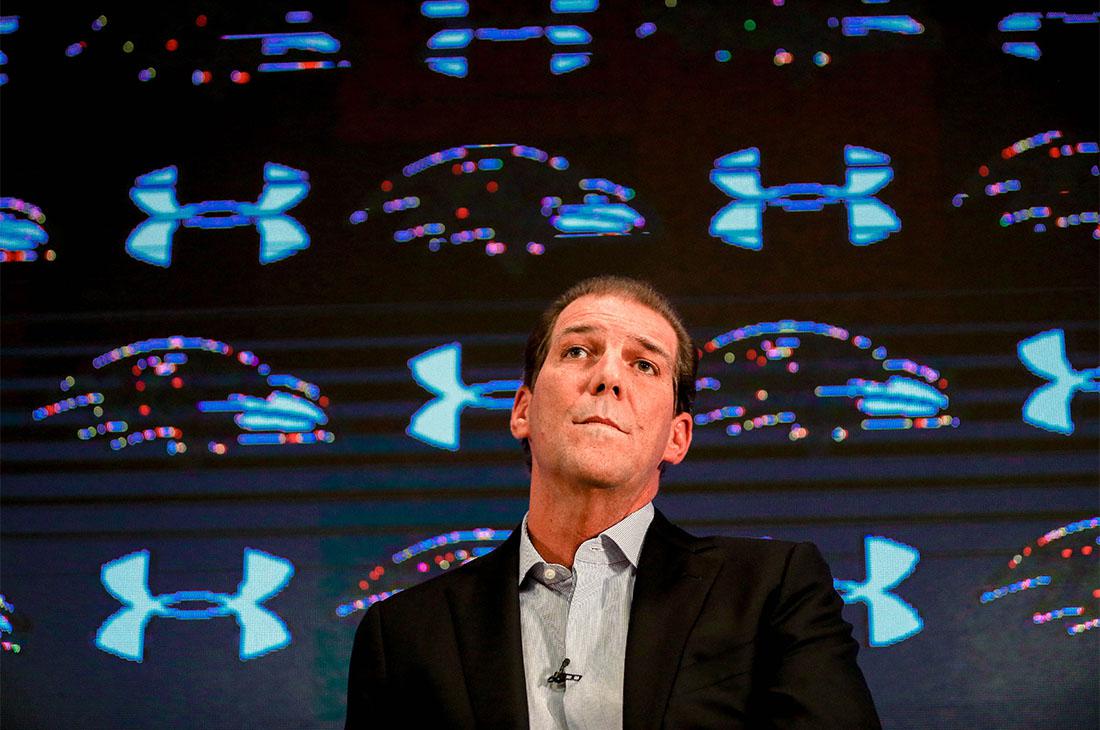 The Baltimore example is an instructive one. Bisciotti, who has given big money to Republican causes but has also shoveled cash to Democratic Sen. Tom Carper, currently employs Terrell Suggs, who has been accused of horrifying acts of domestic violence on multiple occasions. He also urged Commissioner Roger Goodell to go easy on Ray Rice, changing his public stance—and eventually cutting the running back—only after video emerged of the then-Raven punching his partner in an elevator. Suggs is on the Baltimore roster because "T-Sizzle" has been given a pass by fans and the media (likely because there's no video evidence of his alleged transgressions). Rice isn't because public opprobrium essentially forced the Ravens to rid themselves of him. Bisciotti is always going to do whatever's in his best interest. His actions make it clear that he believes it's not in his best interest to sign Kaepernick.
In late July, Dolphins owner Stephen Ross (who has publicly supported his players' right to protest) said it's unlikely Kaepernick is being blackballed, because "owners and coaches—they'll do anything it takes to win." Although this remains a widely held belief, recent events suggest there's at least one thing they won't do. Kaepernick, who opted out of the last year of his contract with the 49ers—if he hadn't exercised that option, the team was going to cut him—remains unsigned while the middling likes of Geno Smith, Matt McGloin, Kellen Moore, Case Keenum, T.J. Yates, and Blaine Gabbert (the guy Kaepernick unseated as the 49ers' starter last season) all got new deals. FiveThirtyEight put it very plainly earlier this month: "No above-average quarterback has been unemployed nearly as long as Kaepernick this offseason." Former Washington general manager Scot McCloughan says he's good enough to be a starter. So do people who've studied his film. So do people who watched Blake Bortles toss wounded ducks for the Jaguars on Thursday night.
At this point, given the cozy decision-making of the league's top poobahs—absent the discovery of some smoking-gun email, it's not technically collusion, but it certainly doesn't look great—a team that chooses to sign Kaepernick would be making the affirmative decision to grant him a spot in the league. An owner who hitched his reputation to Kaepernick's would be asserting that the quarterback had started a necessary conversation about race and policing. That owner might also explain that the quarterback pledged $1 million to charity and has followed through on that pledge, and that Kaepernick's 49ers teammates gave him the team's Len Eshmont Award for his "inspirational and courageous play." He would be making a strong political statement about freedom of expression and in defense of an athlete who's been unfairly maligned. Perhaps the Jaguars' Khan, desperate for a legitimate quarterback, would make such a statement. So far, though, nobody in an NFL owner's suite has been willing to do so. The decision to make no statement is a strong political statement itself.
It's important to note that Kaepernick remains an NFL outcast despite the fact that he will reportedly stand for "The Star-Spangled Banner" should his pro football career continue. In March, ESPN's Adam Schefter wrote that "Kaepernick no longer wants his method of protest to detract from the positive change he believes has been created" and believes that "the amount of national discussion on social inequality—as well as support from other athletes nationwide, including NFL and NBA players—affirmed the message he was trying to deliver."
That message, and Kaepernick's method of protest, will carry on without him. Players such as Michael Bennett and Marshawn Lynch have sat during the anthem this preseason. You can hear Kaepernick's passion for social justice, too, in the remarks of Nick Novak and brothers Chris and Kyle Long, white NFL players who hail from Charlottesville, Virginia, and who have denounced the white supremacists who descended on their hometown. And though LeBron James started to find his voice before Kaepernick found his, the country's most famous athlete began to speak out more consistently and forcefully after the quarterback took a knee. "I have this platform and I'm somebody that has a voice of command," James said at a charity event on Tuesday night, speaking about the events in Charlottesville, "and the only way for us to be able to get better as a society and us to get better as people is love."
Kaepernick was never a perfect spokesman—his Twitter feed has at times been incoherent, and he wore a T-shirt bearing the image of Fidel Castro and socks adorned with pigs wearing police hats. His protest also got bound up with the flag and the question of whether not standing for the anthem disrespects the American military. But a spokesman shouldn't have to be perfect for his message to be heard.
Kaepernick's race clearly played a massive role in the way his words and deeds were received. The NFL is a white-run league in which the players are 70 percent black. Kaepernick plays the most important position on the field, one of the few that's still mostly occupied by white men. It was telling how quickly the conversation about Kaepernick's protest turned into one about his ability, and claims that he was desperate for attention given that he'd allegedly lost his physical gifts. (No matter that he hadn't been the one to call attention to his silent demonstration.) Even today, an alarming number of fans, writers, and team executives talk about "mobile quarterbacks"—that is, black quarterbacks—as if they're not a natural fit in pro football. Kaepernick, we've been told, needs special plays and packages to succeed. (No matter that what he actually did best last season was throw the ball from the pocket.) The NFL did him a huge favor by contorting the game to fit what he supposedly does best, this backward thinking goes, and then he rudely turned around and bit the hand that fed him.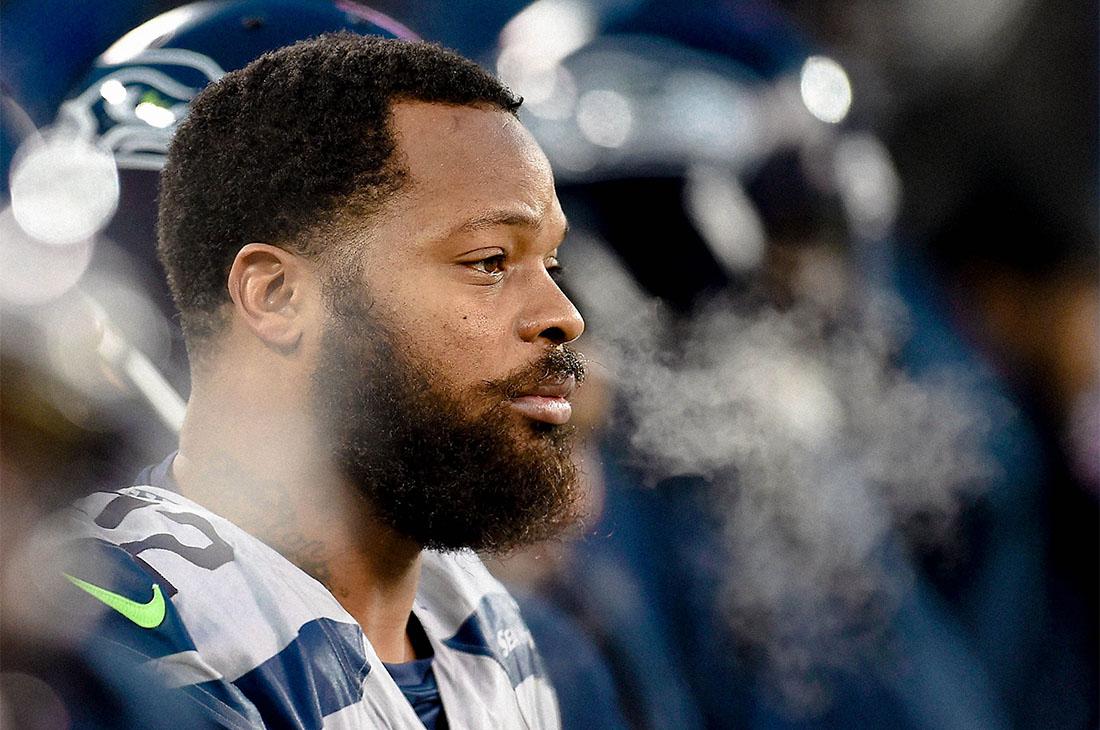 The league's owners won't change their views on Kaepernick or anthem protests of their own accord, and they've already scared some players into silence. The Titans' DaQuan Jones said this week that he might not continue raising his fist during the anthem because "it's going to affect your job, your endorsements, and your money. … A lot of teams will look down at that and say, 'He's a Colin Kaepernick.' "
The Raiders' Lynch and the Seahawks' Bennett, both veteran stars who've earned a lot of money in their careers, have a bit more latitude to express their beliefs. Bennett, who is black, decided to sit out the anthem after watching the weekend's events in Charlottesville, explaining that "just because [Kaepernick's] out of the league, we didn't want to lose that message, pushing for liberty and equality for everybody. We just wanted to keep that message alive." He also added in an interview this week that "it would take a white player [protesting the anthem] to really get things changed." The Eagles' Chris Long, who has professed that he'll always stand for "The Star-Spangled Banner," took a small step in that direction on Thursday, putting his arm around his fist-raising teammate Malcolm Jenkins. "I thought it was important that athletes with my skin color stood up with others protesting for racial equality," he said. Earlier this month, Jenkins—another long-time NFL player with a big-money, long-term contract—said he'll keep raising that fist "as a sign of solidarity to support people, especially people of color, who were and are still unjustly losing their lives at the hands of officers with little to no consequence." Jenkins also called NFL owners "cowards" for not signing Kaepernick and argued that they're "making an example out of him to discourage anybody else from doing what he did." Seattle's Doug Baldwin agreed, saying "that the league, the owners are trying to send a message of, 'Stay in between the lines.' "
Colin Kaepernick did not stay in between the lines. As a consequence of what he did and when he did it, the quarterback put himself at greater risk than other athletes who've walked a similar path. By starting a movement, Kaepernick made himself the lightning rod, drawing criticism away from those who followed in his footsteps. Unlike LeBron James, Kaepernick is not so great an athlete that his long-term employment is guaranteed. It's also worth noting that, in contrast to the NFL's extremely white fan base, more than half of NBA fans are people of color. A few months ago, Mahmoud Abdul-Rauf—who protested the anthem when he played for the NBA's Denver Nuggets in the 1990s—took the court again as part of a new 3-on-3 league for past-their-prime basketball stars. When the anthem played in Brooklyn's Barclays Center on the Big3's opening day, Abdul-Rauf did not stand at attention, instead placing his palms up in prayer. There was no public outcry, and Ice Cube—the league's black co-founder—told the New York Daily News that Abdul-Rauf was his favorite player.
In a different league, with different fans and different owners, Kaepernick might have been hailed as a hero. In the NFL, he strayed from the narrow path that players are allowed to walk, and he lost his job as a result. Now, as conservative media accuse him of wanting to "play up the race card," Kaepernick himself is staying quiet. He's spent the summer working out, interviewing with teams, and hosting "Know Your Rights" camps for kids. Next week, protesters will gather in front of the NFL's headquarters in New York City for a pro-Kaepernick rally sponsored by the AME Church, the NAACP, Color of Change, and a number of other civil rights groups. Their message will be clear. Maybe one NFL owner will hear it.
Top image: Colin Kaepernick of the San Francisco 49ers stands on the sideline prior to a game against the Los Angeles Rams on Dec. 24, 2016, in L.A. Photo illustration by Slate. Photo by Michael Zagaris/Getty Images.