Slate's guide to the most important figures in politics this week.
Welcome to this week's edition of the Surge, a magical place on earth that also won't be sending thousands of jobs to Florida. Texas Sen. Ted Cruz doesn't get an entry, but he launched a Senate probe of a trans Instagram influencer drinking a beer. And what did all you lazybones achieve?
There are only two things that matter in politics right now: the debt limit, and an old lady in the Senate. Ron DeSantis is in politics right now too. But does he matter? Does George Santos matter? What does matter? Some questions for you all to consider this weekend.
And hey, what does it say about Democrats that they're getting boat raced by Kevin McCarthy?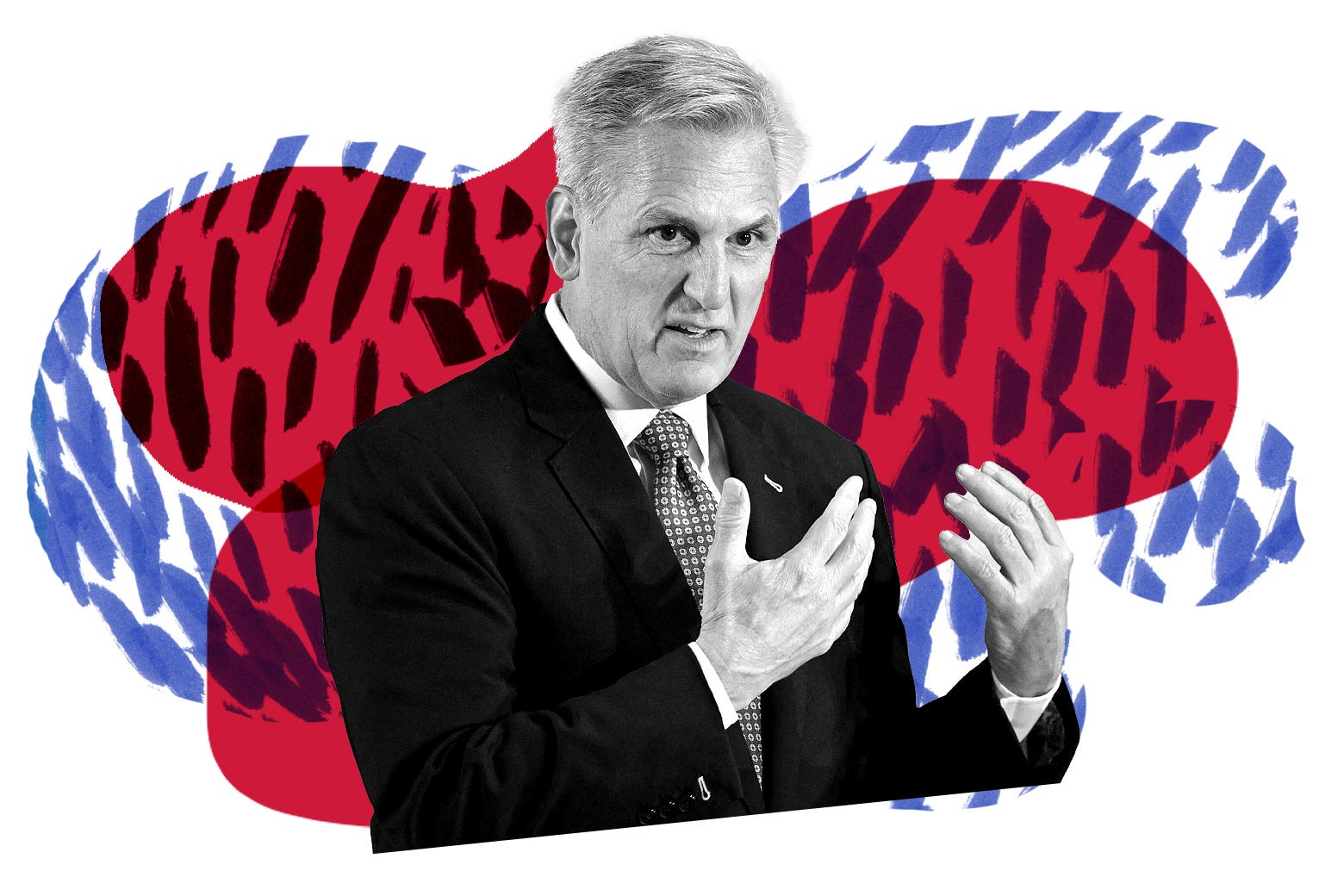 1. Kevin McCarthy
What, exactly, was Democrats' strategy here?
As you spent another week futzing around, something quite real was happening in Washington: Serious representatives of the House Republican conference and the White House were negotiating a deal to raise the debt limit along Speaker Kevin McCarthy's terms. Little is known of what deal is truly being hashed out, but the overall parameters of the discussions are … Republican. Will there be a year or two of spending caps, or 10 years? Will additional work requirements apply to food stamps and Medicaid, or just the decimated program formerly known as welfare? How much COVID money can be rescinded? On permitting reform, the offer being discussed is whether to give Republicans the thing they want now, with a promise to Democrats to do their thing later. Will President Joe Biden be pantsed and wedgied or have the option of picking one? What the hell is going on here? Democrats for months insisted they wouldn't negotiate over raising the debt limit, betting that House Republicans couldn't get their act together on a bill and could be jammed with a "clean" increase. Then House Republicans passed a bill. Oops! Now that bill—the Limit, Save, Grow Act—is the base text of the negotiations. The Surge does believe a deal will get done, temporary theatrical blowups aside. Democrats' best spin will have to be "This ransom we paid doesn't really do anything." We shall see.

2. House Freedom Caucus
The grumbling begins.
The downside for McCarthy, if he cuts a deal, is that there are dangerous men with knives surrounding him, and they don't like deals. The House Freedom Caucus, which holds veto power over McCarthy's very position as speaker, issued a statement Thursday reiterating that its position is that the Limit, Save, Grow Act should pass the Senate and be signed into law. "There should be no further discussion until the Senate passes the legislation," it concluded. (Rep. Scott Perry, the HFC chairman, clarified later, "We're not saying that they shouldn't continue to negotiate, but we can't be the buyer and the seller in the same agreement.") When McCarthy comes back with a deal, he won't need the HFC's votes to pass it. It will, definitionally, be a bipartisan deal passed on a bipartisan basis. The concern for McCarthy is that, if the deal isn't satisfying enough to hard-line conservatives, any one could move to vacate the chair, and McCarthy can lose only four Republican votes and keep his speakership. We don't think the HFC is preparing to go there yet. (Maybe Florida Rep. Matt Gaetz is, just for kicks, but that would be on his own.) For now, this is an attempt to put something out there that stiffens McCarthy's resolve down the stretch.

3. Dianne Feinstein
A morbid situation.
Sen. Feinstein was in Washington all week. Why? Because Senate Democrats need her vote in the Judiciary Committee and on the Senate floor. But the Surge can attest firsthand that she is not doing well. In a brief conversation with the Surge and another reporter this week, the 89-year-old did not appear to recall her two-and-a-half-month absence from the Senate following a shingles hospitalization and recovery. On the physical side, the shingles spread to her face, causing partial facial paralysis. And as the New York Times reported, she's also suffering from post-shingles encephalitis, a "swelling of the brain" that "can leave patients with lasting memory or language problems, sleep disorders, bouts of confusion, mood disorders, headaches and difficulties walking." Let's go through the list one by one: Yes or yes, don't know, yes, yes, don't know, yes. That Democrats so desperately need Feinstein's vote would make it seem as if there were a case of elder abuse at play, and that she was forced to return to Washington. But so far no one has been identified as the Rasputin in Feinstein's ear, enabling her to keep serving. It's just her patented stubbornness, which remains undiminished.

4. Nancy Pelosi
Or *is* there a Rasputin …
Who's that lady who's been by Feinstein's side every second since her return to Washington? A professional nurse, an aide? Oh that's just Nancy Prowda, the eldest daughter of literally Nancy Pelosi. Prowda has been doing everything from carrying Feinstein's bags to boxing out reporters from getting too close to the senator. The official word is that Prowda simply has known Feinstein forever, views her as a sort of maternal figure, and is just helpin' out. But Pelosi does have a vested interest in seeing Feinstein stay in the Senate. Were Feinstein to retire, California Gov. Gavin Newsom had pledged to fill the seat temporarily with a Black woman. That could well be Rep. Barbara Lee, who'd then get a leg up in the Senate primary against the Pelosi-supported candidate, Rep. Adam Schiff. "Ms. Prowda's presence next to Ms. Feinstein has been interpreted by some as a tacit endorsement by Ms. Pelosi of the senator's decision to stay on," the New York Times wrote this week, "one that could be driven in part by Ms. Pelosi's endorsement of Representative Adam B. Schiff, Democrat of California, in the crowded race to replace Ms. Feinstein in 2024." Politico, separately, noted that what Pelosi, Prowda, and Feinstein are up to is "being kept under wraps and very, very closely held." Yes, extremely secretive stuff by Pelosi here, delegating her daughter to stand next to Dianne Feinstein all day.

5. Ron DeSantis
Ready to take the pudding plunge.
The Florida governor has completed a fruitful legislative session of comprehensive cultural warfare and is ready to jump into the presidential race officially, just about a month after everyone decided he was a paper tiger. For all the effort he's put into kidnapping migrants, picking on trans people, and effectively banning abortion in his state, though, the case he's making to donors is simple: It's between him and Trump, and Trump is unelectable. "You have basically three people at this point that are credible in this whole thing," DeSantis told donors this week, as reported by the New York Times, "Biden, Trump and me. And I think of those three, two have a chance to get elected president—Biden and me, based on all the data in the swing states, which is not great for the former president and probably insurmountable because people aren't going to change their view of him." It's an electrifying argument that's going to rile up the GOP base at rallies: The swing-state data comes in poorly for the former president! Good luck to Puddin' Ron, and may his campaign be less tedious than his fight with Disney. Also declaring: Sen. Tim Scott, and maybe the North Dakota (?) governor (??).

6. George Santos
Not expelled from Congress … yet.
Democratic Rep. Robert Garcia this week offered a privileged resolution to expel recently indicted New York Rep. George Santos from Congress, forcing a vote on the matter. An expulsion vote requires two-thirds of the House—and honestly, if Kevin McCarthy had more comfortable margins to work with, the House could probably easily clear that. No one wants anything to do with this guy. But! McCarthy still does need Santos' vote, and the speaker successfully convinced his conference to vote to refer Santos' case to the Ethics Committee. It is amazing how much the other swing-district New York members really hate the dude. Rep. Nick LaLota, an A.I.-generated name of a Republican representing a Long Island district, said he "would have preferred there to be enough votes to expel the sociopath scam artist" but that the "terrible liar" will "be gone, by resignation or expulsion, before August recess." And if Santos refuses to leave by then, Nicky LaLota's gonna ring-a-ding-ding him.

7. Michael Delaney
You couldn't blame this one on an absent Feinstein.
Among the judicial nominees held up in committee during Feinstein's absence was Michael Delaney, an appellate nominee for the 1st Circuit in New England. Delaney's nomination has been in trouble since his confirmation hearing in February. At issue, most contentiously, has been the way in which he represented an elite boarding school in a sexual assault lawsuit. New Hampshire's senators, Jeanne Shaheen and Maggie Hassan, worked relentlessly to try to salvage Delaney's nomination, but the problem wasn't just coming from the Republican side. When Feinstein returned last week, the Judiciary Committee passed on Delaney's nomination, indicating that at least one Judiciary Dem wasn't prepared to support it. The committee passed on his nomination again this Thursday morning, and by the afternoon, Delaney had requested that his nomination be withdrawn. Can some of Democrats' relative slowdown in judicial confirmations this year be blamed on Feinstein's absence? Yes. Can some be blamed on adherence to the blue-slip rule? Yes. In this case, though, months of capital were wasted on a bad pick because of home-state senatorial ego.