There was a time when it seemed like the 2024 Republican primary might be, if not exciting, per se, then at least eventful. When there was anticipation that the other candidates, besides Donald Trump, who was weakened by Jan. 6 and the 2022 midterms, might "poke the dragon" by attacking him—and that it might be interesting to see how they thought on their feet when he responded by breathing fire (i.e., calling them physically repulsive perverts).
Well, none of the other candidates have poked the dragon. They're not even near the castle or cave or whatever. They're on a different part of the map completely, in the Misty Mountains of Dawn, or something.
To wit, a series of recent comments by rival candidates (or Florida governors who will officially be rival candidates next week) are being framed by a desperate political press as attacks on Trump, when they would be more accurately described as "small verbal barfs of plain room-temperature oatmeal so boring that they would kill Rip Van Winkle instantly if he had the misfortune to hear them after waking up."
First, there's this from Ron DeSantis, which the New York Times called his "most direct shots yet at Donald Trump."
"You have basically three people at this point that are credible in this whole thing. Biden, Trump and me. And I think of those three, two have a chance to get elected president — Biden and me, based on all the data in the swing states, which is not great for the former president and probably insurmountable because people aren't going to change their view of him."
OK. Yeah. Someone call the ballistics department to investigate the aftermath of all these direct shots. Is there more?
"There are some that kind of raise money just for themselves," [DeSantis] said, an unmistakable jab at Mr. Trump, who was criticized during the midterm elections for sitting on a large pile of cash in his political action committee and not doing enough to help others.
On second thought, the ballistics department can pack up its equipment and get started on its way to McGinty's for happy hour. The Times story has been edited since being published, but originally included this "jab" as well, about DeSantis having appeared in public in Iowa on the same night that Trump canceled an event in the same area because of the potential for bad weather:
The absence of storms has been defeated by technical knockout in Round 1 after getting bored and wandering out of the ring.
Former South Carolina Gov. and U.N. Ambassador Nikki Haley, a declared candidate who is polling at about 4 percent, did some apparent jabbing of her own at a town hall in Iowa, as well:
I'm bored, too. What's Trump doing? Looks like he's putting out a press release about Disney's announcement that it's canceling a plan to move 2,000 employees to Florida in the wake of DeSantis' attacks on its tax and governance status: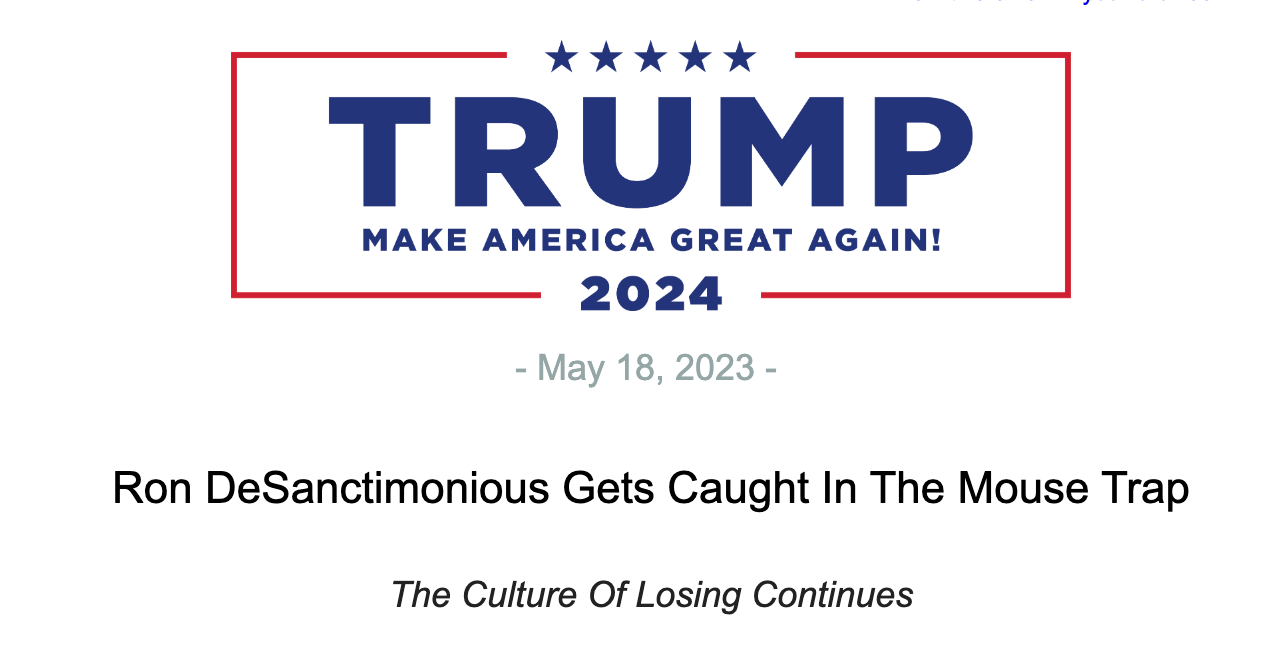 So much better! Stupid Meatball Ron loses again, LOL. Folks, he's still got it! Until further notice, we will be assuming that so long as Donald Trump is the only one who understands how to conduct oneself in a race that involves Donald Trump, Donald Trump is going to win this race.