On Tuesday, word leaked that Florida Gov. Ron DeSantis would be officially launching his presidential campaign Wednesday night in a Twitter Spaces audio broadcast with Elon Musk. The move seems designed to inject some media buzz into a campaign that has—with some justification—been increasingly written off by pundits who think that a candidate as lacking in charisma as DeSantis will have a hard time overtaking Trump.
No one is quite as accomplished at identifying the weaknesses in other candidates as Donald Trump, though, so let's take a look at what he said about DeSantis Wednesday on his Truth Social site, at 7 a.m., which is the ideal time to post an online screed about one's rivals from a resort in West Palm Beach. (Trump would be more formidable as a political force if he were able to apply this kind of scrutiny to himself and the candidates he endorses, but we all have our blind spots. His is whether swing voters want to hear a candidate talk for 90 minutes at a time about arcane 2020 election conspiracy theories.)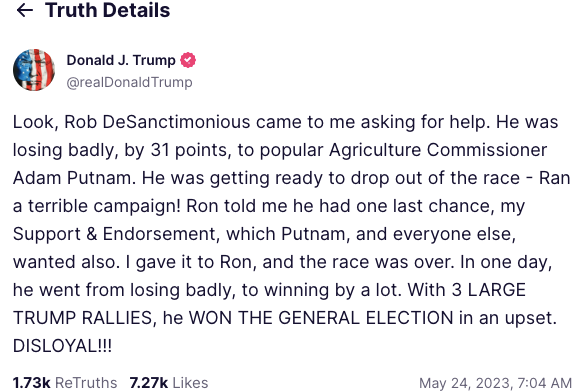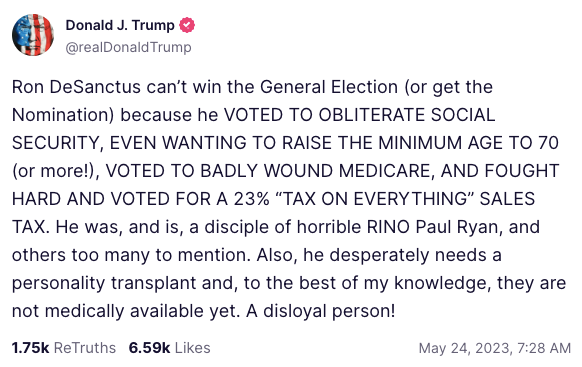 Fact-wise, most of this stuff isn't far off: DeSantis did previously support what were, at the time, typical Republican positions on cutting entitlement benefits, and Trump's support helped him win his gubernatorial primary in 2018. (The "23% 'TAX ON EVERYTHING' " reference is about a symbolic tax repeal bill that Republicans in Congress have talked about and sponsored for years, but which most of them probably never intend to actually pass.)
To be fully factual, Ron DeSantis' name is Ron DeSantis, not Rob DeSanctimonious or Ron DeSanctus. The alterations, though, have the same effect as the references to Social Security and the 2018 Florida governor primary: signaling that Ron "Rob" DeSantis is an establishment dweeb, a status quo beta male (especially in his relationship to Trump) who does not have a winning touch.
DeSantis' pre-campaign activities (stage-managed trips and speeches, the release of an anodyne book) have not provided much reason to believe that he is dynamic enough to transcend this reputation. But he has recently started to make the (valid) case that Trump has an electability problem, and the Musk event at least has the potential of unleashing some chaotic energy. Let's see what Rob can do out there on the trail before we totally write him off!