Queen Charlotte: A Bridgerton Story has everything you love about a drama with Shonda Rhimes at the helm. Free from the strictures of Julia Quinn's original series of Bridgerton novels, Rhimes has woven a rich tale about the young queen, her marriage to King George, her early friendship with a young Lady Danbury, and her relationship with her loyal servant Brinsley. The dialogue is quick and clever, and where Season 2 of Bridgerton was an amusement park of storylines and subplots, Queen Charlotte is focused, sharp, and smart. The costumes are dazzling, and deserve their own viewing in order to appreciate the care and brilliance of costume designers Lyn Elizabeth Paolo and Laura Frecon. Their work tells a story as rich and interesting as the script. On top of all this, India Amarteifio, as the young Charlotte, turns gracefully from girlish anger to fierce determination, and generates all the chemistry we want in such a show—not just with Corey Mylchreest, who plays her husband, King George III, but with Arsema Thomas, the young Lady Danbury, as well. It's easy to imagine them as friends.
The season's brilliance lies not just in what happens over the course of the six episodes, but in the questions it prompts about race, regency, and representation in popular culture as a whole. Queen Charlotte is a prequel story for a quasi-historical fictional universe in which Britain's aristocracy is multiracial—a fact that prompted a fair amount of confused conversation about "color-blind" casting and adaptations of historical fiction when the first two Bridgerton seasons came out. In explaining this universe, the new prequel answers some of these questions—while, inevitably, raising a few new ones.
The first voice we hear as the season opens is the Bridgerton universe's gossip columnist, Lady Whistledown (played by Julie Andrews). She gives us instruction and, perhaps, permission to accept that the story we are about to enter is drawn from history, without fretting too much about the details. She tells us that this is the story of Queen Charlotte from Bridgerton, by which she means that this is not the Queen Charlotte of history. That Queen Charlotte lived through the Haitian Revolution, the Napoleonic wars, and the abolition of the slave trade in Britain. Jane Austen—who I think would have loved Queen Charlotte for its wit and clear-eyed view of love and marriage as more about duty than fancy—died the year before the historical monarch. The series barely gestures toward this history. It is not, as Lady Whistledown tells us, a history lesson. It is a fantasy world created by writers facing the challenge of how to include Black characters in a historical period, without placing the weight of a fraught real-world history on those characters' collective backs. Is it possible to set a romance of any kind against the backdrop of the slave trade (which seems not to exist in Queen Charlotte) and debates about abolition? Is it reasonable to expect this of a series that is for Netflix and not, say, PBS?
Queen Charlotte provides the backstory for Lady Danbury's claim in Season 1 that the Black side of the ton—that is, the set of aristocrats who socialize and intermarry with one another—were elevated to that status because Queen Charlotte and King George fell in love. Their marriage, we find out in Queen Charlotte, launched the Great Experiment, an effort to create a court diverse enough to make a Black queen seem less scandalous. For those of us who know history, the fraught relationship between the young Black queen and her mother-in-law, Princess Augusta (Michelle Fairley), makes perfect sense. White women certainly suffered under British imperial patriarchy, but they also benefited from access to power and enjoyed the status afforded them as white women whose paleness held cultural value. Princess Augusta wields her power ruthlessly—even if occasionally, along the way, she forwards social progress in the Bridgerton universe. You hate her for peering into the young queen's mouth to check her teeth, and inspecting her hips, as if the young woman were on the auction block in a slave market. This inspection reminds viewers that no matter how opulent the gowns or glorious the jewelry, wealthy women were expected to reproduce empire. They were passed on from sons and fathers to husbands they did not choose. This is the reality that sets the season in motion, with young Charlotte peeking through the door, watching her brother sign her life away.
As always with Bridgerton, the costumes and setting create a historical milieu of their own. A major task faced by actresses Amarteifio and Thomas is to successfully deliver Shonda Rhimes' long speeches without sounding as if they are giving one of Shonda Rhimes' long speeches. Young Charlotte's comes at the very start of the series, in a carriage with her brother, on the way to meet George for the first time. She is wearing an opulent gown encrusted with jewels. And where we viewers might want to admire this dress, she wants us, via a speech to her brother, to understand the gown's risk. Between the sapphires and the whalebone corset she describes, one false breath or move could rip both the gown and her skin apart.
This gown and the other costumes in the series are more than simply inspired by history. Bridgerton's costumes are always sumptuous and carefully designed. Paolo and Frecon have drawn a distinction between the Georgian period of Queen Charlotte and the Regency costumes in the two Bridgerton seasons we've gotten so far. Each ball in the series has its own color scheme. But one of the gowns in Queen Charlotte was so distinctive that I gasped, replayed the scene to confirm what I was seeing, showed it to art historian Catherine Roach for confirmation, and then requested an interview with the designers about it.
I am not an expert in costume history, but I know French Toile de Jouy when I see it. The distinctive pattern, often of elegantly attired couples sitting on benches under fluffy trees, gained popularity in the 18th century. It is there in the gown Lady Danbury wears in a pivotal scene in which she confronts Princess Augusta about her legacy, her son's future, and the future of this newly diverse ton. French Toile historically features white figures in pastoral settings, but in this scene the purple figures against a gold background on Lady Danbury's dress made me wonder if the figures were meant to be Black, and if Paolo and Frecon were playing with the pattern in the same way that present-day designer Sheila Bridges does with her creations made in the pattern of Harlem Toile.
I saw a political statement about Black women's growing power in the dress. Paolo and Frecon, on the other hand, drawing on the script, said they were inspired by the idea of relationships, and the vision of a woman stepping into her power. They explained that the color pattern was a nod to Lady Danbury's freedom as an independent woman. Early in the season, her husband chooses her clothes; this dress represents something different. The designers see the couples sitting on the benches as symbolizing the relationships in her life. These are not mutually exclusive appreciations of this gown, but I brought to the discussion my research on abolitionist visual culture and read it through that lens. For me, Lady Danbury wears her politics as a Black woman on her sleeve, so to speak. It's a gender politics entirely consistent with what I know and have been inspired by in Rhimes' work. And if the purple figures on the dress can be read as Black, it is also a promise that the new Black aristocracy is now woven into the fabric of Bridgerton's ton.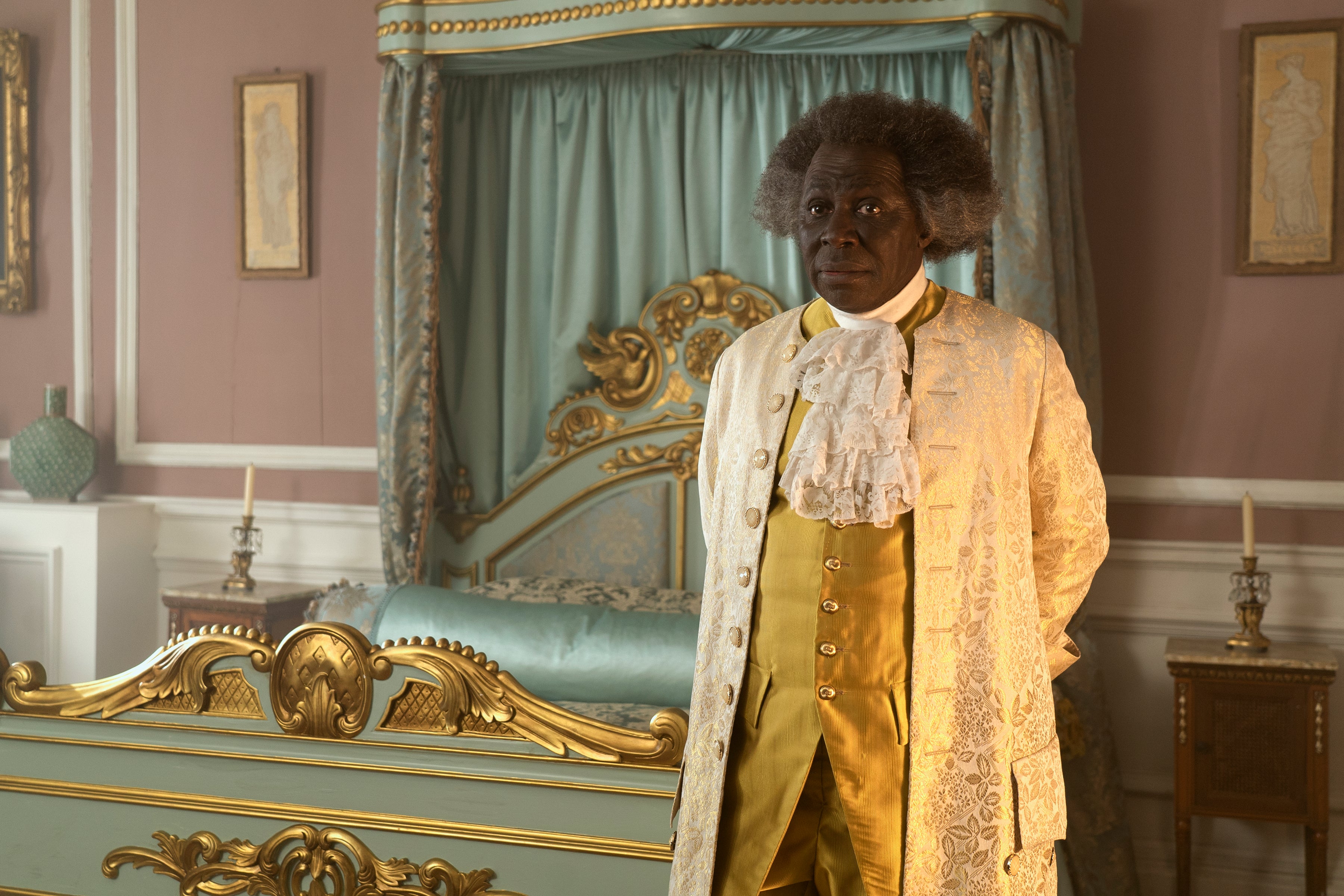 And therein lies the conundrum of Queen Charlotte's relationship with history. Rhimes can frame this as a story from a fictional universe, but its visual cues are drawn from the past, and they are complicated. One marriage in particular shows just how complex this can get. When young Lady Danbury explains her son's lineage to him, wearing that gown with a French design, we get a taste of the global span of her life: "You are my son. You are the son of Agatha Danbury, born name Soma, Royal Blood of Kpa-Mende Bo Tribe in Sierra Leone. You come from warriors. We win." This lineage fits the Rhimes model of dignity, strength, and perseverance as key to Black power. Lady Danbury does win. We know that because of who she is—a powerful and venerable presence—in the main series. What we learn in the prequel is that one of the foes she has to manage is her husband, the much older Lord Danbury, played by Cyril Nri.
Lord Danbury is a grotesque figure. I flinched when I first saw him. Then he felt familiar. His is a face I've seen in caricatures of Julius Soubise. Born enslaved in St. Kitts in the mid-18th century, Soubise was brought to England, where he was given as a "gift" to Catherine Douglas, Duchess of Queensberry. The printmaker William Austin caricatures him in an etching he titled The Duchess of Queensberry Playing at Foils With Her Favorite Lap Dog Mungo. His name, "Julius," has been replaced in the title of the etching with the term used at the time to describe Black servants in aristocratic households, as well as foppish men with outlandish wardrobes. According to historian Blair Kelley, "Mungo" is a forerunner, in many ways, of blackface characters like Sambo and Jim Crow that later became popular in the 1840s.
I thought Lord Danbury's distinctive physical appearance was a coincidence, and it may well be, but there's a sketch that looks like a "Mungo" figure in the bathing room of the Danburys' home. It's as if he is always watching his wife, even as she washes their sexual encounters off her body.
I suspect that Danbury's characterization will spark a lot of debate. I've wrestled with my analysis of this artistic choice. I know how I feel about it: frustrated and disappointed that a storyline in an otherwise captivating season, the best in the Bridgerton world, relies on a gross stereotype. I understand that rutting, awful old men foisted on young, beautiful women were as much the norm as their handsome opposites in this time period, but there is something sinister about the choice to make Lord Danbury, a Black aristocrat, grotesque—comedically awful, pretentious, and silly—rather than simply gross. He is a vain social climber, easily fooled by his clever, beautiful young wife.
I wondered how his character would feel if he just looked like Nri, whose performance inside the prosthetics that made him into Lord Danbury is so compelling that I searched online to see what he looks like. (He's handsome!) Is part of the problem that there are no other Black patriarchs with substantial speaking roles in any of the Bridgerton seasons thus far, so all we're left with is him?
Yes, Rhimes is creating a fictional universe, but the popularity of these shows means that she has a big imprint on the way Regency (and, in this case, Georgian) culture is represented. The series exists in a contemporary global moment where its viewers want to understand the period's racial ecosystem, and are turning to books like Gretchen Gerzina's Black England: A Forgotten Georgian History to fill in the blanks. No, Queen Charlotte never promised us a history lesson, but I recognize its many nods to the cultural moment it plays with. I think the auction-block quality of Queen Charlotte's initial inspection is one such moment.
Perhaps rather than asking the series for answers to the conundrums it sets in motion, we can look to scholars to help us make sense of it all. (I opened Monica Miller's Slaves to Fashion: Black Dandyism and the Styling of Black Diasporic Identity to think through Lord Danbury, for example.) Perhaps, even as we attend Bridgerton-themed balls and buy goods that reflect its aesthetic, we can take our questions out into the world, beyond the Bridgerton universe.