Slate's guide to the most important figures in politics this week.
Welcome to this week's edition of the Surge, Slate's weekly politics newsletter, which is actually good this time.
(April Fools'!)
This week, the legal authorities in New York were very rude, very unfair, to Mr. Trump. Mickey Mouse performed his finishing move on Ron DeSantis; the long-awaited (?) Chris Christie Boomlet is upon us; and President Biden's phone line to the House Democratic Caucus still isn't working.
For the second week in a row, we begin with the past president of the United States and future chief deputy dishwasher of Rikers Island.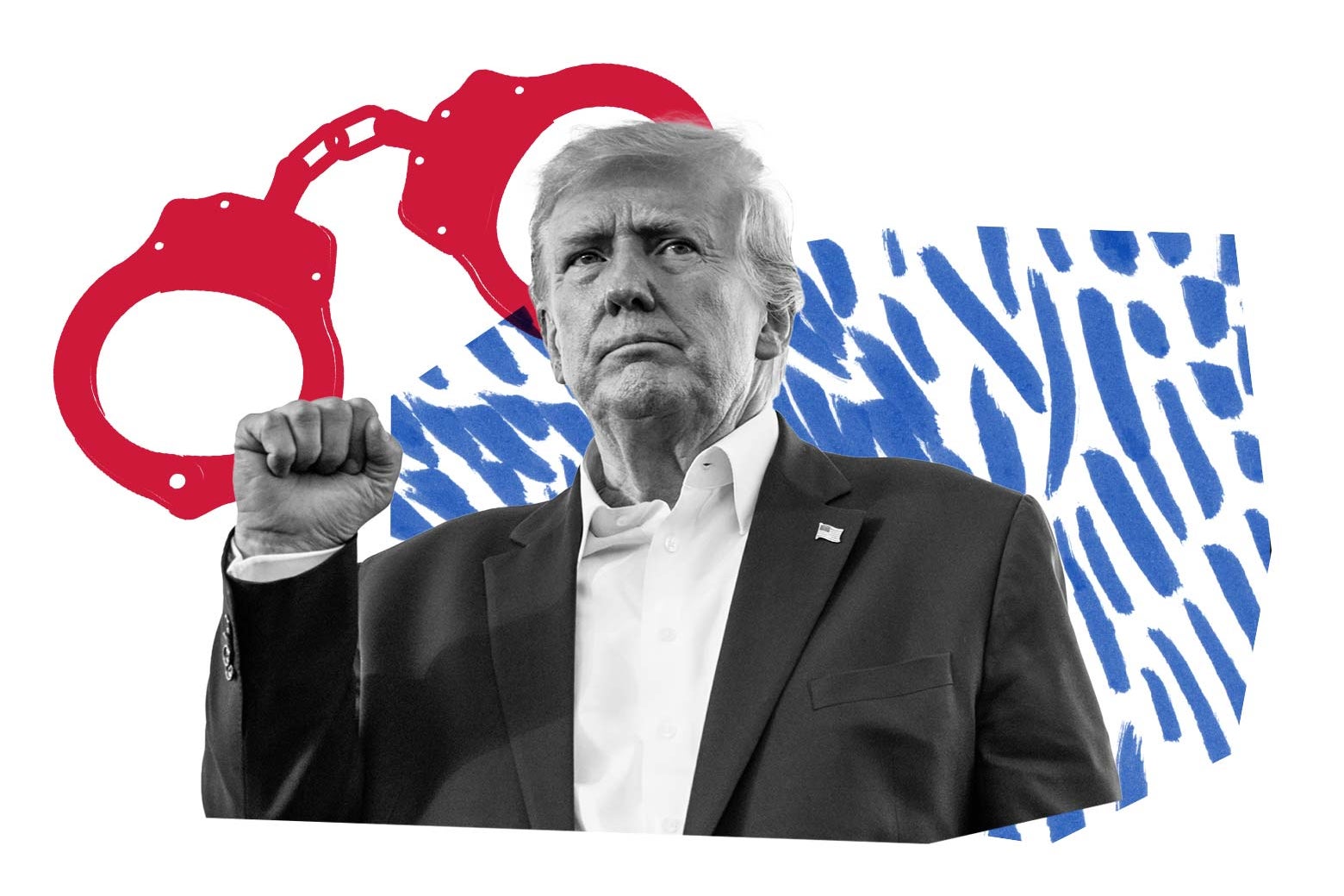 1. Donald Trump
The most dramatic season of American Presidential Election yet.
Donald Trump was indicted in Manhattan this week on what is reportedly "more than 30 counts." The Surge can now reveal, according to a top source who looks shockingly like Donald Trump in a fake mustache and glasses, what these charges are. The Manhattan DA is slapping Trump with 10 counts of "being your favorite president," another 12 of "legitimate business dealings," and eight to 12 counts of "makin' it with a dame." This is simply what they do now in New York, a city of lies, crime, and communism. But! Let us examine the immediate political effects. News of the indictment on Thursday bound much of the Republican apparatus—including his would-be presidential challengers—to defending Trump, potentially giving him a short-term boost. We'll see if "being indicted on dozens of counts," with more potentially to come in other jurisdictions, is really a lasting political winner as the race develops. Democrats, meanwhile, released all of these nerdy statements about the rule of law, no one being above the law, being innocent until proven guilty (or something like that), yada yada yada. Honestly? It seems as if no one in the political sphere really wants to deal with this. Trump would prefer to not be indicted at all. Trump's Republican rivals really don't want to defend Trump. Democrats would rather see him indicted on more solid charges than paying a porn star $130,000 in the wrong way. No One Wants to Deal With This: A continuing American political tradition since 2015.

2. Marjorie Taylor Greene
New York should be super chill for all of this.
Trump, as of this writing, is expected to be arraigned in Manhattan on Tuesday afternoon. While Trump himself—again, as of this writing—hasn't yet called for protests or violence in his reaction to the news, we might truly have a situation on our hands. Georgia Rep. Marjorie Taylor Greene announced Friday that she would be heading to New York on Tuesday because "we MUST protest the unconstitutional WITCH HUNT." The whole reason this arraignment was scheduled for Tuesday, instead of earlier, was that the Secret Service needed more time to prepare. The New York Police Department is mobilizing in case protests get out of hand. What we have here, in other words, is a bit of a tinderbox. The only good news is that many ardent Trump supporters are wishy-washy about showing up, given that they all got charged with federal crimes the last time Trump called for mass unrest.

3. Ron DeSantis
Watch your back, royal family.
If you'll recall, Florida Gov. Ron DeSantis and Disney have been going at it for about a year. After Disney spoke out against DeSantis' so-called Don't Say Gay education law, DeSantis sought retribution by stripping Walt Disney World of control over its self-governance of the land it sits on. The board of the Reedy Creek Improvement District, as this area of Florida is called, would be run by DeSantis appointees under a new law signed this year. We learned this week, though, that those new board members had been played by the Mouse: Just before the new board took over, Disney's lawyers inked a deal with the old board "that would tie the hands of future board members for decades," as the Orlando Sentinel reported. How many decades? In one case, this many decades: until "21 years after the death of the last survivor of the descendants of King Charles III, king of England living as of the date of this declaration." (This is a weird legal thing.) Funny as it is to see DeSantis get owned this way, we're not exactly cheering for a megacorporation lawyering its way around governmental oversight. In terms of the primary politics of this, however, DeSantis' talking point that he took on one of the most powerful companies in his state, and won, may have lost its bite. "President Trump wrote 'Art of the Deal' and brokered Middle East peace," a spokesperson for a pro-Trump super PAC said. "Ron DeSantis got out-negotiated by Mickey Mouse."

4. Joe Biden
A Trumplike level of coordination with Congress.
We can't tell you how many times between 2017 and 2021 we saw House Republicans in a panic over a difficult vote because they weren't sure whether the mercurial President Trump would have their backs. It's been baffling over the past few weeks to see the same pattern emerge with House Democrats and President Biden. Earlier in March, the president said he would sign a Republican bill overturning D.C.'s revised criminal code—after signaling to House Democrats that he would oppose it. Many vulnerable House Democrats who had voted against it felt as if the White House had put them in political danger; House Republicans' campaign arm immediately began running ads. This week, it happened again: Biden said he would sign a Republican bill to end the national COVID emergency—a bill that 197 House Democrats voted against when the White House was telling them it "strongly oppose[d]" it. The White House argues that it would not have wanted the emergency to end in February, back when the House voted on this bill. But since the emergency is already scheduled to expire in May, there's no need to fight it. House Democrats, nevertheless, are furious once again. "It's, like, kindergarten-level coordination," Virginia Rep. Abigail Spanberger told Axios. There will be another test of this coming soon: House Republicans will put to a vote another bill overturning a D.C. law, this time on police reform. Biden did, this week, explicitly threaten a veto if that bill reaches his desk. If he goes back on that, House Democrats might actually occupy the White House.

5. Chris Christie
A reasonable theory, if not one that ends in President Chris Christie.
Let's be nice and not go directly to making fun of Chris Christie thinking he could win the Republican presidential primary. Let's analyze it instead! The former New Jersey governor visited New Hampshire this week as he considers a second presidential bid. His argument was that you need a tough guy who can belittle Trump out of the nomination, and he cited his debate takedown of Florida Sen. Marco Rubio in 2016 as proof that he could fit the bill. "You better have somebody on that stage who can do to him what I did to Marco," Christie said. What Christie did to Rubio is something campaign people call a "murder-suicide": In a multicandidate race, one candidate takes out another candidate and himself by going nasty, redounding to a third candidate's favor. While we are highly skeptical that Chris Christie would find Trump as easy a target as Rubio, let's entertain the notion that Christie can do to Trump what he did to Rubio: It's still not a scenario that ends in Christie winning the presidential nomination! Perhaps Christie could play a useful role on the debate stage as chief Trump antagonist. But it would be Ron DeSantis thanking him for the favor.

6. Kevin McCarthy
Unrequited lunch.
The debt limit: It still needs to be raised sometime midyear to stave off global financial catastrophe. The strategy for raising the debt limit is: ???? We did, at least, get some fresh new posturing in the ongoing saga this week. House Speaker Kevin McCarthy wrote a letter to Biden in which he outlined four demands for raising the debt ceiling: sharply cut domestic spending, add more work requirements to federal benefit programs, claw back unspent COVID funds, and do something-or-another related to energy or border policy. Biden responded with his own letter, writing that he is happy to talk spending cuts—just not within the context of raising the debt limit. It's not that McCarthy was expecting Biden to respond, "Hell, yeah! Cutting $130 billion in domestic spending sounds good to me." The letter was part of an ongoing effort to make the White House look unreasonable for refusing to negotiate, and the White House has so far refused to bite. Speaking of biting: McCarthy is insisting on another meeting with the president, and has suggested they do lunch together. "I would bring the lunch to the White House," McCarthy told reporters on Thursday. "I would make it soft food if that's what he wants." If we're still in the "my counterpart is old" stage of posturing, these negotiations have a long way to go.

7. Josh Hawley and Rand Paul
[Checks watch] Shouldn't TikTok be banned by now?
This week in the Senate: fresh ideological debate? A lil' national conservative vs. libertarian action? Some hot right-wing rift-age going on? All that and more! As you'll recall, TikTok's CEO was grilled on the Hill last week, improving the odds that Congress either bans or disassembles the Chinese-owned company. Missouri Sen. Josh Hawley this week tried to advance a bill to ban the company in the United States but was blocked on the floor by Kentucky Sen. Rand Paul. Paul argued that such restrictions on TikTok would violate the First Amendment and that "speech is protected whether you like it or not." Paul further said that this would set a precedent against all social media. "To those who are worried that the Chinese government might somehow now have access to millions of American teenagers' information—realize that all social media sucks up personal data that people voluntarily provide," Paul said. "If you're going to ban TikTok, what's next?" Keep going, Rand! Ban TikTok, then Twitter, then Instagram, then Facebook, then … what else?… the fake cartoon Facebook thing that Mark Zuckerberg keeps trying to make happen. It's all trash. Banny banny ban ban! Anyway: interesting debate on the Republican side.