Slate's guide to the most important figures in politics this week.
Welcome to this week's edition of the Surge, Slate's weekly politics newsletter that is not spying on you on behalf of China. Maybe they could try; we don't know. Asking?
This week had a very 2018 feel to it, as the news cycle was dictated entirely by muscle spasms of a former television game show host. Ron DeSantis changed his tune on Ukraine, Kyrsten Sinema gossiped to Republican donors, and both parties united around banning a telephone app. Like Kevin McCarthy, we're just trying to educate you.
Let's begin with our once and future president, Jaily McPrison.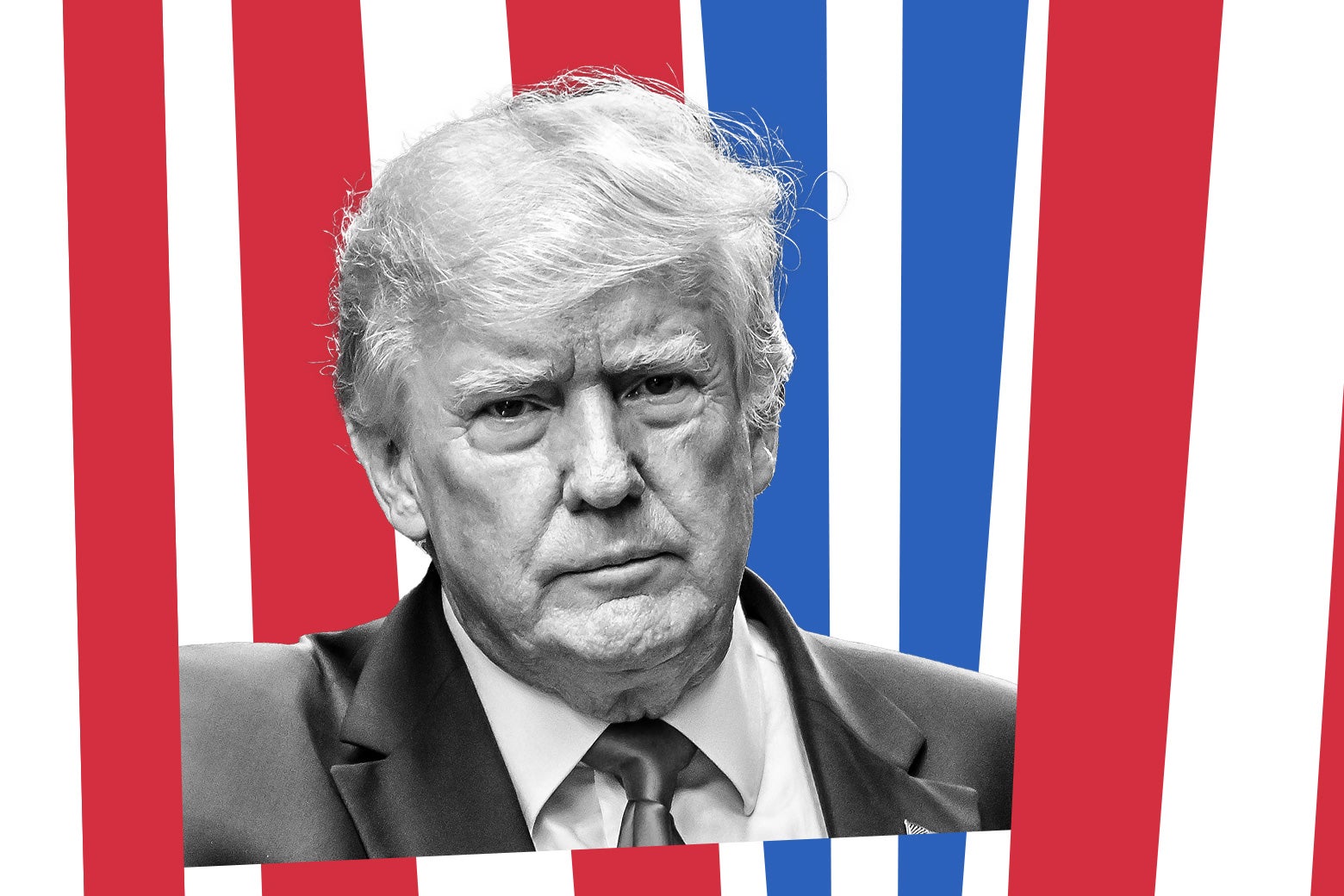 1. Donald Trump
Ready for his perp walk close-up.
Donald Trump could be indicted in Manhattan soon. How do we know this, to the extent we "know" it at all? Because the big guy has been freaking out about it all week. In an all-caps Truth Social post early last Saturday morning, Trump said that he "WILL BE ARRESTED ON TUESDAY OF NEXT WEEK" and encouraged his supporters to "PROTEST, TAKE OUR NATION BACK!" The week came and went without an indictment or an arrest. Trump is sticking to his tried-and-true strategy of warning there would be mass violence if he's tossed in the slammer for a hush money payment to Stormy Daniels (whom he continues to call "Horseface"). An indictment for Trump would, however, offer one silver lining that appeals to his broken brain: the glitz and glam of the cameras! "Behind closed doors at Mar-a-Lago," the New York Times reported this week, "the former president has told friends and associates that he welcomes the idea of being paraded by the authorities before a throng of reporters and news cameras." He has told friends that it could be, in the Times' words, "a fun experience." This is the brain of a guy who was the *president of America* for four years! And could be again! All of this continues to be nuts!!

2. Ron DeSantis
One day, you're top of the pops; the next day, you're apologizing to Ukraine.
The good news for Trump, notwithstanding various potential indictments across the country, is that the regular beating he's giving Florida Gov. Ron "Puddin' " DeSantis is working quite well. In a Monmouth poll of Republican voters this week, Trump led DeSantis 41 to 27 percent; December's Monmouth poll had shown DeSantis leading Trump 39 to 26 percent. Now, early national polling leads come and go. What's more concerning for DeSantis is how clunkily his gradual transition to the national stage has gone. Last week, we wrote about the consternation in GOP establishment circles when DeSantis—their Great Non-Trump Hope—dismissed the Ukraine war as "a territorial dispute" that wasn't of "vital interest" to the United States. This week, the governor changed his tune, saying he was "mischaracterized" and describing Vladimir Putin as a "war criminal." So that was a mess. In an interview with Piers Morgan, DeSantis also engaged with Trump a little bit. He said of the "Ron DeSanctimonious" nickname Trump has given him, "I don't know how to spell the sanctimonious one. I don't really know what it means, but I kinda like it. It's long; it's got a lot of vowels." DeSantis has a bachelor's degree from Yale and a law degree from Harvard. Don't do the ooh big scary word thing.

3. Kyrsten Sinema
What news from the donor summits?
If you're a reporter, colleague, or constituent of the independent Arizona senator, good luck getting her to talk to you. If you're a conservative donor or a private equity executive, though, you just can't get her to stop talking. Politico reported this week on comments Sinema had made at various Republican-filled retreats, fundraisers, and receptions. She described the scene in the "dumb lunches" for Democratic senators she stopped going to, where "old dudes are eating Jell-O, everyone is talking about how great they are." She raised a middle finger when referencing former White House chief of staff Ron Klain. She bragged about how she, not West Virginia Sen. Joe Manchin, stopped the donors' taxes from going up, and she went after Chuck Schumer, from whom she gets her committee assignments. One of the juiciest details in Politico's story, though, is that the White House has "concluded the way to win Sinema's vote on a crucial agency nominee is to have private equity executives weigh in with her." And we've concluded that Sinema might be the senator who best matches her caricature.

4. Shou Zi Chew
What even is "spying," anyway?
Should the federal government ban TikTok? What a dumb question. Of course it should. The Surge Doctrine states that if the political conditions exist to ban something the children enjoy, you must seize the opportunity. Those political conditions exist because lawmakers in both parties believe TikTok is a data-gathering psy-op from the Chinese government. In testimony to a House committee this week, the CEO of TikTok, Shou Zi Chew, did little to clear up those fears. While he was trying to make the case that TikTok had put in motion a plan to separate its U.S. operation from the Chinese government, no one on the House panel felt satisfied—and a couple of his responses were startling. When asked by Florida Rep. Neal Dunn whether TikTok's parent company has "spied on American citizens," Chew responded, "I don't think that spying is the right way to describe it." The chairwoman of the committee, Washington Rep. Cathy McMorris Rodgers, told Chew, straight-up, that "your platform should be banned." Let's go!! From there, we pounce on the next target: rock 'n' roll music.

5. Kevin McCarthy
What ever would give you the impression that Trump wants people to protest?
Back to Trump encouraging people to burn this motherfucker down if he's indicted for sex payments: Speaker Kevin McCarthy simply does not know what you're talking about. "I don't think people should protest this, no," McCarthy told reporters earlier this week. "I think President Trump, if you talked to him, he doesn't believe that, either." So, again, Trump's very first missive on this was: "PROTEST, TAKE OUR NATION BACK!" He warned later in the week that there could be "death & destruction" if he's indicted. He's straightforwardly trying to spook the Manhattan district attorney and grand jury from following through on a potential indictment with threats! McCarthy, however, offered the following explanation of what Trump is up to: "I think the thing that you may misinterpret when President Trump talks and someone says that they can protest—he's probably referring to my tweet: educate people about what's going on," McCarthy said. "He's not talking in a harmful way, and nobody should." Yeah, that's probably it. When Trump talks about how D.A. Alvin Bragg would be inviting "death & destruction" by indicting him, he's just referring to Kevin McCarthy's tweet about the need to educate people.

6. Joe Manchin
Will he or won't he?
The West Virginia senator still hasn't decided whether he's going to run for another term. But he's laying the groundwork for another run rhetorically, with his recent statements reading as indistinguishable from those of conservative Republicans. "This Administration continues to prioritize their radical policy agenda over the economic, energy and national security needs of our country, and it is absolutely infuriating," Manchin said this week after Biden's first veto. "President Biden is choosing to put his Administration's progressive agenda above the well-being of the American people." Manchin's decision may, however, come down to his opponent. Politico reported this week that Senate Republicans feel they're close to recruiting Jim Justice, West Virginia's popular Republican governor. "I keep hearing Manchin might not run again if he had to run against the governor," Texas Sen. John Cornyn told Politico. Justice would, however, still have to win a primary, and Trump and the Club for Growth have already endorsed Rep. Alex Mooney for the seat. "God bless them, it'll be entertaining to watch their primary," Manchin told Politico. "That's the greatest thing."

7. Tim Scott
Another vice presidential candidate gets ready to go.
The South Carolina senator, who's been making moves to launch a presidential bid the past few months, has announced in an invitation to donors that he'll make a "political update" in South Carolina on April 15—immediately after he visits Iowa and New Hampshire. It would appear that he's running. But running for what? There's widespread speculation that Scott could be looking to land a spot as Trump's vice presidential pick, with Scott's fellow South Carolina senator, Lindsey Graham, reportedly making that case to Trump. For any of these current single-digit pollers, there's a good litmus test to decipher which job they're really going for: Are they actually going hard after Donald Trump, or not? "If [Scott] comes out and says Donald Trump is responsible for Jan. 6 and does the Pence line, it's probably going to hurt him," a Trump adviser said. "If he talks about opportunity zones and low taxes and the future, it won't be a detriment." This is all such uncreative, binary thinking. Want to make a name for yourself in 2024 Republican politics? Get crazy. The "jet fuel can't melt steel beams" lane is wide open, and no one's taking it.