Slate's guide to the most important figures in politics this week.
Welcome to this week's edition of the Surge, which, as always, wants to remind its readers: Remember to pay for your dresses to the Met Gala.
This week in politics: Oh boy, what a big one. Fox News is in worse and worse trouble, and now it can't even air the schematics of secret escape routes in the Capitol. President Joe Biden and congressional Republicans found something they could shake hands on—blocking D.C. from self-governance—and the Mexican president pretended to see an elf.
First, let us lead off with the figure who is forever inching, inching toward a presidential run.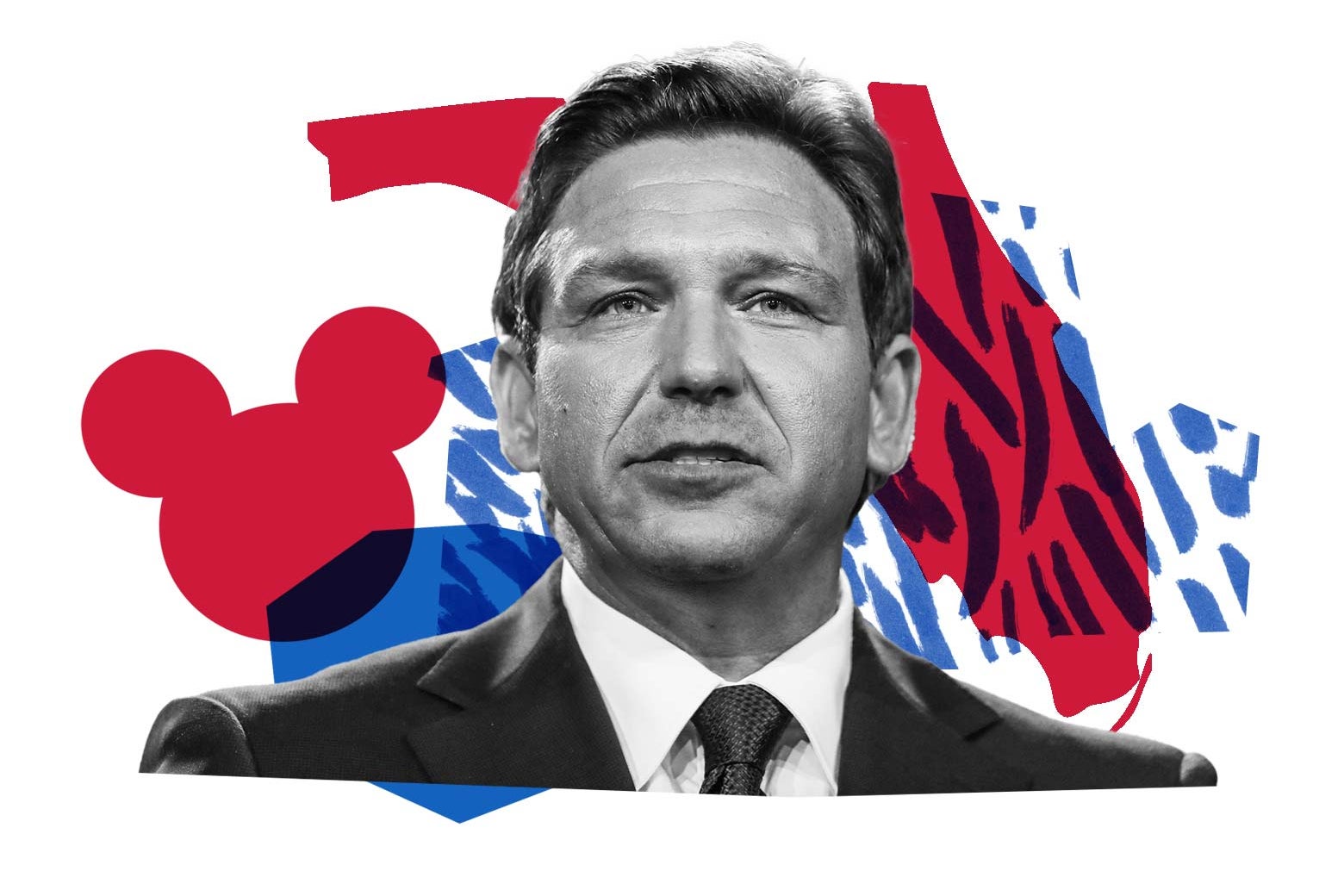 1. Ron DeSantis
This blurb is not registered with the state of Florida.
The pride of Yale baseball was making even more noise than usual this week as he released his book, which the corrupt legacy media wants you to believe is bad. And he's barnstorming blue states to share with them his vision of Florida-style freedom. This week, he also signed a bill cleaning up the mess he made last year when he dissolved Disney World's self-governing authority after the corporation criticized his Parental Rights in Education bill. Under the new law, DeSantis himself is effectively in control of Disney World, as he appointed a five-member board to oversee the district. DeSantis suggested that this board could even try to influence the content Disney creates, saying, "I think all of these board members very much would like to see the type of entertainment that all families can appreciate." Perhaps a return to classic entertainment about how, say, the water is making people gay. Elsewhere, DeSantis is continuing to dictate what schools and state higher education bodies can and can't teach. What act of freedom could he take next? Well, one of his quislings in the state Senate has introduced a bill that would require "bloggers" who write about the governor or members of the Legislature to register with the state and file monthly reports. That seems like the freedom that would be right up DeSantis' alley.

2. Joe Biden
Tossing D.C. under the bus to save Senate Democrats. But House Democrats? Eh.
In a genuinely shocking move to many Democrats this week, Biden said he would support a Republican bill that would overturn the District of Columbia's years-in-the-works revised criminal code. This was a reversal for the administration, as it had previously said it would abide by the D.C.'s self-governing decisions. We could pursue several griping paths in this entry, but let's set those aside and look at why he made this political decision. In the House, dozens of Democrats supported the bill, many because they didn't want to be tagged with (highly misleading) ads about how they VOTED FOR MORE CARJACKING AND CRIME. With a Senate vote on a companion bill coming next week, Senate Democrats—who are defending 23 seats next year—were similarly not looking forward to this vote. Biden announcing he'll support it gives endangered Senate Democrats (and, like, Patty Murray? Maybe most Senate Democrats?) cover to vote for it. A group that is reasonably furious about Biden's change of heart, though, are House Democrats, many of whom could've used that cover when they were voting on the bill. "So a lot of us who are allies voted no in order to support what the White House wanted," one House Democrat told the Hill. "And now we are being hung out to dry. F****** AMATEUR HOUR. HEADS SHOULD ROLL OVER AT THE WHITE HOUSE OVER THIS." And so, with this episode, the Democratic Array Meter tilts a notch toward Disarray.

3. Rupert Murdoch
The Fox scandal grows.
The rich text that is the Dominion Voting Systems defamation case against Fox News continued giving this week, as a Dominion court filing showed what it knew about Fox chairman Rupert Murdoch. It offered yet more proof that Fox hosts, for the most part, understood the conspiracy theories about widespread fraud or voting machine rigging to be stupid and dangerous but were too scared of pissing off their viewers to say as much. Murdoch states that several individual Fox hosts "endorsed" the conspiracy theories on air, and that while he "could have" blocked idiots on Trump's legal team from hogging Fox airtime, he chose not to. After Jan. 6, Murdoch became more assertive, sending a Jan. 8 email in which he said Fox would "make Trump a non-person." Yeah, that's what they all said. That pivot lasted about as long as one kangaroo fart (Murdoch is Australian), and Donald Trump is the frontrunner for the Republican presidential nomination.

4. Kevin McCarthy
OK, maybe Tucker Carlson's access to the Jan. 6 tapes will be slightly fettered.
Last week, we wrote about Speaker Kevin McCarthy giving Fox News host Tucker Carlson what Carlson described as "unfettered" access to 40,000-plus hours of Jan. 6 Capitol security tapes. Carlson was an interesting pick to receive this exclusive, given his track record of suggesting that Jan. 6 was an inside job. Following an uproar about whether Carlson might act, oh, I don't know, irresponsibly with all this footage, House Republicans have clarified they won't let him just stuff as much film as he can into a moving truck and put it on air. "It's basically controlled access to be able to view tapes," Georgia Rep. Barry Loudermilk told reporters this week. "Can't record, can't take anything with you. Then they will request any particular clips that—that they may need, and then we'll make sure that there's nothing sensitive, nothing classified—you know, escape routes." Phew. One of these escape routes was where the Surge paid an FBI agent $20 to "do a false flag," so we were getting a touch nervous there!

5. J.D. Vance
Mr. Legislation over here!
We all remember the 2022 Ohio Senate campaign, when author and former venture capitalist J.D. Vance made a beeline to Weird City to win the Republican nomination and then kind of grunted and muttered himself to a November victory. We will be the first to say that we did not have high expectations of Senator-Writer J.D. Vance! But since the toxic train derailment in East Palestine, he and his fellow Ohio senator, Democrat Sherrod Brown, having been at work on a bipartisan rail safety bill that could end up being the first meaningful Senate bill passed this year. Senate Majority Leader Chuck Schumer said this week that he wants to take up and pass the bill, and President Biden supports it too. (It is worth noting that Brown is up for reelection this cycle in one of the most difficult seats Democrats will have to defend. Schumer, who would like to continue being majority leader, is very interested in devoting floor time to providing Brown with legislative victories.) How did Vance, whose campaign we remember as 18-ish months of idle bitching about Mexicans, become Big Mr. Train-Legislation Guy? "One of the things I've learned here," he told Politico, "is that it's very easy to disagree with people so long as you're not an asshole, and still get things done." We'll see if he still feels that way after not passing another bill for 27 years.

6. Mike Pompeo
Aww! He still thinks he can be president.
The annual Conservative Political Action Conference is taking place this week just outside D.C., and the word that best appears to sum it up is: Emptiness. No one's there! Attendees aren't there, Ron DeSantis isn't there, Mike Pence isn't there. (Part of this is because people don't want to be associated with the person who runs CPAC, Matt Schlapp, who's been accused of "groping" a male campaign worker.) So, who the heck is there, talking to no one, to no applause or even the slightest of interest? Former CIA Director and Secretary of State Mike Pompeo, that's who. In preparation for a presidential run, he took some shots at his former boss, Donald Trump. "We can't become the Left," he said, "following celebrity leaders with their own brand of identity politics, those with fragile egos who refuse to acknowledge reality." We can't help but say it: It's going to be so great to see what Trump does with these guys. Pompeo will practice a line like that 75 times in the mirror ahead of the debate; Trump will burp and respond, "Uhh, Dumb Mike Pompeo," and Pompeo will have to drop out the next day.

7. Andrés Manuel López Obrador
The old "distract the protesters with an elf" chestnut.
Protesters have come out in droves this week to challenge Mexican President Andrés Manuel López Obrador, whose recent electoral reforms are being criticized as an attempt to weaken democracy in the country. The feisty politician, after hearing some criticism from American officials, shot back, "There is more democracy in Mexico than could exist in the United States," which … you know, there's a conversation to be had. But perhaps in an attempt to distract from the protests, López Obrador this week shared a photo of an elf-like creature with devilish eyes, which he claims that an engineer took three days prior. "Everything is mystical," he wrote. Well, buddy, how about mythical, because that photo wasn't three days old, it was two years old! And there was nothing mystical about that white-eyed goblin hiding in the trees—that was just Slate writer Ben Mathis-Lilley! Have a good weekend, folks!