Slate's guide to the most important figures in politics this week.
Welcome to this week's edition of the Surge, Slate's weekly politics newsletter and stock tipsheet. We've been saying it for many years: Silicon Valley has a lot of money. Banks have a lot of money. Want a lot of money? Then put it all in Silicon Valley Bank.
… Well, now that we're broke, we're going to have to up "the clicks" by opening with several entries about Ron DeSantis and Donald Trump going after each other. Mostly, though, it's Trump going after DeSantis, and DeSantis going after a pudding cup. DeSantis is also going after the nation of Ukraine.
Let's just get into it!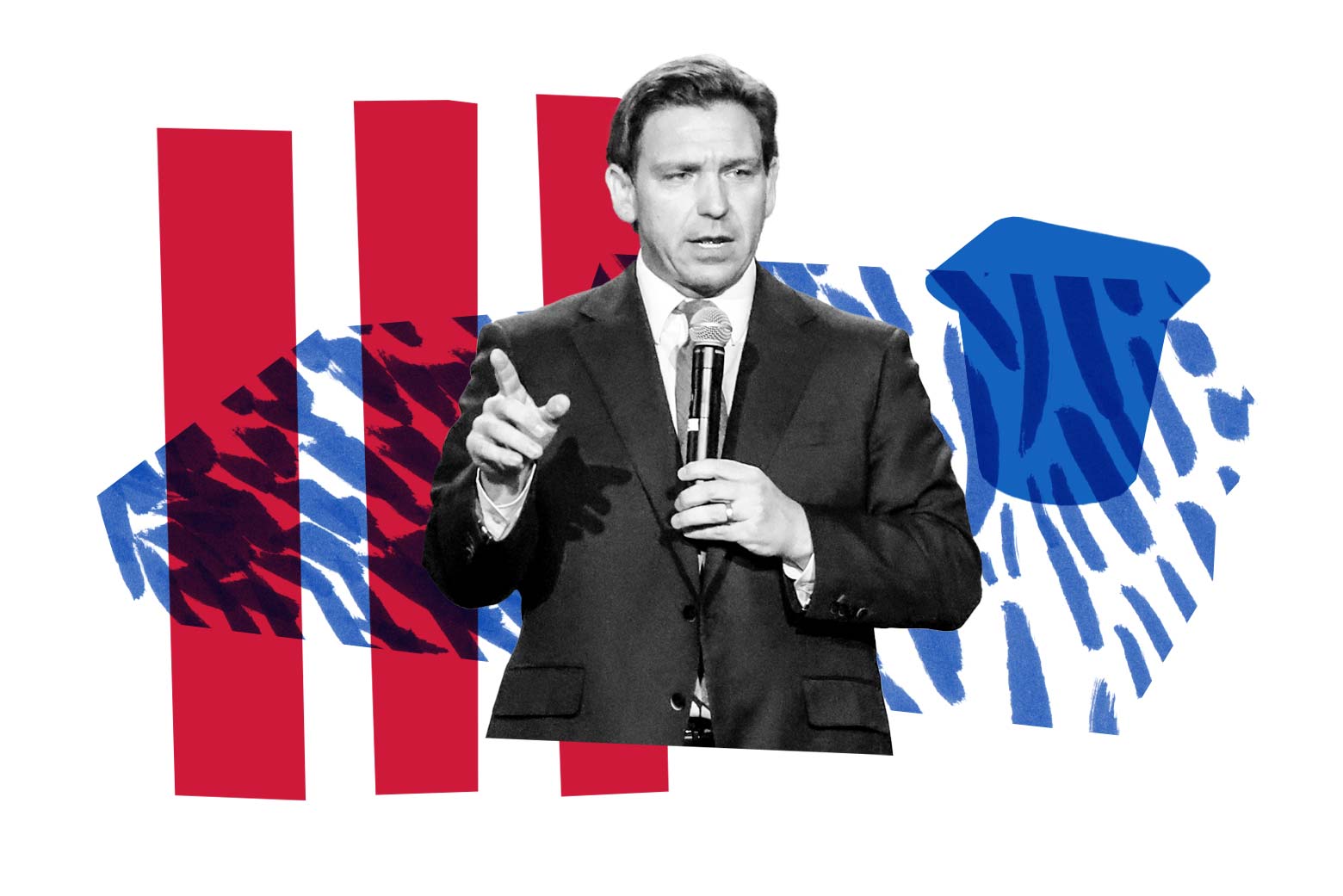 1. Ron DeSantis
When your best friend is a cup of pudding.
There were a couple of different stories this week about an emerging 2024 narrative that caught our eye: Is Ron DeSantis, the great savior of the Republican Party from Trump, some kind of friendless-creep type of guy? Have we got an oddball situation here? First, NBC News reported that a number of House Republicans are saying DeSantis had "no friends" in Congress. They describe him as a "loner" who "was not a backslapping politician." One GOP member would see DeSantis in the gym every day and "could hardly get him to say hello." Yet another put it like this: "Who's somebody you'd want to have a cup of coffee or a glass of wine or a beer? His wife. Never Ron." The second story, in the Daily Beast, reports further on DeSantis' less-than-admirable social skills. Most notably, he eats food weird. "He would sit in meetings and eat in front of people," one former DeSantis staffer told the Daily Beast, "always like a starving animal who has never eaten before … getting shit everywhere." We're talking about a guy who's sloppin' up his hands with pudding. "During a private plane trip from Tallahassee to Washington, D.C., in March of 2019," the Daily Beast writes, "DeSantis enjoyed a chocolate pudding dessert—by eating it with three of his fingers, according to two sources familiar with the incident." So. Who is this guy, won't talk in the gym, jamming pudding in his face with his fingers? Oh, and what's this he's saying about Ukraine? That's the next entry, is what it is ...

2. Ron DeSantis, Continued
There's no territorial dispute between Ron DeSantis and Donald Trump on this.
Republicans in Congress still prefer Puddin' Ron to Donald Trump. They appreciate how he can get the base all worked up about banning images of gay ankles in children's books and being mean to the media, à la Trump. But they also expect that he'd be able to govern without ruining the nation's morning every day on Twitter. He, like just about every other non-Trump potential candidate, fits within congressional Republicans' broad understanding of Normal. This is why so many Republicans in Washington, particularly in the Senate, got heartburn when DeSantis—a Russia hawk when he served in Congress—endorsed a MAGA view of the war in Ukraine this past week. In response to a questionnaire from Tucker Carlson, DeSantis said that "becoming further entangled in a territorial dispute between Ukraine and Russia is not one of" America's "vital interests." This "territorial dispute" description of one country invading another sovereign country in order to take it earned rebukes from much of the Senate GOP. One of DeSantis' home state senators, Marco Rubio, said: "I don't know what he's trying to do or what the goal is." Texas Sen. John Cornyn told Politico he was "disturbed by it. I think he's a smart guy. I want to find out more about it but I hope he feels like he doesn't need to take that Tucker Carlson line to be competitive in the primary." We have some rough news here for John Cornyn: That's exactly what DeSantis feels he needs to do to be competitive in the primary! And it's not clear he's wrong about that.

3. Donald Trump
Pulling away from Puddin' Ron?
Yes, we have a long way to go until the primary, but there's evidence that Trump's usual approach of wildly slandering a top Republican opponent is working once again. As the New York Times' Nate Cohn wrote this week, "every single one" of the presidential polls in the past two months "has shown Mr. DeSantis faring worse than before, and Mr. Trump faring better." It's not that Puddin' is falling completely out of contention. But at some point, he's going to have to figure out a successful way to engage Trump's bombardment of taunting and insults. How hard could it be? Just because… not one Republican ever in history has figured out how to do it doesn't mean DeSantis can't. Meanwhile, Republicans in Washington remain ever hopeful that this won't get too dirty. "Senate Republican Whip John Thune (S.D.) said on Wednesday," the Hill reported, "that he wished Trump would focus on drawing contrasts with Democrats on the issues instead of tearing down fellow Republicans." Bless you, John Thune.

4. Barney Frank
Gotta put a roof over your head.
As you may be able to tell from the 67 entries we've led with about Ron DeSantis, we don't know a whole lot about the week's biggest story, in which all the banks are collapsing left and right. (Thankfully, our colleagues have got you covered.) What we do know is that when ex-Rep. Barney Frank is on a media tour, the quotes are going to be good—if not entirely good for him. Frank retired from the House in 2013, after ushering through the Dodd-Frank financial reform law, and then served on the board of Signature Bank, which New York state regulators seized control of this week. Frank has since bristled in interviews suggesting that he participated in the "revolving door" between government and finance, or that he pushed for softened regulations in 2018 that benefited his employer. (He argues that he wanted those regulations softened prior to his time at Signature.) But this first paragraph from a Financial Times story demonstrates why Frank might consider availing himself of a crisis communications firm: "Former US congressman Barney Frank, an architect of landmark legislation designed to make the banking system safer, has defended his decision to take a job on the board of failed Signature Bank, saying 'I need to make some money.' " Interesting.

5. Tim Kaine and Todd Young
Marking the 20th anniversary of the Iraq war by actually ending it?
Twenty-one years ago, Congress voted to authorize President George W. Bush to use military force against Iraq. Twenty years ago, Bush used military force against Iraq. More than a decade ago, the U.S. declared an end to the war and withdrew most personnel from Iraq. But to this very day, there is still a law on the books that authorizes the president to "defend the national security interest of the United States against the continuing threat posed by Iraq." Multiple presidents after Bush have invoked this authority when they've woken up on a lazy Saturday and decided that they want to bomb something in Iraq. But that power might finally—finally—be repealed. The Senate this week advanced a bill, sponsored by Virginia Sen. Tim Kaine and Indiana Sen. Todd Young, to repeal both the 2002 authorization for the use of military force, known as AUMF, and the authorization of the 1991 Gulf War (also still on the books!!). The vote to begin debate was 68 to 27, with 19 Republicans joining all Democrats who voted in favor of the measure. Things could still get a little rocky during the amendment process next week, as some Republicans are eyeing exceptions about who or what is still OK to bomb in Iraq should a president get that itch. But hey—open-ended military authority against one country could actually end soon! Maybe next they could consider the 2001 AUMF granting open-ended war-making authority against the rest of the world? Eh, that's asking a lot.

6. Eric Garcetti
Hopefully the 20 months of political capital spent on this guy was worth it!
India: big old country. A whole lot of people. Very, very important to the United States' efforts to counter Russian and Chinese ambitions. And yet, until this week there had been no Senate-confirmed ambassador to India under the Biden administration. The problem was that President Biden had nominated former Los Angeles Mayor Eric Garcetti for the position in July 2021 out of a sense of loyalty to one of his presidential campaign co-chairs. For years, Garcetti has been facing accusations that he repeatedly ignored numerous allegations of sexual harassment and racist comments against one of his top aides. Such allegations put the Democratic senators who would be expected to provide the votes for Garcetti's nomination in something of a bind. Biden, however, never dropped the nomination, and resubmitted it when the new Congress began this year. Garcetti was finally confirmed this week in a 52–42 Senate vote, with three Democrats voting against him and seven Republicans voting for him. Senate Majority Leader Chuck Schumer's statement after the vote was so priceless that we will quote it in full: "The United States–India relationship is extremely important, and it's a very good thing we now have an ambassador." As Schumer likes to say when asked a follow-up question: Next!

7. Andy Ogles
The Southern Santos?
In what is perhaps the only good news for New York Rep. George Santos over the past few months, he finally has some company in the category of Freshman Republicans Who Maybe Made Some Stuff Up. A Nashville news station reported in February that Tennessee Rep. Andy Ogles had embellished various elements of his résumé. For example, he has described himself as an "economist," but he took only one community college economics course (he got a C) before majoring in "liberal studies." (Hmm … sounds like a "Democratic Party" major to us.) Ogles had also described himself as having a major in international relations but realized he "was mistaken" when he "pulled my transcript to verify." The same Nashville news station then reported this week that Ogles once raised $25,000 on GoFundMe for a children's burial garden after the stillborn birth of his son. "Yet what makes it a story," NewsChannel 5 reported, "is the fact that there is no burial garden, no one knows where their donations went, and Ogles refuses to say what he did with the money." Ogles at first refused to comment but later gave a statement to a conservative Tennessee outlet saying that while he didn't build the burial garden, they directly distributed that money to "assist families in the community." (As an economist, he determined that this was the more efficient means of cash disbursement.) This is a good time to remind members: If you made ludicrous embellishments of your résumé or did not record a paper trail of where your GoFundMe payments went, you may want to get to fixing that now, before it's reported in the news. Especially if you're 1 of the 20 House Republicans with whom Speaker Kevin McCarthy may have an ax to grind.