It's Friday afternoon and this weekend's viral internet character is undoubtedly Tennessee Lt. Gov. Randy McNally. The Republican first entered the national consciousness two days ago when the progressive Tennessee Holler site broke the news that he had been, for some time, writing enthusiastic comments underneath Instagram posts by a 20-year-old native of the state named Franklyn McClur. McClur's social media photography oeuvre can best be described as extremely groin- and butt-oriented; here's an indicative post/comment pairing: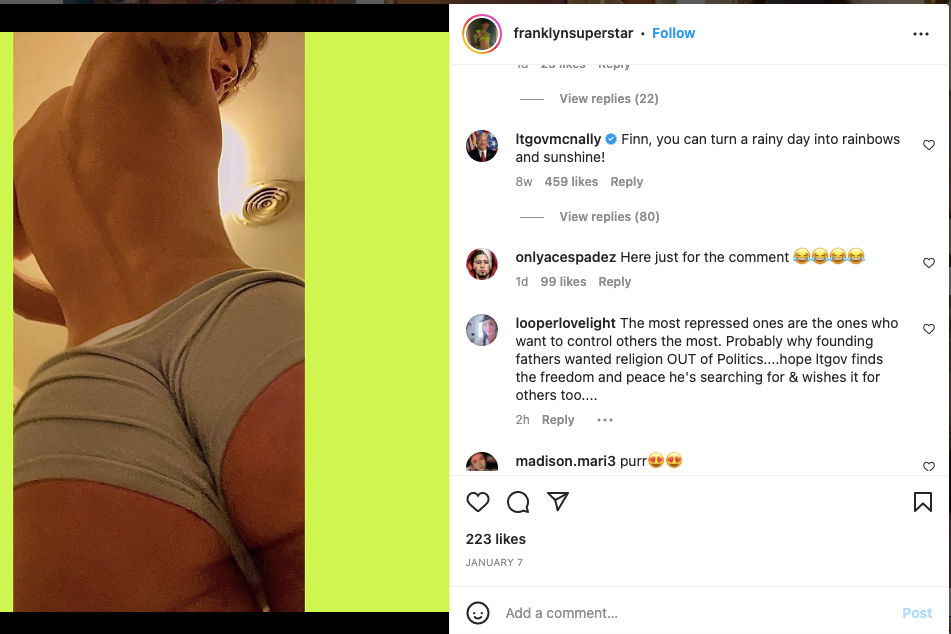 That's the lieutenant governor's official account, at right, congratulating McClur on being able to "turn a rainy day into rainbows and sunshine." The screenshot above was just taken Friday afternoon, by the way, because none of McNally's comments, "likes," and various heart and flame emojis have been deleted from McClur's posts. In fact, the lieutenant governor has issued a statement and done a local news interview in which he attests that his engagement with this particular young man's crotch photography is regular voter outreach. Here's the comment McNally's office released:
Here's the interview he did with Nashville's NewsChannel 5, in which you can listen to a local newsperson matter-of-factly describe a post in which McClur (proudly) calls himself a "hoe" who "gets free weed for giving head." (Responds McNally: "I don't recall reading the part about the weed." Actually a very funny answer!)
According to NewsChannel 5, McNally told the interviewer that these and other interactions online have helped him "be more affirming" about LGBTQ identities. He nonetheless presided over the recent session of the state Legislature in which it passed a bill, subsequently signed by Gov. Bill Lee, which prohibits "adult-oriented performances" (including those by "male and female impersonators," i.e., drag queens) from being held on public property or in view of minors. (Lee's relationship to the bill has also been in the news; just before it was signed, a Reddit user posted a photo from the governor's 1977 high school yearbook in which he's shown wearing a dress and a necklace.)
McClur, who is often wearing makeup and otherwise engaging in gender fluidity in his Instagram photos, told the Holler that he and McNally "became friends on Facebook through mutual friends a few years back." He told the site that he wasn't aware of McNally's connection to the drag bill and doesn't "support hate of any kind," but is not otherwise bothered by his posts—nor does he believe, for the record, that the lieutenant governor is hitting on him. "If he's hitting on me it's real out of touch hitting on me," McClur said.