Slate blogged along as President Biden delivered his post-midterms State of the Union. You can read below about all the jokes, jeers, and Bidenisms—and at least one surprising outfit.
So How Did Biden Do?

Just speaking on the metric of age—well, Biden seemed like he was definitely 80 years old. He basically delivered his speech, and occasionally nailed it, but he also got a little lost sometimes.

The most important moment came just before the end, when Biden ad-libbed: "I'm not new to this place—I stand here tonight having served longer than almost any of you have served."

Maybe his best option is to acknowledge it! —Susan Matthews
A Big Night for Bidenisms

Biden is known for his folksy rhetoric. His you betchas and c'mon pals, his look busters and geez mans have long been a part of his political appeal, punctuating his speech like it does that of so many other American grandpas. Such 1950s Scranton–inflected grace notes are no small part of why many Democrats refer to him as "Grandpa Joe"—or, unfortunate predecessors aside, "Uncle Joe."

Tonight's State of the Union was positively overflowing with such Bidenisms, in both the president's prepared remarks and his ad libs. We've compiled some of our favorites here.
—Shirin Ali and Seth Maxon
The Focus Stayed on Domestic Issues
Biden spent just five minutes on foreign policy—but that's OK.

Given that a majority of Americans believe that Joe Biden hasn't done anything in his two years as president, it's no surprise that he spent just five minutes on foreign policy in his State of the Union address. Even those five minutes were fairly easy crowd-pleasers. "Will we stand for the defense of democracy?" he asked. (Well, maybe it wasn't so easy; most lawmakers on the Republican side didn't stand and applaud.)

He repeated his frequent pledge to stand with Ukraine "as long as it takes"; to "seek competition, not conflict" with China; and that nations make a big mistake if they "bet against America." It's debatable that democracies in the world are strengthening while China is weakening. "Name me a world leader who would change places with Xi Jinping! Name one!" he challenged. Well, I could think of several. But that's OK. No one expects detailed foreign policy proposals to come out of speeches like this. In just about every other respect, it was one of the strongest SOTUs in ages. —Fred Kaplan
Sarah Huckabee Sanders Railed Against the "Woke Fantasy" of Biden's Speech
The official GOP response included a slow-chant of "USA, USA, USA."

Arkansas Gov. Sarah Huckabee Sanders, in responding to President Biden's State of the Union address, hit on familiar territory for the modern Republican party—emphasizing Democrats' moral depravity, general weakness, and rejection of freedom.

"Our freedom is under attack, and the America we love is in danger," she warned. "The Biden administration seems more interested in woke fantasies than the hard reality most Americans face."

But she had previously said she would be striking an "optimistic" note, based on earlier reporting, and now we know what that note is: that a "new generation" of Republican leaders would take charge and fix everything.

Sanders is only 40, so it makes sense that she is celebrating the youth of up-and-comers in her party. But it sounded slightly ominous paired with the fact that she spoke multiple times about the "next generation," when the only officially declared presidential candidate, Donald Trump, is 76.

Sanders praised the good state Trump had left things in around the country—largely as a way of going on about how badly Biden and the Democrats had bombed. (Some of her main points: the "crisis" at the border, which she and the other Republicans blame for opioid deaths, and the weakness on crime that allowed "violent criminals [to] roam free while law-abiding families live in fear."

Mostly, Sanders' speech served as self-promotion. She repeatedly touted her credentials as "a mom," a qualification that she cited as giving her the ability to not believe anything Biden said in his speech. She announced the unveiling of her education platform for Arkansas. She touted the culture-war-oriented executive orders she signed during her first week as governor. (One of these included banning the term "Latinx" in state documents.) And she told a lengthy and detailed story about visiting American soldiers in Iraq with Trump on Christmas, when, she claimed, a young man had given her a rifle patch as "a sign of ultimate respect."

But the strangest part of the speech was when Sanders started comparing herself to Biden. "I'm for freedom; he's for government control," she said. "I'm the first woman to lead my state; he's the first man to surrender his presidency to a woke mob that can't even tell you what a woman is."

"We are under attack in a left-wing culture war we didn't start and never wanted to fight," she said. —Molly Olmstead
Biden Played the Oil Drum
Last year's high gas prices are still clearly weighing on him.

If there's something President Joe Biden wanted to make clear tonight, it's that he's not making a mortal enemy of the oil and gas sector, as Republicans often proclaim. But if he is speaking out against those companies, he'll tell you, it's not his fault—they are forcing his hand.

"You may have noticed that Big Oil just reported record profits," Biden said. "Last year, they made $200 billion in the midst of a global energy crisis. I think it is outrageous. Why? They invested too little of that profit to increase domestic production."

You heard that right: The problem is the oil companies didn't take their money to increase drilling and refinement at home. That may seem out of place for the president who, just before that "outrageous" comment, was vividly describing the horrors of climate change and the upcoming solutions—clean energy, electric vehicle chargers, resilience measures—that his legislation will be funding for years to come. But that line about the need for oil wasn't a fluke. Read more here. —Nitish Pahwa
A Spicy Back-and-Forth Over Medicare and Social Security
Biden engaged with the jeerers.

About midway through his speech, during a particularly spicy section about Medicare and Social Security, things got as close to out-of-hand as things get in a State of the Union address, with Biden engaging in an ad-libbed back-and-forth with Republicans.

Biden, referring to the upcoming fight over the need to raise the debt limit, said that some Republicans wanted to take the economy "hostage" unless he agreed to their economic demands. This earned one of many severely, severely disappointed head-shakes from Speaker Kevin McCarthy.

"All of you at home should know what their plans are," he said.

Biden then mentioned how "some" Republicans want Medicare and Social Security to sunset every five years. This, of course, was a plank in the policy manifesto released by Florida Sen. Rick Scott in early 2022, a plank that caused Republicans headaches throughout the midterm election season.

Republicans loudly jeered.

Some more loudly than others.

Biden chose to engage with the jeerers, assuring them he didn't mean all Republicans wanted Medicare and Social Security to die a quick death. "I'm not saying it's the majority!" he said. He wouldn't name names.

Although some Republicans would like to look for Medicare and Social Security savings in the debt limit fight, their leader, McCarthy, has said they won't be on the table. Eventually, Biden thanked the Republicans who were irate at him: They'd all agreed in the room not to touch Medicare and Social Security.

We will hear much griping from Republicans about this when the speech concludes. —Jim Newell
Biden Struck a Feisty, Punchy Tone
And it's a far cry from the way President Obama sounded after the 2010 midterms.

Twelve years ago, President Barack Obama kicked off his post-midterms State of the Union on a somber note. "Many people watching tonight can probably remember a time when finding a good job meant showing up at a nearby factory or a business downtown. You didn't always need a degree … if you worked hard, chances are you'd have a job for life, with a decent paycheck."

"The rules have changed," he followed. "Steel mills that once needed 1,000 workers can now do the same work with 100," punctuating a resounding note of defeat on an economy that remained punishing for blue-collar workers in particular. Those jobs, Obama indicated, were not coming back.

President Biden finds himself in a political situation not completely dissimilar. He, like Obama, is heralding a newly established Republican takeover of the House after his first midterms cycle as president. Biden's presidency, like Obama's at the time, is two years removed from a recession. But his tone could not be more different. "Jobs are coming back, pride is coming back because of the choices we made in the last two years. This is a blue-collar blueprint to rebuild America and make a real difference in your lives," Biden declared on Tuesday night. He celebrated the creation of "800,000 good-paying manufacturing jobs," many of which "do not require a college degree."

That's not just rhetoric. President Biden is right: Job creation continues to boom, and it's not just the top end of the income distribution benefiting. That trend is evidence of the great success of the American Rescue Plan Act, which put billions of dollars toward the recovery effort. The ARPA was, in essence, a refutation of Obama's dreadfully undersized response to the Great Recession, which led to a brutal recovery that languished throughout a decade-long period. That approach made Wall Street whole first; everyone else came after.

Some economists criticized ARPA for causing inflation. Knowing what we know now, what wouldn't Democrats have given for a little more inflation. —Alex Sammon
Tonight's Designated Survivor: Marty Walsh
Every year, when so many members of government gather in one place for the State of Union, one member of the cabinet has to remain out of the building in case of some emergency that results in the "death or disablement of the President, Vice President and other officials in the line of presidential succession," according to the Congressional Research Service.
This year, the designated survivor is Labor Secretary Marty Walsh. Walsh is 11th in the presidential line of succession as labor secretary, and he will spend the evening in an undisclosed location during the president's address, preparing to jump into leadership if need be. Is he really prepared to take the job? Well, Walsh is reportedly leaving the White House to take up a job with the NHL Players Association—maybe that's why he doesn't get to attend. Designated survivors are typically assigned to a secretary from the Departments of Interior, Agriculture, and Commerce. —Shirin Ali
Sinema Made Yet Another Style Statement

In keeping with her custom of wearing outfits wildly outside the normative bounds of dress for the situation, Sen. Kyrsten Sinema attended Biden's speech in a fitted yellow dress with a high slit and massive structured ruffles for sleeves.

The garment may have broken the single most important dress-code rule of any seated event: Do not wear something that will overshoot the sides of your chair and tickle the shoulders of the people sitting next to you. (Newly an independent, she also chose to sit between two Republicans.)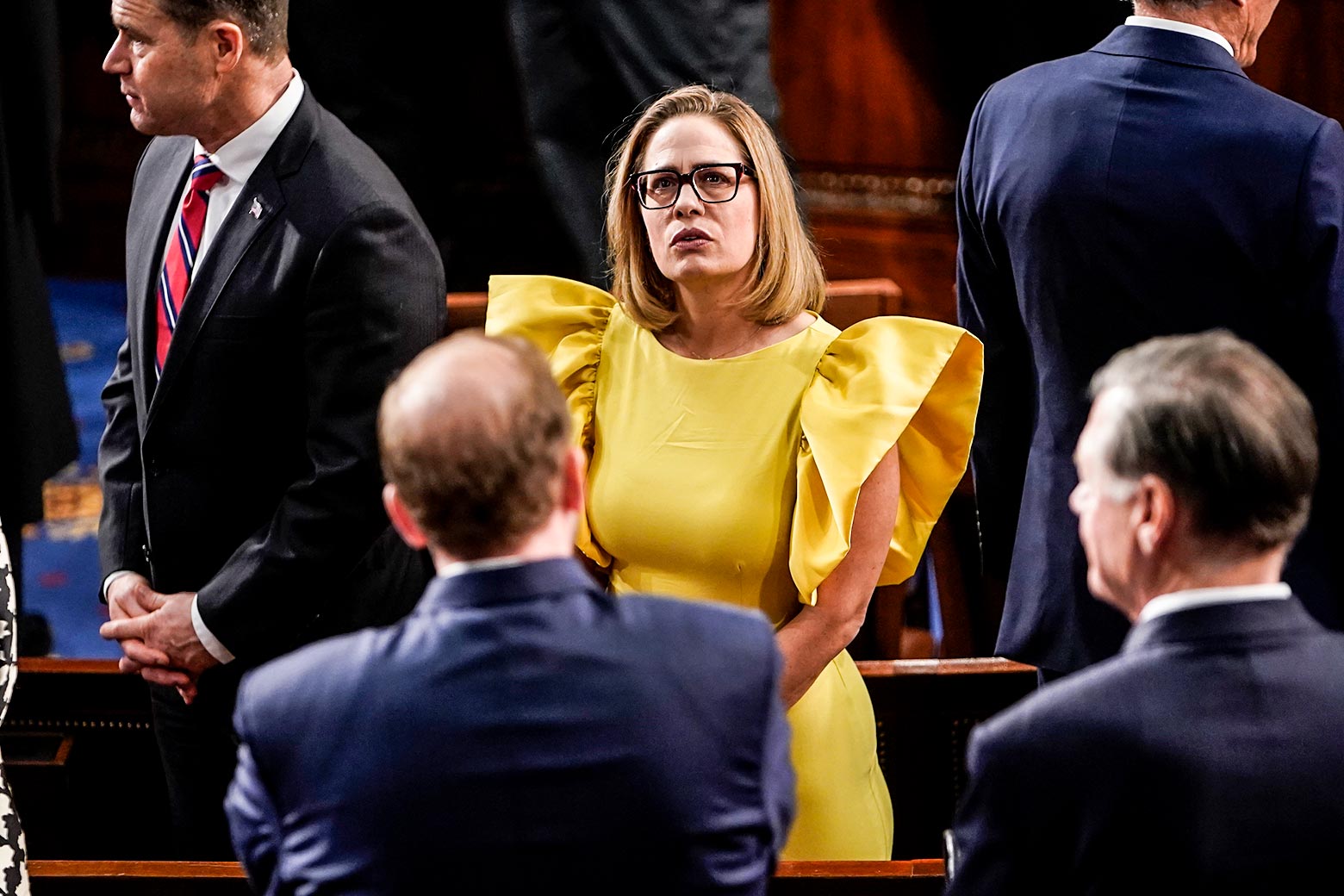 Sinema, a confirmed clotheshorse and resale maven, has been favoring a strong shoulder lately. Recall the fluffy sheepskin vest she sported at Davos, an obvious attempt to stand out among all the terrible people in business suits at that confab. At the State of the Union, a number of women in the audience dressed more flamboyantly than usual, but Sinema's sunshine-yellow sleeves still glared bright in every wide shot, thanks to their color and girth. Her wardrobe reveals a yearning for celebrity—but a background appearance at this speech is probably as close as she's going to get to a red-carpet moment. —Christina Cauterucci
A Lone Mask in the Chamber

Bernie Sanders, who has a storied history of wearing viral accessories at presidential speeches, is delivering tonight as well. The 81-year-old appears to be the only one present wearing a KN-95 mask.
Well, That Was Awkward!
Oh, George.

There's a type of member of Congress who will get to the House chamber early on State of the Union night to grab a seat near the aisle and shake important hands. Some call them "aisle hogs." I think of them as nerds. Tonight, we learned that New York Rep. George Santos is one of these people.

Santos snagged a seat by the aisle and attempted to greet senators as they entered the chamber before the address. Many appeared to ignore him, with the exception of glad-handing football coach Sen. Tommy Tuberville of Alabama.

One interaction, though, looked particularly spicy. Utah Sen. Mitt Romney didn't look happy to see Santos, and Santos was taken aback by whatever he heard.

Hmm!

President Biden is likely being briefed on the need to avoid Santos before he enters the chamber. —Jim Newell
A Dispatch from the War on Balloons
How long will this brief détente last?

After several days of bitterly partisan balloon rancor, there's been some pre-State of the Union movement toward bipartisan balloon comity in D.C., Politico reported late Monday.

Some House Republicans had been planning a resolution condemning Biden's purportedly weak response to the Chinese weather* (*spying) balloon that floated across the country last week, the Beltway publication said, but have been convinced by cooler heads within the caucus to pivot toward language targeted at the Chinese government instead. There is, apparently, some hope that Democrats will vote for such a measure as well.

But will this atmosphere of aisle-crossing harmony survive the night? Especially given the chance it presents to the GOP's far-right to heckle the president, in person, about some alleged connection between the balloon and his son Hunter that they read about on Marjorie Taylor Greene's Facebook page? —Ben Mathis-Lilley
What Special Guests Are Invited Tonight?

Tyre Nichols' parents, the man who disarmed the Monterey Park shooter, and a Philly bus driver who stopped a carjacking are among the guests lawmakers have invited to attend tonight's address. Shirin Ali has more details on tonight's guest list here.
Sarah Huckabee Sanders Will Do the Official GOP Rebuttal
A symbolic choice for the clapback portion of the evening.

Sarah Huckabee Sanders will issue the Republican rebuttal to tonight's State of the Union—a symbolic choice that shows the power of former President Trump's continued influence over the GOP, even after he basically ensured the party's failures in last year's midterm elections.

As one of the former president's press secretaries, Sanders enjoys the dubious distinction of not just surviving the Trump White House without eliciting the former president's wrath (a rarity), but thriving afterward. After a brief stint on cable news, she was elected governor of Arkansas last fall—proof, according to Politico, that there do exist some Trump-world associates who "could hitch themselves to Donald Trump, accumulate power in the process and, ultimately, outlive the most unsavory parts of the association." Indeed, she managed to win her gubernatorial election without ever having run a campaign before. Read more here. —Molly Olmstead
Does Biden Seem 80?
Or is he getting away with appearing somehow closer to 75?

The big subtext of tonight is somewhat awkward to talk about, but I would argue we have to: How old does the president really seem? Joe Biden became the first-ever president to turn 80 while in office last November, and he's certainly been trying to downplay it (the White House didn't even really host a party). He still has yet to announce whether he is running for president again, but tonight he will almost certainly attempt to make a case for himself. If he does run again, he would reach 86 years old before he would leave office (by a few months, but still).

Michelle Goldberg has been beating the Biden-should-step-down drum for some time now, and in a column today she observes: "There's a rift in the Democratic Party about whether this is wise for an 80-year-old to do. Democratic officials are largely on board, at least publicly, but the majority of Democratic voters are not." Even though the president enjoys a high approval rating among Democrats and Democrat-leaning independents (at 78 percent), 58 percent want a new candidate for 2024.

Despite Biden's reluctance to publicly celebrate his 80th, Slate took the opportunity to do a deep dive into the situation at hand, including interviewing other 80-year-olds, who had a lot of thoughts about the matter but seemed generally supportive of their peer's attempt to stay in office. We also checked in with some experts, who explained that men who make it to 80 tend to live another 8.7 years after that. It seems likely he will stay with us through a second term—but is that equivalent to having the energy needed to perform the job? His performance tonight might give us a little insight. —Susan Matthews
Ah, It's That Time Again: the State of the Union Is Tonight

Once again it's the State of the Union address, in which the president reflects on the year that was and sets goals for the year that will be. No line from the speech, written and edited over weeks and months and delivered to a joint session of Congress, will be remembered by 2 p.m. the following afternoon.

And yet!

Many variables hang in the air. How will President Biden approach the biggest legislative challenge this year: raising the debt limit? On what issues will he pretend the administration can work with the new House Republican majority? What kind of disruptions or practical jokes do the likes of Reps. Matt Gaetz and Lauren Boebert have in mind? And despite recent successes, is the Global War on Balloons (GWOB) … winnable?

Watch this space for answers. —Jim Newell