Slate's guide to the most important figures in politics this week.
Welcome to this week's edition of the Surge, which, after dozens of ballots, has settled on a Coalition Surge of four writers.
We spent more hours in the House this week than we have in … [workshops endless jokes roping in the Fox medical drama House] … several years. This week's edition will be heavily focused on the extended melee for the speaker's gavel, but we also fit in a little space for everyone's favorite Dynamic Duo, Debbie Stabenow and the dead pope.
We're going to start with Bakersfield's finest, who's ever-so-close to his dream job as janitor of hell.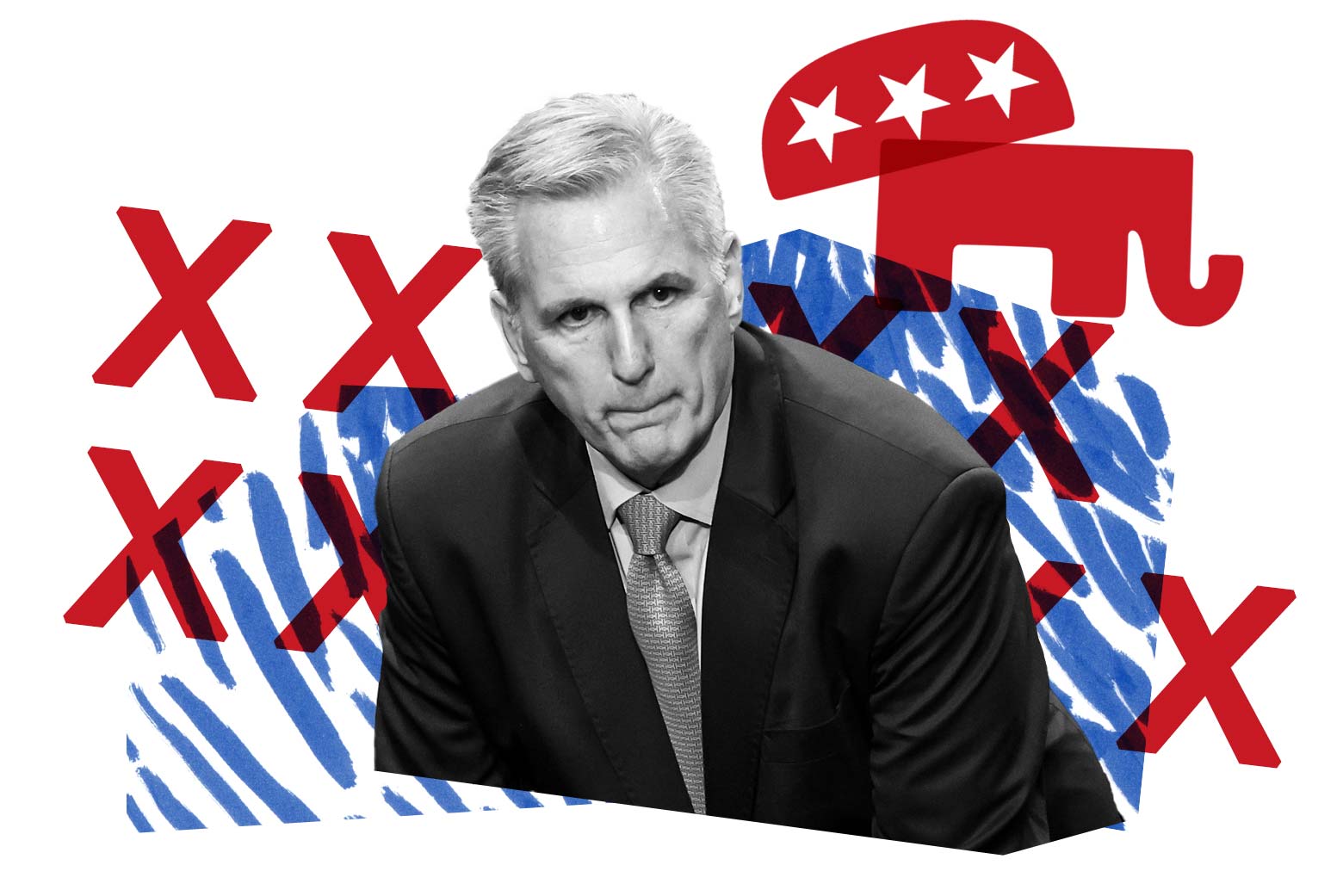 1. Kevin McCarthy
Enjoy the speakership you've just created.
As we write this on Friday afternoon, Kevin McCarthy—after a long, long week—is on the brink of the speakership, only a couple of votes away. He may be speaker by the time you read this! So how did he arrive at this position? By putting himself in a straitjacket. He's made it so any one person could call for a vote on his job if he hurts the Freedom Caucus' feelings. He's giving hard-liners seats—perhaps a consequential number of seats—on the Rules Committee, which determines which bills go to a floor vote and under what conditions. He's promising steep spending cuts and a debt ceiling increase only in the event those spending cuts are in place. Who knows what other side deals for committee positions are in there! If McCarthy can close this out, Republicans will celebrate like they've just won the Revolutionary War. But they'll be celebrating the installation of a Voltron-like Freedom Caucus composite character as speaker.

2. Matt Gaetz
The pride of the panhandle.

3. George Santos
Who wouldn't want to be friends with the first-ever simultaneous Holy Roman Emperor and CEO of Goldman Sachs?
In some ways, serial liar and incoming New York Rep. George Santos was the most in-demand guy in the Capitol this week. As soon as the millennial fraudster set foot on the Hill on Tuesday, he was mobbed by reporters, who chased him down dead ends as he dodged the cameras and tried to find his way to his office. He divulged to Semafor that he's already lost 6 pounds from all the walking—usually away from journalists—he's done this week. (The Surge was unable to fact-check this claim.) But Santos proved less popular with his own colleagues. He spent his first day on the job sitting alone, looking, in a series of dramatic photos, like a kid who'd been shunned in the middle school cafeteria. On Wednesday, he attempted to insert himself into the goings-on of the House chamber, with limited success. Republicans appear to be warming to the "Jew-ish" freshman, though: By Thursday, Santos was yukking it up with Rep. Marjorie Taylor Greene. Ah, well, it seems it'll be up to Democrats to keep making him feel ashamed and unwelcome. Maryland Rep. Jamie Raskin accepted that challenge on Thursday, tweeting, "We never had to deal with this much chaos when George Santos was Speaker." Get it? Because of the lies and the résumé padding thing? (Raskin deserves a laugh more than anyone else in Congress right now, so we'll let him have this one.)

4. Nancy Pelosi
Quite the scene to watch from the backbench.
Among the more surreal scenes of the first couple days of speaker votes this week was one of the most powerful members in the history of the House, ex-Speaker Nancy Pelosi, sitting in the second-to-last row of the gallery like some no-name bum. As the new House Democratic leaders—Pete Aguilar, Katherine Clark, and Hakeem Jeffries—successfully ensured they had all 212 members voting on ballot after ballot, the "speaker emerita" kept her distance to avoid the impression that she was still pulling the strings. (This was not the case with ex-Majority Leader Steny Hoyer, who was sitting directly behind Aguilar, breathing down his neck.) As the process moved on, though, Pelosi seemed to slink closer and closer to the well of the House, engaging in more and more of the major conversations. In talking to reporters, though, she was not delighting in McCarthy's struggles. For better or worse, Pelosi ended her tenure as speaker with nearly unprecedented concentration of power in the speaker's office. In seeking to win the speakership, McCarthy was conceding some of that power. "What we're seeing is the incredibly shrinking speakership," Pelosi told reporters Thursday, "in terms of all the deals being made and the rest. And that's most unfortunate." And with that, the legendary ex-speaker set off on her mission as a mere modest representative from San Francisco: securing billions of dollars in beach balls for the seals in Fisherman's Wharf.

5. Debbie Stabenow
A Michigan interlude.
It sure seemed like a lot of House Democrats from Michigan were running into the cloakroom on their phones Thursday afternoon. That's because a fresh new Senate seat will be opening up in the state, as longtime Democratic Sen. Debbie Stabenow announced, in her words, that she would "hang up the ol' Senate britches." (She did not say that; it was more like "I'm retiring.") Her retirement opens up a seat in 2024 in the winnable swing state of Michigan. But Michigan, since its shock turn for Trump in 2016, has trended back toward the Democrats, who had a smashing midterms rout there. Democrats have the much deeper bench, with Reps. Haley Stevens, Elissa Slotkin, and Debbie Dingell having all expressed interest, while other statewide officeholders could pursue it too. Who do Republicans have? John James already lost two Senate races and just settled for a seat in the House. The last candidate Republicans ran for governor was an ex-horror movie extra who lost to Gov. Gretchen Whitmer by a hundred million points. If Republicans could run ex-Rep. Peter Meijer, they'd have a chance, but he lost his House primary to a ding-dong last year after voting to impeach Trump—so a Senate primary wouldn't be easy, either. Just need to find a unicorn, then.

6. Pope Benedict
A papal interlude.
The world became one pope fewer when Pope Emeritus Benedict XVI died at age 95 and was buried this week. Benedict, a conservative whom some called "God's Rottweiler" because of his intense focus on traditional morality and orthodox theology, was considered a talented scholar but a halfhearted diplomat and, frankly, a lousy leader. He will, however, go down in history as the first pope to step down since 1415, giving the Catholic Church a much-needed update from the status quo of having incapacitated and senile monarchs rule somewhat absolutely. His death doesn't immediately change anything for the church, as Pope Francis has been leading the faithful for a decade. But it does clear the way for the 86-year-old Francis to begin contemplating his own resignation. And Benedict's death has already caused a few scandals: Some have grouched that Francis gave too bland a homily for his predecessor, and Benedict's former personal secretary—a fascinating man known as "Gorgeous Georg"—announced the imminent publication of a juicy tell-all book about Benedict's enemies and haters. May we all be so lucky.

7. Andy Harris
Give me a break.
OK, back to the House: These rebels aren't all so bad! Members like Texas Rep. Chip Roy just want to open up Congress to broader participation and cut the shit out of government spending. You do you! Matt Gaetz, annoying as he is, just wants to have fun and be on the teevee. Who doesn't? But then there's someone like Rep. Andy Harris, a Freedom Caucus member from Maryland. His request was to leapfrog ahead of others in line to take control of a major—and delicate—appropriations subcommittee covering health and labor spending. We don't know whether Harris got this, but he flipped his vote to McCarthy Friday afternoon. There's absolutely nothing to like about Harris, or this request, and if he gets it, then … well then … we'll show him, is what we'll do. Just like we showed him when he single-handedly tried to ban legalized marijuana in D.C. last decade and was … completely successful, and that policy is still in place. He's the worst. Hey, enjoy your weekend folks!