Slate's guide to the most important figures in politics this week.
Welcome to this week's edition of the Surge, coming to you live from the World Economic Forum in Davos. So much exciting stuff happening here!
Ah, if only. We're actually here in dumb Washington, D.C., while it's both chambers of Congress who are at Davos. In their stead, we take a look at the latest skirmishes ahead of the One Vote That Matters this year (raising the debt ceiling). The Supreme Court gives up looking for the Dobbs leaker, as its sleuths were unable to decrypt the alias "Schmamuel Schmalito"; the Oversight Committee loads up on chuckleheads; and the 2024 Indiana Senate race is already disgusting (in a good way).
Let's start, however, with the New York Democratic Party doing its best impression of the Titanic.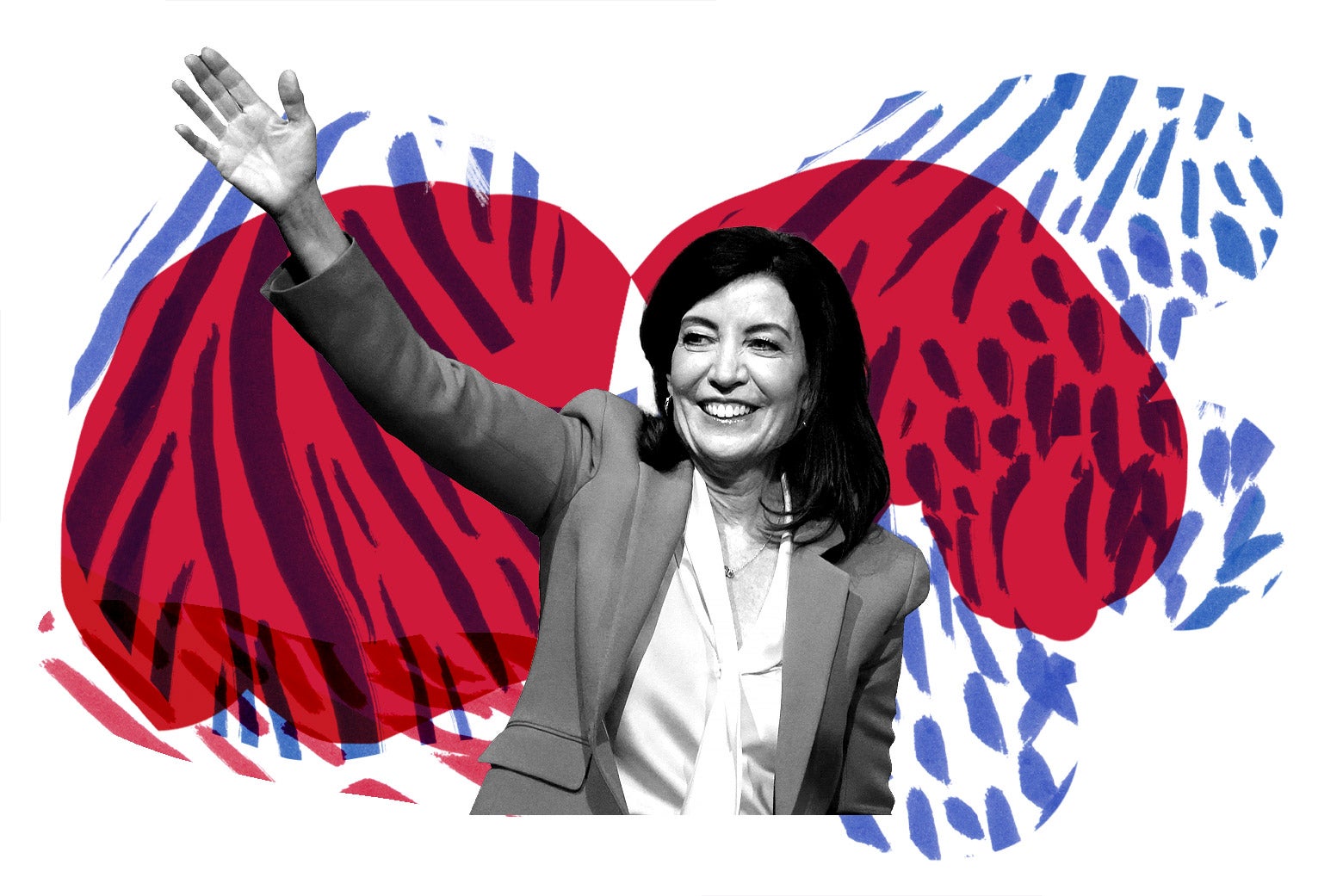 1. Kathy Hochul
A fire sale of political capital.
After New York Democrats got creamed in November's election, Gov. Kathy Hochul, who just barely eked out her own election, had an opportunity to unify the party by picking someone everyone (in her party) liked to serve as chief judge of New York's highest court. Instead, she picked one Hector LaSalle, the most conservative of the available picks, whose past rulings earned opposition from progressives and labor unions alike. It wasn't just her own capital she put on the line behind LaSalle—she dragged in New York Rep. Hakeem Jeffries, the new House Democratic leader, to stump for LaSalle as well. This was all for naught. On Wednesday, Albany Democrats rebelled and voted LaSalle down in committee, making Hochul the first New York governor to lose a nomination fight for the state's top judge. Or is she? Rather than lick her wounds and pick a new candidate, Hochul is considering suing to ensure that LaSalle gets a full Senate vote. The episode is an early favorite for wildly unnecessary political snafu of the year.

2. George Santos
Deny it three times into the mirror, and proof will appear.
Let's check in on our favorite (still, somehow) congressman, New York Rep. George Santos. A new flavor of allegation—dog fraud—has moved to the forefront. As Patch in Long Island first reported, George Santos (aka Anthony Devolder) helped raise $3,000 on GoFundMe for a disabled veteran's dog who needed cancer surgery, and then … didn't spend it on the cancer dog, who died. This allegation was alarming enough that Santos responded to it, tweeting, "The reports that I would let a dog die is shocking & insane." How about untrue, though? Santos also tweeted, "The most recent obsession from the media claiming that I am a drag Queen or 'performed' as a drag Queen is categorically false." There were then, like, 18 billion videos and pictures and accounts of his alleged time as a drag queen in Brazil in the aughts. (Who wasn't a Brazilian drag queen in the aughts? It's nothing to run from!) What else? Santos earned seats on the House Small Business and Science committees this week. It continues to be unclear how much time he has remaining in Congress.

3. Joe Manchin
A possible debt-ceiling out.
The government hit the debt ceiling this week, forcing the Treasury to turn to "extraordinary measures" to pay the government's bills. This gussied-up version of searching the government couch cushions for spare change will cover expenses until sometime around June. For the foreseeable future, the outlook is deadlocked: House Republicans say they won't raise the debt limit without substantial spending cuts; Senate Democrats and the White House say they won't negotiate over the full faith and credit of the U.S. government. There was, however, one idea put forward this week by our old pal, West Virginia Sen. Joe Manchin, that deserves a look. Manchin said he'd briefly spoken to House Speaker Kevin McCarthy and recommended pairing a debt-ceiling increase with a Sen. Mitt Romney bill called the TRUST Act. The bill would establish commissions to make recommendations for shoring up Medicare, Social Security, and other federal trust funds. Here's the thing, though: There's no forcing mechanism for the commissions to produce bills; there would have to be bipartisan buy-in. And if the commissions did produce bills, those products would still be subject to the Senate filibuster. In other words, it's toothless. For now, Democrats won't even entertain making a benign concession, and Republicans won't want to settle for a cosmetic out. But it could be a fallback option for when the final seconds on the clock are ticking.

4. Donald Trump
Ever the voice of caution.
One reason fiscal conservatives could support toothless commissions to take a gander at Social Security and Medicare is that their alternative plan—actually holding the global economy hostage in order to extract real cuts to seniors' health care and income—would be one of the dumbest political moves in history. They would lose the policy fight while giving Democrats a classic winner of an attack to carry them through the 2024 election. One "duder" who has always understood this is Donald Trump, who apparently will soon start campaigning in his campaign for the presidency. "Under no circumstances should Republicans vote to cut a single penny from Medicare or Social Security," Trump said in a video message on Friday. Finally, a voice of caution steps in! What other words of wisdom did Trump have this week? He said the Supreme Court should jail the reporter, editor, and publisher of Politico ("whoever") until they come clean with who leaked the Dobbs draft. Oh! That reminds us …

5. John Roberts
Zero clue where in the world Carmen Sandiego is.
The Supreme Court released a statement and report this week explaining that, after a lengthy investigation to check printer logs, sweep fingerprints, and grill those with access to draft decisions … the court hasn't the faintest dang idea who leaked the Dobbs draft. They've got nothing! They're like … it's like they're, uh … the Supreme Court … of sucking at finding stuff out. Yeah. One thing the report goes out of its way not to clarify is whether the justices themselves were investigated. It refers only to investigations of the court's "employees," a lowly term that these lifetime-appointed emperors would never use to describe themselves. A day after the report was released, the marshal of the court, Gail Curley, said that she did interview the justices, but that she didn't feel "it was necessary to ask the Justices to sign sworn affadavits" because they seemed so innocent. OK! The court says it will pursue other leads as they come in. But as Slate's legal writers suggest, maybe the Court and the man in charge of it either don't want to know, or don't want the public to know, the ugly truth. They'd prefer to tidy up printer security and move on.

6. The House Oversight Committee
The beating heart of the circus.
Can opposition party members of a committee with subpoena power be so bad that they become good? So the White House might be thinking. The erstwhile House Committee on Oversight and Reform—freshly rebranded by Republicans as the Committee on Oversight and Accountability—is loaded with Republican members that Democrats would label as far-right, attention-seeking cranks. The committee's members this Congress will include Reps. Marjorie Taylor Greene, Lauren Boebert, Scott Perry, Jim Jordan, Paul Gosar, and Andy Biggs, as well as a couple of other McCarthy speakership holdouts in Byron Donalds and Anna Paulina Luna. Rep. Clay Higgins was not a McCarthy holdout, but he's not in the ballpark of "normal" either. Now, if McCarthy's idea was to load up Oversight with camera-loving dingdongs who will suck up all the attention so appropriators can quietly do the work of governing in the background, it's not a bad idea. It works out for the White House too, because a committee with this membership won't be particularly persuasive with middle-of-the-road voters. "The president's aides sent texts to one another with digital high fives," Politico reports, "and likened their apparent luck to drawing an inside straight." We don't know what a "digital high five" is, but it does sound like something Democratic aides would do.

7. Mitch Daniels
An early Senate Republican primary knife fight.
With Indiana Sen. Mike Braun quitting the Senate to run for governor, a pre-primary brawl has already broken out in the early contest to replace him. In one corner is Rep. Jim Banks, a relentlessly ambitious figure whose years of sucking up to Trump couldn't win him a House leadership race. Now he'll try his hand at the Senate. He's declared his candidacy and has the full backing of the Trumps and the conservative Club for Growth. In the other corner is former governor and Purdue University president Mitch Daniels, a soft-spoken budget hawk who, at 73, is shockingly interested in spending the next six years of his life commuting to Washington to vote on judicial nominations when he could just play golf instead. Even though Daniels hasn't declared yet, he's already the subject of Twitter assaults from Donald Trump Jr. and a nasty ad campaign from the Club for Growth trying to dissuade him from running. Trump Sr., meanwhile, has reportedly been referring to Daniels, who is 5-foot-7, as a "midget" in private. It's gotten nasty enough that Indiana Rep. Greg Pence, the former vice president's slightly more ovoid brother, is already thinking about withdrawing his Banks endorsement. All this, and it's only January 2023! The 2024 Indiana Republican Senate primary isn't for another 31 years.