At around 12:30 a.m. on Saturday morning, a time when most members of Congress would rather be asleep or enjoying a glass of 18-year-old scotch that was paid for by a defense contractor, Republican California Rep. Kevin McCarthy was finally elected speaker of the House. It was the 15th vote on the speakership that had been held since Tuesday.
In order to win over the last Republican holdouts against him, McCarthy reportedly had to agree to conditions that will give the far-right Freedom Caucus even more power than it had under previous GOP House regimes. The caucus is expected to use this power to force government shutdowns and to investigate claims about Democrats that originated on QAnon message boards with names like Camouflage Daryl's Patriot Zone.
McCarthy also had to survive what appeared to be a surprise move by Florida Rep. and holdout MAGA troll Matt Gaetz on the 14th ballot to vote "present"—basically a vote not to vote—instead of finally switching his support to McCarthy. The caucus leader quickly walked toward Gaetz and had a brief, animated conversation with him. After that, Gaetz's row in the House chamber was approached by Alabama Rep. Mike Rogers, a long-serving 64-year-old who is in line to become chair of the Armed Services Committee: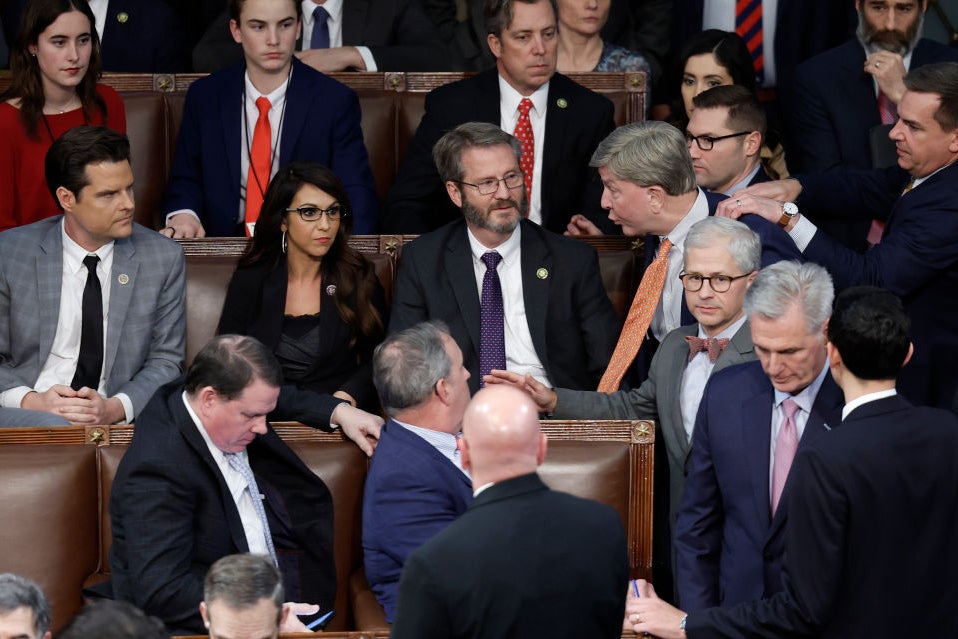 Rogers, who the Washington Post says may have been upset by Gaetz's apparent bid to skip over more senior members in line for an armed services subcommittee chairmanship, then moved toward Gaetz while shouting something to the effect of "I won't forget this!" At that point, North Carolina Rep. Richard Hudson—an ally of Rogers and McCarthy—went to pull Rogers away from Gaetz, but in the heat of the moment, amid the crowd of other members, he ended up doing this by grabbing Rogers around the mouth.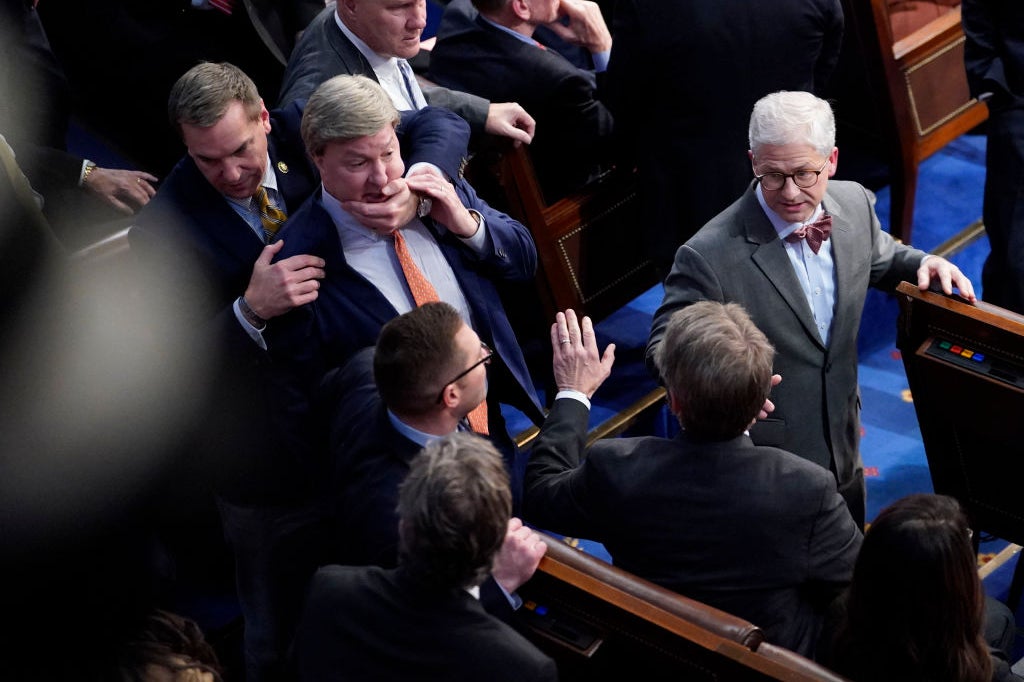 Yoink!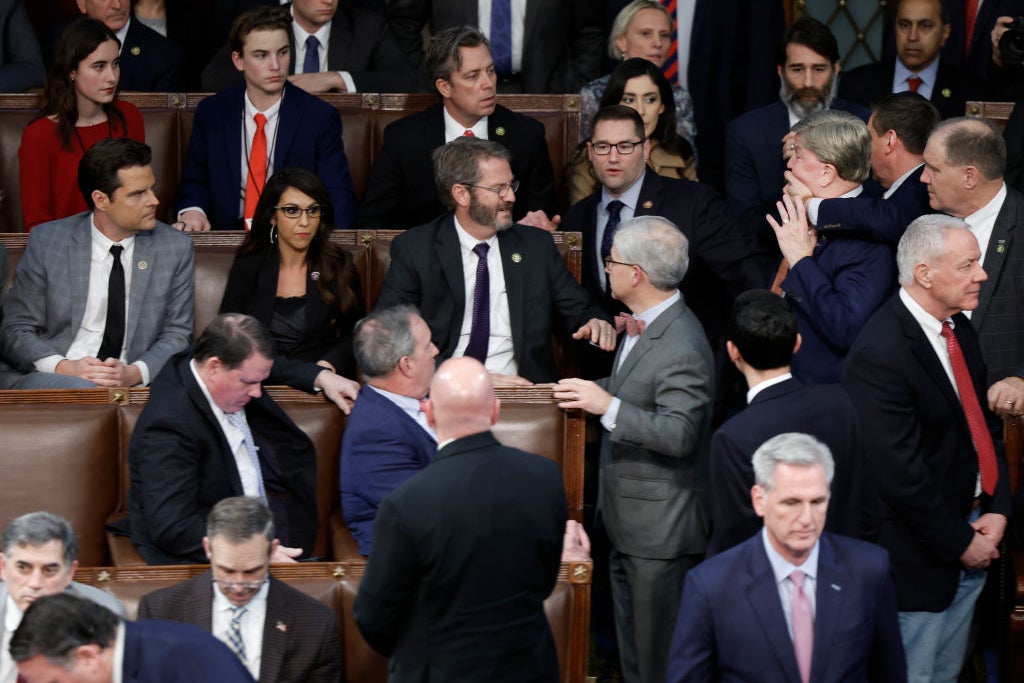 Here's Gaetz a few moments later: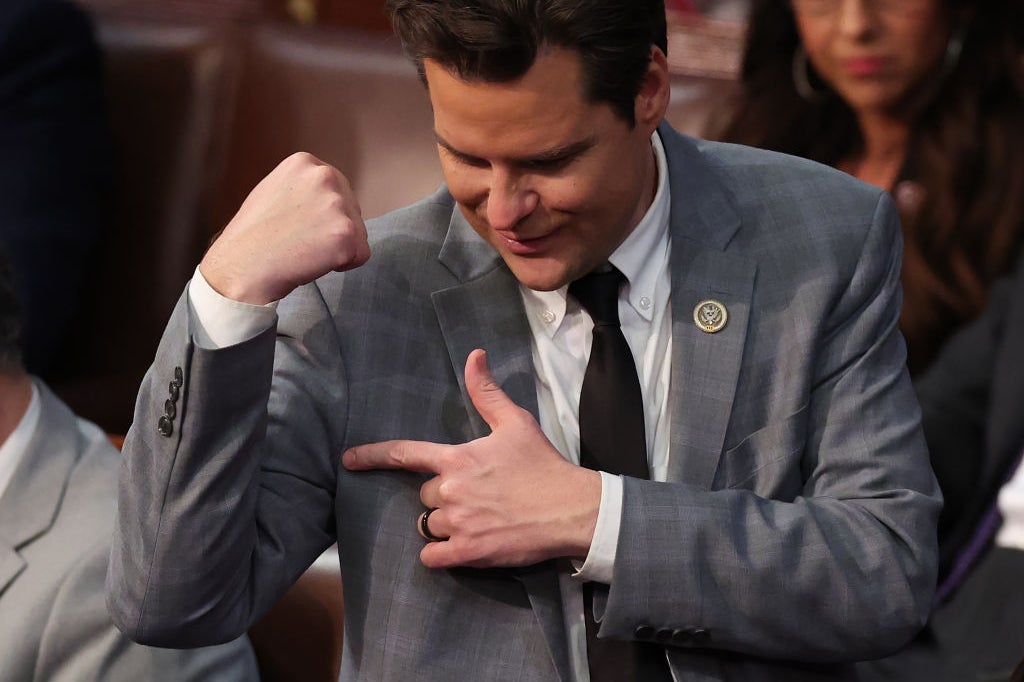 McCarthy won the next vote, though, when Gaetz and five other remaining Republican dissenters all agreed to vote "present" in order to allow McCarthy to be elected at a lower vote threshold. This is the kind of compromise that would have allowed everyone involved to save face had it not been preceded by a near altercation and four days of failure. On Sunday, Rogers issued a statement apologizing for his behavior, while Gaetz issued a statement accepting the apology. Everybody's friendly again?
Probably not: Monday, the House will take up its so-called rules package, in which some of the compromises McCarthy agreed to about how the chamber operates will be made explicit. One relatively moderate Republican has already said he'll vote against it and, just as McCarthy could only afford not to win a handful of hard-liners in the speaker vote, he'll have to win almost all of his party's extremism-averse representatives of swing districts in order to pass the rules. In other words, everyone who plans to be on Capitol Hill this week should remember to protect their face.