In a large hotel ballroom awash in pink and purple lighting, pro-life advocates gathered Thursday morning in D.C. for the first major event of the 2023 March for Life.
The event, called "Capitol Hill 101," was an informational session focused on refuting pro-choice talking points and on pushing legislators to assist in the anti-abortion fight of a post-Roe world. Topics of discussion included bills to outlaw "late-term" abortions; bills blocking the sale of abortion pills; bills preventing any government funding from going to abortions; bills funding "pro-life safety net" organizations; and "conscience protection" bills that would allow healthcare providers to more easily avoid providing abortion-related care.
Over the course of an hour, four panelists repeatedly reminded the crowd, seated around round banquet tables, that the pro-life movement had entered a new phase, that it was an exciting opportunity for a new, bold direction for the movement. The March for Life has been around for nearly 50 years, but now that Roe has been overturned, there's a certain new feeling of euphoria—and, to some degree, confusion as to what to make of the big victory and its aftermath.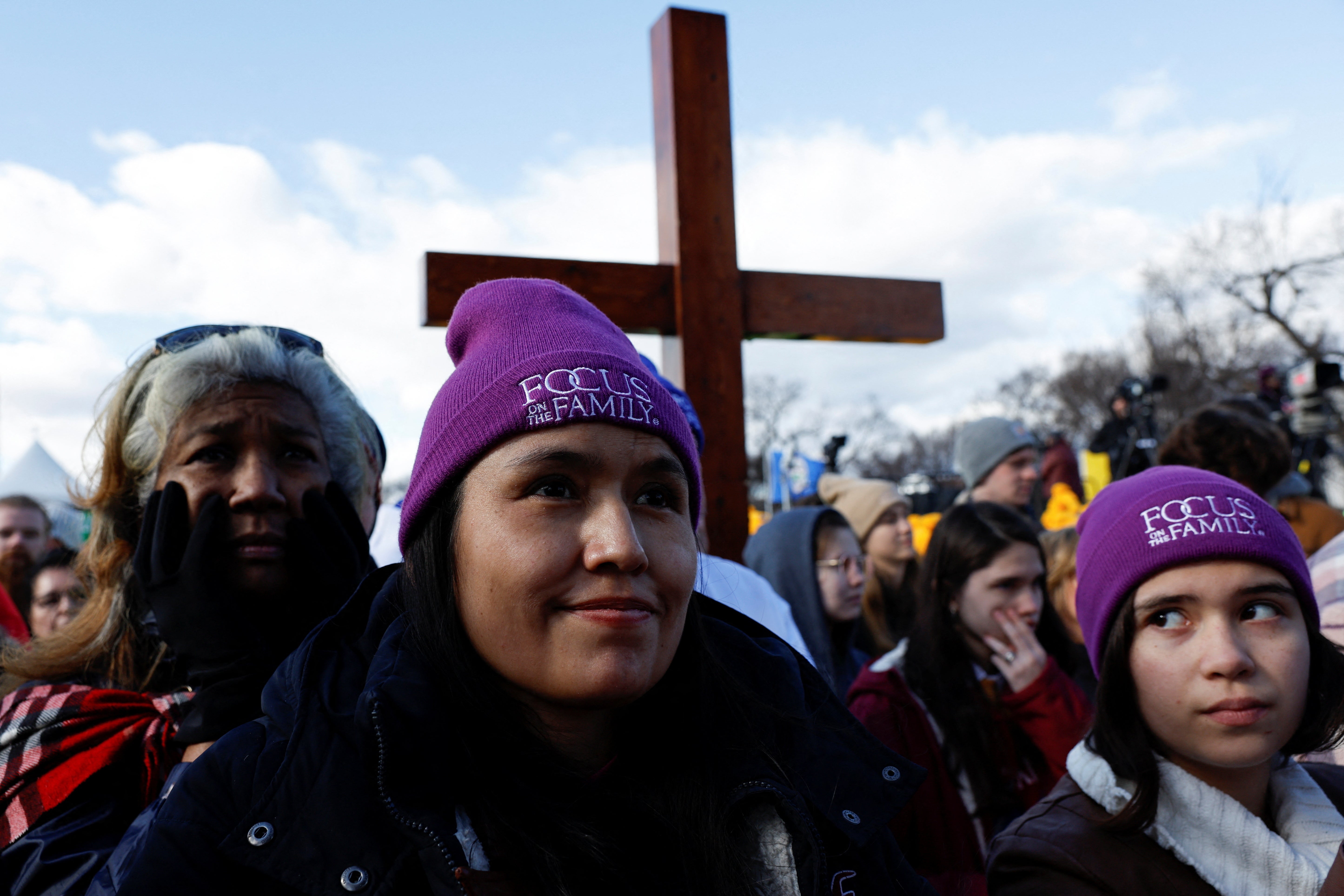 The March for Life has always made for a strange tonal mix. The weekend revolves, in part, around mourning what marchers see as a great loss of life, resulting from a great injustice. (A prayer event planned for Sunday outside the Supreme Court plans to "memorialize the mothers and babies killed by abortions.") But every year, speakers joyously congratulate "the pro-life generation" for being brave. Teenagers from church youth groups tend to make up a huge portion of the march—and no matter how solemn an event, groups of teenage friends set free in a city will inevitably get a little giddy.
But with Roe overturned, that giddiness is now mixed with triumph. It could be seen in gleeful chants of "Roe is gone" during Friday's march—these replaced the standard, "Hey, hey, ho, ho, Roe v. Wade has got to go" chants of the past decades—and in the testimonies of attendees. Also, the multi-day March for Life expo, where groups such as the powerful anti-LGBTQ law firm Alliance Defending Freedom and the Catholic media organization EWTN set up booths to sell merchandise and promote their websites, felt particularly joyous. Focus on the Family representatives had their visitors giggling with delight at a set of novelty pro-life pens.
In the hour before the rally began on Friday, groups from churches, colleges, and high school milled about the National Mall in matching hats, holding signs from Students for Life that, as in years past, proclaimed the bearer to be part of the "pro-life generation." Now, additional signs heralded the "post-Roe generation." In a banter-filled performance before the rally, the front man of the Christian rock band We Are Messengers did not credit the conservative Supreme Court justices—or the political leaders who appointed and confirmed them—with the decision that ended nationwide legal abortion. "Today, remember who overturned Roe. It was the King," he said, referring to God.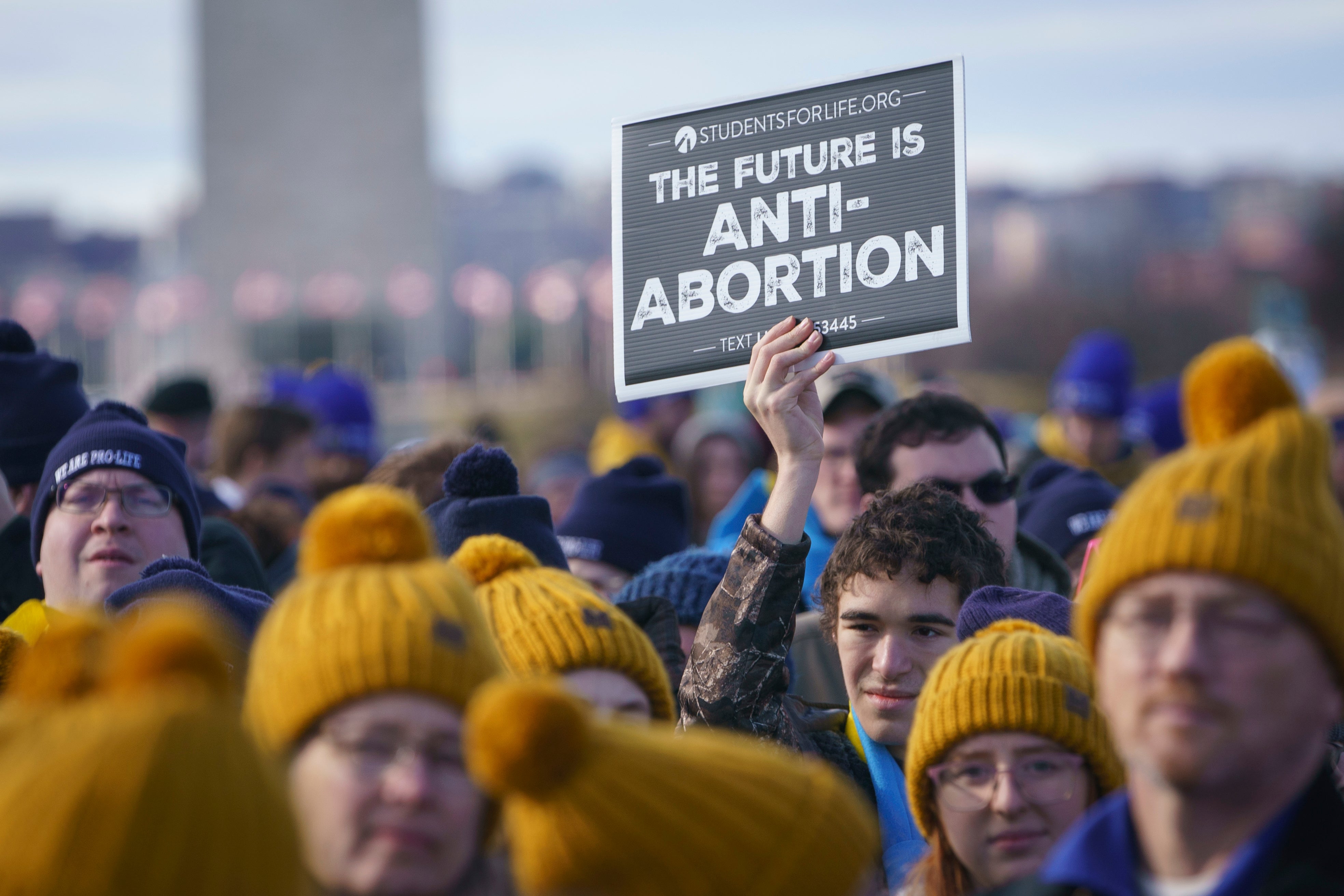 Many attendees saw the recent overturning of Roe as merely the first step in the right direction, and many advocated a complete, federal ban.
"The fight is not over. Abortion is still an option for a lot of people. And I think my goal is to make it not an option for a lot of people," said Elizabeth Um, a senior at Wellesley College, who was attending the march with members of the campus anti-abortion group she founded two years ago. "Not just to make it illegal, but also to support women so much that they don't need to feel like this is the only option for them."
Sandy Campbell of southwestern Ohio, was holding a homemade sign that read, "I chose a family + a career…who knew?"—a rejoinder, she said, to a pro-choice narrative that it is impossible to have both.
"I was raised in a pro-choice household. And I thought I was pro-choice until I found out I was pregnant at 18," Campbell said. "And then I realized, no, I'm pro-life, because that's a baby inside of me. It's not a blob." She said her church had prayed that she'd get interviewed by a reporter this year—her first time at the march—because "now it's more important than ever. Churches and pregnancy centers can't rest on their laurels."
A man named George who identified himself as a member of the Knights of Columbus was stationed on the edge of the National Mall, handing out free hats to participants. "There's a lot of opportunity, but there's still a lot of work to do," he said. "I live in New Jersey, and our governor is very much pro-abortion."
He said he would support a nationwide abortion ban, but isn't sure whether or how such law should penalize pregnant people who go on to terminate their pregnancies. "You know, I really haven't thought about that too much. To me, a woman and her body is her own personal thing. I don't want to tell her what to do," he said. "I'd love to see abortion against the law, because it kills life. But what goes after that? I'll leave it up to the legislators to decide."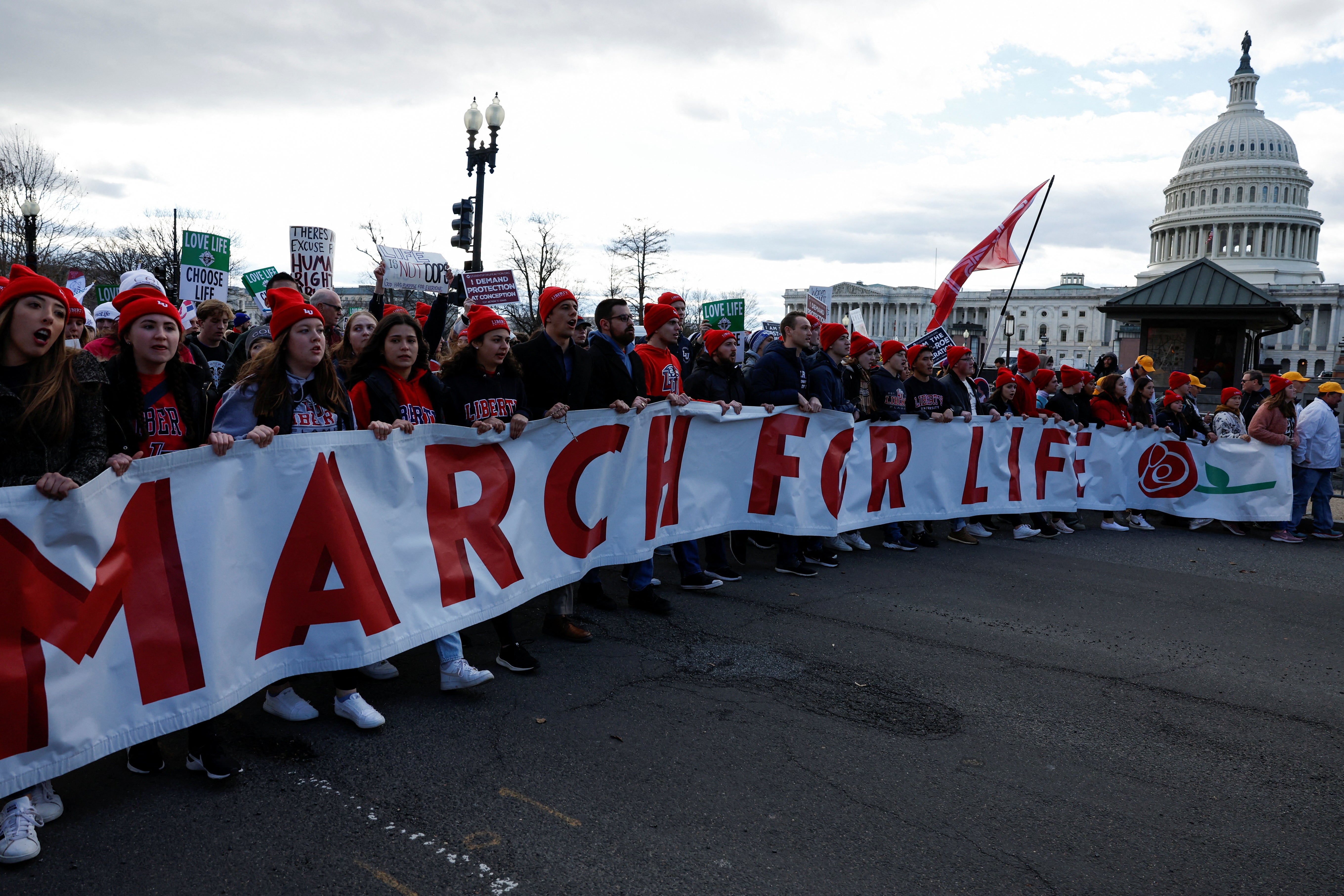 Other participants, having ticked the end of Roe off their to-do list, talked as much about changing hearts and minds as changing the balance of legislative power.
Lizzie Haag, a junior who attended the event with a group of Catholic students from the University of Michigan, brought a sign that read, "What makes your life more valuable than theirs?"
"It's a little more intense than a lot of the signs I see," she said. "But I just want it to spark thought." When a pregnant person is carrying a fetus, Haag added, "both lives have equal value. We can't choose one over the other."
Heather Kramer, who traveled to D.C. from Wisconsin with a group called Life Guardians, said the issue of the abortion should be decided at the state level. "Because I'm pro-life, it would be great for me to know that it could be banned nationwide. But they don't have that right to make that decision, federally, just like they didn't have that right to make that decision in support of abortion," she said.
Instead, Kramer hopes to convince Americans that there is no difference between "taking the life of an unborn, versus willingly going out and murdering other people that are living," she said. "It sort of stems back to people's moral beliefs, which we're really lacking in society in general." Kramer added that she would also like to see an end to contraception, which she believes promotes "having relations without consequences…outside of marriage."
To hear it from the speakers at this year's March for Life, the movement has made a triumphant win but is also facing as powerful an evil as ever. But the messaging was also somewhat muted. Without Roe, after all, the speakers had no unifying legislation to vilify.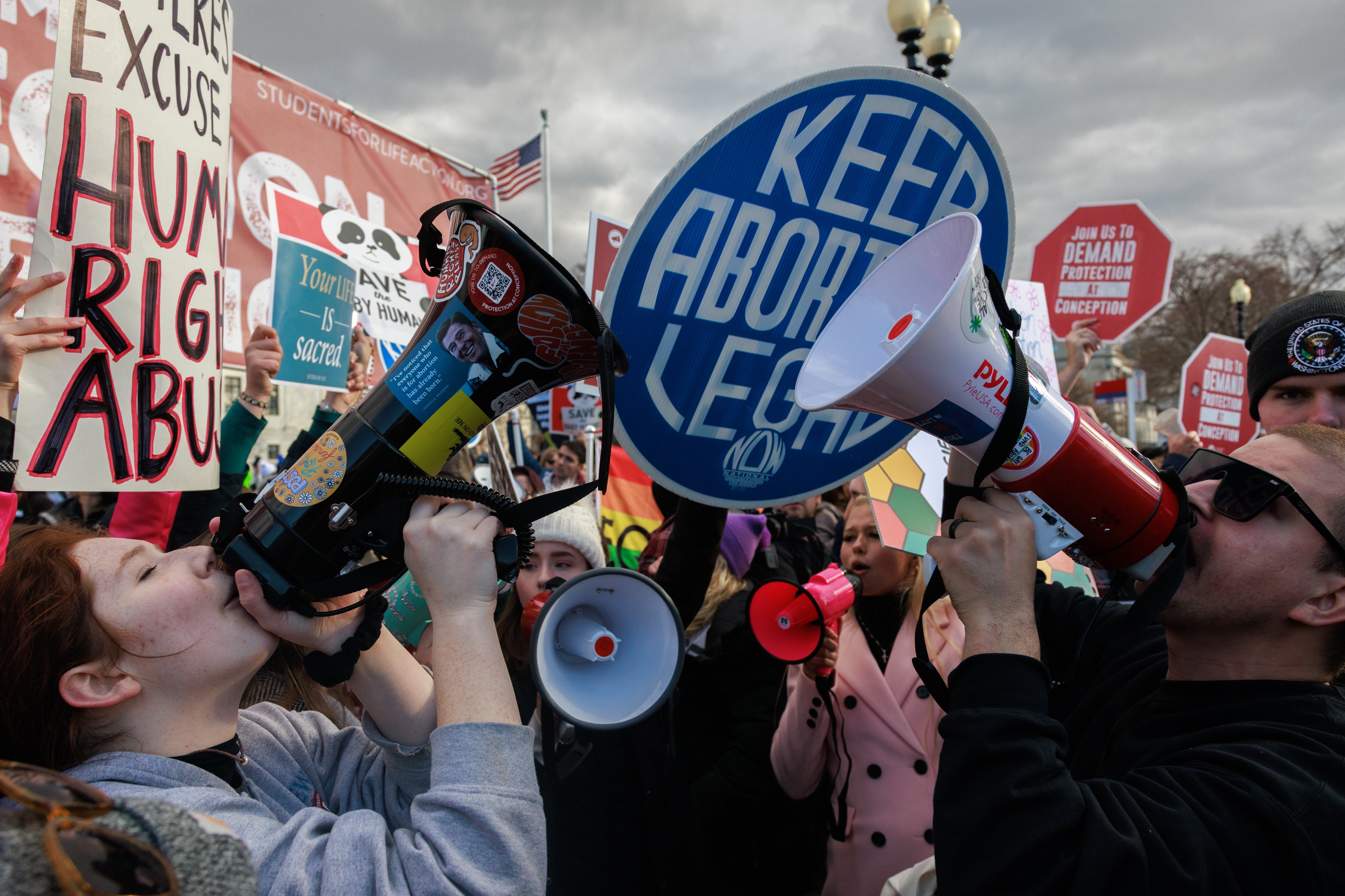 In the opening prayer before Friday's march, Bishop Michael F. Burbidge declared it a "challenging time of unrest and threats to new life" and a video that was shown warned that "the abortion lobby has not backed down, and the fight is not over."
The attorney general of Mississippi celebrated the Dobbs win before arguing that the next step was focusing on supporting affordable child care, workplace flexibility, and other "resources for women," as well as enforcing child support and improving adoption and foster care systems. Several lawmakers discussed proposed House bills that will almost certainly fail in the Senate. One speaker spoke to the "systemic racism" of the "abortion industry." Another, former NFL coach Tony Dungy, called for prayer, comparing the plight of the unborn to that of Damar Hamlin.
The lack of focused objective may be a result of a simple post-Roe reality: The pro-life movement finally achieved what it had been trying to do on the judicial front for so long—only to find it had failed, miserably, on the popular front.
For decades, the anti-abortion movement and its various legal advocates have led a campaign to get Christian (and often Catholic) conservatives in powerful positions in the court system. This was a winning strategy: All of the justices who supported the Dobbs decision grew up in the Catholic church, and many found their way onto the highest court with the help of the Federalist Society, often via the string-pulling of the wealthy conservative activist Leonard Leo.
The court of public opinion, however, has always been a different matter. Polling consistently shows that most Americans—including most Catholics—support legal abortion in most or all cases. And many pundits have blamed the failure of a "red wave" to materialize in the midterms squarely on Dobbs.
In other words, the overturning of Roe may have created unexpected repercussions—and left the movement scrambling to figure out why it isn't in the place it hoped to be.
At the more practical and sedate Capitol Hill 101 session on Thursday, the court of public opinion was framed as the "abortion lobby" —an entity whose influence was rationalized as remaining exceptionally powerful. "We are being outspent," said Maureen Ferguson, a senior fellow at the Catholic Association. "You saw what that did in November."