There was plenty of street parking on Thursday night outside of Il Bacco Italian restaurant in Little Neck, Queens, but we valeted the car anyway. Il Bacco is the favorite restaurant of serial liar and New York Congressman George Santos—a man who, by his account, made million-dollar deals as a "seasoned Wall Street financier and investor"—and I wanted the full Santos experience. Surely he wouldn't park his own car.
Santos' loyalty to the restaurant is well documented. He's posted about it fawningly on his Instagram page over the years. He appointed Joe Oppedisano, the owner of Il Bacco, as well as Oppedisano's daughter Tina, the restaurant manager, plus Tina's fiancé, to his "Small Businesses for Santos Coalition." He made Tina its chair.
And he's eaten there a lot. Or at least, that's what his campaign finance records show.
According to documents filed to the Federal Election Committee, Santos has spent $25,640.26 in campaign money at Il Bacco since he first ran for the Long Island/Queens congressional seat in 2020, a number made even more astonishing by the fact that the coronavirus hobbled indoor dining for most of 2020 in New York City, and the restaurant was shut down for part of 2021. Santos' campaign also reported owing Il Bacco $18,773.54 for its election night party in November this year. A political action committee called Rise NY, run by Santos' sister, Tiffany, spent another $4,722 there, according to the New York Times.
All in all, the Santos siblings have dropped nearly $50,000 at the luxury Italian joint over the past two congressional campaigns, which seems like a lot of money for a guy who, according to campaign disclosure forms, declared earnings of only $55,000 total in 2020.  "I don't know why we were at Il Bacco all the time," an anonymous Santos staffer told Talking Points Memo.
One explanation, I figured, is that it must be very good.
The host escorted us to a table with two white tablecloths. En route, we passed a bar full of men watching the Brooklyn Nets play on two large screens. A sketch of Pope John Paul II hung next to a retouched portrait of a man that did not look like Frank Sinatra but was superimposed with the word "Sinatra" all the same. There were sepia-toned photos of churches, and cylindrical chandeliers adorned with sepia-colored shingles. The restaurant was mostly full. We sat.
We had a mission—or rather, a conundrum. And we were hoping to solve it by choosing the perfect order. You see, one strange particularity of Santos's Il Bacco habit is his penchant for racking up bills that total exactly $199.99.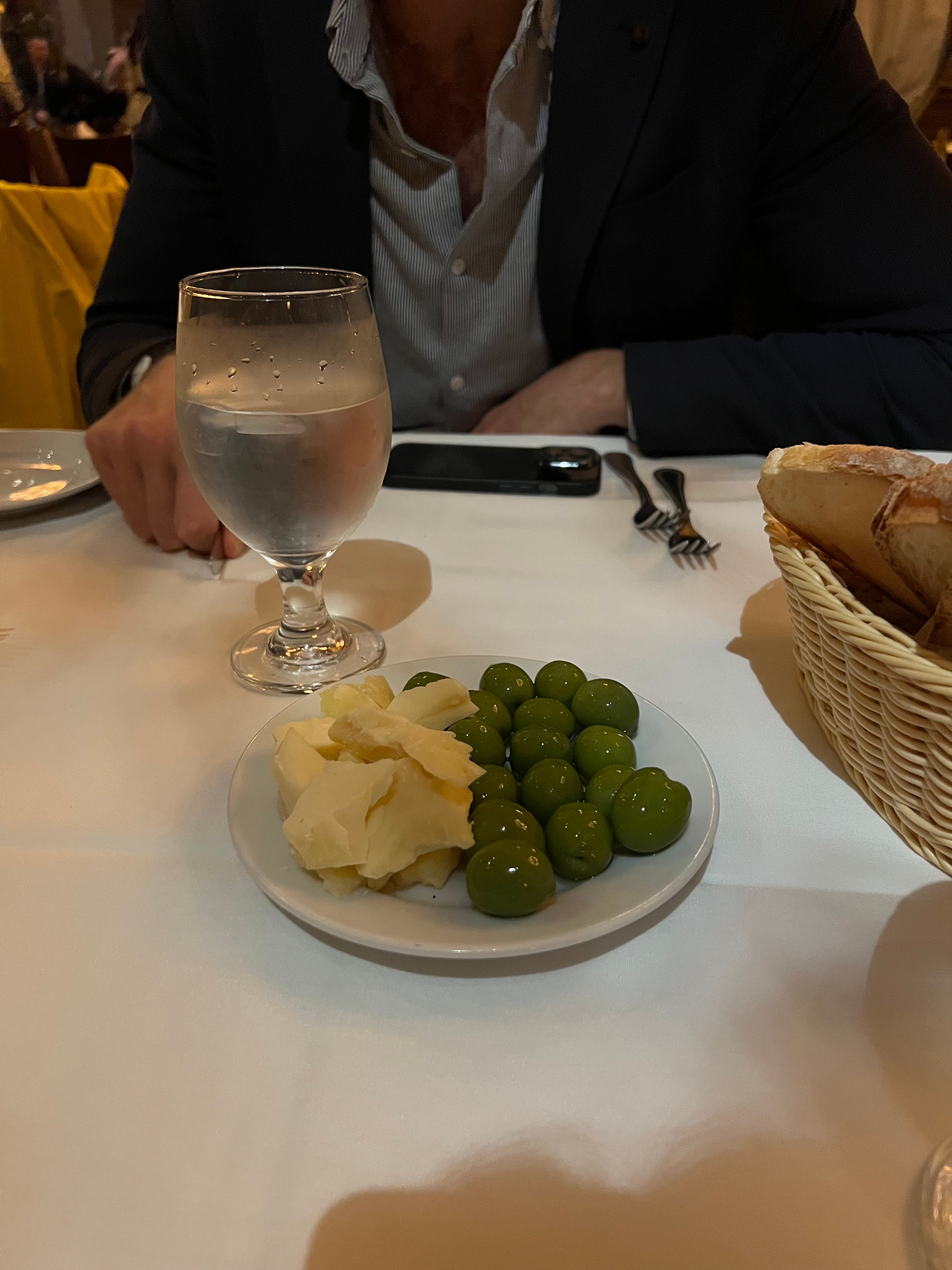 According to campaign finance filings Santos turned in to the government, on at least seven separate occasions he had meals that cost exactly $199.99—a sum that happens to be precisely one cent short of the threshold that requires documentation of campaign expenditures in the form of receipts. The Campaign Legal Center, a nonprofit watchdog group, called Santos' record of $199.99 "astounding," and "implausible." I scanned for exorbitant prices, or a $199.99 special, but found nothing like that. The menu offered standard Italian fare—salad, pizza, pasta, meat dishes. The most expensive item was a $52 lamb chop.
I was determined to stick the $199.99 target.
The minute we sat down, a bottle of wine was placed on the table. "It's a $125 bottle, today for $75," the waiter told us. It was an expedient upsell, perhaps a window into just how one might run up a $50,000 tab. But we decided to go with cocktails.
Ordering drinks would have been standard procedure, perhaps even unexciting, at any other restaurant. But not at Il Bacco. In late 2020, the restaurant had its liquor license stripped away after playing host to a drunken, maskless conga line organized by the Whitestone Republican Club at the height of the December 2020 COVID outbreak.
At least one guest in attendance got the virus within a matter of days, according to the Whitestone Republican Club; the state liquor authority called it "a potential superspreader holiday party," and then found "flagrant violations of indoor dining regulations and existing health safety and Alcoholic Beverage Control laws." The liquor license was pulled not long after.
But time heals all, as it did thankfully for the stricken guest, and now you can again order booze at Il Bacco. We got martinis and grazed on a plate of green olives, cheese, and bread that was brought for the table.
Our waiter, one of a battery of older men in white button-downs and ties, rattled off a lengthy list of specials—osso buco, octopus, branzino. I asked him if he had waited on Santos in the past. "I have seen him here, but I don't know him," he said. When I followed up to ask if there were any favorites of Santos we could order, he waved me off with both hands. "I've never waited on him," he said, as steered us again toward the osso buco.
We decided to stick to the more standard fare. We started out with a radicchio and endive salad, and fried zucchini blossoms, a special.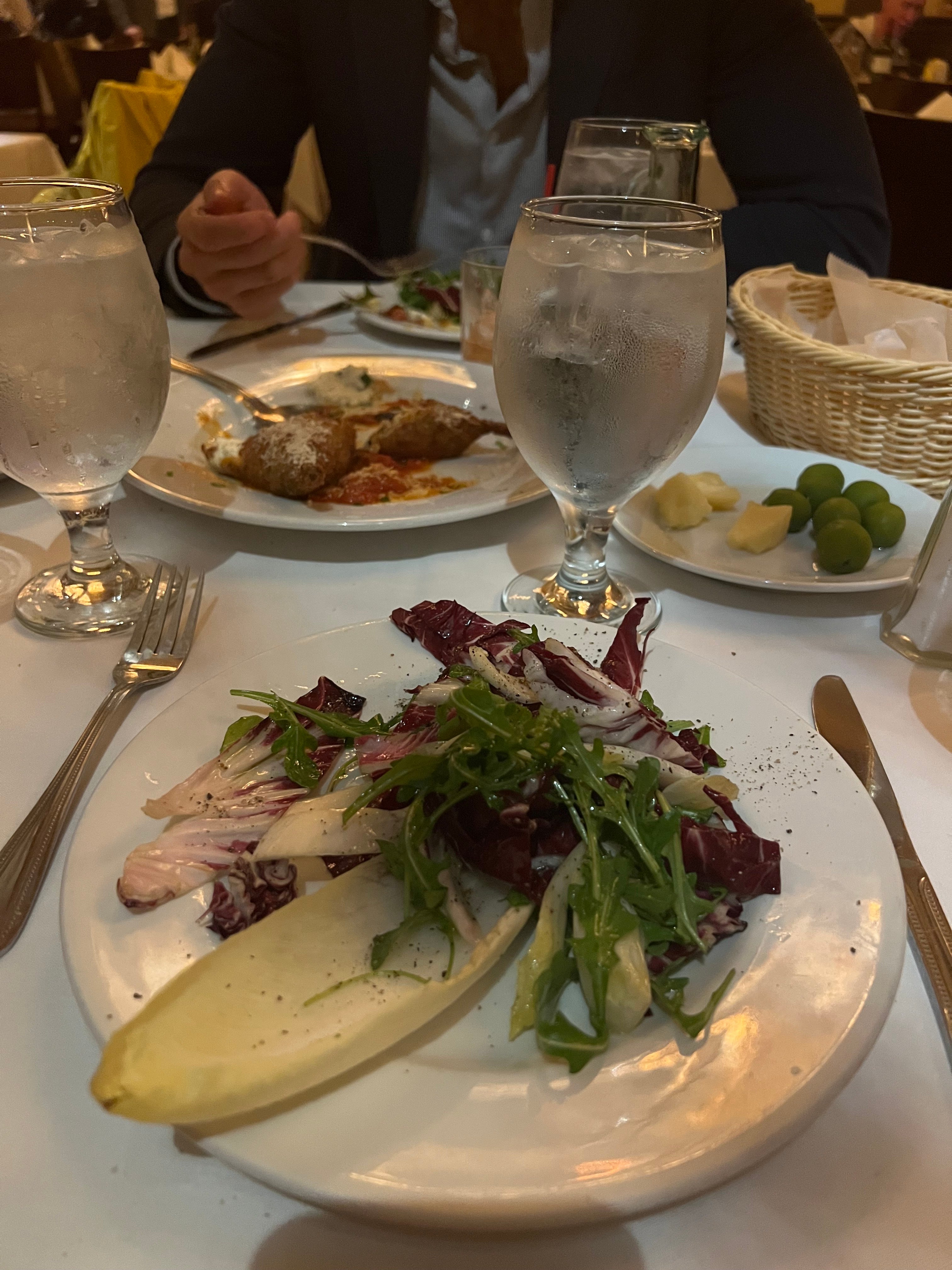 They came quickly. The salad, conveniently split into three separate portions for me and my two companions, won solid remarks from the table. The turgid, fried squash blossom, overfull with cheese, was slightly less celebrated, but eaten readily. "This is basically a mozzarella stick," one said. I was pleasantly surprised. Two separate tables sang "Happy Birthday." A clubby remix of Oasis' "Wonderwall" thumped through the speakers.
Santos is not alone in his love of Il Bacco. Plenty of New York Republicans, winners and losers alike, have visited the restaurant in recent years. The restaurant's Instagram page features photos of Rudy Giuliani alongside the restaurant's owner, Oppedisano, and his daughter Tina. Andrew Giuliani, Rudy's son, who lost the most recent Republican primary for governor, is featured as well. The Republican city councilwoman Vicki Paladino has visited. I scrolled and scrolled on the restaurant's Instagram but found no picture of Santos.
One would think a $50,000 tab would win a person a dedicated menu item, or at least an Instagram post. But the lack of visual evidence doesn't mean he isn't well-loved by the Oppedisanos, who have supported Republicans of all stripes.
Joe Oppedisano, the restaurant's owner, is an aviation enthusiast, something chronicled somewhat horrifically in the New York Post. In October of 2020, Oppedisano crashed his private Cessna into the East River near the Throgs Neck bridge, an accident that left him with 16 broken ribs and required 10 separate surgeries during a 30-day hospital stay. The crash also killed one of Oppedisano's passengers, Maggie O'Neil. In a truly strange editorial decision, the Post piece ends on a chipper note: Oppedisano was discharged from the hospital on Election Day that fall and said he was heading straight to the polls. "I really love this country and I really wanted to vote for Donald Trump," he told the paper.
Oppedisano is a Santos campaign supporter; he donated $6,500 to Santos' campaign and related PACs. So, too, is Oppedisano's brother Rocco, who kicked in $500 to Santos, a donation the Daily Beast called "almost certainly illegal."
According to Daily Beast reporting, in 2009, Rocco "was stripped of his permanent resident status following a firearms and drug bust at homes belonging to Joseph Oppedisano." A decade later, the Coast Guard intercepted a yacht that Rocco was sailing from the Bahamas to Florida. Customs and Border Patrol found 14 undocumented Chinese immigrants aboard the boat, a Bahamian national, and $200,000 in cash socked away in the vessel's walls. Rocco pleaded guilty to smuggling and was expelled from the U.S., which still wasn't enough to deter him from doing his part for the 3rd District's newest congressman.
At Il Bacco, I didn't see much décor that referenced yachts. But the place was festooned with model airplanes, an old-time wooden propeller, and aeronautical paraphernalia.
After our appetizers, we put in for three pasta dishes—a puttanesca, a gnocchi, and a tagliolini. I asked the fellow diners at the adjacent tables, both of whom claimed to be regulars, if they had ever seen Santos. Neither had, but both believed he did indeed come often. "It's a nice place," both said.
We made quick work of the pesto gnocchi and the tagliolini with mushroom and mozzarella; the puttanesca was less beloved. I asked my two dinner partners to rate their experience. "Not bad," said one; "Average," said the other.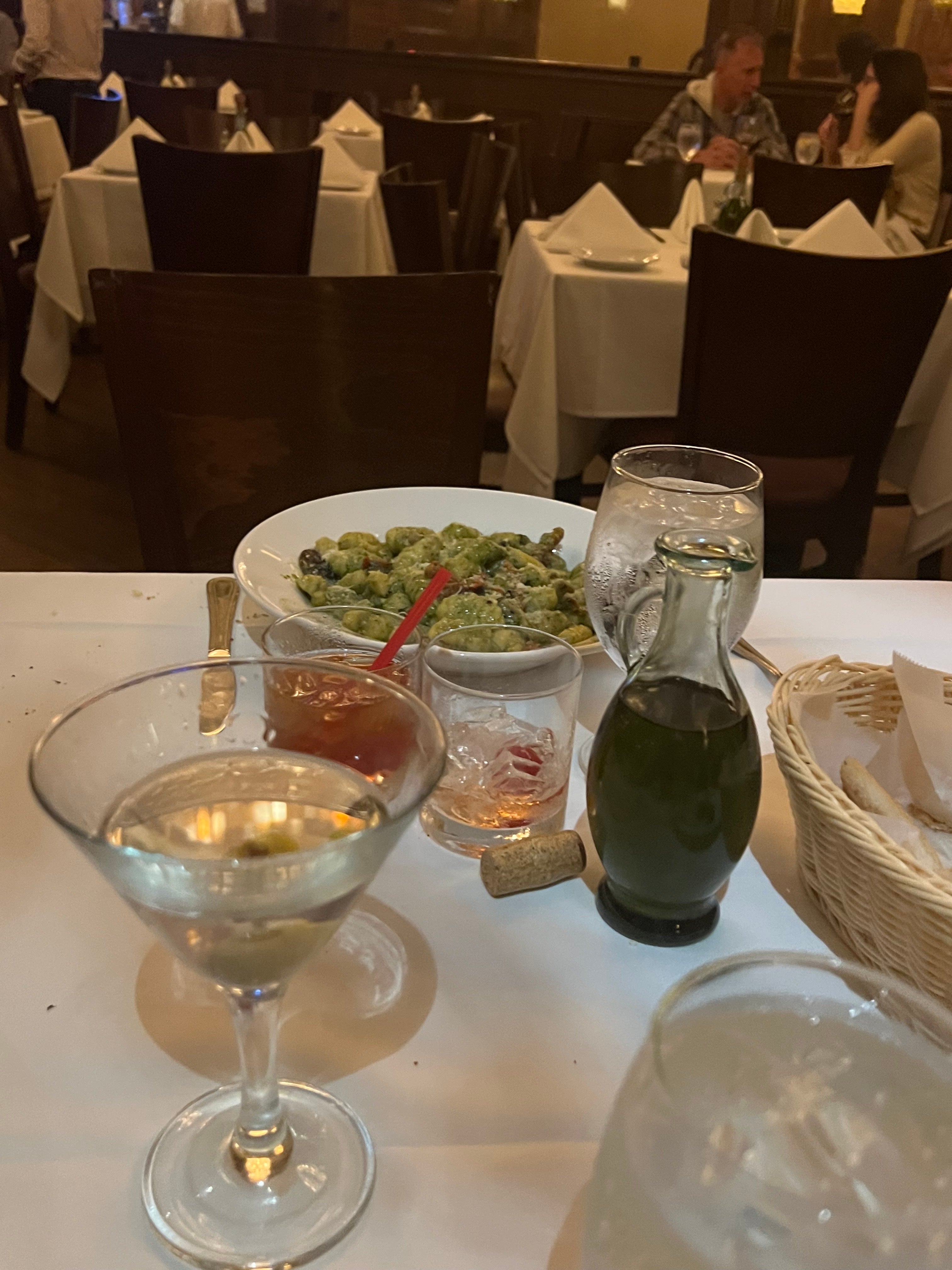 The restaurant was beginning to empty as its 10 p.m. close neared. I watched the bar clear out and the birthday groups up and scatter in a flurry of cheek-kisses and handshakes. We ordered two desserts, a chocolate mousse cake and a homemade tiramisu (which, sadly, we don't recommend).
The check came, and I tried to bring up Santos with the waiter one more time. "No, no," he said, again waving me off. "I'm only part time, only one or two days a week." We came surprisingly close to striking the perfect $199.99 Santos balance I had hoped to hit, but broke through the amount on the tip. Santos, it should be said, is really good at spending just $199.99 almost everywhere he goes—his financial disclosure forms show him spending that exact amount at a Hyatt Orlando (in July 2021), on Delta Airlines and at BJ's Wholesale (August 2021), at Target and on "Uber" (October 2021), and at many other establishments or services including W Hotel South Beach, JFK Parking, Best Buy, Walgreens, and the TSA line-skipping company Clear.
This is a really specific skill! So specific that Campaign Legal Center has filed a complaint with the Federal Election Committee that zeroes in on the $199.99 spends in particular, stating that "there is reason to believe Santos' campaign deliberately falsified its disbursement reporting, among numerous other reporting violations."
"The sheer number of these just-under-$200 disbursements is implausible," the complaint reiterates. "And some payments appear to be impossible given the nature of the item or service covered."
I, unlike Santos, do not feature "currency and coin counter" as one of my skills on my résumé, so maybe this just comes easier to him.
Still, I wondered, how could he have spent nearly $50,000 at Il Bacco? Had he been relentlessly upsold on the fancy wine? Was he an enthusiast of the $52 lamb chop? Was he just a prodigious tipper?
I walked over to the two valets, who had already pulled the car around and were awaiting our departure. "Do you guys know George Santos?" I asked.
They handed over the keys. "Yeah, George is here all the time, although I haven't seen him in a while."
"Is he a good tipper?" I followed. "Yeah, he's a great guy," said the other. "Although he doesn't tip, his partner does."
"Do you know him?" they asked me.