The tiny New College of Florida is hardly a household name, but it has a lot of heart—so much that students there once rescued the rising star of the white nationalist movement from his bigotry.
R. Derek Black, the son of the founder of Stormfront and the godson of David Duke, was widely considered the heir to the movement, speaking at white nationalist conferences through his childhood and co-hosting a radio show with his father. He lived a secret double life while he attended New College—until he was outed on a student-wide email thread.
Instead of ostracizing Black, some of the students tried to change his mind. And in a fascinating turn of events, chronicled in detail by Washington Post reporter Eli Saslow, they succeeded. Black renounced his former ideology and now speaks out publicly against it. He's now a doctoral student at the University of Chicago researching proto-racism in early medieval intellectual history.
So after Gov. Ron DeSantis announced last week that he'll be targeting the school for a conservative overhaul, Black was shocked and worried for the future of the institution that transformed his life.
Among DeSantis' six new appointees to the 13-member board are writers and editors for right-wing publications and academics associated with the ultraconservative Hillsdale College. The most famous appointee is Christopher Rufo, a vocal transphobe who has supported DeSantis' anti-LGBTQ policies, blasted queer people as "groomers," and rallied the outcry against "critical race theory." On Jan. 4, Rufo tweeted, "Gov. DeSantis is going to lay siege to university 'diversity, equity and inclusion' programs." The new board members have made it clear they plan on turning New College into a new Hillsdale. DeSantis' communications director told the Sarasota Herald-Tribune they are there to combat "trendy, truth-relative concepts above learning," and Rufo said they plan to make it into a "classical liberal arts institution," and to "create an institution where academics can thrive, without self-censorship."
To make sense of DeSantis' campaign to remake such a small and progressive school and how its students and alumni are processing the news on a more personal level, Slate spoke with one of its most strangely notable graduates. This interview, which was conducted Monday, has been condensed and edited for clarity.
Molly Olmstead: You don't seem to fit the typical idea of a liberal arts student. What made you want to go to New College?
R. Derek Black: It was actually the only school that I applied for. I was never positive about what I wanted from college. It wasn't like I thought I really had to go for my career; I thought a lot about not going to college and traveling or becoming a dive instructor. New College was the only thing that I considered, academically, at that time because they had a very strong medieval history program and classics program. It's one of the most complete and nationally recognized in the country. So I could learn Latin and spend all my time there reading medieval European texts and thinking about what I wanted to think about. And Florida state tuition back then was quite low.
I was odd in ways that made me stand out in New College—growing up in a highly engaged antisemitic and white nationalist family, and having already run for office. But there were other reasons that I just felt very comfortable there. There is this commonality: People self-select to go to New College because they want to direct their own education.
There's literally a whole book written about this, but can you briefly explain what your experience was like as a student there?
I thought I could have these two lives. I spent the first semester there slowly realizing what a cataclysm it was going to be once people recognized my background. Students were deeply invested in the idea that this was going to be a space where you don't leave anyone out or let anybody feel threatened. And so once my white nationalist identity became known, it was going to become this deeply, deeply upsetting thing to everybody on campus.
And that's ultimately what happened. While I was studying abroad my second semester, an upper-year student identified me on the student forum. This became this massive discussion thread with thousands of posts among the students. I came back to school that next fall essentially a pariah. But I also rejoined this community that I'd already spent a lot of time in. I felt like I had betrayed a lot of people I'd gotten close to by not sharing that part of who I was with them and having them discover this through a big campus discussion. I ultimately came to recognize the harm and really engage on an intellectual level with articles and statistics about race and immigration. Ultimately, I condemned white nationalism at the end of my experience there and created an enormous rift from my own family that was never closed.
How much do you think New College specifically played a role in your conversion? Do you think this would have happened just anywhere? 
I think about that counterfactual. If I had never gone to New College, would I just be a white nationalist? I like to think I would have at least stepped back from activism. But I do feel pretty confident that, had I gone to some larger state university, I would not have felt socially challenged and called on to question myself and answer for the white nationalist community I was standing up for. The students weren't there to just get their degrees and move on; they were there to pursue truth and try to understand society and challenge everything and be really rigorous about what they were studying. People felt accountable to each other. The Jewish student life organization stopped meeting for a while after I was outed. That sort of fear was not something that you could be unaware of because you knew—if not everybody—people who knew everybody. You felt an obligation to at least be aware of what was happening to other people. And I think that it's a unique part of New College.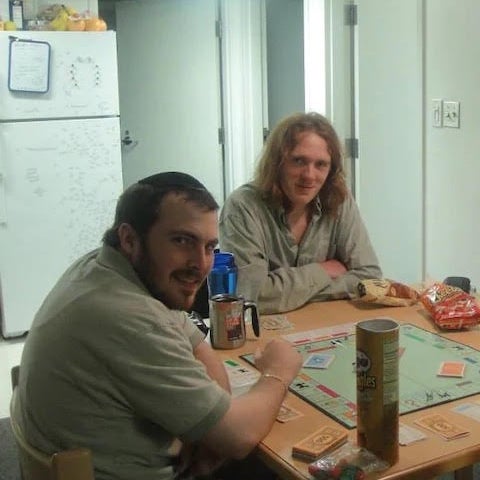 What was your initial reaction when you heard the news about the new board members?
It is a relatively tight-knit community, and a bunch of my lifelong friends were New College students, so I heard about this a few minutes after the announcement went out. People were texting each other, shocked. I was initially very surprised. It surprised me that this administration and these national figures who have made careers around attacking academia and college students were attacking New College, because it's such a relatively small school. There were 800 students when I was there. I have yet to find anybody who went to a school with a smaller student population. You can never say, "Oh, I went to school at New College of Florida," because even if you're in Sarasota, the answer is often, "Where is that?"
And then I think my second reaction was being afraid for the students there. What I'm really worried about is that they're trying to make it so this tiny group of students don't have the resources or the space where they can make this kind of shelter for themselves. Because it's really such a student-driven community. And there's a lot of ways that an administration that's hostile to that could drive out students. You get kids who are showing up who feel comfortable for the first time in their lives, and who try to find other people who will listen to them and figure out who they are together. And you can very easily destroy that for them. So I think my main fear at this point is not that they're going to change the curriculum, but that they're going to make a space where students who have been able to find shelter for the first time in their lives don't have that anymore.
Why do you think DeSantis is going after such a tiny school?
I honestly can't quite answer that. I mean, it doesn't seem like a good candidate for it. It was a place that was a great home to me when I still personally identified as a white nationalist. So it feels very strange to call it a place yoked to progressive ideology. I'm not going to lie: Being on the left is kind of what is expected in its culture. But I think that's probably going to be true about any liberal arts college and a whole lot of universities in general. But beyond that, it is not a school that is about believing any one thing. It's about legitimately figuring out what it is you believe and what your values are. And so I almost kind of wonder whether there's some kind of misunderstanding about what kind of school this even is. The new administration came in and saw an opportunity and said, "Oh, that looks like a leftist place, let's attack it," without really thinking about whether they were right to characterize it that way. In the end, it is just an academic institution that is very good at teaching people critical thinking, and I certainly don't want that to get lost by people who don't quite understand what they're coming into.
I believe that they are feeling threatened by this institution because it's cheaper as a state-funded institution and because it's where students are able to find themselves and be comfortable.
The main way they're talking about changing the school is through its faculty and curriculum, though. Are you concerned about those comments?
I just don't find the statements from the governor's office and the new board members talking about how they are going to change the curriculum to be particularly honest. They're acting like the things being taught there are extremely political or ideologically driven. That's not accurate. Like most universities, I'm sure most of the faculty are probably registered Democrats. But people don't teach politics or ideology in their courses; they just teach free inquiry. New College could rebrand tomorrow as a "classics" or "classical" college without changing any of their curriculum. I was a medieval and Renaissance major. And I spent my whole time there reading ancient Latin authors and medieval theologians and looking at Renaissance art. There's very little about the academic experience I had at New College that the people who are grandstanding about remaking this college would really object to. So the idea that they're going to dramatically purge faculty seems not fully honest to me.
They're talking about wanting to make New College into a "classical liberal arts institution." To me, the term "classical" can sometimes sound like code for a focus on European civilization. You mentioned there's already a very strong classics program at New College. How much of this conversation seems to be about strengthening a classical curriculum that already exists there, versus just being a way of saying "we want to focus more on white cultures"?
That's often an unspoken part of what people mean when they say they're doing classical education. And I mean, looking at my background, I went there mainly because it was a place that I could study ancient literature and medieval literature. Which is to say, fields that were created to hold up Europe as this culture of intellectualism and enlightenment and freedom, and all these colonialist ideas. I thought I could go there and be outside of politics—that it was both the kind of Eurocentric worldview that I held at the time, but also far in the past and not tied up in current political issues. And I suspect that the people who are making these statements about transforming the college into a classical school have a lot of that: It's a view of the world that they're more comfortable with, that they feel is more traditional and somehow not attached to politics.
I hope those saying that this is going to be a "classical school" recognize how political that is. They are acting as if it's some sort of neutral thing. But actually one of the big ironies of this whole thing is that they're claiming New College is so progressive and ideologically focused, and instead they are instituting something that is inarguably more political.
In 2021, you participated in a discussion at New College looking back at the administration's response to your being there. What do you think your experience reveals about these fights over higher education?
Imagine this new board of trustees saying schools have been captured by progressive ideologies, and announcing that this new version of the administration is not going to be a place for groupthink: "It's going to be the kind of school where we admit even radical far-right students, and we're going to really defend their rights to be a member of this community and engage in intellectual life here." I would find it somewhat ridiculous. When I was there, the administration did, honestly, way too little to engage with students and faculty who felt legitimately unsafe because I was there. There's not a whole lot that the New College administration did when I was there that could ever be described as being driven by political activism.
I don't want to attack New College, because I gained so much from it. But in this moment where the governor's administration is attacking scholars as being so beholden to political activists, it feels very strange to have been someone who at the time felt really safe. I never felt like I would be expelled. They were upholding this sense of free expression and independence of thought. If anything, they were throwing people under the bus whose education and lives were being disrupted by me being there. I don't think the school has changed dramatically [since then]. Most of the same administration members are still in a lot of those seats. So it just feels very strange for that school to be accused of being a very dangerous recruiting ground for leftist politics. It doesn't accord with what I experienced.
You are a pretty famous case of having a really entrenched mindset changed by radical empathy and compassion. If we're talking about dealing with an extremely transphobic person, such as Rufo, do you think that's a worthwhile tactic to take? Do you think it's worth trying to change some of these board members with more extreme beliefs?
I've become, in some circles, a case study in being persuaded—that anyone can change their mind. And that's true. And a lot of it was very intellectual, showing me the research and making me engage on statistics and answer for myself in a very intellectual way. But the real thing that happened was being a part of the community. It was the only reason I was willing to engage with that, or hear people, or just have the conversation to begin with. I had to empathize to realize the ways that I was being blind.
And so I guess there's a chance that some of these board members who are very outspoken and have assumptions about New College become members of the community in some way. But I'm not holding out for that, because I think their relationship is always going to be so hands-off and so distant. It's not the case that they're coming into this school to try to understand the community. They're coming in to try to purge it, or find people they disagree with and threaten them and push them out. Most of them don't even seem to live anywhere near New College. I don't know, maybe anything's possible. It seems much more likely that they're going to try to use it for their own careers. They're not going to feel like they're personally connected to the students. The only way that I changed my mind was by being connected to the people.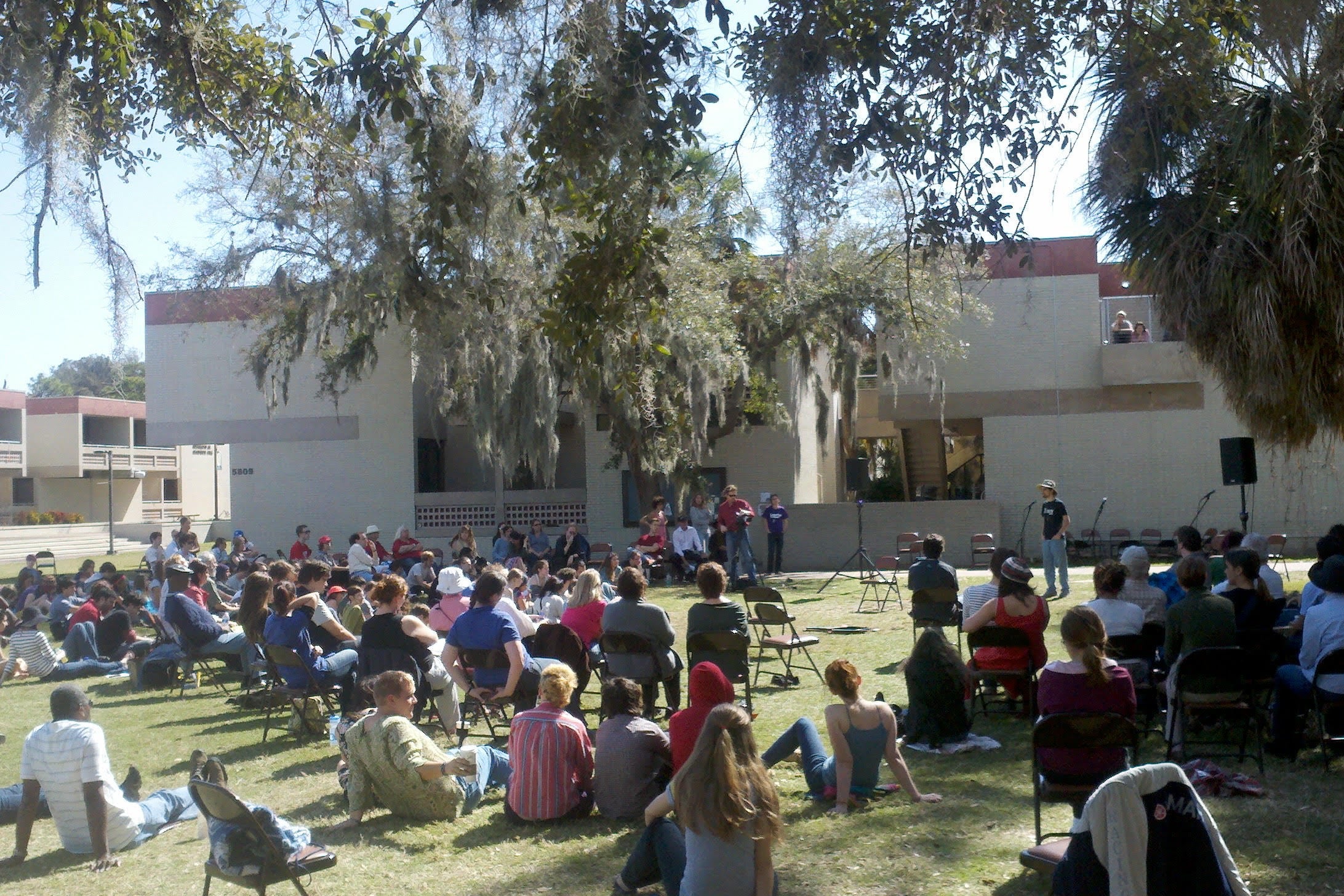 How do you see all of this playing out?
It doesn't necessarily seem like the board of trustees has the unilateral power that Rufo seems to be acting like they do to summarily fire people or change the curriculum. But over the long haul, I really am worried about the kind of reforms that they can impose, particularly at the mandate from the governor, who has tied so much of his political candidacy up in the idea of education being some sort of den of leftist ideology. I think over the years, you could hollow out the community as a place where people feel safe by losing faculty, or gaining faculty who are much more outspokenly against LGBT issues, against social justice and anti-racism. That, in the long run, is really what I'm worried about. I have no idea what kind of courses they're going to eventually be teaching in five years, but I can imagine it not being the same sort of home.
Why should people care about what happens to this small school?
I've seen New College get listed on top 10 lists for schools that change lives. And that feels a little corny, but that is just such a common experience of New College alums. They went in believing one thing about themselves and met a bunch of people, really thought about life, and then came out with a much different or more open view of what they wanted in life. And maybe it's not a huge number of people in the total education system, but the connection that they received there—I just think it is a very special place. And if they're going to make such a big deal about it being so dangerous, I think it's kind of incumbent on the rest of us to point out how important it is to us.