Slate's guide to the most important figures in politics this week.
Welcome to the Surge, your weekly Slate politics newsletter. In most households on Thanksgiving, people eat turkey. But in the Surge's household, the turkey eats people. What we're trying to say is: This newsletter is now written by turkeys.
This week, we check in on the Party of the Working Class and its efforts to help railroad workers (by giving them a Tylenol and sending them back to work.) Kanye West announced his love for Hitler—good thing the entire Republican power apparatus hadn't rallied around the guy. Kevin McCarthy continues to not have the votes to become House speaker, and the Democratic presidential primary schedule is getting a revamp.
First! Let's look at how a major bill coasted through the Senate this week.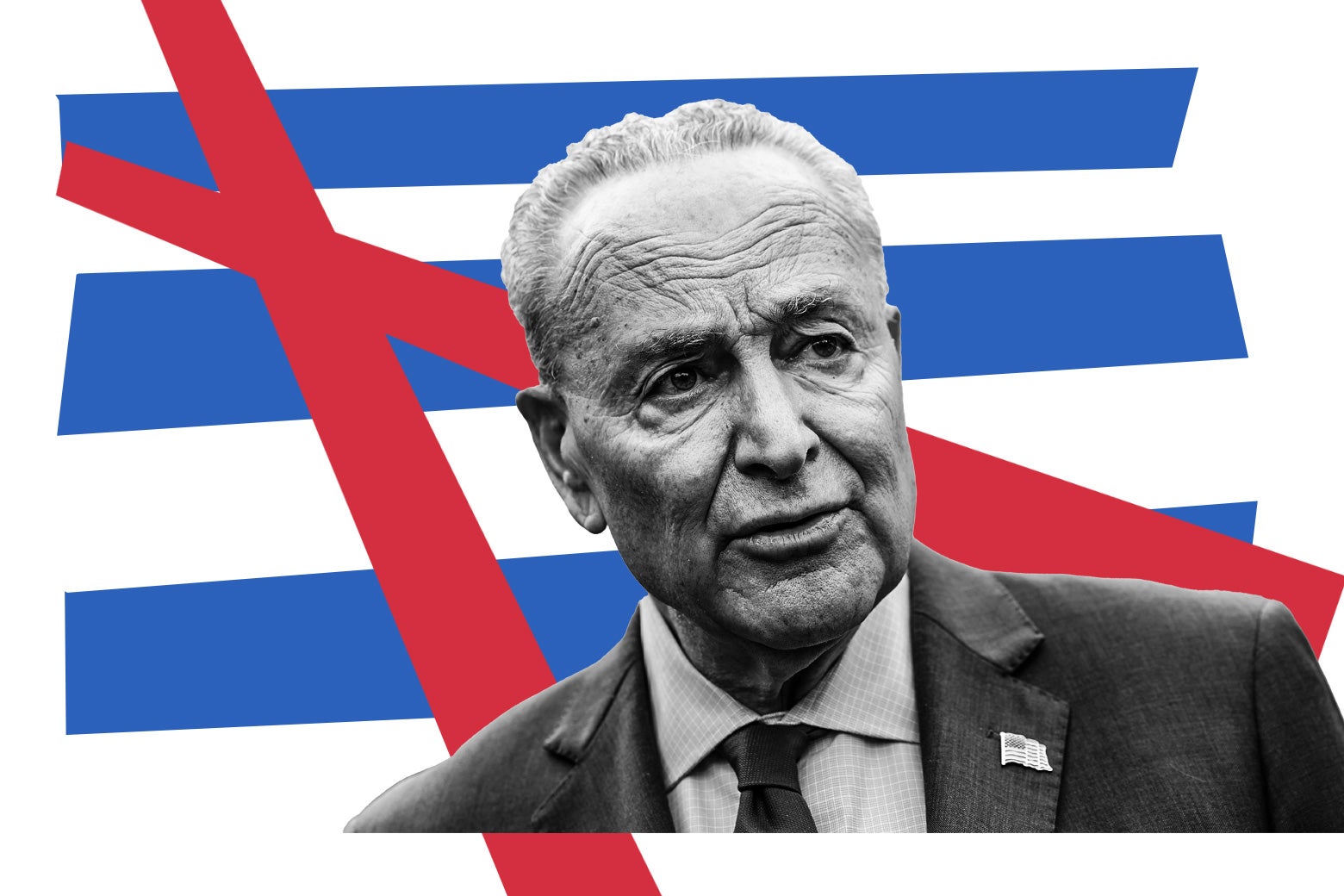 1. Chuck Schumer
A bet that paid off.
Senate Majority Leader Chuck Schumer had a choice to make before the midterms. Republicans negotiating a bill to codify same-sex marriage rights assured him that if he held the vote after the midterms, they would pinky swear to vote for it. But if he held it before Nov. 8, they wouldn't get the necessary Republican support to pass it. So Schumer could either hold the vote ahead of the midterms, watch Republicans strike it down, and hammer them with it on the campaign trail—or he could take their word and wait until after the midterms to hold the vote, and pass it. Schumer agreed to wait. Naturally, there was some online chatter that Schumer was being played, and that these Republicans would surely break their promise. But they kept it. Twelve Republicans voted this week for the Respect for Marriage Act, which passed the Senate 61 to 36. It will soon pass the House and be signed into law. Now: Would Schumer, and his Senate candidates, have loved to watch Republicans go on the record against a popular position, for a high-profile issue, just before the midterms? Yes. But they also wanted a law, and they got it.

2. Kanye West
Genius move, hitching your wagon to this guy.
The rapper has spent the past few years saying outrageous things, irritating and shocking liberals. This was enough to make him a right-wing star! Everyone wanted a piece of him. Former President Donald Trump had him over to the White House when he was in office and recently invited him to dine at Mar-a-Lago. Fox News' Tucker Carlson had a lengthy interview with him. Before closing the deal on Twitter, fellow free speech hero Elon Musk welcomed his "friend" Kanye West back to the site! The House Judiciary Committee Republicans tweeted "Kanye. Elon. Trump." in a celebration of a new triumvirate of lib-owners.* So how's it going now that West's antisemitic spiral has peaked (maybe?) at the natural endpoint of "I like Hitler"? A rant that West went on in favor of Hitler and the Nazis this week was so over-the-line that his interviewer, Alex Jones—whose own conspiratorial mouth has led him literally to bankruptcy—was the one attempting to be the voice of reason. Trump tried to distance himself from West. Musk has suspended West from Twitter. And House Judiciary Committee Republicans, finally, deleted that cursed tweet.* Maybe the next time the right has a hissy fit about the perceived antisemitism of say, Rep. Ilhan Omar, they can just be ignored.

3. Joe Biden
A new Democratic primary schedule.
The 2020 Iowa Democrat caucus is remembered as a debacle because it was administered on an app that didn't work. But Iowa isn't about to lose its first-in-the-nation status in the 2024 Democratic presidential nominating calendar (solely) because of bad tech. It's going to lose it because it's stopped being an effective predictor of the Democratic nominee and did nothing to winnow the presidential field. The state that's actually done that in recent cycles, regardless of what Iowa does, has been South Carolina: Barack Obama, Hillary Clinton, and Joe Biden all dominated in South Carolina, giving them rocket fuel heading into Super Tuesday. In the revamping that President Joe Biden put forward this week, then, South Carolina would hold its primary first, followed by Nevada and New Hampshire a week later, and then Georgia and Michigan. Who's happy with this plan? Everyone! … in South Carolina, at least. Democratic senators in Nevada, who thought they would replace Iowa as first, are losing their minds; Democratic senators in New Hampshire, a supremely entitled state, are responding as entitled people would. But maybe these states shouldn't have voted for losing candidates all the time if they wanted top status? And they still get to go second anyway! Jeez.

4. Bernie Sanders
A check-in on the party of the workin' man.
As we all know, the Democratic Party is now the haven of bookish coastal elite professional-managerial class scumbags, while Republicans are now the party of everyday working people. These are just facts. And Republicans had a great opportunity to flex their workaday muscles this week as Congress moved to pass legislation to avert a railroad strike. In addition to voting to approve the underlying bargaining agreement, each chamber also held a vote on whether to give these workers a week of paid sick leave. In the House, the Average Joe Republicans put on their hard hats, grabbed the ol' lunch pail, and … all but three of them voted against giving railroad workers paid sick leave days. In the Senate, only five Republicans joined hands with their beloved workers to support a similar bill, pushed by Vermont Sen. Bernie Sanders, to offer the sick days. All but one Democrat in both chambers voted for them. But workers, remember: It is the Democrats who hate you. Going on about "equity," and the gay people, and the pronouns … always with the dang pronouns …

5. Raphael Warnock
The final midterm election!
This upcoming week features a "Tuesday," which means Georgia will hold an election. In the final Senate race of the year, Democratic Sen. Raphael Warnock and Republican Herschel Walker will face a runoff. WHO'S GOING TO WIN? Well, Surge has been out of the predictions game since losing it all at a Hialeah dog track some years ago. But polls in Georgia, unlike other stupid states (you know who you are), are typically among the most accurate. And the most recent likely voter polls of the Georgia runoff show Warnock with leads of 2, 3, 4, -1, 0, and 4. (The one showing Walker ahead by a point was conducted by the precocious teens of Phillips Academy.) So … hmmmm … If polling averages in the Peach State are pretty reliable … and Warnock is leading in the most polls … no, no, no predictions are a sucker's game. It all comes down to turnout! (Seriously, though.)

6. Kevin McCarthy
This week in Kevin McCarthy Does Not Have the Votes.
It's been a couple of weeks since we checked in on whether House Republican leader Kevin McCarthy has the votes to become House speaker. He still does not. There are five Republicans who have said publicly that they will not vote for McCarthy in the Jan. 3 speaker's election, and he can only afford to lose four. How many other saboteurs are out there? Maybe it's just five. Maybe 10. 20? Here's what McCarthy does have in his favor as he tries to wrangle the last few votes. There is really no one else besides McCarthy who could get 218 Republican votes. Also, the threat of Republican moderates to join hands with Democrats if they don't get McCarthy is one that the hard-liners should be taking seriously. And also … well, basically it's just those two things. If McCarthy can't get the votes by Jan. 3, and the speaker's race goes to multiple ballots, it would be the most electric early January day in the Capitol in history! Hold on, there's someone in our earpiece … oh … it would be the most electric early January day in the Capitol in two years!

7. Aileen Cannon
The special master of taking L's.
An end to our long legal drama of whether a special master gets to sort through all the juicy   documents seized from Mar-a-Lago earlier this year is finally at hand: A special master does not get to do that and should never have been allowed to do that. Such was the ruling from a three-judge panel (all GOP-appointed) at the 11th US. Circuit Court of Appeals this week. It's an embarrassment for Florida Judge "Come On," Aileen Cannon, the Flunky of Fort Pierce, who granted Trump's special master request in the first place. "We cannot write a rule that allows any subject of a search warrant to block government investigations after the execution of the warrant," the appeals court wrote. "Nor can we write a rule that allows only former presidents to do so." The subtext of this writing is: Eyy, take a hike! We'll end this entry before embarrassing Slate's prestigious legal coverage team any further.
*Correction, Dec. 4, 2022: This article originally did not specify it was the House Judiciary Committee Republicans.