Slate's guide to the most important figures in politics this week.
Welcome to this weekend's edition of the Surge, your weekly newsletter covering the new 51 to 49 Democratic Senate! Er … the new ~50.7 to ~49.3 Democratic Senate!
We look at Sen. Raphael Warnock's win in the Georgia runoff, the final 2022 race that Republicans blew. Some Republicans are being very rude to Mr. Trump over it. We do another weekly check-in on Kevin McCarthy's efforts to get a job, watch a grown woman cry because gay people can get married, and look at the most impeachment-worthy offense Joe Biden has committed yet. (It has to do with finger foods.)
Let us first examine the age-old saga: the things people will do to salvage their careers.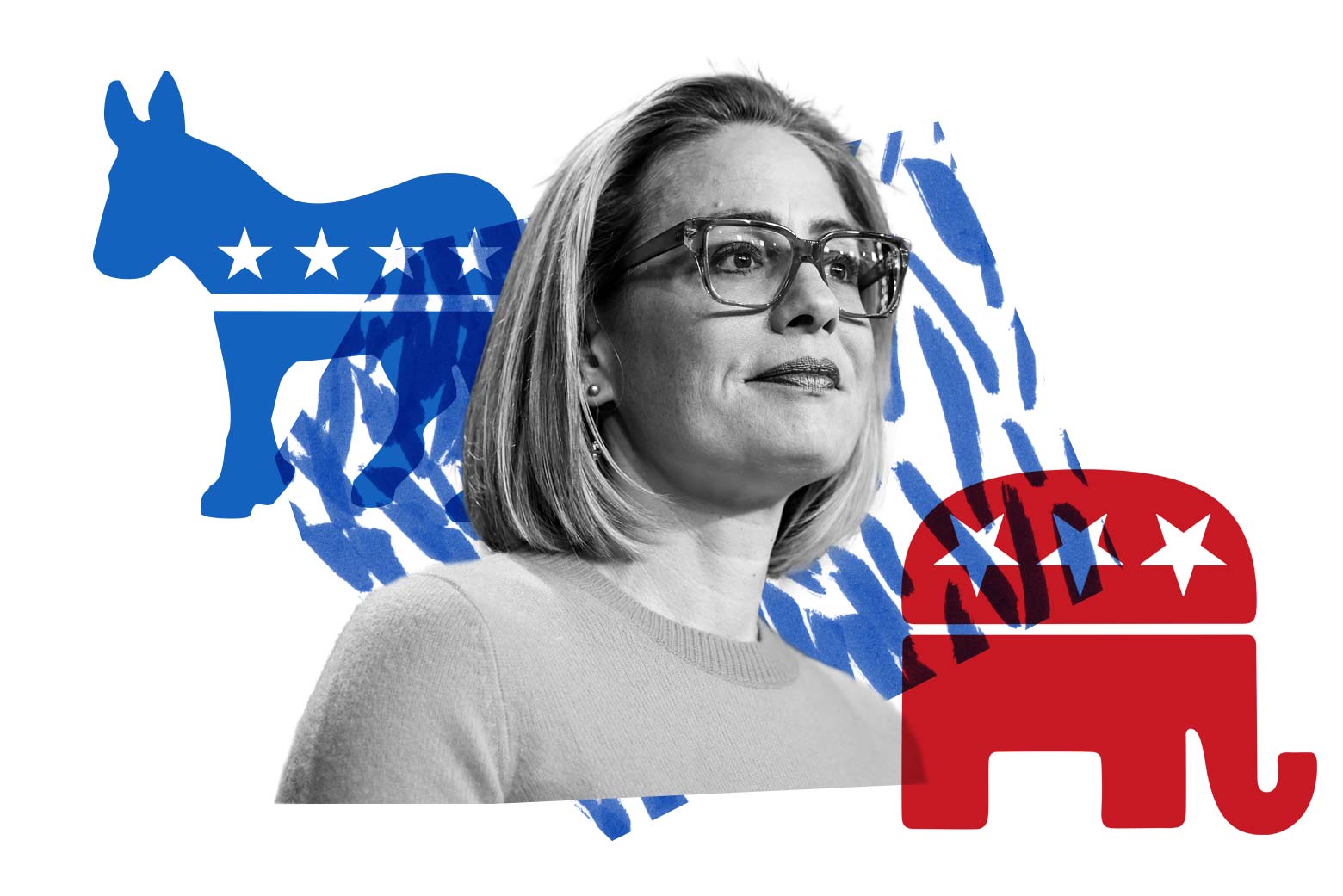 1. Kyrsten Sinema
How her DemExit matters, and how it doesn't.
The Arizona senator and scourge of the left announced Friday morning that she would be leaving the Democratic Party and registering as an independent. The immediate effect of this announcement was catastrophic: It forced the Surge to reorganize our list. In terms of Senate control or vote outcomes, though, her switch is mostly cosmetic. Democrats will still have a clean majority, committee ratios will stay the same, and Sinema says she'll still vote for the judges Biden nominates. In other words, Sinema will continue doing what she's always done: using the Democratic Party for status in exchange for nothing. "She intends to maintain her committee assignments through the Democrats," a spokesperson said Friday. "She has not ever and will not attend caucus messaging and organizational meetings." What this changes for her is that now, she does not have to compete in a 2024 Democratic Senate primary, which she had a good chance of losing. She is daring Arizona Democrats to either throw their support behind her independent candidacy or risk giving the seat to a Republican in a three-way race where Democrats split the vote. Very cool of her! After a bad Senate year for Republicans, at least they already have a Democratic blow-up to look forward to in the next cycle.

2. Raphael Warnock
How he won.
Georgia Sen. Raphael Warnock had the privilege of delivering the last gratuitous kick to Senate Republicans in the 2022 midterms. He defeated Republican Herschel Walker in this week's Senate runoff, giving Democrats a majority for the next two years. All right, so Democrats netted one Senate seat in the election. Is this really something Republicans should beat themselves up about? Yes. They blew it! Democrats didn't overperform this cycle because the environment was secretly good for them. It was dumpy. And Republicans didn't underperform because their voters wouldn't turn out. They did, in comfortably greater margins than Democrats. They just didn't all vote for Republicans, because Republican candidates were so often terrible. And Herschel Walker was a terrible candidate. Warnock and his campaign, astutely, seized on the center that Walker had vacated. "There could have been other campaign operatives or another campaign that could have said, 'OK, Herschel Walker has all this baggage, so we're just going to run to the left and just try to turn out as many of our voters and just let Republicans eat their own,'" Warnock's campaign manager, Quentin Fulks, told NBC News. "We didn't do that." Easy peasy, isn't it? (Winning a Georgia Senate campaign is extremely hard.)

3. Donald Trump
Ah c'mon, the big guy can't catch a break!
Are you not disgusted by the disrespect these Republicans are showing Mr. Trump? Mr. Trump gave Mick Mulvaney a job. Like, many jobs. How does Mick Mulvaney repay him? He says Trump can't win in 2024. Let's see you win anything more than a Werther's Original at grandma's house, Mick. Trump says he wants to terminate the Constitution if it doesn't let him be swapped in for president immediately. What's the problem? But then we get, among others, Texas Sen. John Cornyn responding to the press with "I'm at a loss for words. We need to move on." Here's a few words you could say, John Cornyn: I love "TRUMP." Even "Sweet Lindsey Graham" isn't so sweet anymore. "I think he's in a good spot to get the nomination," Graham said after the Georgia results. Good start. "But he's got to prove to people he can win." He has to prove nothing to nobody. You're all fools! All of Trump's candidates won many times over in the midterms and so did Trump in 2020 and the Constitution should be rewritten to say that. Otherwise, it should be shredded. This is the stuff of a majority coalition.

4. Kevin McCarthy
Which wing of the caucus is bluffing?
Time for our weekly update on whether Kevin McCarthy has the votes to become speaker: He still does not. And he has one of the handful of "Never Kevin" Republican members, Arizona Rep. Andy Biggs, now saying he'll challenge McCarthy on the floor. (Biggs will never be speaker.) McCarthy is still negotiating with some hard-liners. But let's say he doesn't have the votes by Jan. 3, and he takes the fight to the floor. In a speaker's vote, the House would vote over and over until someone emerges with a majority of votes cast. There could be several nearly identical rounds, at first, where McCarthy falls just short. Then the real negotiations would begin. The Never Kevins' hope is that McCarthy either gives in to some of their more exorbitant demands or concludes he can't get the votes and steps aside. But moderates, like Nebraska Rep. Don Bacon, have their own card to play: After a few ballots, they could threaten to join Democrats on a more moderate consensus speaker if the Biggses of the world don't fall in line behind McCarthy. Now, it's one thing to make that threat. It's a lot harder, in the moment, to actually follow through on a threat to give Democrats a say in who becomes the Republican speaker. Who knows! The key thing to keep in mind is that such a spectacle would be a complete embarrassment for Republicans on their first day in the majority, and they'll want to avoid it. Which is why McCarthy will probably resolve it before Jan. 3 by offering Matt Gaetz a private jet or something.

5. Ronna McDaniel
Yeah, no clue why the GOP turned against mail voting …
In the wake of their ho-hum performance, leading Republicans are finally recognizing that it would be wise to encourage mail ballots and early voting as a means of banking votes ahead of Election Day instead of whining about Democrats using the practice. What they have trouble doing is acknowledging why the GOP, after decades of using mail ballots to their advantage in states like Arizona, turned against the practice so sharply in 2020. Was there one singular voice in the Republican Party in 2020 who may have set the anti–mail balloting tone? It's impossible to say. "What we do need is our voters need to vote early," RNC chair Ronna McDaniel said this week on Fox News. "I have said this over and over again. There were many in 2020 saying, 'Don't vote by mail, don't vote early.' And we have to stop that." Ah yes, the apocryphal Many. Fox News host Sean Hannity, similarly, said that, "I think Republicans have been unwilling, for whatever reason, reluctant, resistant to voting early and voting by mail." For whatever reason! The source really is difficult to divine. Like, this would be easily diagnosable if there was an identifiably powerful figure in the Republican Party who, in 2020, determined that all mail voting was fraud and shouldn't count. Instead, it's one of the grand mysteries of life.

6. Vicky Hartzler
The age of mandatory same-sex marriage is upon us.
The House passed the Respect for Marriage Act this week. The bill, which protects same-sex and interracial marriage rights just in case the Supreme Court decides it doesn't like them anymore, now goes to President Joe Biden's desk. When an earlier version of the bill passed the House in July, 47 House Republicans voted for it. Social conservatives were blindsided by the number and spent the past few months pressuring Republicans to oppose it. So, in the final version that passed this week—the one with stronger religious freedom protections, actually—only 39 Republicans supported it. (Congratulations to those who changed their votes on finding a way to piss everyone off.) The most visibly upset Republican during the debate over the bill was Missouri Rep. Vicky Hartzler, who cried on the floor as she said, "I hope and pray that my colleagues will find the courage to join me in opposing this misguided and this dangerous bill." In her words, the bill's "only purpose is to hand the federal government a legal bludgeoning tool to drive people of faith out of the public square and silence anyone who dissents." Her tearful delivery could not stop the bill from passing. Once it is signed into law, every American, including Hartzler, will have 30 days to get gay-married before fines kick in.

7. Joe Biden
Republicans finally land an impeachment-worthy offense.
Plenty of House Republicans want to impeach Biden. They just haven't landed on the ideal offense yet. Until this week, the leading case was that Hunter Biden was having too much sex with his laptop. But on Monday night, the White House held its congressional ball. And Biden, we're confident in saying, is finished now: There was not nearly enough food. One House Democrat told Politico it was "ludicrous" how the White House only served small-plate finger food. Another member said attendees left "ravenous" and woke up Tuesday morning starving. Furthermore, the drink selection was limited to beer and wine. Not having enough food is one thing. But not giving people on empty stomachs hard liquor and limiting the possibility of a drunken melee? Impeachable.