Slate blogged along as Democrats experienced a surprisingly good midterm night on Tuesday. You can read below about the unexpected wins and where things stand headed into a long week and potentially month, or more, of further counting ahead.
Democrats Beat the Fundamentals and the Expectations
Will it matter at all to Republicans, though?

3:15 a.m.: That just about wraps it up here. Before you go, you should read Jim Newell's excellent election-night wrap-up walking through what all we learned tonight. Specifically, that—for whatever reason—Democrats clearly outperformed the fundamentals and the expectations. What's unclear is if Republicans will yet accept that fact, or again brush it off and declare victory in the face of serious defeats, as they did in 2020 and as House Minority Leader Kevin McCarthy indicated he would do with his election night "victory" speech. We should know soon, maybe sooner than we get some of these final race calls. -Jeremy Stahl
John Fetterman Defeats Dr. Oz to Bring Democrats Closer to Senate Control
2:05 a.m.: In perhaps the most important call that we're likely to see tonight, Pennsylvania Lt. Gov John Fetterman defeated Dr. Mehmet Oz to win that state's open Senate race. You can read more about how Fetterman did it and what the humiliating loss means for Oz and his chief booster, former President Donald Trump.
But it's probably important to delve deeper into the significance of this race. The Pennsylvania Senate seat is the first seat for either party to flip sides, going from a Republican to a Democratic seat. That means that if Democrats hold the rest of their seats, they will increase their majority in the Senate to 51–49 (from 50–50 with Vice President Kamala Harris breaking a tie). At the end of the night, they led in all of those outstanding races, with the Western states of Arizona and Nevada still having a lot of outstanding vote to count, and the race in Georgia appearing to be headed for a runoff. The bottom line is, though, that Democrats can lose one of those three races and still hold on to the Senate.
Fetterman's win is the biggest piece of news that we're going to get tonight, as the rest of the nation's most critical races—including those that will decide control of the House—are not coming in until the days and potentially weeks ahead. —Jeremy Stahl
Mitmer
Gretchen pulls it off.

1:56 a.m.: Michigan was looking a bit scary for Democrats in the last stretch of the cycle, but now, the party can (mostly) breathe easy. The big one: Incumbent Gov. Gretchen "Big Gretch" Whitmer has prevailed against her Republican challenger, former right-wing TV host and horror-film dabbler Tudor Dixon. The other key players in Whitmer's administration—Attorney General Dana Nessel and Secretary of State Jocelyn Benson—also appear to have a smooth path to victory. On top of all that, Michigan's Proposal 3, which enshrines a right to abortion in the state's constitution, is also projected to pass. We're still waiting to hear on few key congressional races there, but the results so far are very promising for Dems going forward.—Nitish Pahwa
Alaska's One House Seat
Don't hold your breath!

1:48 p.m.: Alaska only has one seat in Congress, and the same Republican had his butt parked in it for nearly 50 years—until he died in March. In the race to finish his term, Mary Peltola, a Democrat who describes her platform as "pro-fish," pulled off a stunning upset this summer, beating both Sarah Palin and a second Republican to become the first Alaska Native in Congress.

Today, Alaska voters will decide whether to keep Peltola in Congress or give the seat back to the GOP. Will right-wingers begrudgingly make full use of the ranked-choice voting system they despise? Will the Republicans who hate Palin get their wish for a less thirsty conservative in office? Or has Peltola's salmon talk won over enough moderates to keep her above water? We'll find out … around Thanksgiving, when Alaska will release the final results, in accordance with a state law that allows ballots postmarked by Election Day to be counted if they arrive up to 15 days later. That's how ranked-choice works! As you were!—Christina Cauterucci
Vermont Has a Type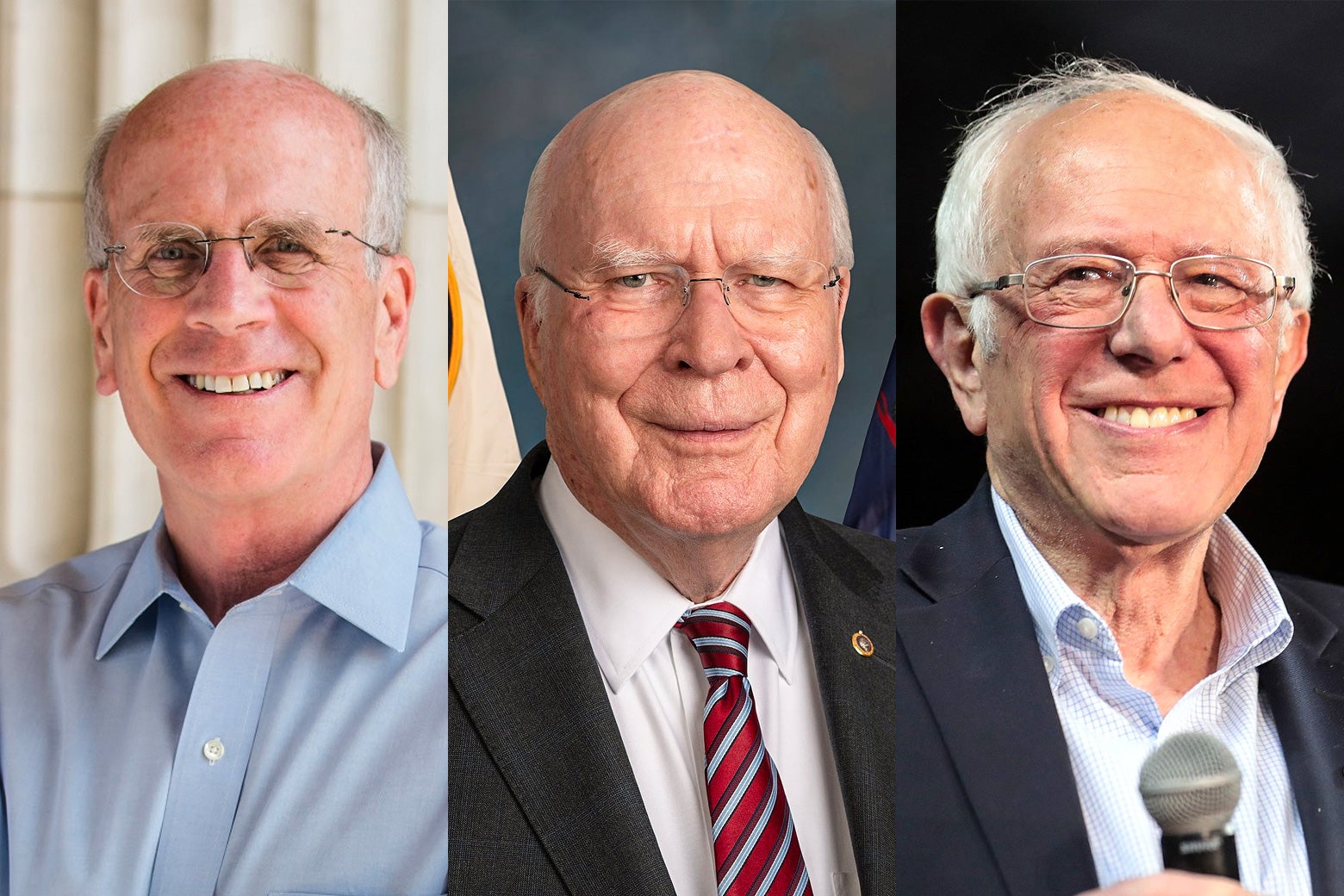 1:38 p.m.: With his victory tonight, newly elected Vermont Sen. Peter Welch will become just the second Democrat to ever represent his state in the upper chamber, which will certainly make him a bar trivia answer here in DC. Currently an at large-congressman in the state, he's expected to carry on the liberal legacy of retiring Sen. Patrick Leahy.
Another way he represents continuity? New Hampshire has the White Mountains. Vermont has the Gray … power doughnut.—Jordan Weissmann
I Checked in on Truth Social and OH GOD MY EYES
A visit to Donald Trump's metaverse.

1:02 a.m.: Just out of curiosity, I made a Truth Social account to check how Donald Trump is faring as some of his endorsed candidates lose out and the once-projected "red wave" dissolves into mist. Gauging from my unscientifically curated feed of Truths, it appears as though the former president and his friends are very much in cope mode.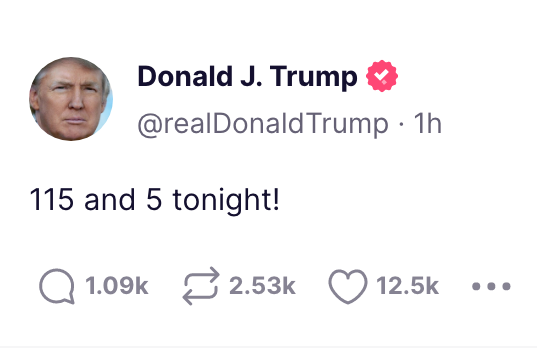 This apparently refers to Trump's track record with endorsed candidates tonight, which looks a lot less impressive when you boil it down to the races that were actually competitive.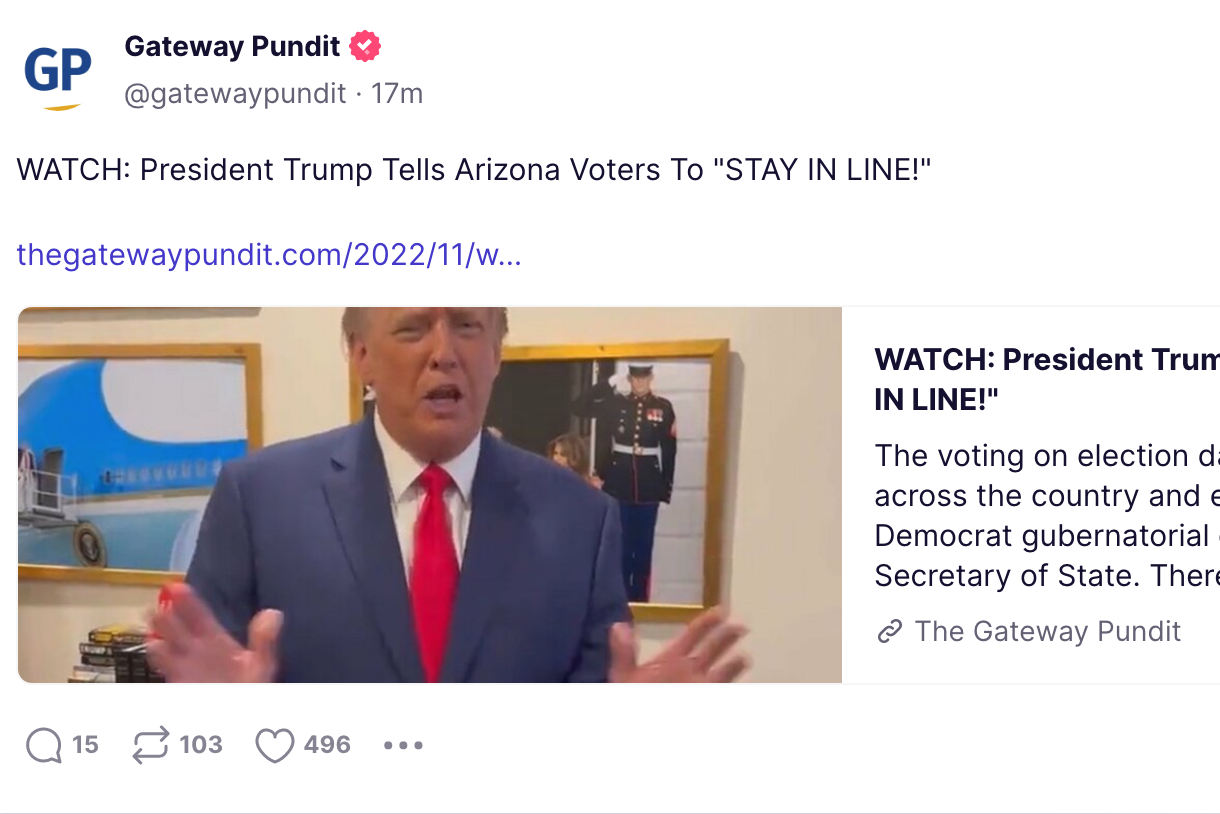 Guys … Trump said that seven hours ago.
Notably, all these "Truths" came in between "Sponsored Truths" that advertised: a $100 Trump gold bar that you could win for FREE, something about how "Diabetes Is Not From Sweets," and red hat reading "Truth Social" that's presented as "the Official Hat of Truth Social." Good stuff!—Nitish Pahwa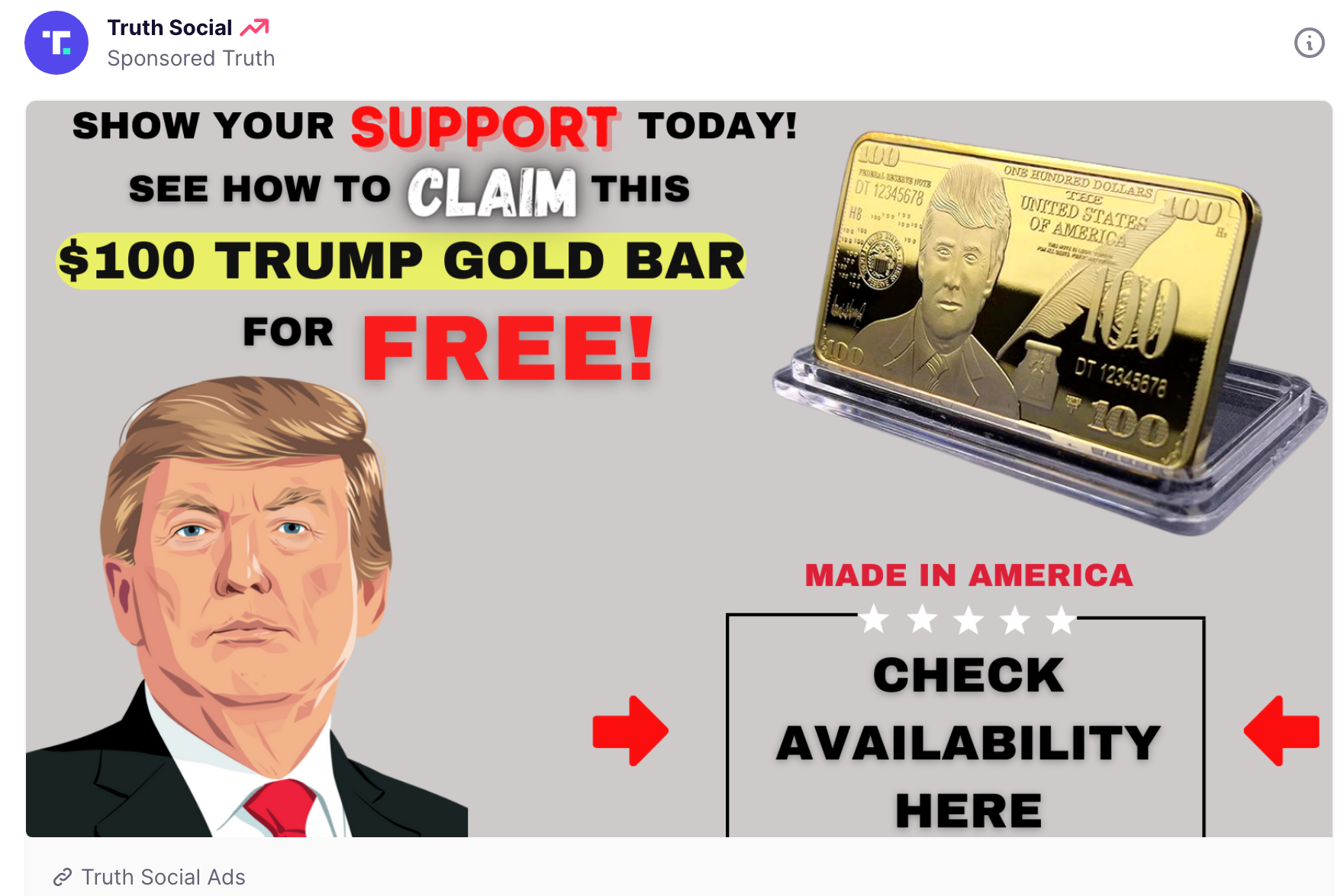 Wisconsin Is Not Giving Up on the Whole Democracy Thing (Yet)
The GOP gubernatorial candidate who said the quiet part loud has lost.

12:33 a.m.: In a midterm year overrun with election deniers vowing to prevent another Biden victory in their state, it caused no small amount of alarm when the GOP candidate for Wisconsin governor, Tim Michels, was caught at a recent election stop saying, "Republicans will never lose another election after I'm elected." A campaign spokesman tried to excuse the remark, saying that Michels only meant the GOP would do a wonderful job and win re-election. But the possibility that he was talking openly about imposing one-party rule in the state seemed grimly plausible, given that Wisconsin Republicans have been on the vanguard of using partisan gerrymandering in order to maintain a hammerlock on the legislature in an otherwise very purple state.

Anyway, the good news, for those worried about our small-d democratic processes, is that we probably don't have to worry about that because current Wisconsin Gov. Tony Evers appears to be on track for re-election.

The bad news: It's still possible that Republicans will leverage their gerrymander into a veto-proof majority that will allow them to change the state's election laws at will. —Jordan Weissmann
Joe Biden Has a Comfortable Shirt
Night Brandon hits different.
11:50 p.m.: Joe Biden is not a popular president, and he's definitely not the main reason Democrats are faring better than expected tonight. Still, the chance we might avoid a red wave is great news for the commander in chief, who no matter what will have to deal with fewer crazies in Congress next year. No wonder he's smiling so widely:
Look at this guy! As nighttime shrouds the Oval Office, the suit comes off, and the mock turtleneck takes its place. It looks extremely comfy, a far more flexible piece of work attire. The cap is notable, too: It represents Colorado's Camp Hale—Continental Divide, a history military training ground that Biden just designated as a national monument last month. The fact he posted this right after election returns confirmed that Colorado's now a blue state can't be a coincidence. Cozy attire, relaxed posture, celebration of our natural wonders, phone calls to Democratic victors—Biden's really feeling himself tonight. Dark Brandon, meet Grandpa Joe. —Nitish Pahwa
The Face of Christian Nationalism Loses in Pennsylvania Governor's Race
Whew!

11:47 p.m.: Doug Mastriano—the Republican who ran for governor of Pennsylvania as a full-fledged Christian nationalist, campaigned on election denial and culture war boogeymen, and announced his candidacy with the blast of a jumbo-size shofar—has lost to the Democrat, Josh Shapiro. Mastriano became the most prominent face of Christian nationalism this election cycle, framing his campaign as a holy battle to make the United States into a good, righteous, Christian nation.

He was playing to a very real audience. Christian nationalism played a major role in the lead-up to the midterms, specifically because of the way it has become linked with 2020 election denialism.

In brief, Christian nationalism is essentially the belief that the U.S. should be governed as a "Christian" nation, to the point of eliminating the separation of church and state. (There is a spectrum to this ideology; not everyone fully buys into its anti-democratic implications.)

This ideology has become more and more attractive to many white evangelicals and Pentecostals who want the country governed according to their vision of faith. Many are also Trump supporters, seeing the former president as the best pathway to victory at the Supreme Court and to laws that would empower conservative Christians by, for example, dismantling regulation of schools. Some of these supporters even believe that Trump was anointed by God to be president, and those keeping him out of the White House are going against a divine plan. 

So even though many 2020 election deniers are not Christian nationalists, there is a very vocal and energized contingent of people who believe that Trump losing the presidential election was not just a lie, but the work of satanic forces. Mastriano was one of several politicians who capitalized on that dogma, riling up a Christian base that is increasingly seeing current events as a harbinger of end times. Other politicians who have followed suit, to varying degrees, include Kari Lake, running for governor in Arizona, and Dan Cox, who lost the Maryland governor's race. —Molly Olmstead
Capitol Hillbilly (Sorry, Everyone Else Is Also Going to Use This Headline)

11:36 p.m.: J.D. Vance's long, strange journey through life will be getting another chapter in Washington, D.C. The Hillbilly Elegy author and onetime Donald Trump critic had an unexpectedly close Senate race with Democratic Rep. Tim Ryan after winning the Republican primary on the strength of Donald Trump's endorsement but currently holds an 8-point lead with 91 percent of votes reporting and is being called as the contest's winner by the usual suspects.

This is good for Vance, in the sense that he has won his race and now gets to be a senator, which is for some reason a goal held by many people. But it's still not that impressive of a showing for Trump Republicans given that traditionally conservative Ohio Gov. Mike DeWine, who is not a huge fan of Trump, is currently leading his own race by 25 points. What's more, the hyper-MAGA Republican candidates in two northern-Ohio House races that were widely considered potential GOP flips—J.R. Majewski and Madison Gesiotto Gilbert—appear to have lost, as has incumbent Rep. Steve Chabot in the Cincinnati area.

Ohio's a red state now; that much has been established. But it has its limits! —Ben Mathis-Lilley
I Am Thoroughly Enjoying the Election Coverage on … NewsNation?

11:23 p.m.: Like many (?) of you, I have been flipping back and forth between various networks' coverage of tonight's midterm elections. Like not as many of you, one of the networks I have been monitoring is NewsNation, the former WGN America, which is now showing far fewer Andy Griffith Show reruns and Cubs games in its effort to become the centrist cable news choice for people who think CNN has gotten too preachy. It is weird, then, that NewsNation has hired the exiled CNN alumnus Chris Cuomo as its "star," and it is even weirder that I've found myself legitimately enjoying Cuomo & co.'s midterms coverage tonight.

One big reason for this is that, while NewsNation has a "big board," manned by ex–Fox News guy Leland Vittert, the network is spending much less time in front of it than are CNN, Fox, and MSNBC. I applaud this restraint: It is no longer 2008 and it is no longer interesting to spend hours each election night watching some nerd fiddle endlessly with a big touch screen (sorry, Kornacki stans). Another good thing about NewsNation's coverage tonight is the presence of Chris Stirewalt, the former Fox News political editor who was bounced from that network after the 2020 elections after he and his team accurately called the state of Arizona for Joe Biden. As cable news wonks go, Stirewalt has always been an unusually perceptive and entertaining one, and it is nice to see him take more of a starring role tonight on NewsNation, as opposed to the old days on Fox where he would pop up every so often when Brit Hume had to take a bathroom break or something. Chris Cuomo himself, who was fired by CNN last year amid multiple scandals, has relatively little to do with why I am enjoying NewsNation's coverage tonight, but at least he hasn't taken any on-air calls with his brother, his mother, or Don Lemon. —Justin Peters
Dem Meddling Pays Off in New Hampshire, Where Maggie Hassan Keeps her Senate Seat

11:17 p.m.: Sen. Maggie Hassan, an incumbent New Hampshire Democrat, has defeated Trump-endorsed Republican challenger Don Bolduc, who claimed that the 2020 presidential election was stolen and spread conspiracy theories about microchips in vaccines. This one was a nail-biter for Democrats, despite the fact that Bolduc is a far-right candidate, not the type you'd expect to stand a chance in a statewide race in a swing state that's been trending blue. Democrats had been so sure Bolduc couldn't beat Hassan that the party actually propped him up in the Republican primary, hoping that a hardcore MAGA candidate would be easier for a Democrat to beat in the general election. Then Bolduc started polling pretty well, and he became a real challenger to Hassan. His loss is one of a few early signs that Republicans are not in for a massive "red wave" that will easily sweep the Senate. —Christina Cauterucci
It's Totally OK if You Go to Bed Now
Just tell any members of your household who are staying up to keep clicking articles on Slate!

11:09 p.m.: At this moment in the night, we don't really, really know anything about how the election is going to turn out, but the people on cable news are saying vaguely positive things about how the vote is looking for Democrats. Is that hope I sense, or just hopium? My stomach is starting to hurt! It all takes me back to election night 2016, when I was reporting in New York City at what was supposed to be Hillary Clinton's victory party. Election night hasn't really seemed like a "party" occasion since.

If I didn't have this job, I'd be popping a melatonin, getting in bed, and looking at expensive chairs in Architectural Digest, serene in the knowledge that I could wait until morning to deal with whatever happens. Instead, I'm here with you all, wishing I could get knocked out with a shovel and awaken once all the races are called! —Christina Cauterucci 
Progressives to Moderates: Mwahaha
We have a new Squad.

11:06 p.m.:The demise of progressives may have been greatly exaggerated. During primary season, it became something akin to gospel that progressives were in retreat, as Democratic moderates rode a wave of super PAC money to a number of primary wins. But, even early in the night on Nov. 8, progressives had already secured themselves a full class of newcomers—winning high-profile House races with Florida's Maxwell Frost, Illinois' Delia Ramirez, Texas' Greg Casar, and Pennsylvania's Summer Lee. In the past two cycles, progressives had four big triumphs each time: Ilhan Omar, Ayanna Pressley, Alexandria Ocasio-Cortez, and Rashida Tlaib were elected in 2018; Jamaal Bowman, Mondaire Jones, Marie Newman, and Cori Bush in 2020. If you want to stretch out the "Squad" moniker for a third election cycle, we have a new Squad, 2022.

Those four races all came in true-blue districts, although Lee's, in particular, was far from certain. Redistricting made Pennsylvania's 12th District less blue than it had been prior, and the American Israel Public Affair Committee, via its United Democracy Project super PAC, threw in over a million dollars to defeat her, alongside the National Republican Congressional Committee, which also spent in the final days. (UDP also threw in millions to oppose Lee in her primary race but did not succeed.) The race was also complicated by the fact that the Republican candidate, Mike Doyle, shares a name with the retiring incumbent, Democrat Mike Doyle.

With these wins, progressives began to affirmatively answer the question of whether they can win in swing districts. Next door to Lee, Chris Deluzio looks set to triumph in Pennsylvania's 17th, a former Bernie Sanders delegate in the seat once held by textbook moderate Conor Lamb. In Oregon, Texas, and elsewhere, they'll have a handful of chances to prove it again later in the night. —Alexander Sammon
What Can We Learn From Virginia's Close Congressional Races?
Democratic bellwether Abigail Spanberger goes back to the House.

10:41 p.m.: In our preview this morning, we looked at three House races in Virginia that could give clues for how the rest of the evening goes: Democratic Reps. Jennifer Wexton, Abigail Spanberger, and Elaine Luria were all elected in the 2018 blue wave. And they all had tough races this cycle, in ascending order of difficulty. If Republicans were to win all three, the night could be a Republican tsunami.

Republicans won one.

Republican Jen Kiggans defeated Luria in Virginia's Tidewater district, which was made much more challenging for Democrats in redistricting. That's a pickup. But Spanberger held against Republican Yesli Vega, and Wexton against Republican Hung Cao.

Are these signs that Democrats are having a good night? Not in strictly neutral terms! Even the winners are underperforming Joe Biden's margins in these districts from 2020. But they're signs that Democrats aren't having the worst-case, doomsday scenario for which they'd steeled themselves. —Jim Newell
In the End, Democrats Don't Blow It in Rhode Island

10:22 p.m.: For a hot minute there late in this campaign season, it looked like Democrats might have pulled a move we can only call "the Democrat"—drawing themselves out of a House seat in freaking Rhode Island!!!

It would have been impressively bad! Democrats have held Rhode Island's 2nd District, covering the western half of the state, since the early 1990s. But longtime incumbent Jim Langevin retired this year, setting up an open seat race. Then, Rhode Island Democrats made the new 2nd District much less friendly than the 1st, setting up an open seat with a modest D+4 advantage in a Republican-friendly year.

Republicans put resources behind their candidate, former Cranston Mayor Allan Fung, who was running against Democrats' state treasurer Seth Magaziner. Democrats sweated it. There were even some nervy polls showing Fung ahead. House Majority Leader Steny Hoyer got in big trouble for calling Fung a "quality" candidate!

In the end, though, Magaziner won, according to a call from local news station WPRI.

Democrats now only have to grind out a few dozen knife's-edge seats they're protecting. —Jim Newell
What's Everyone Eating on Election Night?

Here at the Slate office, we ordered a ton of pizza and also chicken fingers (dipping party!). If you are at home, perhaps you picked a recipe out of the New York Times' "Election Day" recipe suggestions? But as Ben Mathis-Lilley observed a couple weeks ago, they're just … regular recipes?

Take a break and read Ben's take on the recipe roundup—even if it's too late for you to make "French onion macaroni and cheese," also known as a double-decker cheesy starch, it is still funny.
Colorado Is a Blue State Now
It's official.

9:54 p.m.: Democratic Sen. Michael Bennet defeated Joe O'Dea in the Colorado Senate race, and it didn't take all that long to count.

O'Dea was one of the most-hyped Republican candidates of the cycle, adopting a relatively moderate posture relative to some of the other Republicans in key races across the country. Bennet's seat was seen as one that could've been vulnerable in a wave, and Mitch McConnell had dubbed O'Dea the "perfect candidate" for the seat.

He just never took off, even as other races were tightening. Despite O'Dea supporting some abortion rights, Democrats hit him hard for past inconsistencies on that position. Meanwhile, his opponent in the primary—a MAGA candidate whom national Democrats had tried to elevate as a weaker general election opponent—never endorsed him, indicating some softness among conservative support. It didn't help among those conservatives when Donald Trump publicly trashed O'Dea, either.

We don't need to fiddle around with the "purple" descriptor anymore. Colorado is now just a blue state. —Jim Newell
Pritzkermentum??

9:36 p.m.: It turns out, President Joe Biden is so unpopular that polls consistently show a majority of Americans don't want him to run again in 2024. (They don't want Donald Trump to run again, either.) The good news for Democrats, however, is that tonight's midterms results clearly show a different path forward for the party's next standard-bearer, as my colleague Ben Mathis-Lilley has formerly posited.

Look: J.B. Pritzker, who just won reelection as governor of Illinois, is a great speaker and a loyal party ideologue who's hammered on the importance of climate mitigation and abortion rights in the Midwest, and won praise at home for his management of the COVID-19 pandemic. But, perhaps most importantly, he's an exemplar of the power of the Big Beefy Boy, which has been an important electoral trend this year, as my colleague Seth Maxon has noted. America, the choice is clear. —Nitish Pahwa
The Far Right Has Chosen Its "Stop the Steal" Conspiracy for the Evening

9:28 p.m.: Arizona is a mess tonight—or at least some far-right message boards would like you to think so. Early signs of a 2020-style showdown are beginning to show in Maricopa County.

Voting machines that count paper ballots did malfunction early in the day. About 20 percent of the 223 polling locations in that county were affected. Officials said all votes will be counted, some by hand, and fixed the problems quickly. But that isn't stopping videos of frustrated voters complaining that their votes won't be counted from spreading online, with some declaring "the steal is on."

Maricopa's official Twitter account was not having it:

But there are already plans for organized protests by election denial groups outside of counting centers in Maricopa and Pima counties at around 8 p.m. local time. Donald Trump himself is on Truth Social calling out Arizona and Detroit, telling his supporters to "Protest, Protest, Protest!" The Maricopa County Sheriff's Office says it is prepared to handle crowds if they gather, to prevent the protests from boiling over like they did in 2020.

Arizona, as you might have read today in Slate, is home to one of this cycle's most worrisome elections—and it involves a threat to certifying votes there in 2024. —Aymann Ismail
Fox News Anchors Are Amused by "Gerrymandering"

9:20 p.m.: "I have now for you the political comment of the evening. Or maybe of all time," said Fox News' Brit Hume just a little bit ago, reading from a tablet as a chuckle crept into his voice. "Somebody's saying over on MSNBC that the GOP's dominance in Florida is all about gerrymandering." Hume and Karl Rove broke out into laughter, as anchors Martha MacCallum and Bret Baier grinned widely. Ha! Ha! As with many good jokes, this one is funny because—at least if you're willing to believe a recent ProPublica investigation, the judgment of the Princeton Gerrymandering Project, and the Center for Public Integrity—it may actually be true? —Justin Peters
First Gen Z Congressman Partying on TikTok, Naturally
Here's the victory party bumping Kendrick Lamar.

9:14 p.m.: Florida may be a wash for Democrats tonight, but there's some good news for the party's next generation: The state's 10th Congressional District is sending Maxwell Alejandro Frost, a 25-year-old progressive activist, to Congress to serve as the ruling body's first (and so far, only) Gen Z member. It's a historic moment for young Americans, who are appropriately celebrating Frost's election party by bumping the Kendrick Lamar anthem "Alright."

After Rep. Val Demings ceded the district in order to bid for Marco Rubio's Senate seat, Frost, a first-time candidate, pulled out a Dem primary victory against nine other challengers. He drew on his longtime experience as a youth activist, campaigning for stronger gun laws after the 2012 Sandy Hook massacre and eventually organizing with March for Our Lives, the advocacy organization formed by survivors of the 2018 Parkland school shooting. Frost centered gun control in his campaign—an extremely important issue for young Americans—and also backed lefty programs like the Green New Deal and "Medicare for All." He also gained endorsements from national progressives like Bernie Sanders and Elizabeth Warren, and earned a viral moment lambasting Gov. Ron DeSantis over Florida's lax gun laws.

Frost will also be the first Afro-Cuban American elected to Congress, and he'll likely find a welcome place among left-leaning House Dems like Alexandria Ocasio-Cortez and Ilhan Omar. Not to mention, he'll be an extremely refreshing youthful face in Congress in a sea of … very, very, very old people who aren't even on TikTok. Losers! —Nitish Pahwa
Rick Santorum Is Commenting
Sans sweater vest.

9:03 p.m.: What's Rick Santorum up to right now? is a question that three or four of you may be asking yourselves, possibly because he owes you money or something, I'm not here to judge. What I am here to do is to tell you that the former Pennsylvania senator and two-time presidential candidate has been hired—sans sweater vest—to dispense mumbly elections analysis on Newsmax alongside Sean Spicer, Greta Van Susteren, and John Bachman. What is Santorum saying? At the top of the 8 p.m. hour, at least, he was saying stuff like "North Carolina's sticking out like a sore thumb right now. It's a very interesting race."

Santorum, you may remember, was on CNN for a few years before the network cut him loose in 2021 after he announced in a speech that "We birthed a nation from nothing—I mean, there was nothing here. I mean, yes, we have Native Americans, but candidly, there isn't much Native American culture in American culture." The dignified thing to do after being dropped by CNN after a dumb unforced error like that, and also after trying and failing twice to interest anyone in electing you to the presidency, would be to retire from public life, or at least from speaking. The undignified thing to do is to willingly choose to sit next to Sean Spicer on television. If you ask me, this fate is one that Santorum deserves, given that he rudely walked away from me at the 2016 Republican National Convention when I asked him to tell me which Pennsylvania foodstuff doesn't get enough attention. —Justin Peters
Beto Still Isn't Going to Win
Late in the campaign, Democrats were still giving their hope—and their dollars—to the former presidential candidate.

8:55 p.m.: Beto, Beto, Beto. Sigh. The former congressman won the hearts of the Democratic faithful when he made a remarkably strong showing against one of the most-hated men in the world (Sen. Ted Cruz) in 2018. Then, he wasted that hard-earned political capital on a flailing presidential run in 2020, during which he came off as a spotlight-hungry try-hard and said a few extremely dumb things ("hell yes, we're going to take your AR-15") that ensured he would never again have a fighting chance at a statewide win in Texas.

But hope springs eternal in the Lone Star State, and Beto O'Rourke is running to unseat incumbent Republican Gov. Greg Abbott, who is presiding over one of the most punitive anti-abortion and anti-transgender regimes in the country. O'Rourke stands no chance—he is down by a solid margin in every poll—but, true to form, Democrats have spent the past few months flooding his campaign with money anyway. Earlier this week, according to Google Trends, the most-searched opinion polls in the U.S. for the midterm elections were for Texas governor. Really, y'all? Bless your audacity of hope, I guess. You have one last night to enjoy it. —Christina Cauterucci
The (German) View From (a Progressive Corner of) Texas
A European's take on the "maybe we should move to Europe" crowd.

8:37 p.m.: Hi! I'm Slate's editor in chief and I'm home in Brooklyn tonight with my 10-year-old daughter staying in contact with the brilliant Slate politics team via Slack. My partner, Stefan, is in Austin, Texas, at an election night party for Greg Casar, the Democratic nominee for Congress in Texas's 35th District, endorsed by Bernie and AOC. Stefan is a former member of the German Bundestag, representing parts of Berlin, and writes about progressive American politics for German publications. He's hanging out with the Casar campaign tonight to see what election night with the DSA looks like. I thought it would be fun to ask him a few questions over text. —Hillary Frey

Stefan, first thing: Do you miss me? 

I do!

OK, seriously: How does election night with an American DSA candidate for Congress compare to, say, the days when you were running for reelection to the Bundestag? Did you also have a big, public election party?

Actually, I had three great public victory parties in Berlin!. But with less English and Spanish language and more Bratwurst. But they do have better music here. (DJ Chorizo Funk, to be specific!)

You've been in Texas a few days. What has most surprised you as you've been meeting with left-leaning folks in Austin? New York magazine reported this week that progressive-minded Austinians are fleeing as Texas turns even redder. What's the vibe you've been getting?

The German stereotypes of Texas are cowboys and guns. Not surprisingly, I didn't see any of these in Austin. Instead I saw a lot of pro-Beto and anti-Abbott signs. I was surprised to learn how urban Texas is: Four cities have a population of more than a million citizens; six have several hundred thousand; 30 have around 100,000 people. And to learn that the white American majority is already a minority here! (But that doesn't mean they are alll Democrats.) So I didn't get the feeling that this is a state that couldn't become blue. But you are right. There are these voices of "should we move to Europe?" Coming from there I can tell you: Not everything is great in Europe, either.

One of the things I love about you is that you are eternally optimistic, which is pretty impressive given that you were a politician for more than 20 years! What would you remind Slate readers to be optimistic about tonight, even if races don't go the way they'd hope?

That is so nice of you. But what would a world be without hope? Yes, I see reasons for optimism. We will have more real progressives in the new Congress than before—people like Greg Casar. We have a high voter turnout, which means the people are interested in politics—which is actually a good thing. So tuning out or giving up is not an option!
Where Could Third Party Candidates Throw Things Off?

In most cases, the races are between a Republican and a Democrat. But in some places, third party candidates are also in the mix. They will not be elected, but they could make tight races even tighter!

We rounded up a list of where third party candidates might have an effect.  
The House Race Where Democrats Set the Most Money on Fire
A $15 million ass-kicking.

The most expensive House race in the country, in terms of money raised, was Georgia's 14th Congressional District: Democrat Marcus Flowers vs. Republican Marjorie Taylor Greene. Flowers donned a cowboy hat and milked eager, out-of-state MSNBC watchers for donations, ultimately raising and spending an incredible $15 million. The district favors Republicans by 45 points. Polls closed at 7 p.m. Less than one minute later, the race was called for Greene. —Alexander Sammon
Democrats Were Never Going to Win Florida This Time, but Oof

One of the most traumatic moments of election night 2020 came when the early vote totals dropped in Miami-Dade County. In those numbers—which were supposed to be a good drop for Democrats—Joe Biden's lead over Trump was only about 12 points. This was a county that Hillary Clinton had beaten Trump in by 30 points in 2016. The 2020 results in Miami-Dade showed that Florida, where Democrats had been polling reasonably well ahead of the election, was gone.

Democrats knew that Florida was basically out for them going into these midterms. It's nevertheless staggering to see how much further Miami-Dade has drifting to the right. Florida Gov. Ron DeSantis won the county's early vote, 54 to 46 percent, in his reelection race against Democratic Rep. Charlie Crist. Sen. Marco Rubio won it 53 to 46 percent.

Florida results, as I wrote this morning, are not a perfect bellwether for the rest of the country. But it is staggering to see how far the state has drifted away from Democrats in the past two election cycles. —Jim Newell
The New York Times Has Some … Advice … for Stress Tonight. We Gave It a Shot.

At Slate HQ in New York, where some editors and writers are gathered, our stress reduction at this stage of the evening includes pizza, chicken fingers, and looking at Steve Kornacki's ties.

But we noticed the paper of record had some, uh, other suggestions:

"Breathe like a baby," you say! We were also intrigued by cooling down—would plunging our faces in ice water help us accept the possibility of U.S. Sen. Dr. Oz? One correspondent, Slate's director of communications, gave it a shot:

Verdict: not great? "When I entered the water, I was at a solid 6/6.5, democracy on the line and all," she told us. "Unfortunately, submerging my face in ice cold water only contributed to my anxiety and I left the water more stressed and with wetter hair."

The New York Times has otherwise been somewhat skeptical of this method, which popped up on TikTok in January. Maybe stick to baby breaths.
A Dispatch From Ohio
Our chief news blogger Ben Mathis-Lilley recently went to Ohio to find out what J.D. Vance's attempt to run for Senate is all about. We asked him some questions about what he learned.
Slate: Ben, you went to a pancake breakfast where the only coffee was hazelnut. Are you going to recover?
Ben Mathis-Lilley: No.
What are you going to be watching for in Ohio tonight?
I'll be looking at the newly redrawn 9th District, where MAGA Republican J.R. Majewski is challenging longtime Democratic Rep. Marcy Kaptur. According to Cook Political Report, the district has a "partisan lean" of 3 points toward the Republican Party, but Kaptur is a well-established local figure and Majewski is an erratic individual who appears to have lied about his military experience and career in the nuclear power industry. If Republicans lose this race and don't do as well as they'd hoped nationally, it'll be an example of why making every primary into a competition to see who's more enthusiastic about Donald Trump was self-sabotaging. If Republicans win this race, well, Congress is going to become an even more interesting place!
I'll also be watching for Senate results in Delaware County, which includes the north end of the expanding Columbus suburbs (predominantly Democratic) as well as large sections of farmland dotted with small towns (predominantly Republican). If Democrat Tim Ryan is going to pull off an upset against J.D. Vance, he'll need to run at least 8 points ahead of Joe Biden statewide. Biden lost Delaware County by 7 points. Ryan has run his campaign with the intention of picking off just enough of the kind of white working-class voters who live in the area to win the whole thing. If it doesn't work in Delaware County, it's probably not going to have worked overall.
An Ode to Steve Kornacki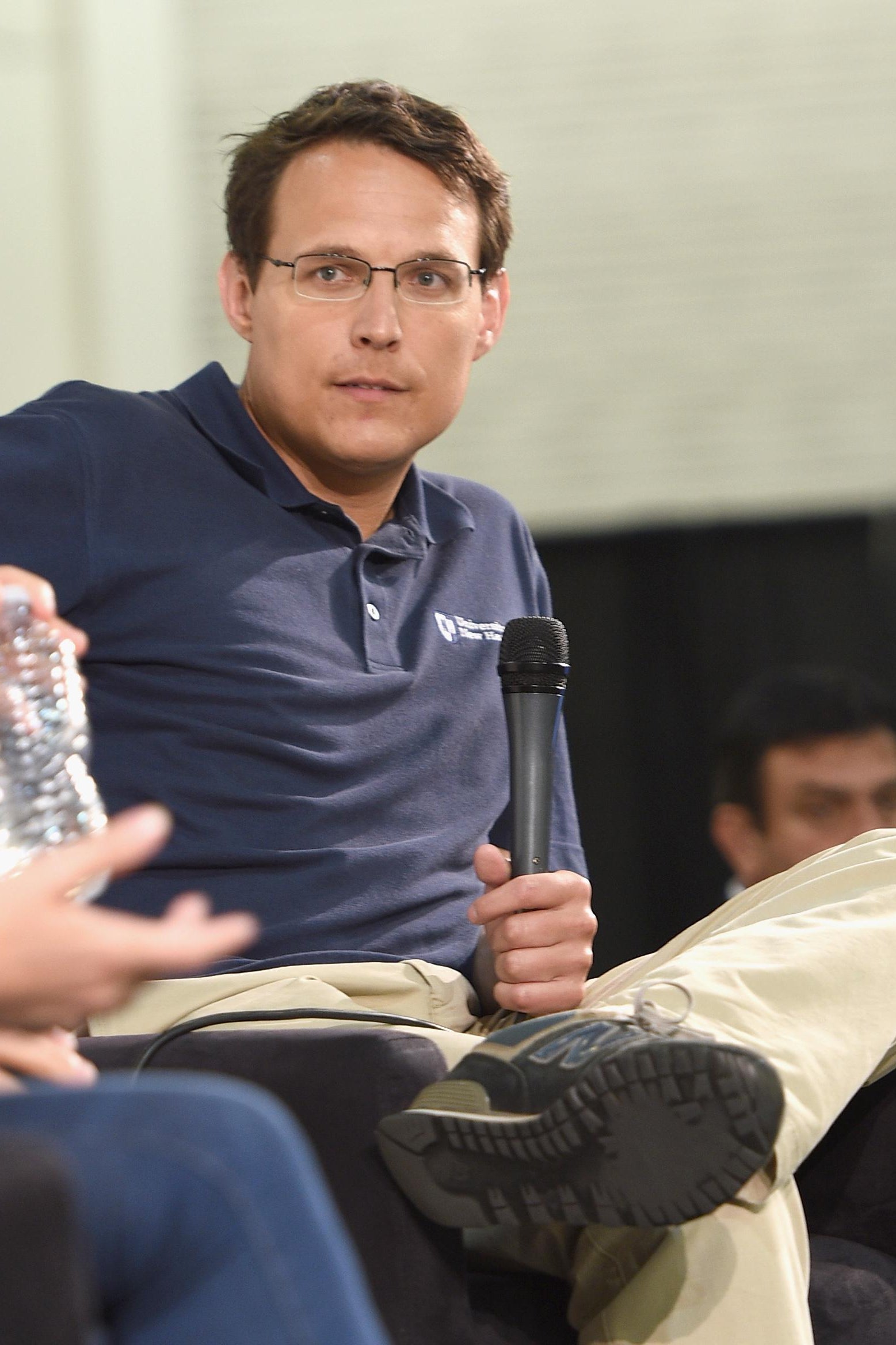 A classic Slate tradition is spending election night, or election week as it may be, watching tons and tons of network television news, not something many of us regularly do otherwise. In 2020, in the haze of the election night that became a week, many of us formed a parasocial relationship with MSNBC numbers guy Steve Kornacki.
As my colleague Josh Levin wrote at the time:
In a medium that prizes empty rhetoric, Kornacki is unfailingly clear about what he knows, what's possible for anyone to know, and what's a total guess. He's careful and wise, the kind of guy you'd want assessing what's wrong with your fan belt, your nuclear reactor, or your representative democracy.
Is he wearing his khakis this year too?
You bet he is!
Who Won the Midterms Spending Game?
Good Lord, this cycle cost a lot of money.

Slate: Let's talk about money. Jim, you wrote recently about how the Dems put money behind MAGA types? Will it backfire? Alex, you wrote recently that Dems got a little smarter on spending—but also got punk'd by a big new donor. How do you guys think Dems are coming into the midterms, moneywise?

Jim Newell: Yes, Democrats tried to take advantage of a unique situation: Linking arms with Donald Trump to elevate election deniers, and all-of-the-above conspiracy theorists, in Republican primaries, in the hopes of drawing weaker general election opponents. We shall soon find out how much it backfires! But, at least according to polling, it looks like some of the investments will pay off, especially in governor's races: Josh Shapiro is expected to beat Doug Mastriano in the Pennsylvania governor's race, Dan Cox hasn't come close to Wes Moore in the Maryland governor's race, and Gov. J.B. Pritzker is in good shape in Illinois. The biggest threat of backfiring seems to be in New Hampshire, where Don Bolduc, whom Senate Dems propped up, has a good shot of ousting Sen. Maggie Hassan. Alex?

Alex Sammon: Hassan was also one of eight Democrat senators who sabotaged the party's attempt to pass a $15 minimum wage—Dems are also perfectly adept at kneecapping themselves. The other race worth watching to see how well that gambit pays off is Michigan's 3rd Congressional District. Dems went big on boosting John Gibbs, who is waaay to the right of incumbent Republican Peter Meijer, one of 10 House GOP members to vote to impeach Trump. Gibbs won, but the Dem involvement in the race drew a ton of uproar and condemnation from within the party regarding the whole practice, especially as party leaders were crying poor in other critical races, cutting spending and lamenting the fundraising environment. Democrat Hillary Scholten is forecast to win the seat, but there's been precious little polling on the race, and the House has been trending steadily in the direction of Republicans of late.

Who had the most expensive races of the cycle? What did the last month of fundraising look like? Read more here.
Touch Your Toes! Peel a Clementine!
It's 6:30 p.m. If you are already stressed out, take a break!

Many polls are not even closed yet. We have some time. If you are feeling stressed, might we suggest some activities that can help pass the time? Slate political staffers have rounded up some of their favorite ways to stay calm in moments of crisis. Frankly, even just reading the post is relaxing. Give it a try!
Former Biden Press Secretary Jen Psaki Does Impressively Bad Tweet

She tweeted this at 4 p.m. EST. Polls had not yet closed … anywhere at 4 p.m. EST. Why would anyone tweet anything so self-defeating for one's party before the polls even close? A mystery.
What Exactly Is Happening With Twitter?
And will the current Twitter meltdown actually mean anything for the midterms? We asked our tech correspondent Nitish Pahwa.

Slate: Nitish, so, uh, what's happening with Twitter?

Nitish Pahwa: It's pretty messy out there! Elon Musk hasn't been in charge for even two weeks, and he's already created quite the shitshow. Musk fired a bunch of people, many of them on teams dedicated to misinformation and website engineering (although, reportedly, the company is now begging for some of those workers back). He wants users to pay to get a blue check next to their name now—in fact, he almost rolled that program out yesterday, before employees concerned about the potential for Election Day verification chaos talked him out of it. And now he apparently wants to put the whole platform behind a paywall, so who knows? Anyway, various accounts have reported weird site glitches during a high-traffic election season, but people are still using Twitter to alert their communities to Election Day shenanigans and polling requirements. It's not as apocalyptic as it could have been, and I'm not sure we'll get a sense of how this actually affected overall results (if it did at all) until after this week is done, but … this is definitely not ideal.

What are some of the political implications of Musk's takeover of the platform?

Well, Musk voted for Biden in 2020 but now says he'll be voting for Republicans from here on out; in fact, he encouraged Twitter netizens to vote Republican across the ticket today to "balance things out." A lot of liberal users are leaving the platform, incidents of hate speech have surged, and both conservative activists and Republican officials are celebrating Musk's takeover in the interest of "free speech." I think we can expect to see, down the line, a transformation of Twitter's infamously liberal user base into a crowd that leans far more to the right.

Has, er, a former president been allowed back on yet?

Well, Donald Trump is allowed back on whenever, per Musk's new guidelines, but so far Trump hasn't taken him up on it yet, because he prefers his own network, Truth Social. Still, that could change down the line if Truth Social keeps bleeding money. And as our colleague Jim Newell has written, if Trump does go back on Twitter, Republicans will really not be happy about that.
Where Is Abortion Explicitly on the Ballot?

Abortion is "on the ballot" everywhere in the country today, as the results will determine how far Republicans can go in criminalizing reproductive health care. But it is literally on the ballot in four states. Voters in California, Michigan, and Vermont will decide whether to approve constitutional amendments that would explicitly establish a right to reproductive "freedom" or "autonomy." Those are expected to pass relatively easily.

Kentucky voters, on the other hand, are voting on an amendment that would declare that nothing in the state constitution can be read to protect a right to abortion. (Abortion is already illegal in Kentucky, but the amendment would prevent a state court from finding the ban unconstitutional.) There has been only one previous ballot initiative on abortion since the Supreme Court overturned Roe v. Wade: In August, in a surprise landslide, Kansans voted to preserve abortion rights in the state. There has been no public polling on the Kentucky amendment, but abortion-rights advocates are hoping to see a repeat red-state success tonight. —Christina Cauterucci
Welcome to the Live Blog! It Might Be a Minute.
We are here with you, for as long as it takes.

Hello! Welcome to Slate's 2022 midterms live blog. We are excited to be here! We are also expecting to be here for quite some time. If you have not yet read our very own Jim Newell's guide to these midterms, or if you have somehow managed to forget the 2020 election night that dragged on to become an election week, let us share the most important thing to keep in mind tonight, via Jim:
Don't expect to get every election result tonight. Given the proliferation of mail-in ballots in recent cycles, and varying state laws about how quickly mail-in ballots can be processed, we'll see "red mirages" in some states and "blue mirages" in others. We'll watch the results from fast-counting states establish national narratives that may not hold up when all is said and done. Those you follow on social media will either be panicking way too much or not nearly enough because of viral tweets that are, almost always, categorically false.
We will be spending our time here helping to interpret which news is useful and which news is simply television anchors finding ways to pass the time!