Slate's guide to the most important figures in politics this week.
Welcome to this week's edition of the Surge. Pop some ice in that beer, darlings, and settle in for another round of "funnin' with the newsletter."
The midterms atmosphere is reverting to the fundamentals, and those fundamentals are quite bad for Democrats. Democratic poll numbers in swing races are frustratingly tethered to President Joe Biden's poor approval rating, and undecideds are breaking toward Republicans.
So let's start considering the impending catastrophes!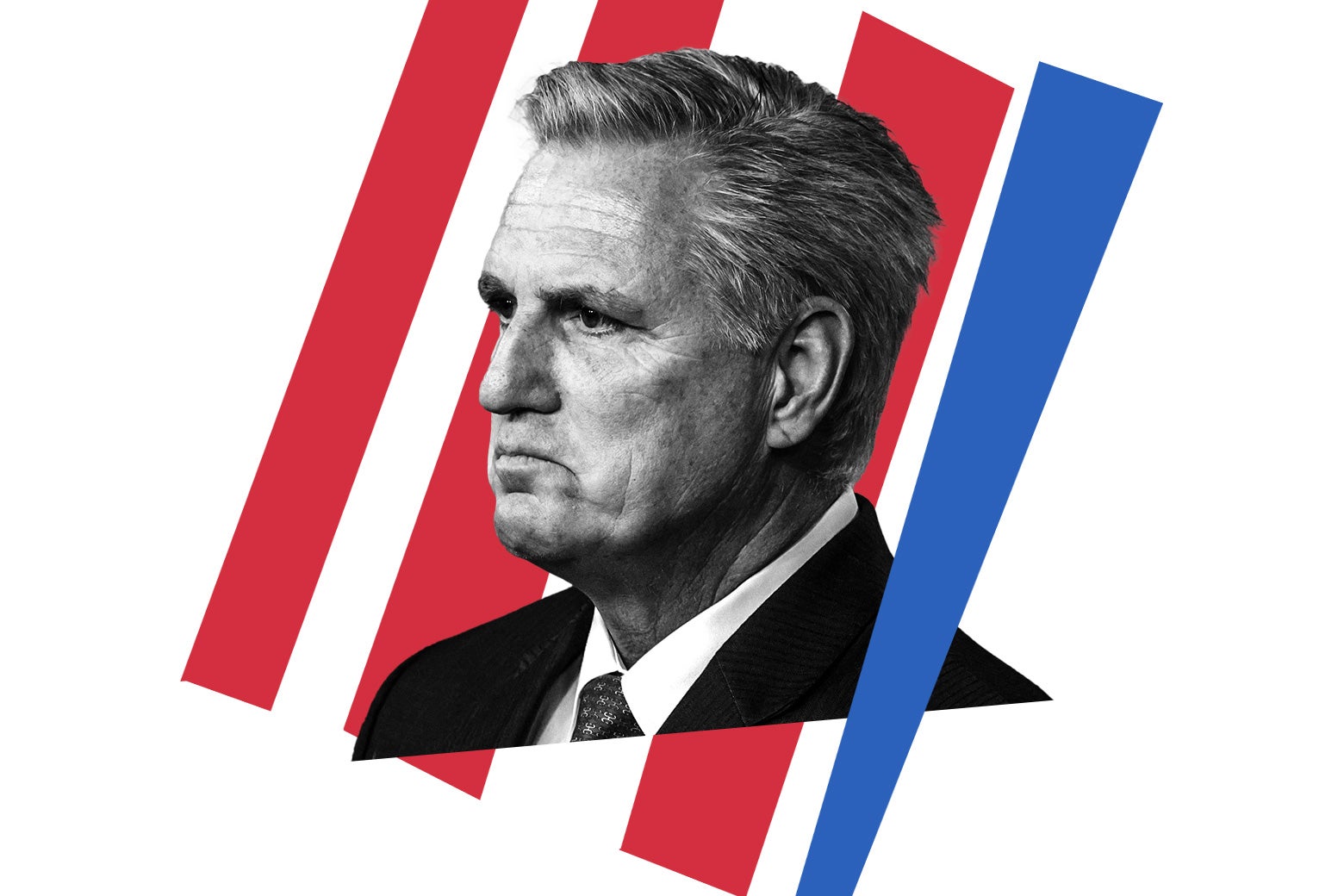 Last Week Unranked
1. Kevin McCarthy
What fun awaits!
If Republicans take back the House, as they're very favored to do, the Kevin McCarthy speakership is going to be a pyrotechnic show of dysfunction. Most of it—like the conversion of the Ways and Means Committee room into an art exhibition of Hunter Biden's sex and drug videos—will be dismissible. But in an interview with Punchbowl News published this week, McCarthy confirmed a couple areas where House Republicans are looking to create real problems for the world. First, they are, as ever (when there's a Democratic president), going to take the debt ceiling hostage and demand sharp spending cuts in exchange for an increase in the borrowing limit. This was entirely predictable when Democrats kicked the last debt ceiling increase to 2023, and they'd be wise to consider raising it on their own, via reconciliation, in the postelection lame-duck session, rather than watching everything they believe in get taken hostage next year. Second, McCarthy cast doubt on Republicans' willingness to continue sending military and economic assistance to Ukraine. We'll see if House Republicans could actually follow through with that—Senate Republicans are still largely in lockstep behind support for Ukraine—but it must hearten Vladimir Putin to see the rare American consensus on this issue show signs of wear. Can't they just do something innocuous, like jailing Hillary Clinton?

Last Week Unranked
2. Liz Truss
Despised person loses job.
Time for today's installment of Ye Olde Surgee, in which we track the latest developments on the ghoulish isle of Britain. What news from Fleet Street? Tory Prime Minister Liz Truss has been "sacked," by herself, after a modest 44 days managing the King's Govournment and earning an approval rating of 9 percent. In accordance with the Magna Carta, a bespectacled crow will manage the state's affairs until a new prime minster is chosen by the Grey Stag. What was Truss' grave error (aside from … you know … all we're saying is the queen died a couple days after meeting her)? Well, she announced a large tax cut for the wealthy and corporations when macroeconomic conditions didn't call for it. Huh! This happens before breakfast most days in the United States. Candidates to replace Truss include Rishi Sunak, Mr. Toad, and Boris Johnson.

Last Week Unranked
3. Lee Zeldin
Could this be the salt-in-the-wound race of the night?
Each wave election features a late-night upset that just seems like a gratuitous insult to the drunk, depressed, and already-losing side. In 2008, it was Barack Obama winning Indiana. In 2014, it was Larry Hogan winning the Maryland governor's race. In 2018, Democrat Kendra Horn won a House seat in Oklahoma. If the current momentum Republicans are feeling builds into a wave, the "REALLY, even THERE?" race of the night could be the New York governor's race. Republican Rep. Lee Zeldin, who's run on the disciplined message of warning every New Yorker that they're about to die of crime, has made up some ground against incumbent Democratic Gov. Kathy Hochul. In one particularly tight poll showing Hochul with a modest 4-point lead, the No. 1 issue for voters was crime, followed by inflation (which is also a crime, against purchasing power!). Even if Democrats' worst-case scenario in this case doesn't come to fruition, and Hochul holds on by single digits … well … let's just say this: It's not a great night, nationally, for Democrats if the New York Democratic governor only wins by single digits.

Last Week Unranked
4. Tulsi Gabbard
If even Tulsi Gabbard isn't a Democrat anymore …
In news that has negative shock value for anyone who's followed the past couple years of her career, former Hawaii Democratic congresswoman and 2020 Democratic presidential candidate Tulsi Gabbard announced she is leaving the Democratic Party. Gabbard, who's filled her post-congressional career with appearances on Tucker Carlson's show and at the Conservative Political Action Conference, announced the decision last week. As she said in a video, "I can no longer remain in today's Democratic Party that is under the complete control of an elitist cabal of warmongers who are driven by cowardly wokeness, who divide us by racializing every issue and stoking anti-white racism." And such small portions! Gabbard swore she would remain an independent and wasn't switching to the GOP. But consider her campaign swing since her, er, Dexit. She campaigned for MAGA Senate candidate Don Bolduc in New Hampshire, swung by Arizona to endorse MAGA gubernatorial candidate Kari Lake, and then jumped on the TUDOR EXPRESS in Michigan. Nope, definitely not a Republican, definitely not auditioning to be Donald Trump's VP pick.

Last Week Unranked
5. Kevin Stitt
A brief interlude of Democratic hopium.
It's not all catastrophe out there for Democratic candidates! Let's do a li'l medley of potential Democratic upsets. In the Oklahoma governor's race, newly converted and "aggressively moderate" Democrat Joy Hofmeister has been leading Republican Gov. Kevin Stitt in the last few polls, as Stitt has faced accusations of scandal and instituted the country's strictest abortion ban. In Iowa, the state's top pollster recently showed Sen. Chuck Grassley, who's been in public office since the Eisenhower administration, only leading his opponent, Mike Franken, by 3 points. Utah Sen. Mike Lee is freaking out about his opponent, independent Evan McMullin, and taking it all out on Mitt Romney, who wants nothing to do with any of this. We're like … 95 percent (??) sure Republicans will win all of these races comfortably. But for now, they give sad Democrats a nice distraction.

Last Week Unranked
6. Sean Patrick Maloney
Will he take from the DCCC cookie jar?
When New York Democrats released their beloved gerrymander of the state early in the year, they thought they had locked in three to four fresh pickups for the party. Alas! State courts threw out that gerrymander, and now Democrats are trying not to lose a handful of seats in the state. Among the most intriguing of these races is that of Rep. Sean Patrick Maloney, the chairman of the Democratic Congressional Campaign Committee. Maloney first irritated progressives when he jumped to a safer district, effectively pushing Rep. Mondaire Jones out of a seat. But how safe is that district to which Maloney leapt? A House Republican super PAC just dropped $4 million into the 17th District to back up its candidate, state legislator Michael Lawler. "The sum stunned Democrats who now privately acknowledge that their campaign chair will need additional aid to fend off the GOP attack ad," Politico reported this week. The DCCC (Sean Patrick Maloney) hasn't thrown in any of its limited funds to shore up Maloney's position yet. If they do, at the expense of other races, expect much chatter among House Democrats.

Last Week Unranked
7. Kelly Loeffler
We can have a few anonymously leaked texts, as a treat.
An anonymous crusader leaked a cache of text messages from ex–Georgia Sen. Kelly Loeffler, arguably the worst politician in recent memory. The 59 pages' worth of messages, sent between Election Day 2020 and the ensuing Jan. 6, show how predictably calculating Loeffler's every move was ahead of her runoff, from calling on Georgia Secretary of State Brad Raffensperger to resign to pledging to challenge electoral votes on Jan. 6. Fellow members of the Georgia delegation urged her to challenge the electoral votes as a way to boost her chances in her Jan. 5 runoff, and she eventually agreed to do it in exchange for Trump holding a last-minute rally in Georgia. The most vicious text, however, came from Brad Raffensperger's wife, Tricia, after Loeffler called on him to resign. "I hold you personally responsible for anything that happens to any of my family, from my husband, children and grandchildren," she wrote to Loeffler. "You do not deserve to be in elected office. You are not worthy of the high calling of that position." A spokesperson for Loeffler said in response to the leaked texts that "the liberal media are being weaponized by criminal elements on the Left to promote unverified content in a desperate attempt to distract voters twenty days from the election." The texts that went into the making of that statement are probably terrible too.