Slate's guide to the most important figures in politics this week.
Welcome to this week's edition of the Surge, a newsletter that now has a higher market capitalization than Meta. We have more business jokes later!
The overall theme as we near Election Day remains the same as last week: Democrats be losing. Though not everywhere, Chuck Schumer tells us! But definitely in Georgia, both he and the Republicans agree, as each new abortion allegation gives Herschel Walker a fresh new spring to his step.
House progressives went really, really, really far out of their way to embarrass themselves, and a wealthy online troll bought the website on which he trolls.
But let's start with this week's big debate.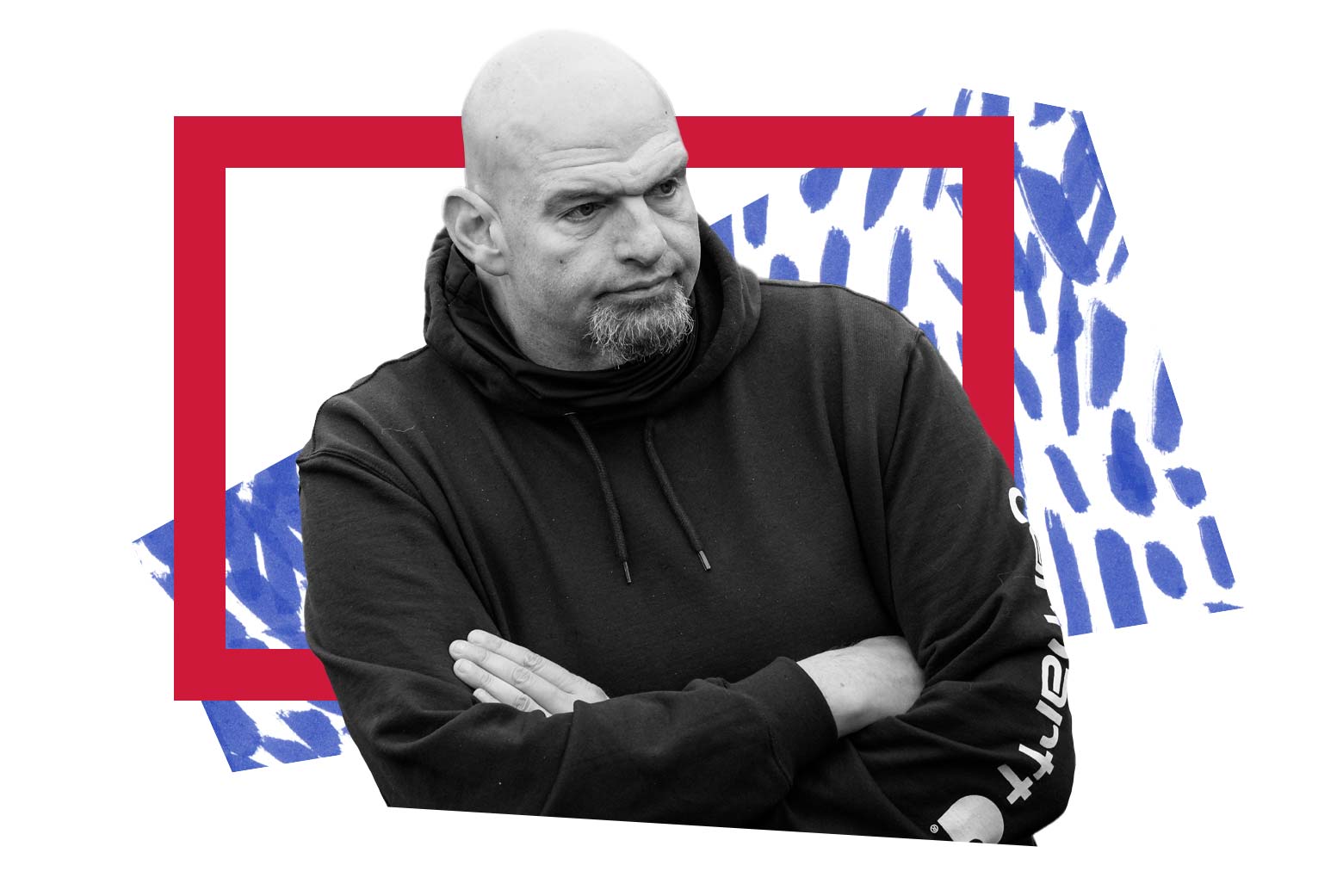 1.

John Fetterman A revolutionary theory for determining how much the debate mattered.

The only debate in the most-watched Senate race in the country happened this week, and it went about how you would expect: Democrat John Fetterman, five months out from a stroke, struggled to speak clearly due to lingering auditory processing issues. Though his speaking ability is a completely different question from his ability to think clearly, Democratic officials and operatives immediately got Democratty (lost their minds) about whether he came across as unfit to serve, blew the election, blew Democratic control of the Senate, and paved the way for authoritarianism and an end to the democratic experiment, a mere flicker of light in the drab saga of human history. Eh, we'll see! Here's how we'll know whether the debate, or anything else, meaningfully hurt Fetterman: In 10 days, there's going to be this doo-da we call "Election Day." All this polling we look at? Turns out, it culminates in something, and we see once and for all who "won." It's something we'll all want to check out, when it happens.

2.

Chuck Schumer Appreciate the update.

But back to obsessing over polls. Who ever knows if anything released publicly is real? What are the real numbers? That's why we'd like to thank Senate Majority Leader Chuck Schumer this week for speaking loudly enough to President Joe Biden about what his latest polling showed that far-away mics could pick it up. So what's the deal? Pennsylvania: "It looks like the debate didn't hurt us too much in Pennsylvania, as of today, so that's good." NEVADA: "And basically, we're picking up steam in Nevada." Steam is a valuable commodity! GEORGIA? "The state where we're going downhill"—Schumer motions downward with his finger—"is Georgia. It's hard to believe that they will go for Herschel Walker." Biden mentions something about how "Barack" (showoff) was heading to Georgia, and Schumer raises his hand to show how "huge" the early-vote turnout has been. There's one other mystery race, in the beginning of the clip, where Schumer says, "We're in danger in that seat," but it's difficult to make out which one they're talking about. If he could clarify that in his next televised polling briefing with the president, that would be helpful.

3.

Pramila Jayapal One simply could have sat still and done nothing.

On Monday, 30 members of the Congressional Progressive Caucus released a letter to the president urging him to "to pursue direct diplomacy for a negotiated settlement to end Russia's war in Ukraine." The actual text of the letter was—and we mean this neutrally—pointless. It seemed to argue that it would be nice to have peace but didn't suggest cutting off, or applying contingencies to, military and economic aid to Ukraine. The letter, however, was immediately interpreted in press reactions as Progressives Turn Against Helping Ukraine. This allowed for a too easy both-sides-do-it pairing with House Republicans, who are actually talking aloud about cutting off Ukraine aid should they retake power. House Democrats who were not signatories to the letter were absolutely livid with it, and the CPC followed up later that day with a clarification that the letter wasn't asking Biden to *change anything.* (That's how you know drafting a letter was a good use of everyone's time!) By the following morning, the CPC chair, Washington Rep. Pramila Jayapal, issued a statement retracting the letter altogether. "The letter was drafted several months ago," she wrote, "but unfortunately was released by staff without vetting. As Chair of the Caucus, I accept responsibility for this." She does not appear to recognize the direct contradictions between those two sentences.

4.

Elon Musk This week in Business Surge.

In this week's edition of Business Surge—who's got the good stocks, who's got the bad stocks, and how to get rich!—we begin with the richest man in the world, Elon Musk. The old galoot closed the deal on a new digital toy this week, purchasing Twitter. Let's run through the winners and losers of Business Surge's "Deal of the Day." WINNERS: Nazis, who can go back on Twitter; Donald Trump, who can (probably) go back on Twitter; the Democratic Party, because Donald Trump can (probably) go back on Twitter; the Republican Party, because now they run Twitter. LOSERS: Those disinclined to interact with Nazis digitally; Elon Musk, who now has to run Twitter; the Republican Party, because Donald Trump can (probably) go back on Twitter, and because now they can't whine about Twitter anymore.

5.

Jim Banks The semi-senior House leadership race drawing in Tucker, Trump, and Don Jr.

Soon, these chintzy, junior varsity "midterm elections" will be over and we'll move straight to the good stuff: House leadership elections. If Republicans take back the House, it's mostly expected that Rep. Kevin McCarthy will become speaker and Rep. Steve Scalise majority leader. The brewing drama, however, is over the No. 3 role, for majority whip. It's a critical position in the line of succession, as hard-liners in the Republican conference will feed both McCarthy and Scalise to the foxes of Capitol Hill within a year. In one corner for the whip job, we have Minnesota Rep. Tom Emmer, the current chairman of the National Republican Congressional Committee, who will be expecting a reward should Republicans take dozens of seats. In another is wildly ambitious Indiana Rep. Jim Banks, chairman of the conservative Republican Study Committee. Banks has cozied up to Trump and the Trump family, especially Don Jr., for a boost. He also hired Tucker Carlson's 25-year-old son, Buckley Carlson, to be his communications director. When an anonymous GOP strategist made a crack about this to the Daily Beast, Tucker Carlson freaked out, blamed Emmer for it, and made it clear they had a problem. (When the Washington Post's Erik Wemple followed up with Carlson about this, Carlson told him to "go fuck yourself.") They should all lighten up! They'll both get to be whip, then majority leader, then speaker, then sacrificed for allowing a vote to fund the government before the next election.

6.

Herschel Walker It's like Abortion City over here …

A second, anonymous woman came forward this week alleging that Georgia Republican Senate nominee Herschel Walker pressured her into having an abortion in 1993. (Walker called it "a lie.") If you think Republicans give even a modicum of a shit about this, think again. After the shock of the initial abortion allegation, the party has coalesced comfortably around sticking it to the libs by not caring about it. South Carolina Sen. Lindsey Graham, campaigning with Walker this week, said that "if you're a conservative, they don't give a damn about the truth. They're trying to destroy his life 13 days before the election." The National Republican Senatorial Committee released an internal poll showing Walker "pulling away" from Sen. Raphael Warnock, with a 7-point lead. We don't know if that's right or not … but Schumer himself did say the race was going downhill. If Walker wins, this really is a breakthrough for Republican politics: Being publicly, devoutly anti-abortion while (allegedly!) running a 24/7 shuttle service to the abortion clinic for recent conquests is no longer a scandal. Not caring about it is just another way to get the people who think this is bad all worked up.

7.

Glenn Youngkin An early leader in the "bad responses to the attack on Nancy Pelosi's husband" race.

Early Friday morning, a man broke into Nancy Pelosi's San Francisco home looking for her. She wasn't there—but her husband, Paul, was, and the man attacked him with a hammer. While the wounds were described as non-life-threatening, Paul Pelosi was taken into surgery for head injuries. It's gruesome. You know what else is gruesome? The way the Surge thinks after 15 years of covering American politics! Who would be the first prominent Republican to say something ghoulish about this?, we thought, disturbingly quickly. The answer was … Virginia Gov. Glenn Youngkin! Speaking at a rally in Virginia on Friday, Youngkin said of Pelosi, in an odd way that we think he meant to be polite(?), "There's no room for violence anywhere, but we're going to send her back to be with him in California." By the time you read this over the weekend, dozens of even worse things will have been said. But congratulations to Glenn Youngkin for being quick out of the gate in the Sicko Races.