Slate's guide to the most important figures in politics this week.
Welcome to the Surge, your guide to "who's who" in both American politics and the world of putting soup on paintings. This week, the biggest stars in the latter category are unquestionably the two climate protesters who poured soup on Vincent Van Gogh's Sunflowers at the National Gallery in London on Friday, so that was an easy one. On to politics!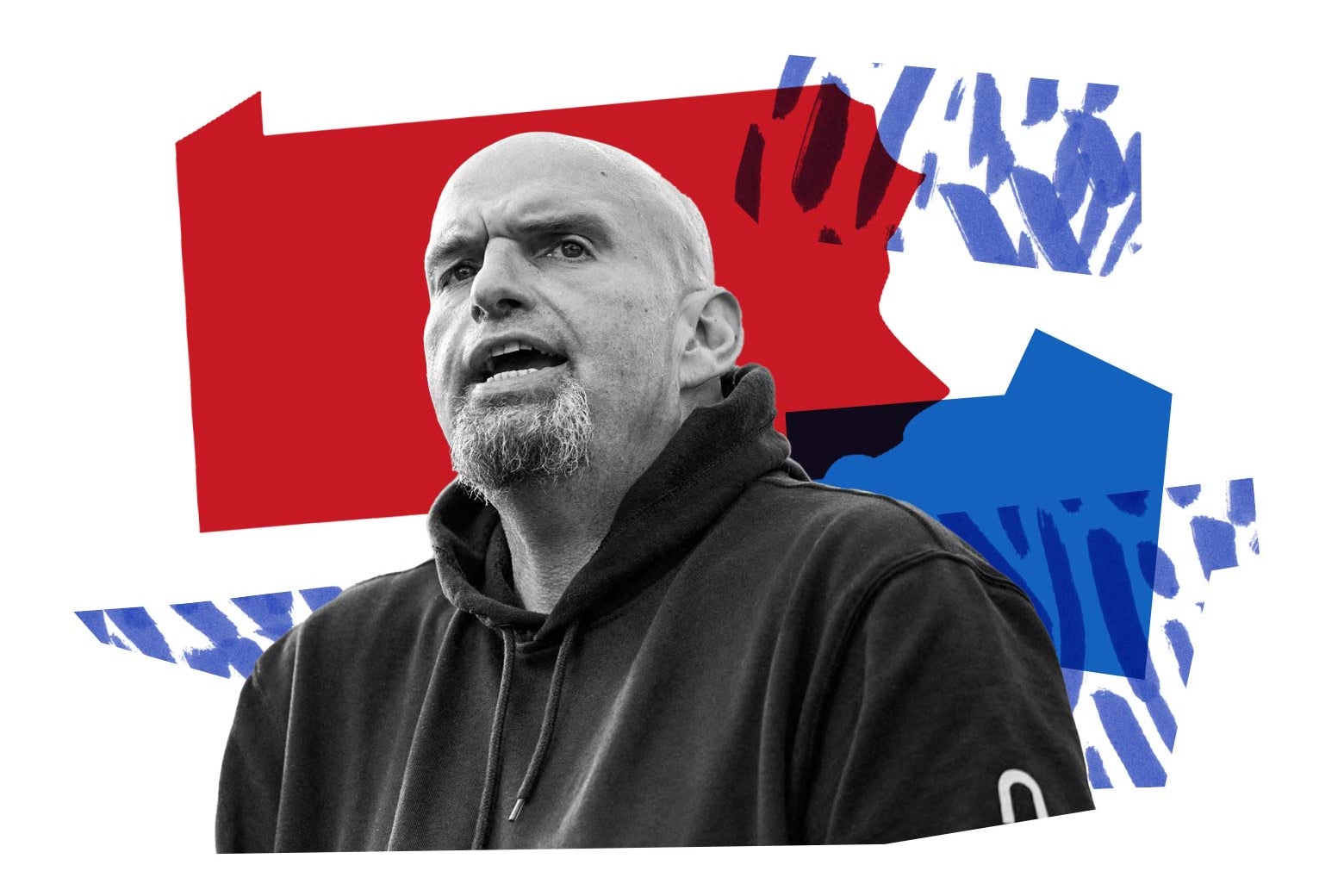 Last Week Unranked
1. John Fetterman
Hero to some, completely unfit for office to others (like all candidates for every office).
Just before the Pennsylvania primary, in May, Democratic Senate candidate John Fetterman had a stroke. He won the primary anyway but didn't appear in public again until August. Since then, he's occasionally stumbled over words when speaking, and during an interview this week with NBC—his first on-camera interview since the stroke—he used automatic closed captioning software to help understand what he was being asked because he is still having difficulty with "auditory processing." The consensus of medical experts seems to be that this doesn't indicate any underlying problems with Fetterman's cognitive abilities, and some observers find his willingness to be open about a disability to be admirable. But, as you might imagine, Fetterman's opponent, who in an especially dumb twist is a notoriously unreliable doctor, says it means Fetterman won't be able to do the demanding work of being a senator—make your own jokes at home for that one—which is an accusation the Democrat may be giving some fuel to by declining to release detailed medical records. Long story short, we wanted to do this item to highlight the following headline that the conservative Washington Examiner gave to a column about the issue: "Pennsylvania's Fetterman, a Man Fettered by Problems, Shouldn't Be a Senator." Guys.

Last Week Unranked
2. Roger Stone
Well-known liar and associate of right-wing paramilitary gangs turns out not to be a great dude in private, either.
The House's Jan. 6 select committee held what may have been its final public hearing this week, and while its members generally used the occasion as more of a wrap-up than an opportunity to air new evidence, they did play a previously unseen clip of longtime Trump adviser Roger Stone, shot by documentarian Christoffer Guldbrandsen. In the clip, Stone is talking to some or other henchman/loser just before the November 2020 election and recounting a conversation he says he had with someone else, during which Stone said, quoting himself, "Fuck the voting, let's get right to the violence." (Stone is known to have been in contact with some of the groups that rioted on Jan. 6 in the weeks before that day's events, so this clip speaks to the potential of the violence at the Capitol being premeditated and coordinated. He has denied planning any violent acts.) On Friday, Guldbrandsen released another clip, recorded later, in which Stone is complaining that Donald Trump had not granted him a preemptive Jan. 6–related pardon, which is a bit rich given that Trump had already commuted Stone's sentence after he was convicted of lying to Congress during an earlier Trump investigation. In the second new clip, Stone calls Trump's daughter Ivanka—who was involved in the White House's pardons process—an "abortionist bitch." (For the record, Ivanka Trump says she believes abortion should be illegal.)

Last Week Unranked
3. Katie Hobbs
Arizona's high-stakes gubernatorial election is a particularly stark study in opposites.
The Republican candidate for governor in Arizona, Kari Lake, was a well-known local TV news anchor in Phoenix who has rocketed to conservative stardom by embracing conspiracy theories about the 2020 election, ripping into reporters, and running a "guerilla" campaign that has the Atlantic describing her as the "Leading Lady" of Trumpism. (Basically, imagine the energy of young Sarah Palin with more on-camera sheen and less glossolalia.) The Democratic candidate, Katie Hobbs, is the mild-mannered secretary of state who became famous for defending Arizona's results in 2020 from attacks by assorted right-wing loons. At the moment, polls suggest the race is a toss-up. But Democrats are increasingly concerned that Hobbs is going to blow this whole thing with her low-key, somewhat-underpolished approach, thus putting an election denier in charge of a crucial swing state in 2024. A particular area of concern involves her refusal to debate Lake—Hobbs says there's no point in creating a spectacle with a candidate known for spreading falsehoods about 2020—which has played poorly in local media and created the impression that she's terrified to stand onstage with her opponent. It doesn't help matters that Hobbs recently struck out on the softest of softball questions at a Hispanic forum, stammering through a tortured nonresponse about what she has learned from the state's Latino community. "When the video blazed across the internet this week, it provided that moment of absolute clarity," wrote one columnist at the Arizona Republic. "So that's why Katie Hobbs won't debate Kari Lake. It would be like Bambi getting in the ring with Godzilla." For the sake of our democracy, maybe it's time for some debate prep?

Last Week Unranked
4. Nury Martinez
Local politician makes it big (the bad way).
It takes a lot to make national news as a member of a city council, even in a city as big as Los Angeles. But L.A. City Council President Nury Martinez—and her Democratic colleagues Gil Cedillo and Kevin de León—managed to do it this week. The three were surreptitiously recorded last October during a meeting with an influential labor leader, and the conversation included, in the L.A. Times' words, "racist, bigoted and crude remarks about Black, Jewish, Armenian, Indigenous and gay people." The recording was recently posted on Reddit by an anonymous user and then brought to the attention of the press. After the comments became public, masses of Los Angeles residents and fellow Democrats—including, even, President Joe Biden—said the three should resign. On Wednesday, Martinez stepped down. (The other two are still trying to hang on. Good luck!)

Last Week Unranked
5. Rick Caruso
Embodying the importance of diversity.
The Surge is doubling up on Hollywood this week! Polling in the L.A. mayor's race shows billionaire shopping mall developer Rick Caruso, a former Republican who is running as a conservative Democrat on lightly sketched-out promises to restore law and order, making up some ground against Rep. Karen Bass. (She's also a Democrat—it's allowed, given how the primary and runoff system works—and she still leads Caruso by 15 points among likely voters.) On Tuesday, the two met for a debate where, for better or worse, Caruso came out with the viral moment of the night by insisting he doesn't count as "white" because he's Italian American. "That's 'Latin,' thank you," he told the moderator. (She had said the city's next mayor would either be a Black woman or white man; the topic that led to this back-and-forth was the Nury Martinez scandal.) The moment will be relatable to Surge readers with an older relative who insists that, because European ethnic groups such Italian, Irish, and Jewish people were not considered "white" when they immigrated to the United States in the 19th century, they don't really count as "white" in 2022. Those who don't have such a family member—or are such a family member themselves, and if you are, sorry but thank you for reading!—can watch this classic scene from The Sopranos and consider the fact that Caruso subscribes to the Tony Soprano school of racial sociology as one more reason to suspect that the people of L.A. will not choose him to run their city.

Last Week Unranked
6. Nancy Pelosi
Leadership under pressure.
How would you react if some ding-dongs led by a guy in a Viking horns hat got riled up on conspiracy message boards, broke into your workplace, and took a dump on the floor? The Jan. 6 select committee answered this question—as far as Speaker of the House Nancy Pelosi is concerned—on Thursday, playing unreleased footage from a documentary (a different one than Roger Stone was in; so many documentaries) that showed Pelosi and other congressional leaders handling the Capitol riot at the secure location where they rode it out. (That location was Fort McNair, an Army installation located within the city limits of D.C.) Observers seem to agree that the footage depicts Pelosi as calm and in command; at one point, speaking to then–Vice President Mike Pence on the phone about plans to reopen the building, she notes that accounts from the scene indicated acts of vandalism including "defecation and all that kind of thing," but adds, "I don't think that's hard to clean up." Indeed, the New York Times would later report that one worker at the Capitol "had to clean feces off a wall" in the aftermath of the event, and, from personal experience as a parent of young children, this week's fill-in Surge writer can confirm that feces are surprisingly low on the cleanup annoyance scale. Unless they're on the carpet, that is. You definitely don't want feces on the carpet.

Last Week Unranked
7. Mike Itkis
Fine. OK. We will write about you in the news.
Mike Itkis is a self-described "liberal independent candidate" in New York's newly rearranged 12th Congressional District, which longtime Rep. Jerrold Nadler is going to win, having defeated Rep. Carolyn Maloney in a high-profile incumbent-on-incumbent primary. Itkis lists sex positivity as one of his domestic policy priorities, and on Friday, City & State New York reported that he has made a 13-minute pornographic video to promote said position. (Position, ha-ha-ha. LOL. Ugh.) Consider the promotion a success, Mike, because you made it into the Surge, which would also like to note that the final, emphatic line of your self-posted biography is "Not married. No kids. Not celibate. Atheist."