Slate's guide to the most important figures in politics this week.
Welcome to this week's edition of the Surge, Slate's own, beloved $90 million sunk cost.
Last week, we wrote about how Democrats were enjoying themselves for the first time in a while. Would you believe us if we told you that carried into a whole second week? They're on the verge of passing the… only?… major piece of climate legislation, ever. They successfully protected abortion rights in Kansas. They landed in Taiwan (might be bad?) and took out a sane Republican in Michigan (MIGHT BE BAD??). But at least Republicans got … Eric.
Let's start, though, with Democrats, at long last, getting the votes for a signature piece of legislation.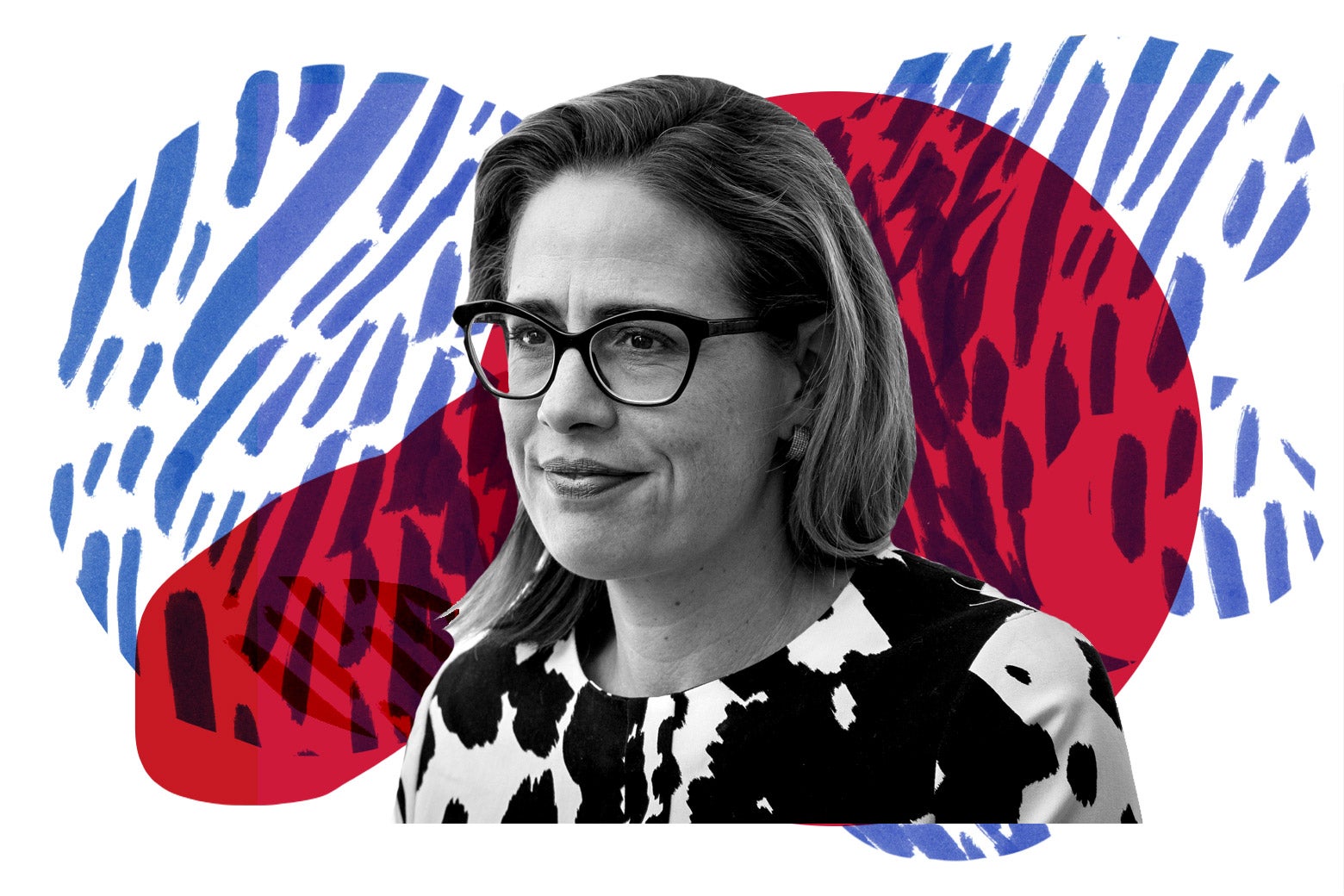 1. Kyrsten Sinema
Democrats have the votes.
For the first time in Senate Democrats' nearly Congress-long quest to pass any climate and health care legislation, they have the 50 out of 50 Democratic votes they need to do so. The key moment came last week, when West Virginia Sen. Joe Manchin cut a deal with Chuck Schumer to lower drug costs; create a package of (permanent) clean energy incentives; protect improvements made to the Affordable Care Act; and raise taxes on large corporations. This week was about getting Manchin's fellow centrist, Arizona Sen. Kyrsten Sinema, on board. (She hadn't been looped in on the Schumer-Manchin negotiations.) On Thursday night, she and Schumer announced the tweaks that secured her vote. First, the sacrificial lamb embedded in the original deal—a narrowing of the carried interest loophole, which currently allows hedge fund and private equity managers to pay lower tax rates—was sacrificed. So, they will still get their lower tax rates. Is this entirely ridiculous? Yes. But it was ultimately a small piece of the package. Elsewhere, Sinema added more money for drought resilience (Arizona is dry!!) and pared back the corporate minimum tax in a way that would protect manufacturers, replacing it with a new excise tax on corporate stock buybacks. (Oh, and she got a floor vote this week confirming an Arizona lawyer to the federal bench.) Democrats will kick off the process of trying to pass this reconciliation bill, the Inflation Reduction Act, on Saturday afternoon. It will be a tiresome process lasting through the weekend, and there are mines to dodge along the way—namely, Republican amendments intended to exact political pain. But for the first time, there are 50 Democrats committed to getting there.

2. Kansas
People don't *love* constitutional rights being taken away.
In the first statewide abortion referendum since the Dobbs Supreme Court decision eliminated Americans' constitutional right to an abortion, the anti-abortion side got waxed. Kansas held a vote to amend its state constitution to remove abortion protections. Had it passed, it would've freed the state legislature to pursue a statewide abortion ban. But it didn't pass, and it wasn't even particularly close: 59 percent of Kansas voters chose to keep state abortion rights in place, and turnout was high. Is this post-Dobbs backlash enough to invert the pro-Republican atmosphere heading into the midterms? That'd be a tall order as long as voters still think the economy stinks. But Dobbs could at least slow Republicans' roll, and they're going to have to recalibrate some of the strident anti-abortion positions they've taken over the years. Republicans had hoped the Supreme Court they put in place could simply eliminate a constitutional right relied on by many, many people and, after a week of anger, the electorate would move on. It doesn't quite work like that.

3. "Eric"
Donald Trump considers screwing Republicans' chances at a Senate majority; settles for a gag.
Republican operatives early in the week felt they had achieved goal No. 1 in the Missouri Senate race: Denying Eric Greitens, the disgraced ex-governor whose ex-wife in the last year accused him of domestic abuse, the GOP Senate nomination. He would've been the only potential nominee who could've blown the Senate race for Republicans, and Republican donors spent accordingly—on attack ads against him. The only chance Greitens had of coming back ahead of Tuesday's primary would've been a late Trump endorsement. Trump, who appreciates a good scumbag, reportedly came quite close to doing it. (Among the reasons: He felt it would annoy Karl Rove, whose recent column Trump didn't like. Trump's never really been a "long view" guy.) He was talked off the ledge in the end, but still didn't want to endorse the more pragmatic pick, Attorney General Eric Schmitt. So he split the baby, announcing an endorsement of "ERIC" on Monday night, and then watched as each of the two supplicants touted the former president's endorsement. Schmitt won the primary Tuesday night.

4. Peter Meijer
The Trump-Democratic Party alliance takes out another sane Republican.
Who is to blame for the primary defeat of Michigan Rep. Peter Meijer, a courageous freshman Republican who voted to impeach Donald Trump in one of the very first decisions he cast in Congress? He lost to his MAGA loon opponent, John Gibbs. Now, we know it's considered gauche to pin any sort of responsibility on the American Voter for his or her actions. But Gibbs, a Trump-endorsed election-denier whose past hits include spreading Pizzagate conspiracy theories about Clinton campaign staffers hosting Satanic rituals, would not be within spitting distance of victory if the Republican primary electorate did not actively reward craziness. So that whole situation remains a problem. But it was a tight race, and Gibbs may not have pulled it off—except that the Democratic Congressional Campaign Committee stepped in at the end of the race to prop up Gibbs. Yes, Democrats have now secured themselves a weaker general-election opponent for this swing seat in November; but also, Gibbs could easily win. We have trouble with this! It's the DCCC's job to put the party in a position to win elections, period. And it's not the DCCC's fault that Republican primary voters want to nominate weak candidates. But zooming out a bit, Democrats should want to encourage members of Republican Party to take courageous stands against the anti-democratic elements of their party. This ain't that.

5. Nancy Pelosi
Very cool but… you know…
Ugh, another toughie! We hate it when the news is hard. As a matter of principle, one can't help but admire Speaker Nancy Pelosi's resolve in visiting Taiwan, against the threats of a hyperventilating China. Confronting China has been a throughline of Nancy Pelosi's 30-plus years in Congress, from Tiananmen Square to China's treatment of Tibet to protests in Hong Kong and the country's abuses against Uighurs. This was a legacy-making capstone for a generational American leader as she likely prepares to step aside. But… what's in it for everyone else? China has responded by encroaching further on Taiwan, launching dangerous live-fire exercises, and cutting off cooperation on climate and inter-military dialogue with the United States. And that's just what they have done so far! The entire region is on high alert! So good for Nancy Pelosi … but hopefully everyone doesn't die now???

6. Carolyn Maloney
What a situation we've gotten ourselves into here!
A bunch of Democrats in the last week have begun to give President Biden the nudge when asked whether he should run again in 2024. For many of them, vulnerable Democrats especially, the go-to line is the old standard about wanting a "new generation of leaders." Hats off to New York Rep. Carolyn Maloney for getting weird about it though! She can't really say it's time for a "new generation of leaders," as she's locked in a member-on-member primary against a fellow senior committee chairman, Rep. Jerry Nadler, to determine which of them will serve a 175th term. So, in a debate this week, when the candidates were asked whether Biden should run again, Maloney said: "I don't believe he is running for reelection." Oh? CARE TO ADD MORE? She had to clean this all up later in the week, and that was really something special. In her attempt to mollify an irritated White House without looking like she was backing down, the following sequence of words came out of her mouth: "Mr. President, I apologize. I want you to run. I happen to think you won't be running, but when you run or if you run, I will be there 100%. You have deserved it, you are a great president, and thank you for everything you've done for my state, and all the states, and all the cities in America." When you've been coasting to reelection for decades and then suddenly have a race, you too might appear a little rusty.

7. Joe Manchin
Republicans are being mean to him.
Maybe Kiki Sinema got all the attention this week, but the earth still rotates on the axis of Manchin. Before he cut a deal with Schumer on the Inflation Reduction Act, he was a candidate for beatification in Republicans' eyes. He alone stood to thwart Democrats' plans to turn American into an evil, nefariously Green socialist country like Denmark, the very pit of Hell. Since cutting the deal though, Republicans believe him to be the worst sort of person, and truly cannot wait to take him out in 2024 (should he choose to run again). They're also threatening to make him look like a sucker. You may recall that Manchin was promised an eventual vote on permitting reform as part of his deal with Schumer on reconciliation. Even though Republicans want permitting reform, they're already threatening to withhold their votes when that comes around as petty retribution—and to portray Manchin as a dope who got taken for a ride by Chuck Schumer. This tracks quite neatly with the saga of Maine Sen. Susan Collins during Trump's first term. Democrats treated her as a saint for helping to kill Obamacare repeal, and a traitor a few months later when she supported tax reform. Her promised side deal—passage of a bill to shore up Obamacare premiums—was scuttled, too. Democrats, similarly, portrayed her as a dope who got played by Mitch McConnell, and tried their darndest to take her out in 2020. But you know what? Susan Collins is still in the Senate.