Slate's guide to the most important figures in politics this week.
Welcome to this week's edition of the Surge, which is relying on Joe Biden to next forgive our bad jokes! Ha ha ha!
Ha. This is the week that Republicans' Senate outlook has gotten so bad that we feel compelled to note it will get better. (Unless it doesn't, which would be funny.) And what about control of the House? We're talking about the HOUSE now? Sheesh. Also interesting: Abortion remains a whole big thing, politics-wise. You heard about this?
Let's start with the guy Republicans have agreed to scapegoat for all of their Senate problems.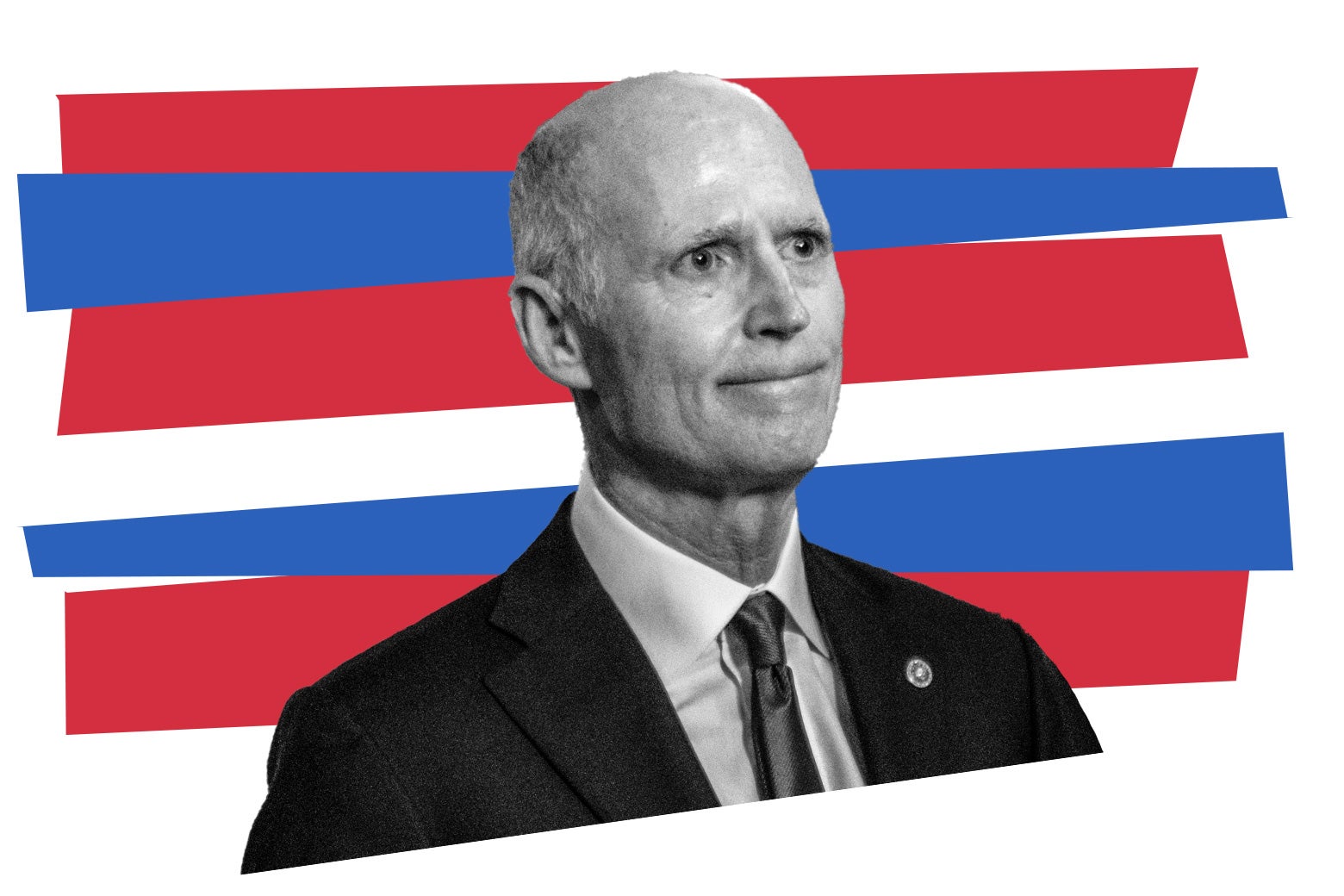 1. Rick Scott
Hey now, Napoleon had to retreat to Italy for a minute, too (before getting beat again).
This newsletter has spent plenty of time covering one of the central problems for Republicans as they try to take control of the Senate: Their primary voters nominating lousy candidates. But let's look to another problem they're facing: cash. The National Republican Senatorial Committee's August filing released this week showed they only have $23 million on hand heading into the fall, less than half of the Democrats' Senate campaign committee's $54 million. That's called a "competitive disadvantage," and many Republican operatives have questions—concerns, even!—about where the $180 million that the NRSC raised this cycle went. The shortage is forcing the NRSC to restructure its fall ad buys, and requiring Senate Republicans' top outside super PAC, the Senate Leadership Fund, to step in to fill the gap that Republicans' lousy candidates are facing in the field. The RNC chair, Ronna McDaniel, is having to sit with Newt Gingrich on megadonor phone calls begging for money. But the guy in the hot seat from his own party, now, is Florida Sen. Rick Scott, the chairman of the NRSC. There have always been murmurs that he's using the NRSC—or, as the joke goes, the "National Rick Scott Committee"—as a platform for his own presidential campaign ambitions. It's gotten nastier, though, since Republicans' prospects for retaking the Senate have slipped. While we can't say for sure, then, that it was Republicans who leaked the news this week about Scott vacationing "on a luxury yacht" in Italy while his party eats it, it would hardly be surprising. You can use leadership of a campaign committee to help your own future ambitions: You meet new donors, form relationships with candidates, and so on. But this does not work if a winnable election is blown with you at the helm.

2. Pat Ryan
House Republicans are starting to get the slightest bit shook.
We've seen some promising signs for Democratic enthusiasm in special elections and ballot questions since the Supreme Court eliminated abortion rights in the Dobbs decision. Democratic candidates put up better-than-expected results in special House elections in Nebraska and Minnesota and won an abortion referendum in Kansas. This was the week when Republicans' post-Dobbs problem settled into conventional wisdom, though, after Democrat Pat Ryan won a bellwether special House election in upstate New York with a campaign focused on abortion rights. Democrats' recent momentum has, for the first time we can remember, made control of the House in November's midterms a topic worth debating. But that doesn't mean it's suddenly a toss-up. Democrats' majority is so narrow that Republicans just need a handful of seats. Even if the political environment between the parties went perfectly neutral, Republicans still have a redistricting advantage. Forecasters are, however, trimming their prognostications of Republicans' expected House pickups this fall. In 2023, we could be looking at a Year of Politics the likes of which we've never seen. We'd get Trump vs. DeSantis. We might get an open Democratic primary, too, if Biden decides not to run. But none of that would be as, shall we say, fascinating as watching Speaker Kevin McCarthy manage a very slim House majority.

3. Blake Masters
Me, what, abortion, who?
Here's another strong data point for how abortion is jumping off the page in both Democratic and Republican polls. Arizona Republican Senate nominee Blake Masters posted an ad on Twitter this week accusing Sen. Mark Kelly of "lying" about his abortion positions. "Look, I support a ban on very late-term and partial-birth abortion," Masters said. "And most Americans agree with that." The implication here would be that he's OK with legalized abortion up to a certain point. That would be, at the very least, a change in emphasis. Masters has called himself "100 percent pro-life" and expressed support for "a federal personhood law (ideally a constitutional amendment) that recognizes that unborn babies are human beings that may not be killed." Those two positions this week were quietly stripped from his website, which now reads that he supports "a law or a Constitutional amendment that bans late term (third trimester) abortion and partial-birth abortion at the federal level." So what does it mean if Democrats are bombarding a Republican Senate candidate with ads about his abortion position, the Republican feels compelled to respond with his own ad, and the Republican is scrubbing his website of past abortion positions? It means the abortion attacks are working pretty damn well.

4. Mehmet Oz
Don't get cocky.
Everyone's having such a grand time making fun of the Big Veggie Tray himself, Pennsylvania Republican Senate candidate Mehmet Oz. He's getting crushed in the polls. His Democratic opponent, John Fetterman, is constantly roasting him on Twitter. He's just plain unliked, as his favorability rating is 33 percent underwater among Pennsylvania voters overall according to a high-quality poll released this week. Much of that is due to Oz's sagging ratings among Republicans, only 53 percent of whom view him favorably compared to 38 percent who view him unfavorably. (It's 80 to 11 among Democrats for Fetterman, by comparison.) We're at the point where things look so bad for Oz that we feel compelled to tell Democrats: This thing is far from over. Republican voters may not love Oz, but they'll come home as the election approaches. And though Oz's first attempt to raise questions about Fetterman's health was a catastrophe, there are real questions to raise about Fetterman's health not long after he suffered from a stroke that sidelined him for weeks. This, for example, isn't great. The race is going to tighten. All the more reason to get your laughs in now!

5. Joe Biden
Getting it out of the way.
So, the president finally ripped the Band-Aid off and announced student loan forgiveness this week. We're skeptical he really wanted to. The prospect of forgiving debts for the college-educated kicks up a lot of culture-war dust when Democrats would prefer to be talking about abortion, Republican extremism, lower gas prices, or recent congressional achievements. So how did we get here? Biden first made the pledge to forgive $10,000 in students loans at the end of the 2020 Democratic primary, when he was trying to corral progressive support. When he came to office, the White House first tried to kick this to Democrats in Congress as a pledge for them to make good on. Congress kicked it right back to the White House. Ultimately the consequences of not doing something—a broken pledge, a dispirited base who were counting on that pledge, and loss of support specifically among the Congressional Black Caucus—outweighed the risks of doing it. We'll see how the ferocious politics unleashed by this move balance out over time, but early polling suggests opinions of the plan are mostly a wash. The White House would love to lock that in and move on.

6. Dan Goldman
Round two in November?
Former prosecutor and House impeachment counsel Dan Goldman, a wealthy Levi Strauss heir, prevailed in Tuesday's Democratic primary for New York's 10th District, narrowly edging out his nearest progressive rival, Yuh-Line Niou. Goldman, a relative moderate in the field, benefitted from split progressive competition, the many millions of dollars he has, and an endorsement from the New York Times editorial board, of whom Goldman likely knows each member from his stints at 97 different elite universities and from his family's ties to their boss. But he may have more than token Republican opposition in the fall. Niou is considering running on the Working Families Party ballot line. This would be worth taking seriously, as she could effectively have the one-on-one with Goldman in a very progressive district that she didn't have in the primary. But Goldman would still have the prime real estate of the Democratic ballot line, and he could portray her as a sore loser.

7. Liz Cheney
Chatter about an independent presidential bid ends NOW.
Wyoming Rep. Liz Cheney, fresh off of a forced retirement in Wyoming, says she will do whatever she can to ensure Donald Trump is never president again. One option that's been floated for her, then, has been an independent presidential run where she would peel anti-Trump Republicans away from Trump. The problem with this option is that it would be stupid. We know it's still weird to say, but: Democrats are the only people who like Liz Cheney now! Normally we don't like to rely too much on one poll, but one poll here should be enough to put this idea to rest forever. Yahoo/YouGov found this week that Biden would lead Trump 46 to 42 percent in a head-to-head matchup. In a three-way race with Cheney, though, Trump would lead Biden 40 to 32 percent, with Cheney getting 11 percent. Bad idea! THE END!