Slate's guide to the most important figures in politics this week.
Welcome to this week's edition of the Surge, a politics newsletter that, like Steve Bannon, has absolutely nothing to say in defense of itself.
This week we check in on the most important developments from the final Jan. 6 committee hearing of the summer, where we learned that the person tweeting from the @HouseGOP Twitter account isn't too bright. President Joe Biden has COVID, but relax, he is hard at work having his photo taken. Republicans in Congress are having to go on the record about their same-sex marriage positions for the first time in seven years, and it is melting their brains.
But let's start with the big result from this week's lone primary, where Donald Trump and the Democratic Party had one of their most successful joint victories yet.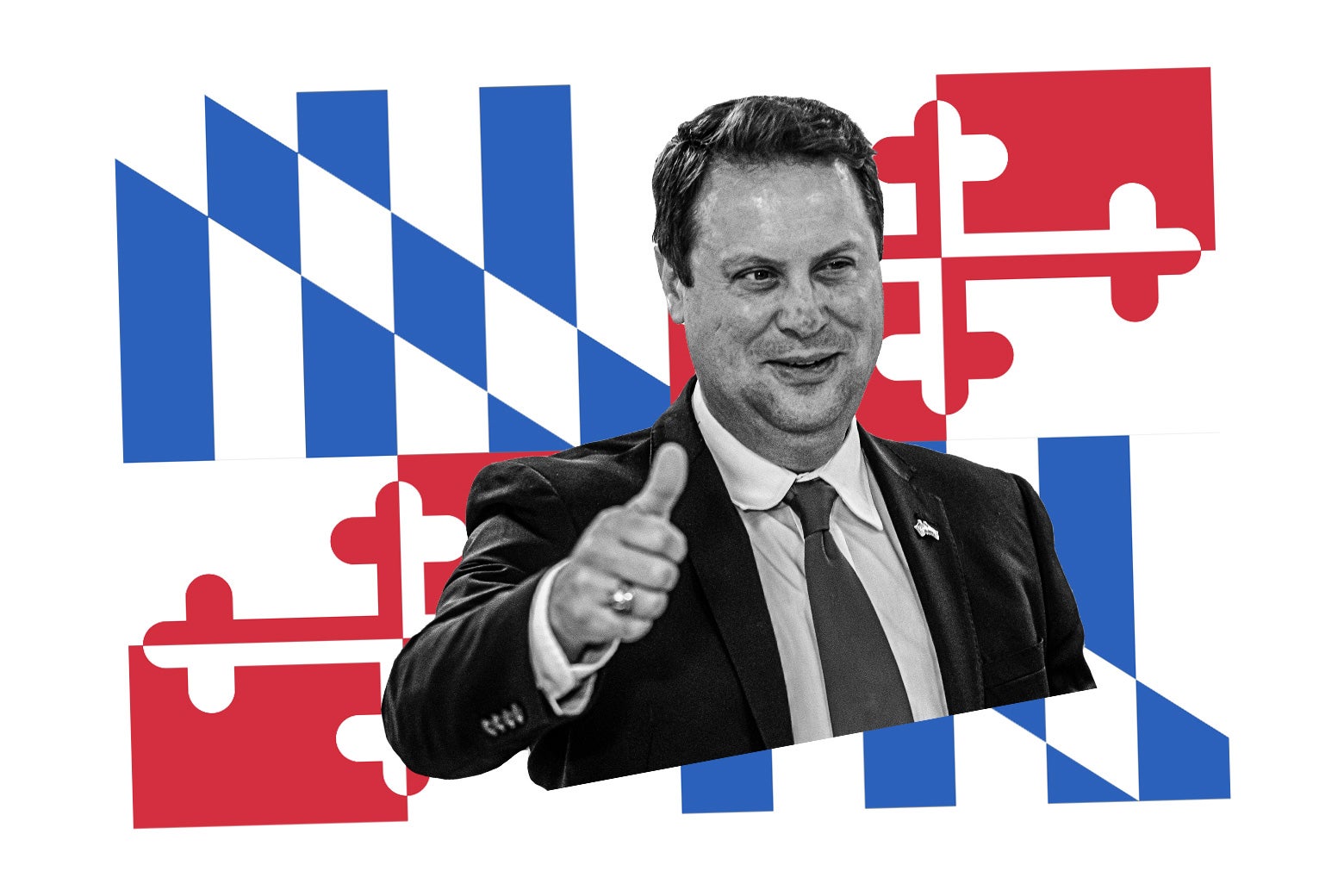 Last Week Unranked
1. Dan Cox
Dems are playing with fire. Well, not a lot of fire, in this case. An ember or two, maybe.
It was a big week in Maryland for the partnership of Trump and the national Democratic party—who are both hoping that terrifying Trump-endorsed whackos will emerge from Republican primaries. (Dems are hoping that these people will be easier to beat.) In Maryland, state Del. Dan Cox—who organized buses for the Jan. 6 "Stop the Steal" rally and tweeted that Mike Pence was a "traitor" while the Capitol was being ransacked, among other things—defeated the establishment candidate, Kelly Schulz, in the Republican gubernatorial primary. Maybe it was thanks to the Democratic Governors Association, which had spent more than a million dollars in ads "attacking" him as a ploy to elevate him in the primary! The Dems certainly got their wish. So how risky is this strategy? In this case—and yeah, we're going to jinx it—not very. Even though Cox is analogous to Doug Mastriano, the extreme Republican gubernatorial candidate Democrats helped elevate in Pennsylvania, Maryland is no Pennsylvania. Pennsylvania is a pure swing state in a strong pro-Republican year, and Mastriano has a real chance. Maryland, on the other hand, is a blue state where Democrats have a 2-to-1 voter advantage. For a Republican to win statewide in Maryland, he or she needs the support of about a quarter to a third of Democratic voters, and the odds of a Trump-aligned fringe candidate getting that are almost too low to measure. The Cook Political Report moved the race to "a Solid Democrat" rating after Cox's primary win. Sometimes, primary voters do nominate a candidate with challenging odds. But what happened in Maryland is closer to Republican primary voters straightforwardly throwing away their continued chance at power. (This completes our jinx; congrats to Gov. Cox.)

Last Week Unranked
2. Josh Hawley
A prime-time drive-by.
There are people on the Jan. 6 committee's shit list, and the committee is not above going out of its way to make their lives a little bit more miserable. Throughout the hearings, these targets have often been strong public Trump supporters—his campaign staff, Freedom Caucus members, etc.—about whom the committee has obtained evidence of being privately cowardly or disdainful of Trump. The subject of the committee's mischief in this week's prime-time hearing was Missouri Sen. Josh Hawley. The senator had lost whatever modest amount of goodwill he had in the Capitol ahead of Jan. 6 when he announced he would object to certification of the election. On Thursday, the committee showed the infamous photograph of him raising his fist to the riled-up protesters outside the Capitol—and then it showed security footage of him high-tailin' it out of there once those same protesters busted into the building. Inside the hearing room, as former D.C. police officer Michael Fanone put it afterward, there was an "eruption of laughter." Fanone, who was injured fighting rioters that day, didn't find it particularly funny. "Josh Hawley is a bitch," he said afterward. "And he ran like a bitch."

Last Week Unranked
3. Ron Johnson
After seven years, a little check-in on where Republicans stand on same-sex marriage.
Do Republicans in Congress believe same-sex marriage should be legal? Who knows! Very, very few of them did in 2015, when the Obergefell decision legalized same-sex marriage across the country, effectively removing the question as a political issue. So no one's really checked in on it for a while. But after Justice Clarence Thomas wrote in his Dobbs concurrence that overturning Obergefell was on his to-do list, the House this week passed legislation protecting the right to same-sex marriage—and 47 House Republicans voted for it. The bill, or a similar one, has a decent shot at getting the 10 Republicans needed in the Senate to overcome a filibuster. Most Senate Republicans, including McConnell, have been keeping their powder dry when asked how they'd vote, which is already a major advancement from their position six weeks ago. But the question must create a mental paper jam in the minds of officials like Florida Sen. Marco Rubio, who snippily described voting on the issue as a "stupid waste of time" because gay people are more concerned about gas prices. Meanwhile, Sen. Tommy Tuberville of Alabama—which is not known as the state with the most pro–gay rights Republican constituency—responded this way when asked whether he supported same-sex marriage: "Yeah, if that's what you want to do, fine." The perfect blend of these two responses, though, was from Wisconsin Sen. Ron Johnson, the most endangered Senate Republican, whose campaign team has likely been begging him to do anything to appeal to the center. While he agrees that voting on this bill is a stupid waste of time, he also sees "no reason to oppose it" if it comes up for a vote. "This Is Dumb, but OK" feels like a safe-enough landing spot for 10 Republicans.

Last Week Unranked
4. Rand Paul
Swooping in to save the Biden administration from itself.
President Joe Biden's inexplicable deal with Senate Minority Leader Mitch McConnell to nominate a conservative anti-abortion advocate, Chad Meredith, to a federal judgeship in Kentucky was somehow still on until recently, even after the Dobbs decision fallout and the rage from Democratic voters and politicians that came after reports of the deal. In the past week, though, an unlikely savior for the Biden administration came in the form of Kentucky Sen. Rand Paul. Per senatorial courtesy (that isn't always adhered to), home-state senators can effectively veto judicial nominations in their state if they don't return their "blue slip." If that previous sentence wasn't Senate-y enough for you, wait until you hear why Rand Paul didn't return his blue slip, thus allowing Biden to abandon his plan to nominate Meredith. Paul explained this week that he likes Meredith and thought Meredith would be a good judge. He understood the rare opportunity to get a conservative judge out of a Democratic president! But Paul blocked the deal anyway because he was mad at McConnell for not consulting with him ahead of time. "McConnell's to blame for tanking this because he tried to do it secretly," Paul told reporters this week. "We never heard about it from McConnell's office. And his people simply said, 'You can't do this but we can.' You know, 'We're so powerful, we can do whatever we want.' " Blocking a nominee whom you like, for whom there's a rare opportunity to be promoted under a Democratic president, and whose nomination was already tearing Democrats apart because you didn't get a phone call: Rand Paul gets an A-plus in Senate-ing this week.

Last Week #1
5. Joe Biden
The presidential "I'm soo busy doing all of my work" COVID routine has returned.
Joe Biden's approval ratings continued to sink to new lows this week, but at least he … oh god, now he has COVID too. He wasn't the first president to catch it, and he won't be the last. When Trump got it in 2020, there was a whole routine. His advisers would tell the press that he was doing fine and working hard, releasing photos of him sitting at his desk and going through some papers. Then he was schlepped out to the hospital on an emergency helicopter ride because he was close to death … but at the hospital, there he was, sitting at a desk again, doing president stuff. Aside from the hospital visit—fingers crossed—Biden's people have treated his case similarly. Here he is at his desk, with papers and a trusty pen, staring at a captivating water bottle. Oh hey, now he's on the White House balcony, fully upright, talking about how he feels transcendent because he's been vaccinated 174 times. Friday morning: talking on the phone! We understand presidents don't want voters to think they're on death's door, and that they also want to alert the Chinese they're conscious enough to convey that now is not the time—not the time­—to take Taiwan. But old people with COVID should rest!

Last Week Unranked
6. Gavin Newsom
Running ads against high-profile Republicans in other states, nothing to see here.
When the California governor was in D.C. recently to deliver a well-covered speech—nothing, at all, to see there—he told reporters he was "deeply supportive" and "very proud" of the president, whom he would support for reelection in 2024. Well, they all say that. But Newsom is laying the groundwork for a 2024 bid by presenting himself as a megastate foil to the Republican governors—and other high-profile presidential candidates—in Texas and Florida. He ran an ad in Florida, over July 4, urging Floridians to "join us in California, where we still believe in Freedom." This week, his campaign bought full-page ad space in several Texas newspapers touting California's new gun law. Without getting into the characteristics or baggage of either candidate, a Newsom vs. DeSantis or Newsom vs. Abbott presidential election would be … kind of interesting! It would be the leaders of the leading red-state and blue-state policy laboratories facing off against each other. There could be a proper debate about the trade-offs of each. It would just make sense. And that's why it won't happen, and we'll probably just get Trump and Biden jabbering past each other again in 2024.

Last Week Unranked
7. The @HouseGOP Twitter Dingbat
A rough night.
Just a rule of thumb: If you're running the House Republican conference's Twitter account, and you're the big news the day after a Jan. 6 committee hearing, you may not have had a great night on the job. The account—coincidentally run by staff for conference chair Elise Stefanik, who replaced Liz Cheney as the No. 3 House Republican last year—stepped in it a couple of times. First, it tweeted that Sarah Matthews, one of the two witnesses at the hearing, was "just another liar and pawn in Pelosi's witch-hunt." That's not a great thing for an official House Republican account to say about a current committee communications director for House Republicans, which Matthews is. The tweet was deleted. Shortly after that, the account tweeted about the proceedings that "this is all heresy." No apparent religious transgression had been recorded, though, and that tweet was then deleted and replaced with, "All hearsay." We don't have a sizzling joke here; this person is just an idiot.