Slate's guide to the most important figures in politics this week.
Welcome to this week's edition of the Surge, your weekly newsletter that is nonstop housing meatballs just to get through another week.
This week we examine the revelations, and fallout, from another hearing by the committee investigating Jan. 6, which John Bolton did not think was nearly cool enough to be a "coup." The Senate may not be able to pass a climate bill, but it could pass a resolution to name a degree Celsius in global temperature increase after Joe Manchin. And Republicans really don't want Donald Trump to announce his presidential candidacy before the midterms, which—good luck with that.
But first, the president's unpopularity has reached the point that his 2024 candidacy is coming into question.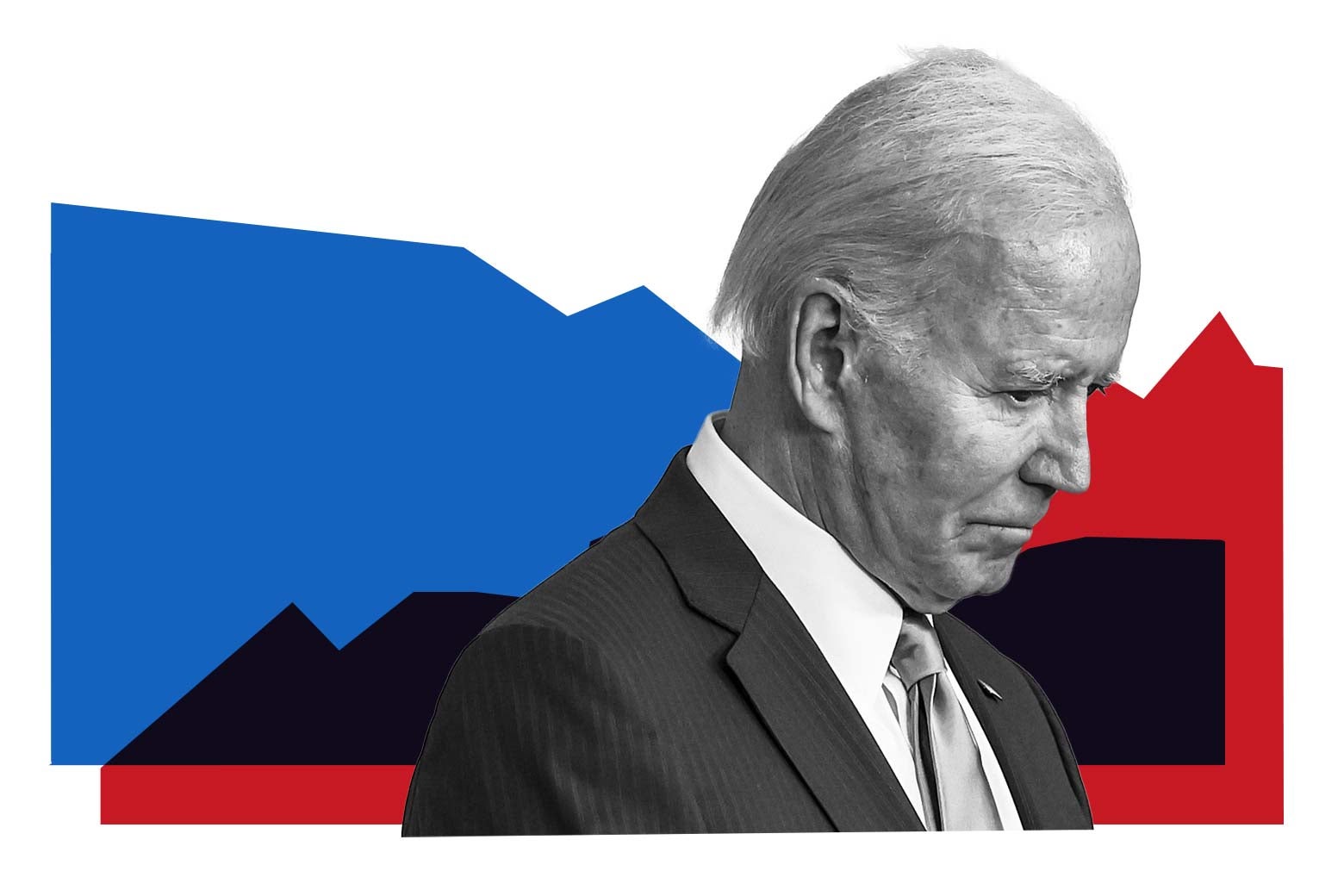 Last Week #6
1. Joe Biden
Has the country given up on him?
OK, maybe a bit of a grandiose proposition! But the president's job approval ratings have been on a nearly unabated descent for a year now, and it's not even clear that he's bottoming out. Per FiveThirtyEight's polling average, he's less popular than Trump was at this time in his presidency. He's about where Trump was after Jan. 6, when Trump incited a violent effort to overturn an election he lost. These numbers are grim. In a New York Times–Siena College poll that shows Biden's overall approval rating at 33 percent, compared with 60 percent who disapprove, only 1 percent of voters aged 18–29 "strongly approve" of his job. One. His numbers with Latino voters remain sharply underwater. Meanwhile, 64 percent of Democrats say they'd prefer another candidate besides Biden in 2024, with his age (he'll be 81 by then) and job performance as the top reasons. No recent president has seen numbers on renomination from within their own party being this low. So who's more likely to run in 2024: Biden or Trump? About that …

Last Week Unranked
2. Donald Trump
When will he announce? Whenever would most annoy his party, duh.
The trick answer is that Biden and Trump are equally likely to run. That same NYT poll that showed Biden to be as popular as a gastrointestinal crisis still showed him with a slight edge over Trump in a hypothetical rematch. Biden will run because he'll still think he alone can beat Trump, and Trump will run because … it seems like he's already decided to. In an interview with New York magazine, Trump said he was just trying to decide whether to announce before or after the midterms. Party leaders in Congress, as Politico reported this week, don't want him to announce before the midterms so "the GOP can make the 2022 elections a clean referendum on President Joe Biden." As the No. 2 Senate Republican, John Thune, said, "The political landscape and environment is favorable. And I think the fewer disruptions, obviously, the better." Well! Trump hates John Thune, hates Mitch McConnell, and generally likes to do whatever is most inconvenient for other stakeholders in his party. So mid-Septemberish?

Last Week Unranked
3. Joe Manchin
Would you trust this man?
Here's how the West Virginia Democratic senator described the pillars of a narrowed-down, resurrected Build Back Better Act that he could support back in March: "The revenue producing [measures] would be taxes and drugs. The spending is going to be climate." Over the past couple of months, Manchin, Senate Majority Leader Chuck Schumer, and the White House have been negotiating such a plan. But on Thursday night, Manchin reportedly delivered another bomb: The energy and tax-raising elements of the package would need to be dropped. His office mumbled something about inflation as the justification. Huh. Manchin has—appropriately—been sounding the alarm on inflation for a while now, but he also advocated for boosting energy production and tax increases on the wealthy as counterinflationary policy. So this was a complete 180. And sure enough, by Friday morning, the story had changed again: Manchin said in a radio interview that he hadn't given up on an energy package or raising taxes, but wanted to see another month's inflation report before making that decision in September. Does any of this sound particularly reliable to you, reader? Would you trust this man to come around in September on a bigger package he seems to enjoy repeatedly killing? Or would you just take what you can get now?

Last Week Unranked
4. Jim Bopp
Do you want this man writing your state's abortion laws?
The Dobbs decision may not be enough to offset Republicans' advantages heading into the midterms (see entry No. 1), but damn if they aren't trying. Consider the revolting reaction from Republicans to the story of a 10-year-old Ohio girl, raped at least twice by a man in his 20s, who traveled to Indiana to get an abortion. After the Indianapolis Star reported the story and it went viral, Republicans' first reaction—in the media, and among Ohio statewide elected officials—was to assume it a hoax and talk loudly about that assumption. Then, this week, the rape suspect was caught and charged. Republicans responded to this in a couple of ways. The first was to turn the issue to immigration, as the suspect is an illegal immigrant. Indiana Attorney General Todd Rokita, meanwhile, said he'd investigate the doctor who performed the abortion, suspecting that she didn't fill out the required paperwork. (She did.) Both the legislatures in Indiana and Ohio are set to consider new laws restricting abortion soon. Here's what Jim Bopp—an anti-abortion lawyer for the National Right to Life who's authored model legislation for Republican-controlled states to follow—had to say of the 10-year-old girl's case under his model: "She would have had the baby, and as many women who have had babies as a result of rape, we would hope that she would understand the reason and ultimately the benefit of having the child." We don't know the most efficient way to distill this saga into a 30-second ad that runs nationally through the election, but Democrats had better (they won't).

Last Week Unranked
5. John Bolton
♫ Coups, coups, I've done coups, from Kathmandu to Kalamazoo! Oh I've done coups ♫
Following Tuesday's hearing from the Jan. 6 committee, CNN's Jake Tapper suggested that "one doesn't have to be brilliant to attempt a coup" … and John Bolton took that personally. Bolton, the former Trump national security adviser and ardent advocate of bomb deployment, couldn't even begin to tell you the long hours you've got to put in: "I disagree with that," Bolton responded to Tapper. "As somebody who's helped plan coups d'état—not here but, you know, in other places"—that aside is so good!!—"it takes a lot of work. And that's not what [Trump] did." Tapper followed up later in the interview, asking, in essence, Hey, what the fuck was that you said earlier? Bolton responded by citing Venezuela—"not that we had all that much to do with it"—and admitting that the Trump administration's efforts to oust Nicolás Maduro didn't work so well. But Bolton has long believed that he's a genius operating at levels others cannot understand. Coups are his game. Don't compare his passion to whatever that loutish dodo Donald Trump attempted.

Last Week Unranked
6. Brad Parscale
Another Trump adviser who got over Jan. 6 real quick.
As for people who made news during this week's hearing rather than in CNN's postgame show, one of the juiciest new revelations from the committee came in the form of texts from Brad Parscale, one of Trump's 2020 campaign managers. "A sitting president asking for civil war," Parscale texted fellow former Trump adviser Katrina Pierson the night of Jan. 6, 2021. "This week I feel guilty for helping him win." He added that Trump's "rhetoric killed someone," and when Pierson pushed back that it wasn't the rhetoric, Parscale insisted, "Yes it was." One month later, though, he had apparently gotten over it and was ready to own the libs again. "If they only impeached you twice, you need to run again," Parscale had tweeted. "Because to change the system you have to kick it in the a#$. I would love to be the only President to be impeached three times. Because history remembers those that didn't conform." We don't know what the legacy of the Jan. 6 committee will be. But it's already admirably captured the 24-to-48-hour period when Trump advisers were honest with themselves.

Last Week Unranked
7. Jill Biden
Has there been a "Tacogate" before? No? How is that possible? Fine: Tacogate.
We end with this week's best dumb thing: In a speech at a Latino conference in San Antonio this week, first lady Jill Biden said that the diversity of the Latino community was "as distinct as the bodegas of the Bronx, as beautiful as the blossoms of Miami, and as unique as the breakfast tacos here in San Antonio." The in-person audience seemed to enjoy her nod toward a local culinary specialty. But social media—usually such a forgiving forum!—did not. A spokesman for Jill Biden issued an apology saying, "The First Lady apologizes that her words conveyed anything but pure admiration and love for the Latino community." We don't think it's usually appreciated that Republicans have a good chance of winning a majority of Latino voters in the midterms, even though they do. This represents something close to an existential crisis for the contemporary Democratic coalition. If or when this happens, know that it will have had nothing to do with Jill Biden saying Latino voters were as unique as the breakfast tacos of San Antonio.