Slate's guide to the most important figures in politics this week.
Welcome to this week's edition of the Surge, the newsletter that Queen Elizabeth is reading while she's skipping out on her own Platinum Jubilee.
This week, we check in on various long-shot pieces of legislation in the Senate before it stops even bothering to try to pass anything until the election. Donald Trump has had a rough stretch in primaries recently, and now he's taking on more risk. And have you really thought about what it will be like if and when Jim Jordan takes the gavel of the House Judiciary Committee?
But first, let's consider the Republican on whom the fate of gun legislation rests.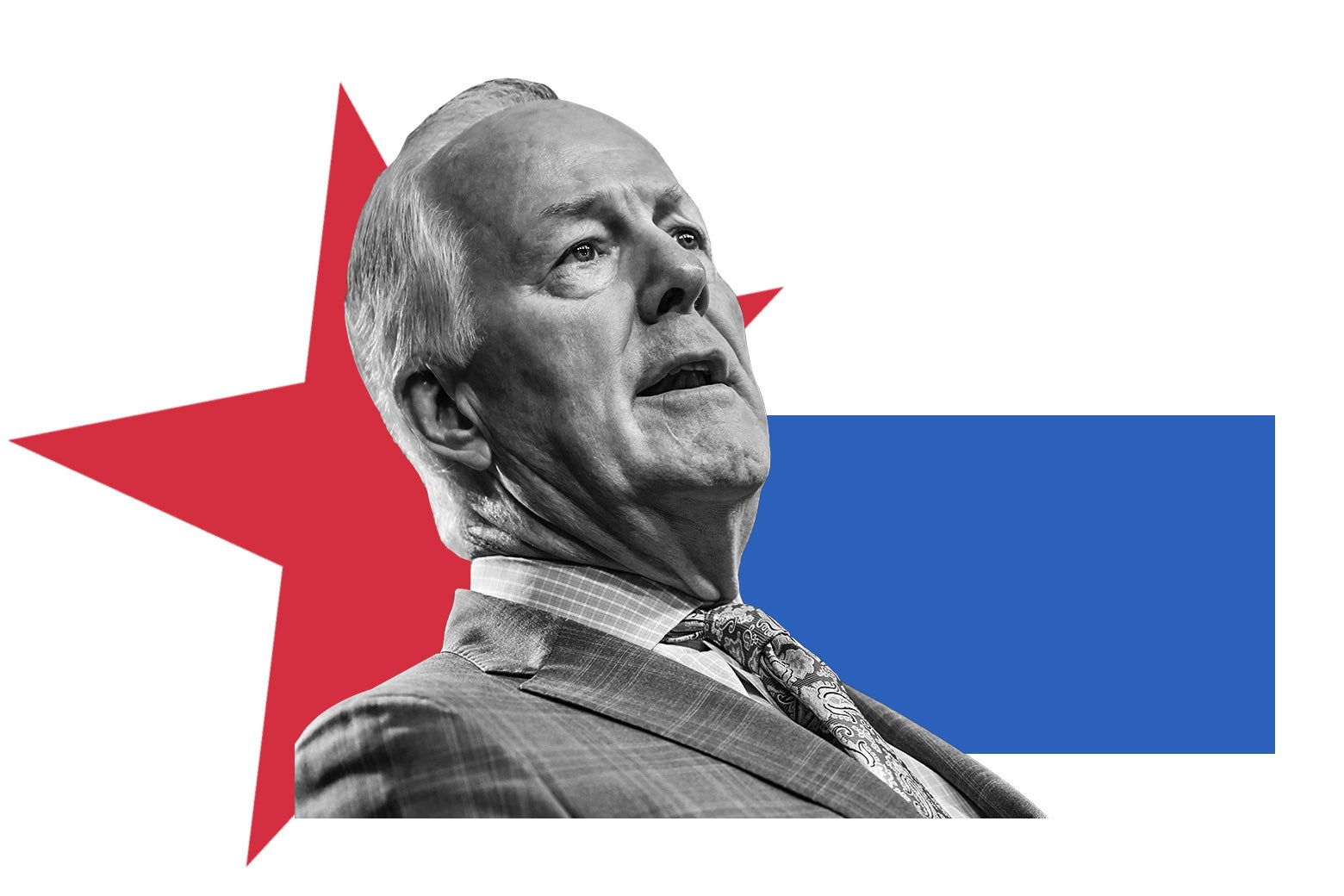 1.

John Cornyn The Republican to watch.

A handful of Republican and Democratic senators have spent the past week trying to determine whether there's anything related to the issue of gun violence mitigation that can get 60 votes in the Senate. So far, the chatter is still along the lines of I'm very encouraged by our productive conversations—which, translated from Senatese, means we haven't come remotely close to making a difficult decision yet. But the policy decisions can fall into place if each side is willing to leap beyond certain political hurdles. On the Democratic side, they will have to decide whether something incremental, like "offer grants to states to entice them to do this small thing that could help a wee bit with gun violence," is more worthwhile than preserving the issue and bashing Republicans with it in swing districts this fall. Republicans, meanwhile, have to be sold that whatever they do won't let them be painted as caving to the "gun-grabbers" on the left, or abridging the right of teens to purchase exotic, high-powered semi-automatic rifles in six seconds with no questions asked. We can watch this all play out in the head of the lead Republican negotiator Texas Sen. John Cornyn. On the optimistic side, he told Politico this week that "it will be embarrassing" if Congress can't reach a deal following the Uvalde school shooting. On the pessimistic side, he's tweeting at people who go by "@JoeTalkShow" that legislation restricting gun ownership is "not gonna happen." If Cornyn and Connecticut Sen. Chris Murphy haven't shaken hands on something by the time you read the next edition of this fair newsletter, the outlook isn't good.

2.

Donald Trump The endorsements aren't getting less risky.

As ever, the former president took his big losses in the Georgia primary like a champ: by claiming fraud. This week, he shared a link to the blog of some conservative writer who claimed Georgia Gov. Brian Kemp couldn't have beaten David Perdue because "Nobody in any election in America gets 74% of the votes. Ever. It doesn't happen. Obvious fraud." Hmm … It's not a bad time for a reminder that the dumbest people in the world ran the United States of America from 2017 to 2021, and they're in decent position to do it again in a couple of years. But anyway, how's Trump going to bounce back? He made a couple of notable endorsements this week. The more surprising one came in Wisconsin, where he endorsed businessman Tim Michels for governor over the primary favorite, former Lt. Gov. Rebecca Kleefisch. In the Arizona Senate race, meanwhile, he endorsed Blake Masters, another one of those unsettling Peter Thiel–backed "nationalists" from the tech world, à la J.D. Vance in Ohio. His endorsement statement was largely a rant against another candidate in the race, Attorney General Mark Brnovich, for not overturning the 2020 presidential election. How might these two endorsements pan out? Well, Trump has had much more success this year in Senate primaries, when primary voters aren't sure which warm body to fling at Washington, than he has had with gubernatorial primaries, where primary voters tend to be more acquainted with the candidates and the issues at stake.

3.

Paul Ryan Would he have had the "guts"?

Trump will have the opportunity to take down another enemy on June 14, when Rep. Tom Rice—perhaps the most out-of-left-field House Republican to vote for Trump's impeachment—faces a primary against Trump-backed challenger Russell Fry. Former House Speaker Paul Ryan campaigned for Rice this week, praising his courageous vote to remove Trump from office. "There were a lot of people who wanted to vote like Tom but who just didn't have the guts to do it," Ryan said. That's undoubtedly true. And had he been in the House still, we're pretty sure Paul Ryan would've been one of them. He would've voted against impeachment to preserve his status atop the House Republican Conference, but he would've made sure that his communications staff put stories out there about how he was very uncomfortable doing so because he's such a good guy. He would've done the bad thing, but for secret good reasons. Ah, 2018 feels like yesterday. Wishing Paul Ryan all the best!

4.

House Judiciary Committee Republicans A preview of the near future.

We're at that phase of the midterm cycle where it's understood that Republicans are nearly certain to take back the House of Representatives, but people haven't really internalized what that will look like on a day-to-day basis. Let's consider the Republicans who are likely to take charge of the House Judiciary Committee, a committee that is still archaically considered "esteemed" within the building despite having devolved into goofball schtick many years ago. The chair of that committee, unless he chooses to pursue other ambitions, will be Ohio Rep. Jim Jordan, one of the chief bullshitters of the MAGA Republican Party. Flanking him, in addition to well-known characters like Matt Gaetz, will be the likes of Florida Rep. Greg Steube, who used his time at this week's hearing on gun legislation to show off his vast and very cool firearm collection. On the staff level, the committee Republicans' Twitter account will be manned by a troll who tweets out triumphant GIFs of Captain Jack Sparrow following the verdict in the Johnny Depp–Amber Heard defamation trial. These are but some of the people who will likely gain congressional subpoena power come 2023. On the plus side, maybe they will pass a bill banning Twitter, solving both their problem and ours.

5.

Bennie Thompson The Jan. 6 committee goes prime time.

The Jan. 6 committee is set to go public with hearings this summer as it prepares to wrap up its work. And in a move that's alternately tacky and good politics, the committee, led by Mississippi Rep. Bennie Thompson, is marketing it like a reality show. The first hearing, next Thursday, will be held in prime time at 8 p.m. And while the committee hasn't finalized its witness list yet, a press release promised that "the committee will present previously unseen material documenting January 6th, receive witness testimony, preview additional hearings, and provide the American people a summary of its findings about the coordinated, multi-step effort to overturn the results of the 2020 presidential election and prevent the transfer of power." It will be the most shocking season of Capitol Riots in Paradise yet.

6.

Joe Manchin Against our better intuition, a reconciliation update.

Should you expect Democrats to pass a slimmed-down Build Back Better Act covering clean energy production, prescription drug costs, deficit reduction, and improvements to the Affordable Care Act this summer? NO. Are Joe Manchin and Chuck Schumer's ongoing negotiations over such a package worthwhile enough to merit a No. 6 entry this week? BARELY. One positive sign for Democrats who hope to pass a bill like this is that West Virginia Sen. Joe Manchin's talks with Republicans on an alternate, bipartisan energy bill appear to have broken down. "Manchin informed us in the last meeting that reconciliation is probably the route he's going down," North Dakota Sen. Kevin Cramer told Axios this week. There's also a cynical theory that Republicans are engaging Democrats in gun talks, in part, to keep Manchin's focus away from reconciliation. There are about two months until August recess, and the window is shutting on meaningful legislative action. It really is either now or never.

7.

Marjorie Taylor Greene Fine, some low-hanging fruit.

Look, it's going to be a long month. Gun and reconciliation bills. Jan. 6 committee hearings. Primaries up the wazoo. Thirty-three Supreme Court decisions, at least one of which we already know to be a once-in-a-generation decision. The Surge must conserve its energy. So rather than using this last entry to explain some complex situation with dumb jokes, we will simply link you to a quote of Georgia Rep. Marjorie Taylor Greene saying "peach tree dish" when she meant to say "Petri dish," in talking about hamburgers and Bill Gates. This is similar to the time when she said "gazpacho police" but she meant "Gestapo police." She's such a silly billy. Have a nice weekend!