Slate's guide to the most important figures in politics this week.
Welcome to this week's edition of the Surge, Slate's weekly newsletter where we attempt to make light sport of America's democratic decline.
This week, we're begging someone to give us a final count of Herschel Walker's secret children. A Jan. 6 rioter is, uh, surging in a GOP governor's primary, and a Republican who bravely voted to impeach Donald Trump just got trounced at the polls.
But first, let's talk about America's conspiracy-addled aunt, Ginni Thomas.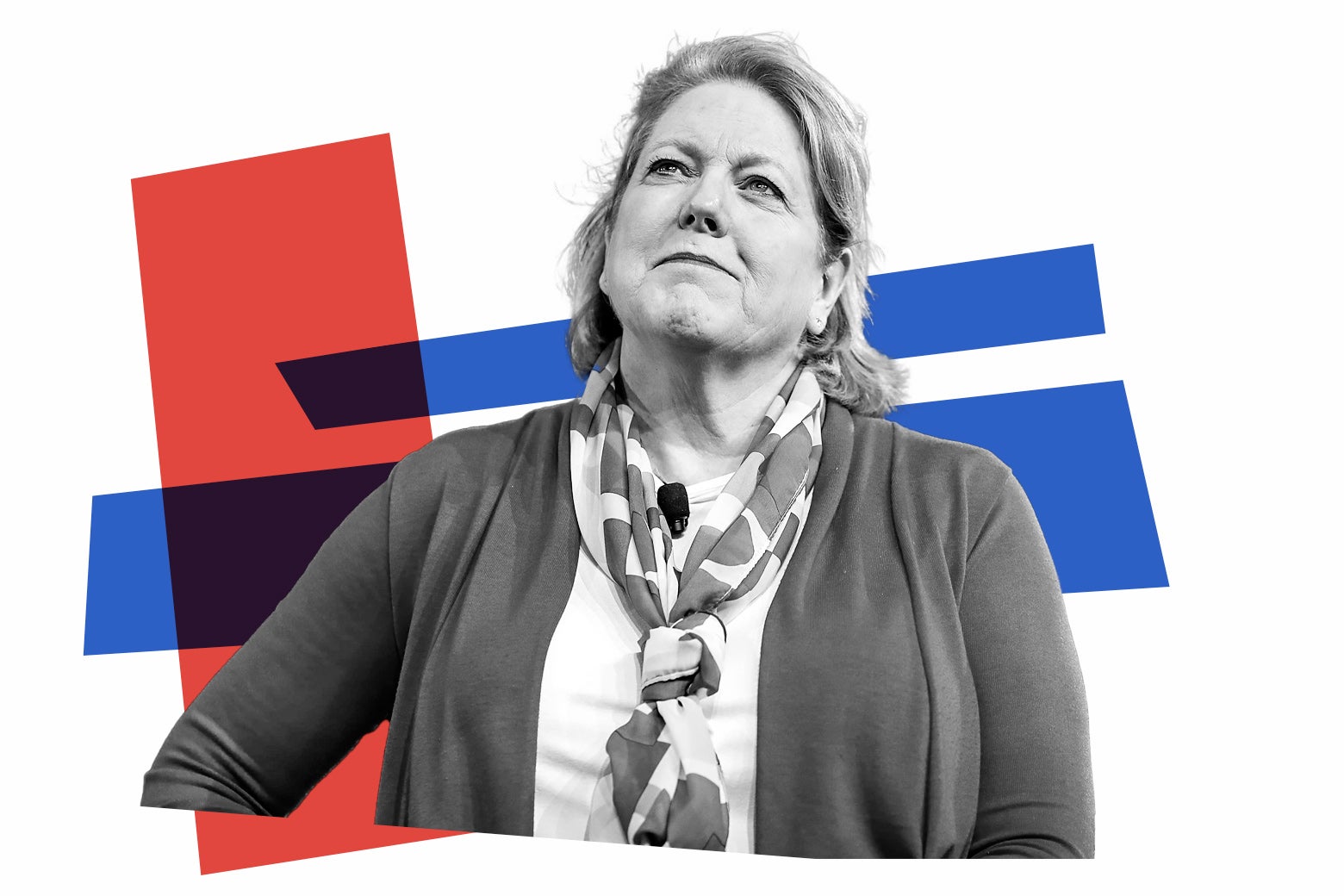 1. Ginni Thomas
Were you sending emails about a criminal f***ing conspiracy?
Just how deeply involved was Ginni Thomas in plotting to overthrow the results of the 2020 election? The Jan. 6 committee may be poking around to try and find out. After Trump's loss, Thomas—wife of Justice Clarence Thomas—texted extensively with White House chief of staff Mark Meadows about overturning the outcome and pushed Arizona lawmakers to do the same with their state's vote. This week, the Washington Post reported that the panel is examining emails between Thomas and the lawyer John Eastman, who was Trump's apparent point man on all things coup-related (and who will now forever be associated with the words "I believe I should be on the pardon list, if that is still in the works"). After the Post story broke, Eastman posted his email correspondence with Thomas on his Substack in a post titled: "OMG, Mrs. Thomas asked me to give an update about election litigation to her group. Stop the Presses!" It mostly just seemed to confirm that, yes, the two were in contact. The committee is now planning to interview Thomas, who says she is looking forward to clearing up any "misconceptions." Here's the key context for all this: At one point, Eastman told another Trump ally in an email that there was "a heated fight underway" at the Supreme Court over the election. It's not clear where he got that idea. Was he fed this information by his friend Ginni? And what would that tell us, exactly, about Clarence Thomas' activities at the court? Inquiring minds would like to know what the queen of Boomer texters, and her wildly powerful husband, were up to.

2. Barry Loudermilk
Did he lead a scouting mission?
You could be forgiven if you thought "Barry Loudermilk" was the name of a dairy industry lobbyist in a dumb, Thank You for Smoking–esque D.C. satire. But no, he is in fact a Republican congressman from Georgia, and on Jan. 5, he gave an unofficial tour of the Capitol to a group that included one man who then proceeded to join the next day's riot and filmed a video threatening Democrats in office. On Wednesday, the Jan. 6 committee asked for Loudermilk's cooperation in its investigation and released security footage that clearly showed his tour guest taking photos of things like stairs and tunnels, which aren't typically of interest to tourists. As the Guardian noted, Loudermilk previously "denied he led a tour, then said he gave a tour only to families with young children, then said he gave a tour to about 16 people." It looks a lot like he led a scouting mission—the question is whether he realized it or not.

3. Mayra Flores
Democrats are just going to hand over South Texas, huh?
Yes, there are plenty of ways to dismiss Democrats' loss in the special election in Texas' 34th District—where Republican Mayra Flores won Tuesday night—as no big deal. It was under the old, less favorable district lines, and Democrats' will have an incumbent (Rep. Vicente Gonzalez) running against Flores in the new, more favorable district in November. This is basically why national Democrats didn't feel like it was a problem worth trying to stave off. But a district like this—turf that Democrats have held for a century—shouldn't be a problem for Democrats under any circumstances. At this rate, Democrats are going to have, what, seven seats in Congress next year?

4. Herschel Walker
Riding a children's army to victory.
The number of known children of Georgia Republican Senate candidate Herschel Walker rose at an exponential pace this week. All of us (?) knew about one of them, the kid who is annoying on TikTok. He's an essential part of the Walker conservative brand! But then, as the Daily Beast reported earlier this week, it turned out there's another son born a decade ago. Later in the week, the Daily Beast reported on yet another "secret son"—we don't know if he was a "secret" so much as one Walker didn't put in the limelight—who's 13, as well as a daughter Walker had when he was in college. "I have four children. Three sons and a daughter," Walker said in a statement. "They're not 'undisclosed'—they're my kids." The hook the Daily Beast used to report on this was that Walker had been critical in the past of absentee fathers in the Black community. Whatever. We just want to know what the final number of children is! Because a few more, on the older end, could matter for Georgia's closely contested race.

5. Ryan Kelley
Terrific. "Arrest for role in insurrection" is now officially a GOP primary boon.
Welcome back to hell, domain of the devil, where you now live forever. Tell us a little bit about hell, Detroit Free Press: "Republican gubernatorial candidate Ryan Kelley's recent arrest by the FBI for his suspected involvement in the Jan. 6 insurrection at the U.S. Capitol appears to have boosted his name recognition and favorability among GOP voters in Michigan, new polling conducted in the days following his arrest indicates." Bold and italics our own. To be clear, the poll doesn't show Kelley—who was arrested at his home on June 9 and charged with "a series of misdemeanors for being at the U.S. Capitol on Jan. 6, 2021"—lapping the field. He's in the lead with a modest 17 percent, with nearly half of those polled undecided ahead of the August primary. Maybe the arrest raises his profile among pure loons but puts a ceiling on what he can attain overall? But in a non-hell environment, a guy would withdraw from a gubernatorial race after he'd been arrested for participating in a ransacking of the seat of government—not bump up a couple of points in the polls. We simply don't live in a non-hell environment.

6. Chris Murphy and John Cornyn
Can the gun deal survive the legislative grind?
A bipartisan group of senators, led by Democrat Chris Murphy and Republican John Cornyn, shook hands on a "framework" for a deal on guns, school safety, and mental health aid over the weekend. Though Murphy says that the "heavy lifting" is over, there are still thousands of escape hatches and exit ramps available as the delicate coalition behind this deal tries to translate it into actual bill text. The two issues to watch are: support for states' "red flag" laws, which allow authorities to intervene to seize weapons from someone deemed a danger, and closure of the "boyfriend loophole," which allows certain domestic abusers who shouldn't pass background checks to pass background checks. There's been some dissonance on the drafting of this language already. It's never really about an inability to find the right language, though. Congress can move mountains when each side has the will. What matters is whether, the longer this process drags out, both sides continue to believe that they'd be better served passing this bill in an election season than they would be walking away and pointing fingers for the next few months.

7. Tom Rice
He bravely stood up to Trump and … yeah, OK, it doesn't always work out.
Sometimes you can have your morals and eat them too. Both Georgia Gov. Brian Kemp and Secretary of State Brad Raffensperger, while not always voting rights heroes, withstood pressure from Donald Trump to overturn the 2020 election—and ground out their ways to primary victories against Trump-backed challengers this year. It was cinematic, almost, in its karmic conclusion. But sometimes you take a courageous vote and pay the consequences for it. South Carolina Rep. Tom Rice, who voted to impeach Donald Trump over Jan. 6 despite representing a very pro-Trump district, had his primary this week, and he got absolutely blown to smithereens. Rice's Trump-backed challenger, state Sen. Russell Fry, won the multicandidate race without even needing to go to a runoff, earning 51 percent of the vote to Rice's paltry 25 percent. So maybe he's about to be unemployed, but at least he'll be able to sleep at night. Assuming he doesn't have any sleep-related difficulties unrelated to his conscience. We really know nothing about Tom Rice's sleep.