Slate's guide to the most important figures in politics this week.
Welcome to this week's edition of the Surge, your Slate politics newsletter that could use a goddamn breath.
We actually had to make difficult cuts in deciding what to include this week, there was so much news—rather than just searching around for fluff to put between the two or three "real" entries. We had historic gun (no, MENTAL HEALTH) legislation, hilarious texts about Ron Johnson, a new Kevin McCarthy–Donald Trump rift, major primary news. It was revealed that Mo Brooks had requested a presidential pardon for the vast majority of House Republicans, and that's not even what Mo Brooks' entry is about.
But first … these people.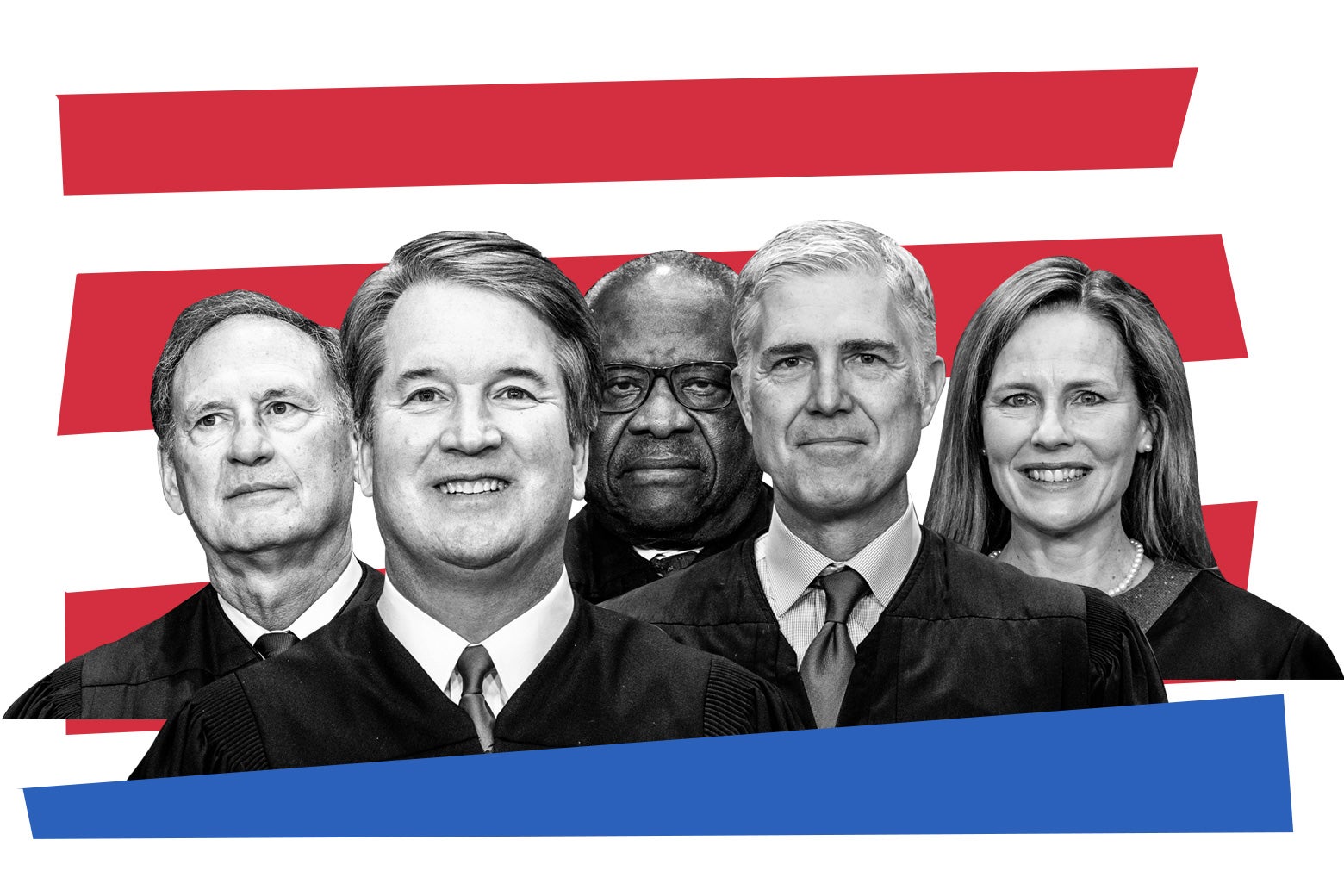 1. The conservative Supreme Court majority
See them for what they are.
Five Supreme Court Justices this week voted to overrule the precedents set in Roe v. Wade and Planned Parenthood v. Casey, and eliminate the constitutional right to an abortion. Let's look at the language that some of the recent appointees used in their confirmation hearings when asked about Roe. Brett Kavanaugh described the case as "important precedent of the Supreme Court that has been reaffirmed many times," and said that Casey "specifically reconsidered it, applied the stare decisis factors, and decided to reaffirm it. That makes Casey a precedent on precedent." Neil Gorsuch described it as "a precedent of the U.S. Supreme Court. It was reaffirmed in Casey in 1992 and in several other cases. So a good judge will consider it as precedent of the U.S. Supreme Court worthy as treatment of precedent like any other." Others, like Samuel Alito and Amy Coney Barrett, were more wishy-washy, saying it was (in Alito's words) "entitled to respect as stare decisis." Neither chose to divulge that they've wanted to toss this thing for the entirety of their lives. No one, at least in these public comments, lied. But, especially in the cases of Gorsuch and Kavanaugh—who really needed Sen. Susan Collins' vote!—they sure did try to create the impression that Roe and Casey would be in safe hands with them, didn't they? What they are, in this case, are weasels. Do Democrats have a plan for what to do about the most powerful policymaking body in the country being controlled by weasels for the indefinite future? Is there one?

2. John Cornyn
The cross-messaging that got a gun bill passed.
Congress this week really did pass a bipartisan gun violence, mental health, and school safety bill that's heading to President Joe Biden's desk. The senators correctly called the Bipartisan Safer Communities Act the most significant such package Congress has passed in 30 years—which is simultaneously a real accomplishment and a real indictment of the Congresses of the past 30 years. What was the key to overriding the NRA's opposition and passing it, aside from the rawness in the wake of mass shootings in Buffalo, New York, and Uvalde, Texas? We may have more to say on this later, but one thing that struck us in reading the statements following Senate passage is that Republicans and Democrats were saying the bill did entirely separate things. Consider the press email from the office of Texas Sen. John Cornyn, Republicans' lead negotiator: "Senate Passes Cornyn's Mental Health and School Safety Bill One Month After Uvalde." A mental health and school safety bill! Meanwhile, statements from Democrats, like New Hampshire Sen. Maggie Hassan and Rhode Island Sen. Sheldon Whitehouse, commended passage of the "Gun Safety" and "Gun Violence Prevention Bill." All 50 Senate Democrats voted for a gun safety bill, and 15 Senate Republicans voted for a mental health and school safety bill. Thirty-three Republicans, meanwhile, at least agreed with Democrats that this was—in the words of Texas Sen. Ted Cruz—a "gun" bill, but they voted against it. Anyway, let's see what survives of this gun(-ish?) bill after Justice Clarence Thomas has had a few months to ruminate about how it would've played with Colonial musket owners.

3. Ron Johnson
In the background: idiot noise.
One thing we appreciate about the Jan. 6 committee's hearing so far is the brief, kind of petty asides about those who may not have been central to the plot, but who the Gods of Idiocy insisted have a cameo. So: Wisconsin Sen. Ron Johnson. His chief of staff, on Jan. 6, reached out to an aide for Vice President Mike Pence, explaining that Johnson needed to hand Pence "alternate slates of electors for MI and WI because archivist didn't receive them." Pence's aide, likely in a state of disbelief that's difficult to put into words, texted back, "Do not give that to him." It's one of those things you have to see visualized. But the chain reaction following this revelation has been even better. Johnson's first reaction was that this was a "non-story," a staff-level thing, and he was "basically unaware" that any of this was happening. A couple of days later, though, Johnson said that the electors came from the office of Pennsylvania Rep. Mike Kelly. It would check out to learn that Mike Kelly got caught up in this scheme. When we're dealing with Mike Kelly, this is the level of analytical ability we're dealing with. Kelly's spokesman, though, called Johnson's allegation "patently false," and added that "Mr. Kelly has not spoken to Sen. Johnson for the better part of a decade, and he has no knowledge of the claims Mr. Johnson is making related to the 2020 election." So who's Kelly going to pass the idiot baton to next?

4. Kevin McCarthy
A new fight with Trump that he may get the better of.
If you've watched any of these Jan. 6 hearings, have you ever thought pro-Trump Republicans might have been better served by having someone serve on the committee? Yeah, Donald Trump has had that thought too. In a couple of interviews this week, Trump has said that House Minority Leader Kevin McCarthy—who withdrew all his appointees to the committee after Speaker Nancy Pelosi rejected a couple of them—erred in not seating anyone. When Punchbowl News asked Trump whether the decision would play into his choice about whether to support McCarthy for speaker should Republicans retake the House, Trump said, "Well, I don't want to comment on that now. But you and I will talk at some point in the future." Here's the thing, though. If McCarthy is the next in line who sweeps Republicans back into power, he'll likely get the speakership, even if Trump grumbles. (And most Republicans, besides, agree that McCarthy had no choice but to withdraw everyone when Pelosi started wielding vetoes.) Really, the Jan. 6 committee may be doing the dirty work many Republicans in Congress want on their behalf: Not causing enough damage to keep Republicans from retaking power in 2022, but perhaps doing enough to keep the nomination from Trump in 2024. So you can see why Trump may be getting fidgety.

5. Joe Manchin
Just… do… this… one… thing.
Perhaps the only reason we took seriously the last-gasp negotiations between Senate Majority Leader Chuck Schumer and West Virginia Sen. Joe Manchin on a slimmed-down replacement for the failed Build Back Better Act was that one thing in particular needed to be done through reconciliation: an extension of the enhanced Affordable Care Act subsidies Democrats passed in the 2021 American Rescue Plan. Without an extension, premiums will soar during a time of historic inflation. What's more, voters will learn about this right during election time. We had assumed this was the bedrock of any deal Manchin and Schumer were negotiating, and hopefully the thing they'd pass even if they couldn't agree on anything else. But reporting this week suggests Manchin isn't sold on it at all. Manchin told Punchbowl News this week that they might just not have the money for everything, and that the issue "has not been discussed at all. Any discussions I've been involved with, it has not been discussed, no." The plan right now seems to be to ask Manchin to make an exception for his demand that each item in the package be permanent and paid for over the course of 10 years, and to agree to extend the subsidies another few years. So how far advanced are these negotiations, you ask? They are in the stage of "hope Manchin comes around" on the most pressing item.

6. Eric Greitens
Republicans are scrambling to stop his Senate candidacy. Why?
A few months ago, national Republicans started feeling like they were out of the woods in one of the Senate races that's giving them most cause for concern. Eric Greitens, the disgraced former governor trying to launch a comeback bid, finally seemed to be losing his grip on the polls following new abuse allegations from his ex-wife. In recent polls though, his single-digit lead has returned. And Greitens released a, uh, controversial ad this week in which he and a squad of commandos go "RINO hunting," bursting into a house armed to the teeth. It had Republicans nervous all over again about him winning the nomination in the Aug. 2 primary. The cavalry is on the way, as the Washington Post reports that "Republican operatives and donors in Washington and Missouri are privately working to undercut" the Greitens campaign. Alas, the Last-Gasp Republican Donor Brigade may be doomed by the same thing that always dooms it (see 2016, Republican presidential primary): "The opposition is split among factions backing different rivals in the Aug. 2 primary and over disagreements on who should attack Greitens or how." If Republicans can't stop Greitens, though … is it really that they're nervous about his chances of winning? Doug Mastriano, another supposedly "unelectable" candidate, is only trailing by a few points in the Pennsylvania gubernatorial campaign. And that's in Pennsylvania, a true swing state. Missouri is not a swing state of any variety. Establishment Republicans' real concern, then, may just be that they don't want to serve with a guy who acts out fantasies of killing them in his campaign ads. A reasonable position!

7. Mo Brooks
Farewell, you salty dog, you!
Mo Brooks' loss in the Alabama Senate runoff this week, and subsequent announcement that he was retiring from politics, was a tough one for the Surge. Whenever we're in a jam and looking for entries, we just have to Google him and fresh material abounds. So let's do one last send-off to the man, who recently became the last person on Earth to recognize that "Donald Trump has no loyalty to anyone or anything but himself." In Brooks' concession speech to Katie Britt, whom Trump endorsed in the race months after unendorsing Brooks, the Alabama congressman congratulated the Alabama Democratic Party, as they "now have two nominees in the general election." Liberated by his newfound retirement, Brooks did what all losing politicians want to do, which is to criticize the stupid voters. "We are sending to Washington, D.C., the exact opposite of what we need in the United States Senate," Brooks said. "But the voters have spoken. They might not have spoken wisely. They may have been seduced by brazenly false advertising. But nonetheless, they have spoken and I respect them." Sail on, sailor.