Slate's guide to the most important figures in politics this week.
Welcome to this week's edition of the Surge, Slate's politics newsletter that's trying to "spice things up" by having a different COVID-infected staffer write it each week. [Editor's note: True story.]
This week, sheesh. The Supreme Court appears poised to overturn Roe v. Wade, and you'd better believe Susan Collins has concerns. The stupid Ohio Senate primary is out of the way, but the stupid Pennsylvania one is just coming into form. Democrats in Congress can't pass anything codifying Roe protections into law, but they can perform a dramatic one-act pretending that they can. And Madison Cawthorn humped someone's head, a troubling sign that his parents never had "the talk" with him.
American politics sure is a hoot! Let's talk about the life-appointed emperor of the country. 
***
Sign up for Situation Report, a weekly dispatch of national security, defense, and cybersecurity news, from Foreign Policy's Robbie Gramer and Jack Detsch.
***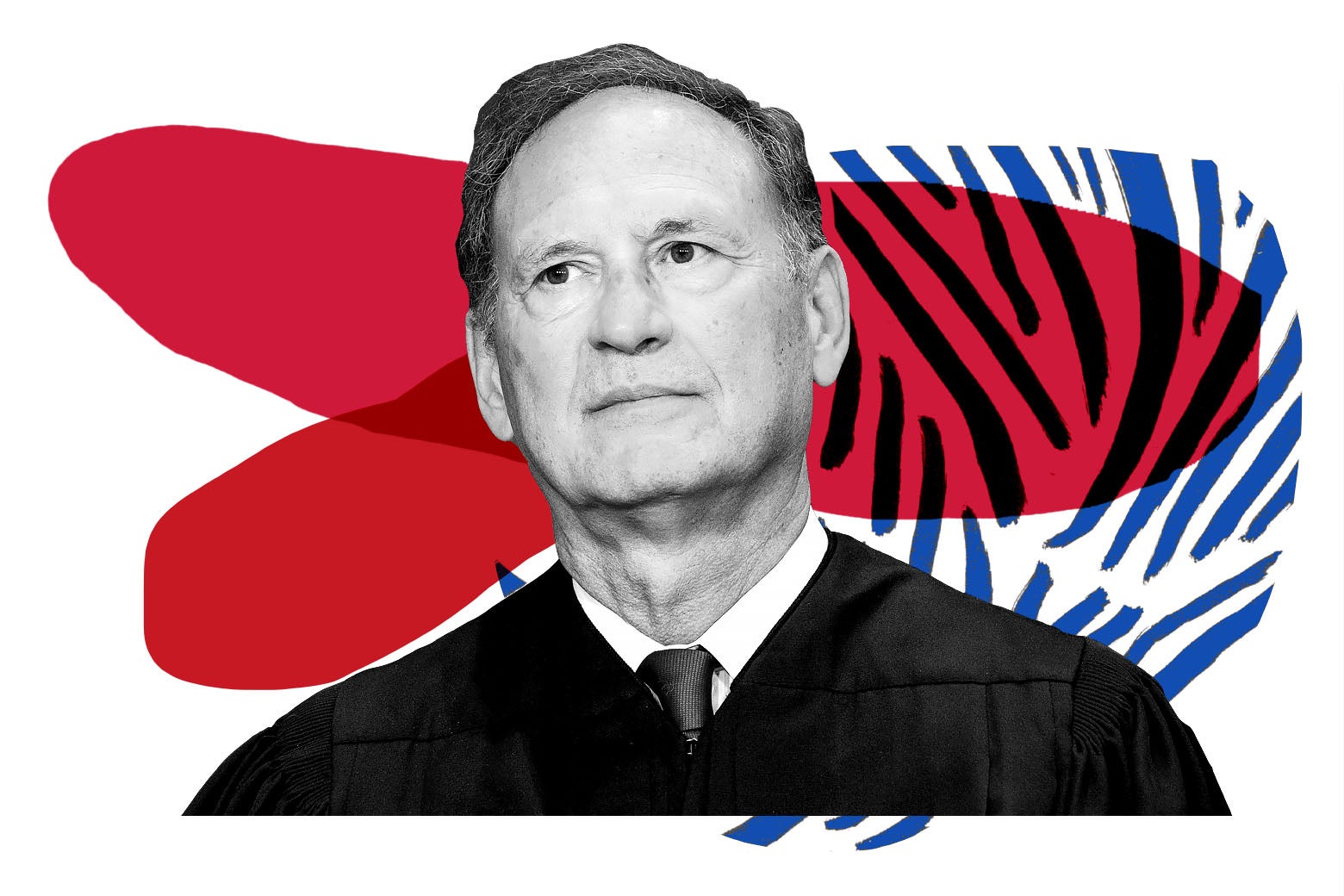 1. Samuel Alito
The most powerful policymaker in the country.
We don't know who leaked the draft Supreme Court opinion overturning Roe v. Wade. We don't know what edits will be made, or whether Chief Justice John Roberts will be able to persuade another conservative justice to back off the opinion. What we're fairly certain of, though, is that Justice Samuel Alito, the author of the draft, hasn't rethought a single word in the three months since this draft was filed. He probably hasn't rethought a word since he first sketched this out in his head in the 1970s. He's in love with every old-timey 17th-century text he cites about how Ye Olde Abortione is Wiccked to make the point that the right to an abortion is not "rooted in the Nation's history and tradition." Each use of the term "abortionist" revs him up to go on for a few more pages. No one has been more certain of anything in the history of the world than Samuel Alito on whether Roe v. Wade was "egregiously wrong," and now he has four friends on the bench who appear ready to roll with him. He's ready to become the most powerful policymaker in the country, and for as long as he'd like.

2. Susan Collins
An oopsie years in the making.
The Surge remembers staking out Maine Sen. Susan Collins' office for a couple of hours in the summer of 2018 until she emerged from her meeting with then-SCOTUS nominee Brett Kavanaugh to address the press. Boy howdy, did she like that guy! He was a big fan of precedent, she said, telling her that "he expressed agreement with Chief Justice Roberts' confirmation hearing statement that Roe is settled precedent and entitled to respect under principles of stare decisis." She said, later, that she had "full confidence" Kavanaugh wouldn't vote to overturn Roe. She didn't think Neil Gorsuch would, either, since he'd written a whole book on precedent. So … when the draft opinion leaked this week, Collins said in a statement that if it were "the final decision … it would be completely inconsistent with what Justice Gorsuch and Justice Kavanaugh said in their hearings and in our meetings in my office." That's it. Collins is officially concerned. And if this opinion is the final one, Gorsuch and Kavanaugh better watch out. They may well receive the mother of all sternly worded letters.

3. Donald Trump
A win he can actually take credit for.
When it comes to many of the former president's endorsements, his staff tells him who's already going to win, he endorses that person, and then he takes credit for said win. This was not the case with his endorsement in the Ohio's Republican Senate primary. J.D. Vance, the elitist anti-Trumper turned anti-elitist Trumper, was fumbling around for much of the race in fourth place, suffering from well-financed attacks citing his history of caustic verbal assaults against Trump. But after Trump endorsed him in mid-April, his polling about doubled. On Tuesday night, Vance won the primary pretty comfortably, taking 32 percent of the vote to Josh Mandel's 24 percent and Matt Dolan's 23. You really can't take this one away from Trump. He picked a guy who wasn't on top and gifted him a primary win. He has earned the right to crow endlessly about this one, and Vance is now legally required to do whatever Trump wants, such as spending Friday in Greensburg, Pennsylvania. Further, the success of this gamble will help Trump paper over some forthcoming bets that are less likely to pay out, such as his support for David Perdue over Gov. Brian Kemp in the Georgia gubernatorial primary. He will dine out on this for a long time. We thought this embarrassing primary had come to an end. But it lives forever, in Trump's ego.

4. Mehmet Oz
This has gotten predictably ugly!
One of the next big open-seat Senate primaries coming up is in Pennsylvania on May 17. On the Democratic side, Lt. Gov. John Fetterman is cruising. But the Republican side has turned into an unpredictable showdown between Mehmet Oz, whom Trump endorsed because they come from the same line of work (televised branding), and hedge fund CEO David McCormick. Why either Oz or McCormick wants to spend the next six years voting on district court judges—when they could be spending the next six years comfortably doing nothing in a beachfront mansion—is beyond us. But rich people didn't get rich by being normal! Anyway, it was inevitable that at some point down the primary stretch, if Oz was either at or near the top (which he is), the campaign would turn into what we'd call a deafening dog whistle about how he's a Muslim. This line of attack has been going on behind the scenes for a while, and now it's gone public through discussion of Oz's "ties to Turkey." On Friday, things escalated further when the McCormick campaign got one of its key endorsers, former Trump Secretary of State Mike Pompeo, to hold a press briefing "on significant national security concerns and unanswered questions on Mehmet Oz's close ties to the Turkish government and military." It's not exactly waving around a photo of Dr. Oz in a turban, but give things a couple more days.

5. Nina Turner
Oh, totally. The presidency.
Let's take a look at how former Ohio state Sen. Nina Turner's political enterprises have fared since she ditched the Hillary Clinton presidential campaign for Bernie Sanders' in 2016. That year, the Sanders campaign lost but put up an impressive showing. In 2020, when she played a senior role as a Sanders adviser, Joe Biden ended up blowing Sanders out. In 2021, Turner ran in a special election to serve as a congresswoman from Cleveland and lost the primary by 6 points to now-Rep. Shontel Brown. Turner chose to run again, and this week lost the 2022 primary to Brown by a clean 33 points. In her concession speech, after losing by 33 points, Turner … previewed a run for the presidency. She rattled off a series of early primary states, compared herself to LeBron James, and said, "I'm gonna see some folks in 2024." Sure, you could donate $10 to this eventual presidential campaign. But giving $10 to the next person you see on the street would probably go to better use.

6. Chuck Schumer
There aren't the votes to do anything.
You have seen a lot of commotion from Democrats since the SCOTUS opinion that would overturn Roe v. Wade was leaked. Senate Majority Leader Chuck Schumer said that the Senate would vote next week on an updated version of the Women's Health Protection Act, which would codify Roe into law. This is going nowhere, and it's best to come to terms with it now. The WHPA may not even have 50 Democrats in support—it didn't when a previous version failed earlier this year. Democrats also aren't pursuing a deal with Sens. Susan Collins or Lisa Murkowski, who have introduced a narrower abortion rights bill, either. Say they did, though, and corralled 52 votes for a compromise bill. That would be eight votes short of what is needed to break a filibuster, and the filibuster isn't going anywhere. So: Senate Democrats will put on a little show next week, because the Democratic base is insisting they do something; the numbers do not exist to do it, but Senate Democrats are too scared to just say that outright. It's a new chapter in the same story of the past year-and-a-half in Congress.

7. Madison Cawthorn
What exactly is happening here?
It has been yet another WEEK for the young representative from North Carolina, who's got insider trading allegations, various legal issues regarding driving with a suspended license and trying to carry guns on planes, and immature bro-y videos to worry about. In that last category, the immature bro-y video to end all immature bro-y videos (so far) was posted online by an anti-Cawthorn PAC. It depicts a naked Cawthorn making strange noises while he humps a guy's head. Cawthorn didn't deny the video's authenticity but called it "blackmail" and part of a "drip drip campaign" against him. When this anti-Cawthorn campaign began a few weeks ago—COINCIDENTALLY, just after he accused D.C. big shots of participating in secret sex orgies—we thought, Man, they are working really hard to take this guy out! But they're not really working very hard at all. This is just a reckless young person who's left plenty of material sitting around. What's changed is the desire from leading Republicans in North Carolina to take him out. Once they made that decision—that he was too embarrassing to keep in Congress—the material wasn't hard to find. His primary is on May 17, and his most serious opponent is state Sen. Chuck Edwards.