Slate's guide to the most important figures in politics this week.
Welcome to this week's edition of the Surge, which, like Donald Trump, will not be hosting the PGA Championship this week at one of our luxury golf properties.
We're neck-deep in primary season and, folks, we're already sinking. First, we'll look back on the Mega Primary Tuesday that was—saying goodbye to the purest lad in North Carolina—and then look forward to next week, where the guy Trump unendorsed in Alabama may have a better shot than the guy Trump did endorse in Georgia. New York Democrats got a bad court decision and have descended into cannibalism. And you will not believe what George W. Bush said.
Let's start with the guy who could either help Democrats this November or provoke a 2024 constitutional crisis—you just never know in the chess game of politics!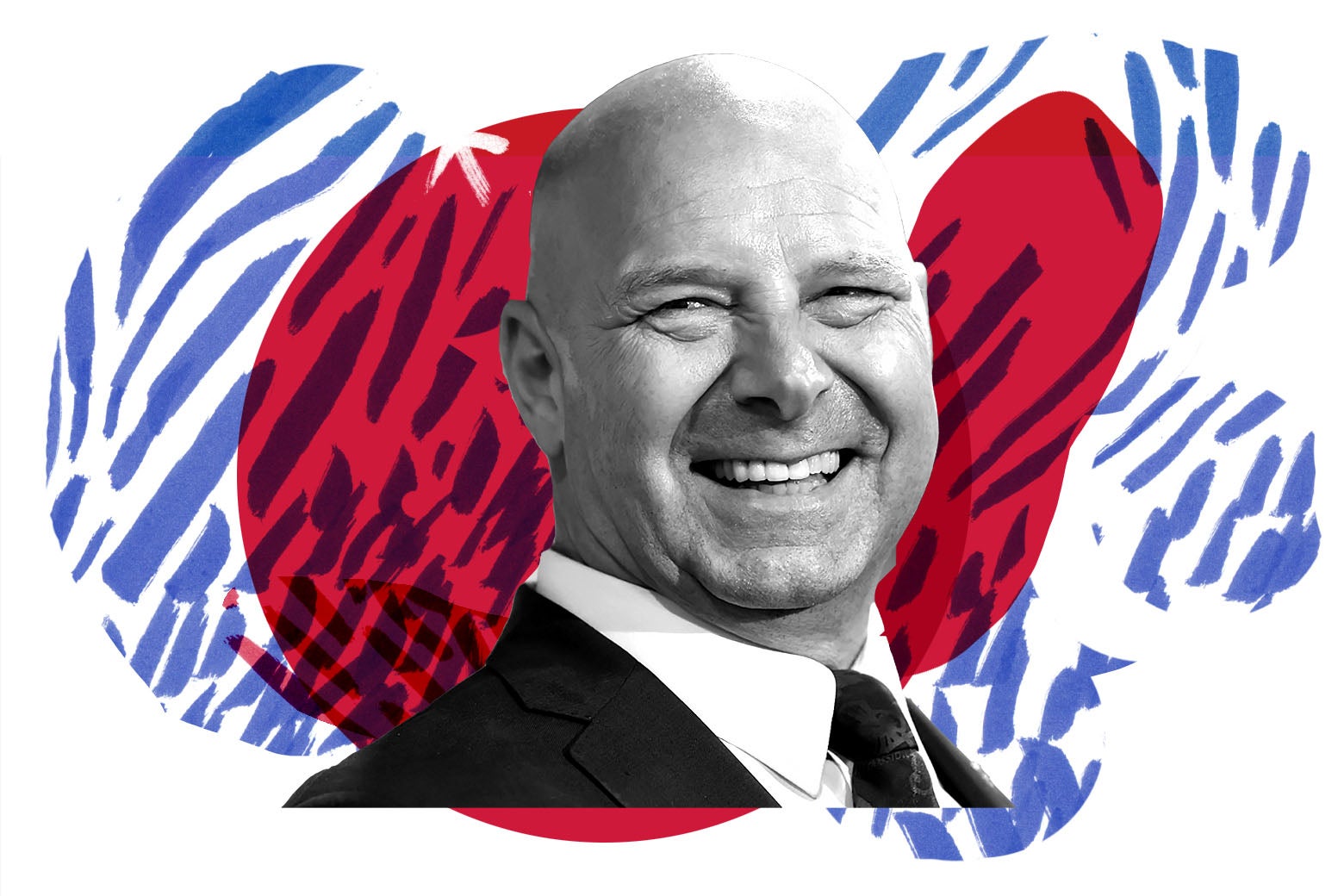 1. Doug Mastriano
Sound familiar?
Republicans' doomsday scenario came to pass in the Pennsylvania gubernatorial primary Tuesday. State Sen. Doug Mastriano—the far-right candidate who wants to ban abortion in nearly all cases, organized buses for the Jan. 6 rally in Washington, crossed police lines at the Jan. 6 rally in Washington, campaigned at QAnon-linked events, and was a leading figure arguing that Pennsylvania's electoral votes were stolen from Donald Trump in the 2020 presidential election—comfortably won the primary. Top Pennsylvania Republicans, whose last-minute efforts to coalesce anti-Mastriano voters around former Rep. Lou Barletta went nowhere, are freaking out. They worry that Mastriano won't just blow his own race, but that he'll blow down-ballot Pennsylvania races and present an extremist face to the country for Democrats to attack. The Republican Governors Association is keeping its distance. Democrats, meanwhile, are simultaneously professing horror at the thought of this guy becoming governor and elated that they get to run against him. We haven't felt vibes like this since the days after the Indiana presidential primary in May 2016, when Donald Trump effectively locked up the Republican nomination. So … nothing to fear going forward; conventional wisdom will prevail as ever.

2. Sean Patrick Maloney
The New York Democratic Party melts down.
We can't think of a more swift, and total, reversal of fortune than what New York Democrats have been through this redistricting cycle. A few months ago the legislature approved the gerrymander of its dreams, swiping away a few Republican seats and setting up each Democratic incumbent for 10 years of comfort and relaxation. Then it was thrown out in court, and a special master was appointed to draw new lines. That draft came out this week, and the New York Democratic Party promptly descended into anarchy afterward. Democrats, in a bad year like 2022, could win five or so fewer seats under the new map than they would have under their gerrymander. Meanwhile, the turf wars over the new map have been incredible. For about 1 million years, Rep. Carolyn Maloney has represented the Upper East Side of Manhattan and Rep. Jerry Nadler the Upper West Side. The new map lumps them together. And while the gods could not signal any harder that it's time for at least one of them to retire, they appear ready to challenge each other in a member-on-member primary. The most dramatic situation, though, involves Rep. Sean Patrick Maloney (no relation to Carolyn), the chairman of the Democratic Congressional Campaign Committee. He announced that instead of running in the new 18th District, which overlaps with most of his current district, he would run in the 17th—which just so happens to be the safer district. That puts him on a collision course with Rep. Mondaire Jones, who represents most of the 17th, but could opt to run against progressive Rep. Jamaal Bowman instead. Maloney's decision, seen as self-serving, led to an outcry among members who feel that he should step down from the DCCC if he's going to challenge a fellow incumbent. What a difference a few months makes.

3. Madison Cawthorn
Bye.
The 26-year-old freshman North Carolina congressman's loss in his primary on Tuesday was really the best result for everyone. Cawthorn couldn't even clear the very low bar of "mature enough to serve in Congress," and now he gets to work on himself a little bit. His constituents will get a member of Congress who is capable of boarding a plane without carrying a gun, House Republicans will shed themselves of an embarrassment, and Democrats will have one fewer reason to maintain metal detectors outside the House floor. But Cawthorn—and this may be related to his immaturity—does not see his loss as the best result for himself. In an Instagram post this week, Cawthorn thanked the "very few people" who "had my back" after "the Uni-party coalesced to defeat an America First member." The list included a sizable number of unsettling fringe figures. "The time for gentile politics"—bless his heart—"as usual has come to an end," Cawthorn wrote. "It's time for the rise of the new right, it's time for Dark MAGA to truly take command." He finished the post just as his mom shouted to the basement that the Bagel Bites were ready.

4. David Perdue
Napping hard to the finish line.
We and the rest of the internet will have much more on the following topic next week, but let's look ahead to what will most likely be the most embarrassing moment of the primary season for Donald Trump. He recruited ex-Sen. David Perdue, the guy last seen losing a Senate seat to Jon Ossoff, to primary Georgia Gov. Brian Kemp. Trump was mad at Kemp for not flicking his magic wand and overturning the state's presidential election results in 2020. If the polls are right, Perdue will get creamed and struggle to make a runoff. Further, he appears to have gone dark in the home stretch: He's not doing many events, and his ads are being taken down. It's a cycle of debasement for Perdue. Even as a lazy campaigner, he could've kept his Senate seat if Trump's stolen-election rants after 2020 hadn't depressed Republican turnout in the Senate runoffs. Instead of being pissed off at Trump for that, Perdue cozied up further and launched an unlikely governor bid serving as a mouthpiece for Trump's stolen-election lies. Now, if he's trounced the way it appears he will be, Trump will blame Perdue for bad campaigning, rather than himself for sending Perdue on a doomed mission. In fact, it's already happening.

5. Mo Brooks
Mo Brooks??
Actually, forget the long-in-the-works Perdue embarrassment for a second. There could be a sneaky, surprise Trump embarrassment in Alabama. You may recall that in March Trump withdrew his endorsement of Rep. Mo Brooks, one of his most loyal stolen-election lieutenants in the House, for the Alabama Senate primary when it looked like Brooks was headed toward certain defeat. You might suspect that was the end for Brooks. As it happens, Brooks has (OK, we'll say it!) surged in the three-way race against Katie Britt and Mike Durant, according to recent polls. It's now a close race between all three candidates, and any two could make the runoff. Suppose Britt, the more "establishment" candidate in the race, makes it along with Brooks, who then absorbs a healthy share of Durant's support in the runoff. It could happen! Mo Brooks could still be a senator, people! And there's not any precedent we can think of, in recent years, of a Republican candidate staging a primary comeback after having had their Trump endorsement withdrawn.

6. Elise Stefanik
How dare you read negative connotations into such common Latinate prefixes!
The once-normal New York congresswoman who recognized during the Trump era that she would have to become conspiratorial and annoying to rise in Republican politics is mired in a couple of controversies this week over her purposefully insane rhetoric. The first was because of ads she has run accusing Democrats of a "PERMANENT ELECTION INSURRECTION," where "their plan to grant amnesty to 11 MILLION illegal immigrants will overthrow our current electorate and create a permanent liberal majority in Washington." This is … awfully close … to the "great replacement" conspiracy theory that the Buffalo shooter cited in his screed. Separately, Stefanik tweeted about the baby formula shortage, and in doing so accused "the White House, House Dems, & usual pedo grifters" of being out of touch. Here she was playing directly to QAnon conspiracists, and their offshoots, who accuse anyone they don't like of being pedophiles. The effort to back away—we're surprised her team bothered, really—was even more risible. A staffer reportedly told a caller that Stefanik didn't use "pedo" as shorthand for "pedophile" at all, but "pedo" as in "children." "Pedo grifters," thus, meant "people who are grifting on behalf of children." The No. 3 House Republican gets to push this out, but Madison Cawthorn has to leave?

7. George W. Bush
OH HEY WHAT'S UP?
Remember when the whole thing from Democrats was "George W. Bush is dumb?" That was a defining characterization from the aughts! As Bush receded from public view, though, the "dumb" consensus between left and center-left Democrats faded. On the left, his legacy was firmly "war criminal"; the center-left, stunned into sentimentality by Trump, now considers Bush one of our finest, most decent Americans, trailing perhaps only Dick Cheney. It occurred to us how long it had been since we'd thought about the "dumb" thing when it immediately flooded back this week. Speaking about the Russian invasion of Ukraine this week, Bush railed against "the decision of one man to launch a wholly unjustified and brutal invasion of Iraq—I mean, of Ukraine." Really! Then, under his breath with a laugh: "Iraq too … anyway … I'm 75." REALLY! A time machine that sent us back to 2004 could not make it feel more like 2004 than that comment did.