Slate's guide to the most important figures in politics this week.
Welcome to this week's edition of the Surge, your politics newsletter that, despite inflationary pressures, will never increase its price from the current $4,999.99 per edition. [Business-side guy whispers in our ear.] We charge WHAT?
This week, we continue to look at the aftermath of the very likely looming Supreme Court decision eliminating the constitutional right to an abortion. Congress is acting at its usual lightning-fast pace, rushing to conduct not just meaningless messaging votes, but the wrong meaningless messaging votes. A sitting congressman lost his primary by voting to secure infrastructure dollars for his state, Democrats are totally "not happy" (wink wink) that Elon Musk wants to give Trump his Twitter account back, and Susan Collins' sidewalk is under relentless assault.
But first, one of the biggest Senate primaries of the cycle is coming up next week, and it has taken an unpleasant turn for Republicans interested in keeping the seat.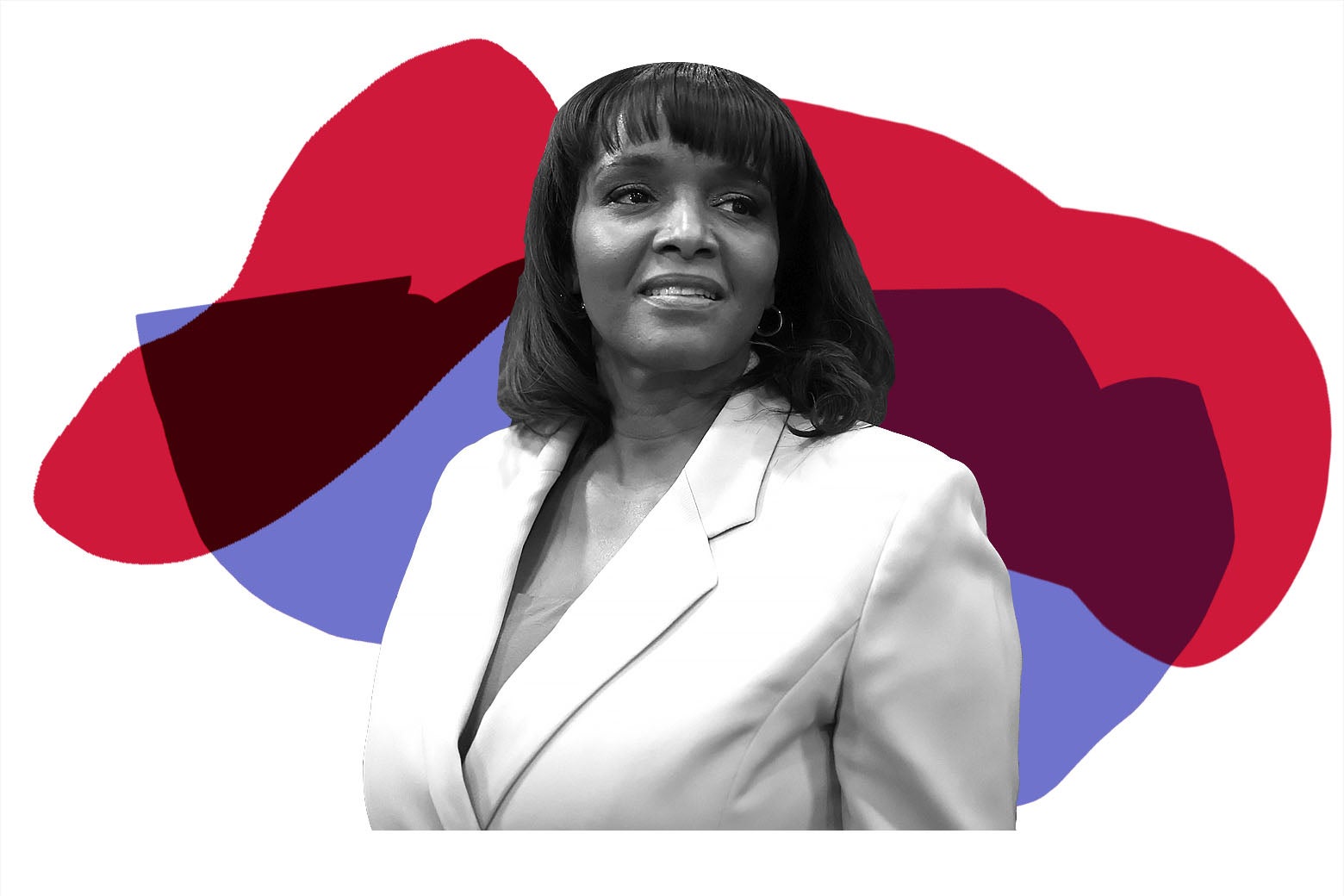 1. Kathy Barnette
This is what panic looks like.
Big primary Tuesday in Pennsylvania, with an open-seat Senate race that is either party's for the taking. So which rich guy who only moved to Pennsylvania when we started writing this sentence is going to win the Republican nomination—hedge fund CEO David McCormick or television doctor Mehmet Oz? The grave concern many national and state Republicans have right now is: Well, it may be neither. Another "ultra-MAGA" candidate who's been toiling in the background, the relatively unknown conservative media personality Kathy Barnette, has made a last-minute lunge toward the top. The concern with her, aside from questions of whether her beliefs are too far to the right to make her electable, is that no one's really dug deep on her yet. Cursory, early searches of her social media history are turning up some truly not great stuff! And her campaign is awfully shy when asked basic questions about her (inspirational) biography. Republicans shouldn't lose a Pennsylvania Senate race in what's shaping up to be a historically bad cycle for Democrats. That's exactly what they fear a nominee like Kathy Barnette would do.

2. Susan Collins
Chalk bandits still on the lam?
Look, we get why she's tweaky about this stuff. The pressure Maine Sen. Susan Collins was under during the Kavanaugh confirmation was the most pressure we've ever seen a single sitting senator under, and that came with some legitimate threats. But it was unlikely that the chalk used to etch a polite message of protest outside her Bangor home on Saturday—urging her to vote for the Women's Health Protection Act—was tainted with ricin. And yet, upon noticing the message last Saturday, Collins called the police, who eliminated the menacing chalkwork. Once the news got out, everyone made fun of Collins, whose office claimed that Capitol Police had told her to call the police "when there is activity directed at her around her home." More chalkings, featuring such macabre, antifa-y language as "EDUCATION IS PIVOTAL" appeared in Bangor on Tuesday, according to Collins' husband Thomas "Tommy Daffs" Daffron. They let it slide—this time.

3. Chuck Schumer
It's not like there are any good options. But …
The Senate majority leader doesn't have the votes to pass any sort of bill protecting the right to an abortion. So every vote you'll see on this between now and the midterm elections is a messaging vote. What kind of message, though, did Wednesday's vote on the Women's Health Protection Act send? The bill, which would attempt to codify into federal law the right to an abortion until the point of fetal viability, is more expansive on abortion rights than a simple preservation of the status quo, as it would preempt various state regulations that courts have found permissible under Casey's "undue burden" standard. That meant that Sens. Joe Manchin, Susan Collins, and Lisa Murkowski felt perfectly comfortable voting against it, and a procedural vote on the bill went down 49 to 51. Here's the thing: If the Supreme Court follows through on its draft opinion to eliminate a constitutional right to an abortion, that's going to be a very unpopular move. As a floor leader in charge of messaging bills, then, the idea should be to put something on the floor that unites your own caucus and splits the opposition, or at least makes them squirm. Voting against the Women's Health Protection Act does not make Republicans squirm in the slightest. So what's up next?

4. Ron Johnson
Don't worry, ladies, you'll be fine.
Oh, there is plenty of space to make them squirm, too. Just consider how much these anti-abortion senators, for whom overturning Roe is a political end-goal worthy of a raucous Ewok celebration on the forest moon Endor, are downplaying the effects of it. Wisconsin Sen. Ron Johnson—ranked right up there with Rick Scott atop the "people who mystifyingly win every election they enter" list—is not a big abortion guy. But in an interview with the Wall Street Journal, he insisted that everyone just relax. "It might be a little messy for some people"—!!!—"but abortion is not going away." He added that Wisconsinites can always just go to Illinois to get an abortion. "I just don't think this is going to be the big political issue everybody thinks it is," Johnson said, "because it's not going to be that big a change." In Wisconsin, if Roe is reversed, an 1849 law banning nearly all abortions would return to effect. That might get updated through the legislative process, but the very Republican Wisconsin legislature is not likely to make getting an abortion a cinch. These talking points are extremely fragile. The conservative movement was built on the prospect of overturning Roe v. Wade, and now the same members of that movement want to say it's not that big of a deal? This is worth further probing.

5. Rick Scott
He got the hissy fit he wanted.
Earlier this year, Florida Sen. Rick Scott released an obnoxious policy agenda no one asked for, including his fellow Senate Republican leaders. Among other items, it called on every American to pay at least some income tax, a policy that would amount to a tax hike on the poorest half of Americans. Democrats have weaponized the policy agenda, using Scott's position as chairman of Senate Republicans' campaign committee to tag the entire party with its most unsavory planks. But—and this is annoying—it's all working out great for Rick Scott. This week, Democrats, including the president, really began to lean in against the Scott plan in their midterm messaging, with Biden calling him out. Scott, meanwhile, called Biden "unwell," "unfit for office," "incoherent, incapacitated and confused. He doesn't know where he is half the time. He's incapable of leading and he's incapable of carrying out his duties." Biden retorted that "I think the man has a problem." Scott released his agenda to make a name for himself ahead of a presidential run, and now he's gotten into a back-and-forth with Joe Biden that only elevates his national standing among Republican primary voters. These attention-seeking stunts from wannabe candidates are the next two years of America's political life! Get used to it.

6. Donald Trump
He won't be the only one excited to get his Twitter account back.
We don't know if Elon Musk is ever really going to get ahold of Twitter. It all might have been a dream. If he does, though, he's said that he'd restore Donald Trump's Twitter account. Now, sure, there are a lot of Democrats publicly griping about what a tragedy that would be. But there will be a gap between Democrats' public lamentations and the private celebrations of Democratic strategists. They like Donald Trump being the face of the Republican Party and want him talking as much deranged nonsense, in as public a forum, as possible. They hate that reporters are asking Democrats about inflation and want reporters to ask Republicans about Trump tweets, like the good old days. Musk reinstating Trump would just be doing the dirty work on behalf of Democratic consultants.

7. Alex Mooney
A successful vehicle for Trump's revenge.
In the first post-redistricting member-on-member primary of the election cycle, Rep. Alex Mooney defeated Rep. Dave McKinley in a West Virginia congressional primary this week by nearly 20 points. What was McKinley's heretical sin? He voted for the bipartisan infrastructure law that will bring tons of money to West Virginia to fix all of its stuff. Boo! This, as well as McKinley's vote for an independent Jan. 6 commission, drew the ire of Trump and compelled him to endorse Mooney. And that was that! Mooney may be a carpetbagging former Maryland state senator and party chair, but he did not vote to improve West Virginia's infrastructure, so Trump simply had to endorse him as the best fit for the state. Once again, the political incentives in this country have never been more righteous.