Slate's guide to the most important figures in politics this week.
Welcome to this week's edition of the Surge, the favorite politics newsletter of a certain Jesus Christ. Big weekend for Jesus.
Congress was out this week, so we turn most of our attention to election season, which is beginning to have that distinctive "getting real" odor about it. Specifically, we refer to the 2024 election, sacred rituals of which are under attack from both the Republican and Democratic parties. As for these rinky-dink 2022 midterms, Republicans are getting a little less worried about blowing a safely red seat in Missouri, and the Alabama governor is giving the people (Trump) what they want.
Let's start with Trump, who's taken a risky turn with his endorsements.
***
Sign up for Situation Report, a weekly dispatch of national security, defense, and cybersecurity news, from Foreign Policy's Robbie Gramer and Jack Detsch.
***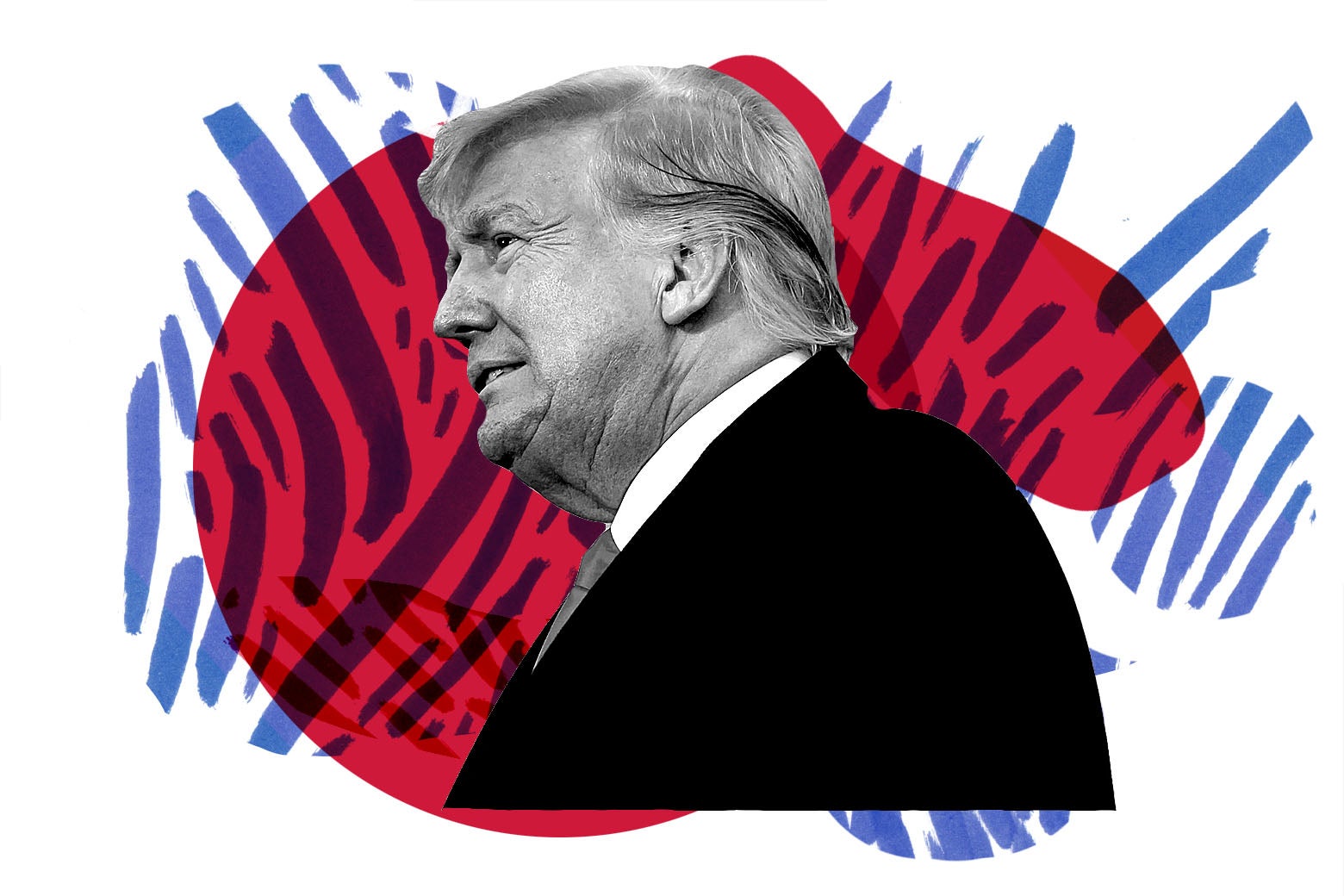 1.

Donald Trump Risking a season of L's.

The former president's strategy for making endorsements in high-profile races is usually straightforward: His advisers tell him who is probably going to win, he endorses, and then he takes sole credit for the endorsee's win. But as the 2022 primary season prepares to begin in earnest, Trump's veered into more reckless territory this week. First, whatever efforts his advisers were making to restrain him from endorsing a fellow rich snake oil salesman from TV in the Pennsylvania Republican Senate primary failed when Trump endorsed Dr. Mehmet Oz last Saturday. Could Dr. Oz win the primary? There's a good chance. Is he certain to? No. Also, later in the week, Trump once and for all ended the most embarrassing, yearlong Trump ass-kissing spectacle in the nation by endorsing J.D. Vance in the Ohio Republican Senate primary, even though Vance hasn't been topping the polls. Between these endorsements, and how poorly Trump's hand-picked challenger, David Perdue, is faring against Gov. Brian Kemp in Georgia, we could be looking at a season of several high-profile losses for Trump—just as he's trying to prove, ahead of the 2024 campaign, that he still has the Republican Party in his clutches. If his chosen ones lose, though, he could always just claim the elections were stolen. He tends toward that.

2.

Mark Meadows Don't think for a second he doesn't love this.

With each week comes a worrisome wave of new, seemingly bad headlines for former Trump chief of staff Mark Meadows. This week he was removed from North Carolina's voter roll after voting in Virginia in 2021 amid a voter fraud investigation over his 2020 vote. And later in the week, CNN revealed yet more of Meadows' text messages with lawmakers between the 2020 election and the Jan. 6 insurrection. He's more than a year out of a job, and he's still front and center in the news with the drip-drip of his text messages, an ongoing voter fraud investigation, and a potential charge of contempt of Congress. The key phrase in that sentence for Meadows, though, is "he's still front and center in the news." It's what he craves! All this criminal stuff—eh. He can get state and federal pardons down the road if things ever get too hairy. The important thing for Meadows, like Trump, is fame maintenance, and he's doing a bang-up job at it.

3.

Eric Greitens A Republican nightmare scenario recedes.

The good news is that it appears allegations of spousal abuse, even in 2022, do still appear to have negative political effects on alleged abusers. Missouri ex-Gov. Eric Greitens, for example, has faded from front-runner status for the GOP Senate nomination according to polls that have come out since his ex-wife alleged, in a child custody case, that he had abused her and their children. But fading from front-runner status doesn't mean Greitens isn't still competitive. A slew of recent polls now show the race to be a tight one between Greitens, Rep. Vicky Hartzler, and Attorney General Eric Schmitt. If Senate Minority Leader Mitch McConnell, who is on high alert over this race, gets his wish, Greitens will continue to sink as the race drags on. Or maybe Trump, liberated from his endorsement constraints, will back Greitens because it would piss off Mitch McConnell. There are still three and a half months left in this race! Plenty of time left for several extra, weird turns.

4.

Kai Kahele Why can't this state just elect a regular representative?

Let's consider Hawaii's recent history with the House of Representatives. One of its two members is Rep. Ed Case, who represents a district that President Biden won by 30 points, but Case is a fiscal conservative who got in the way of Biden's agenda last fall. The other district was for years represented by Tulsi Gabbard, who has since moved on to a career of Putin apologia on Fox News. Gabbard was succeeded by Rep. Kai Kahele in this Congress. Seemed like a normal dude! This week, however, the Honolulu Civil Beat first reported that Kahele hasn't been to Washington since January and has cast nearly all of his votes by proxy this year. It also revealed that he's still a pilot for Hawaiian Airlines and has a special deal with them that allows him to maintain his pilot status. Meanwhile, Kahele serves on committees overseeing the airline industry, while he quite literally works for the airline industry. Not great! There's been speculation that Kahele is spending so much time on the islands because he's prepping a gubernatorial run. (Also, because Hawaii is super nice.) If he does leave Congress, that will give Hawaiians a fresh shot at electing a representative who's not disproportionately more conservative than his district, a Putin apologist, or a remote-working human-sized conflict of interest. Many people have been asking—begging, really—if the Surge is interested in running. But there's no chance we would ever fly in to Washington, either.

5.

Ronna McDaniel What a shame if we never had presidential debates again …

The Republican National Committee voted unanimously this week to boycott the Commission on Presidential Debates, which organizes the three general election debates between presidential candidates every four years. The problem? Long-standing gripes that the CPD is "biased" and doesn't "serve the interest of the American people." RNC chairwoman Ronna McDaniel said that Republicans "are going to find newer, better debate platforms to ensure that future nominees are not forced to go through the biased CPD in order to make their case to the American people." This may just be a negotiating tactic. Maybe the RNC will come back if Newsmax is given one of the three debates. Either way, the Surge says: good! The CPD isn't egregiously "biased," but why should these people be the gatekeepers of all debates, anyways? Who gave them such fancy britches? Second, we don't like covering debate nights so it's good for us—and the American people—if they don't happen anymore.

6.

Jaime Harrison The 2024 primary schedule is up for grabs.

The Democratic National Committee, under chairman Jaime Harrison, announced this week that it was opening up the prize of early-state primary status to any and all states that want to apply. To the traditional first in lines—Iowa, New Hampshire, Nevada, and South Carolina—the states have until early May to sign a letter of intent and must then file a formal application a month later. Which state will WIN? Nevada has had its heart set on moving up from third to first for years. New Jersey's looking at it. Michigan—thinking about it. Iowa and New Hampshire will, of course, fight to the death to avoid losing these prime slots that have made them the richest states in the nation, and the envies of the first world.

7.

Kay Ivey We know the primaries have barely begun, but can we wrap them up?

Alabama Gov. Kay Ivey does not have a reputation as a loon. But there she was in an ad this week, saying, "Fake news, Big Tech, and blue state liberals stole the election from President Trump." No one believes that Ivey believes the election was stolen. So why is she saying it? Well, she's in pretty good shape coming into her reelection primary, one of her viable rivals being a person who is deeply concerned about the spread of yoga. But! She wants to avoid a couple of things. She doesn't want to get into a runoff, and thus needs to clear 50 percent in the primary. She also doesn't want Trump to endorse Lynda Blanchard, a rich former ambassador in the Trump administration, which there have been murmurs he could do if she shows some signs of life. Put these things together and … sure, she'll say the election was stolen. The incentive structure in Republican politics remains troublesome! Happy weekend!