Slate's guide to the most important figures in politics this week.
Welcome to this week's edition of the Surge, ranking the seven funniest overwrought reactions to the Slap over the past five days. Kidding! That would have been a good list but we're still ranking the usual political ding-dongs.
This week we look at some troublesome primaries—one for the Republicans and one for the Democrats, because this is a Balanced Newsletter. Judge Ketanji Brown Jackson, despite all the GOP attacks, remains basically the only popular Democrat anywhere. Donald Trump went on and on about his hole-in-one. Who would do such a thing?
But let's start with the orgy snitch of the week.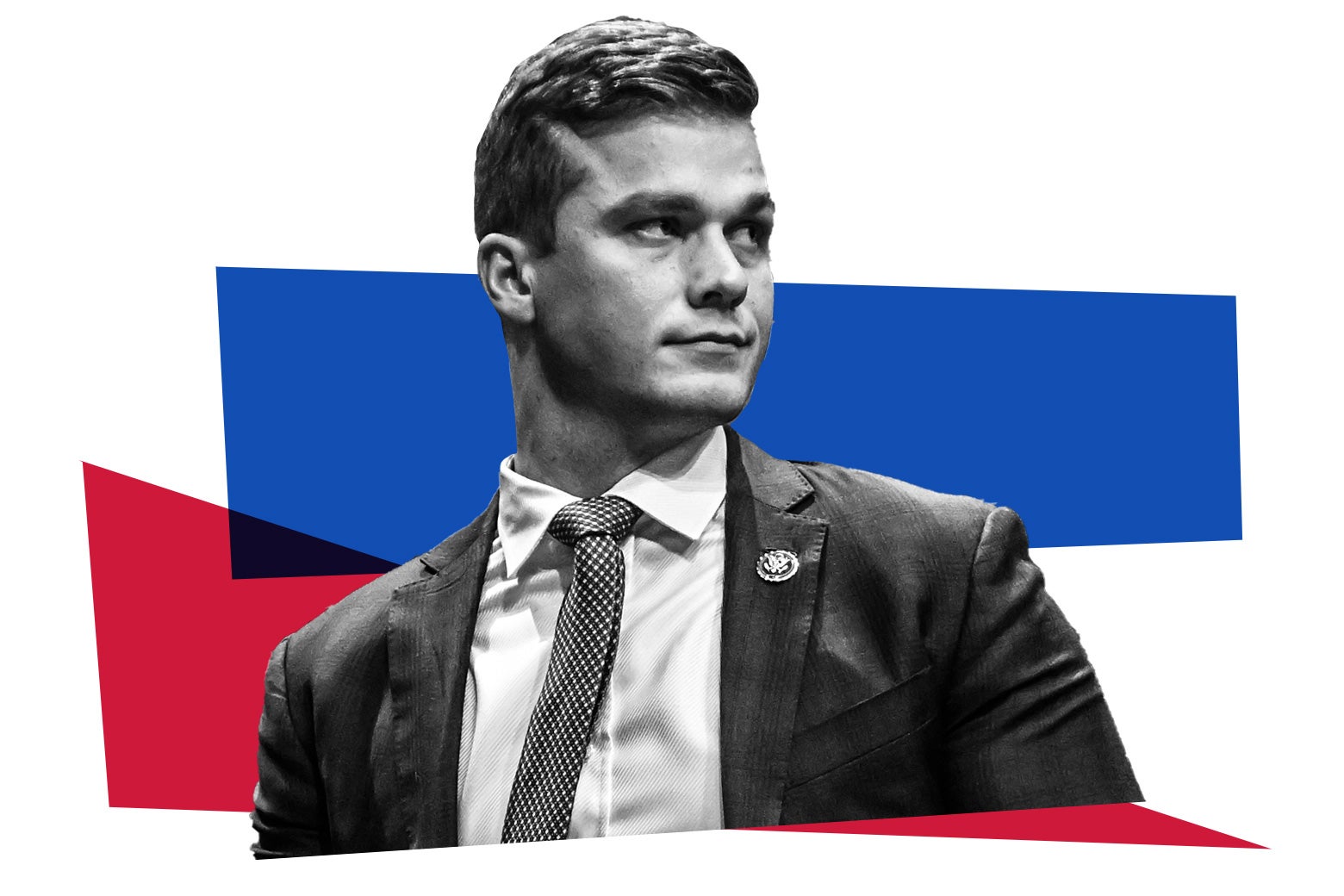 Last Week Unranked
1. Madison Cawthorn
An orgy … of internal party criticism!
If people are likely to believe that D.C. is a hotbed of "sexual perversion," cocaine, and orgies—as North Carolina Rep. Madison Cawthorn said in a podcast last week—the fury with which House Republicans responded to Cawthorn will only heighten their suspicions. Cawthorn says dumb nonsense all the time. But in this case, fellow members of the House Republican Conference, fed up with being asked about the orgies by their constituents (and spouses), stood up to speak out against him in their weekly meeting. Big-name North Carolina Republicans are getting serious about supporting his primary opponent. And Kevin McCarthy not only brought Cawthorn into his office for a chat but gave a readout to reporters afterward. "I just told him he's lost my trust, he's going to have to earn it back, and I laid out everything I find unbecoming," McCarthy said after the sit-down. He added that the whippersnapper has to "turn himself around" and didn't rule out stripping Cawthorn of committee assignments. It was harsh criticism—the kind that McCarthy reserves for only the most serious offenses, like investigating a former president's attempt to overturn an election. Cawthorn was unbowed on Thursday, though, tweeting that "the radical left, the establishment, and the media want to take me down." Buddy, the media just wants names.

Last Week Unranked
2. Ketanji Brown Jackson
Republican attacks fall flat.
Democrats hope to confirm Judge Ketanji Brown Jackson to the Supreme Court by the end of next week. When they do, they will have the votes to do so, including from at least one Republican. Republicans were never likely to block Jackson's ascent to the court. What they tried to do in the confirmation hearings, though, was make the vote a politically painful one for Democrats. They appear to have failed at that, as their attempts to portray her as soft on child pornography offenders fell flat. Two-thirds of respondents in a Marquette Law School poll released this week supported her nomination. Another poll, from Quinnipiac, showed support for her nomination at 51 percent compared with 30 percent against. The pivotal Democratic swing vote, West Virginia Sen. Joe Manchin, dismissed outright the child porn sentencing attacks from Republicans on the Judiciary Committee, calling them "disgraceful" and "embarrassing" and saying that Jackson will be "an exemplary judge." Ah, well. Republicans will just have to live with that 6–3 Supreme Court majority.

Last Week Unranked
3. Joe Biden
He should find a way to make people like him, maybe?
Don't think that Jackson's popularity is helping President Joe Biden at all. A "win" that moves the needle for Democrats is too convenient to possibly be real. In that same Quinnipiac poll that showed comfortable support for Jackson's nomination, Biden's approval rating was at 36 percent, with 55 percent disapproving of him. And he hit a low over the weekend according to NBC News polling, clocking in at 39 percent. Every useful metric is horrible for Democrats ahead of the midterms, including polling measurements of whether the country is on the right track or wrong track, the generic congressional ballot, or voter enthusiasm. Which is to say, Democrats are on a path to being well and truly pasted. Maybe Biden should kick it up to 2 million barrels of oil a day? 3 million? A barrel for every child?

Last Week Unranked
4. Ohio, Maryland, and New York
About that whole "Democrats have wiped out Republicans' gerrymandering advantage" thing …
Democrats thought they were soooo clever in redistricting this cycle. Favorable court decisions in Ohio, Pennsylvania, and North Carolina, along with aggressive Democratic gerrymandering tactics in states like Illinois and New York, had just about wiped out the redistricting advantage Republicans had enjoyed for the past decade. But the state courts giveth, and the state courts taketh away. In Maryland last week, a state judge struck down Maryland's gerrymander, which preserved Democrats' 7–1 advantage—something Maryland Democrats did not see coming, as there's little in the state constitution forbidding gerrymandering. The Democratic legislature is now hoping that a new map, which gives Republicans a second winnable district in the state, passes court muster. In Ohio, meanwhile, it appears Republicans have run out the clock on legal challenges and will be able to get through 2022, at least, with their latest gerrymander. And then there's the possibility of catastrophe in New York, where a lower court judge threw out Democrats' treasured 22D–4R gerrymander. That order will be appealed and could be stayed through the 2022 cycle. But Maryland and Ohio alone will noticeably pare back the redistricting gains Democrats thought they had made this cycle.

Last Week Unranked
5. David Perdue
If he loses, is Trump on Team Abrams?
We spent much of the last two editions discussing former President Donald Trump's revocation of his Rep. Mo Brooks Senate endorsement in Alabama. Now let's look at another endorsement that isn't turning out so hot: that of former Sen. David Perdue, whom Trump recruited to run in the primary against Georgia Gov. Brian Kemp, who did not overturn the presidential election results in the state in 2020. Perdue is trailing in this primary, according to the most recent Fox News poll, and there's not a straightforward way for Trump to save face if Perdue can't turn it around. So what could he do? Maybe it's time to root for a Democrat! Consider a couple of lines at his Georgia rally last weekend, where he warned about the consequences of a Perdue primary loss. "If Brian Kemp is renominated, he will go down in flames at the ballot box because Stacey [Abrams] will steal it from him and humiliate him," Trump said. He added that Kemp's renomination would hurt the likely Republican Senate candidate too. "And if they don't vote for Kemp, they're not going to be able to vote for a great man right there, Herschel Walker," Trump said. "And we don't want that to happen. So a vote for Brian Kemp, RINO, in the primary is a vote for a Democrat senator who shouldn't be in the Senate." If Kemp is renominated, Trump will probably want both Abrams to win the gubernatorial race and Sen. Raphael Warnock to win reelection, just so he can hold fast to the belief that defying him will always cost the Republicans power.

Last Week Unranked
6. Conor Lamb
He's going there.
Pennsylvania Rep. Conor Lamb is the type of candidate who almost always wins Democratic Senate primaries: a center-left Marine and ex–federal prosecutor with a record of winning difficult elections. In the Pennsylvania Senate primary, though, he is very much trailing Lt. Gov. John Fetterman in both public and private polls. Time is running out to change the contours of the race ahead of the May 17 primary. This week, Lamb took a noticeably more aggressive turn: He directly raised the 2013 incident in which an armed Fetterman, after hearing gunshots, chased down a Black man who was jogging nearby and held him until the police came. (Fetterman has denied ever pointing the gun at him.) "That's the elephant in the room," Lamb tweeted Thursday, suggesting Fetterman was dodging an upcoming debate because he knew he'd be asked about it. "And we have to talk about it." It's going to be a messy next six weeks.

Last Week Unranked
7. Donald Trump
No one needs to hear you gloat about your hole-in-one.
When golfers get holes-in-one, they think the whooooooole world will care and just can't shut up about them. It's exhausting. Consider this long-winded, gloating statement from Trump this week, listing his playing partners, the conditions, the club choice, the yardage, and the sound of the ball going in the hole: "I hit a 5-iron, which sailed magnificently into a rather strong wind, with approximately 5 feet of cut, whereupon it bounced twice and then went 'clunk,' into the hole." Now, we don't mean to nitpick. But for a 75-year-old man, a 5-iron cut shot going 181 into the wind is a lot. Consider the Surge's first hole-in-one. It was a gray, windy, cool day in autumn. We chose a 5-iron for a 170-yard shot into the wind, hit it a hair thin, and let it roll out to the cup, to widespread acclaim. On the Surge's second hole-in-one, meanwhile, we also hit 5-iron, but from 190. This was a warm summer morning, no wind, and we hit a towering shot, with approximately 5 feet of draw, which struck the pin and sank directly into the cup—not a mark on the green, awing everyone within a three-state radius. Just bringing those up, for comparison's sake. But anyway: Trump, it's just a hole-in-one; you don't need to brag about it to the whole world.