Slate's guide to the most important figures in politics this week.
Welcome to this week's edition of the Surge, your weekly newsletter that's thinking about becoming a TikTok personality so we can get briefings from the White House National Security Council about the Russian invasion of Ukraine.
We swear we didn't plan it, but this week's list quickly turned into a check-in with stray deadbeats from the Trump administration. That includes Trump himself, who's had an interesting week with regard to airplanes. 
Before we get to dessert, though, let's take a wincing glance at the governing party.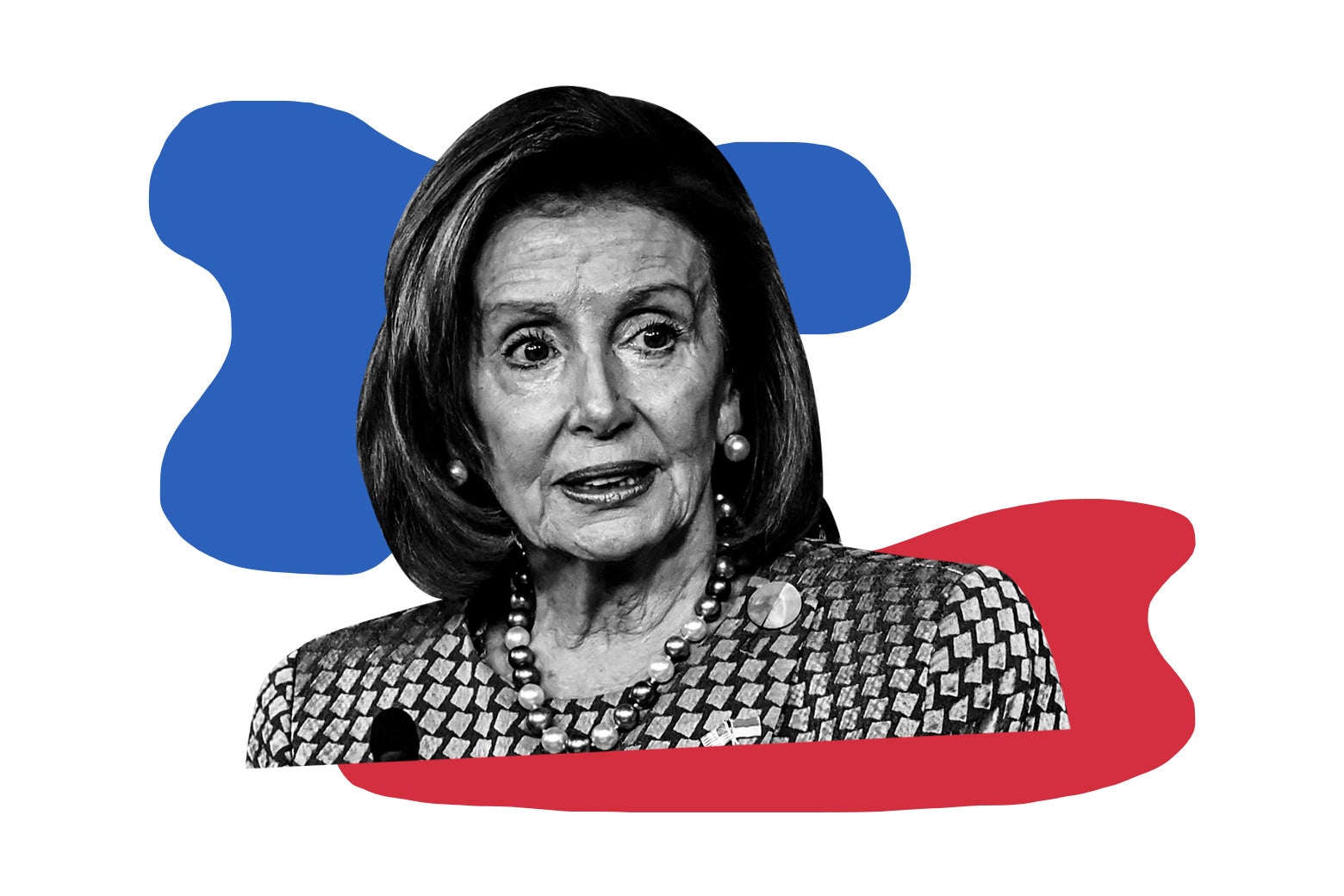 1. Nancy Pelosi
Add a few more Kumbaya sessions to the retreat.
House Democrats had one big piece of business to get done this week before decamping to Philadelphia for their annual retreat: Passing a $1.5 trillion government funding bill, to which a separate $15 billion bill refilling the government's COVID-response coffers was attached. Well, let's call it a partial success. On Wednesday, in the handful of hours members had to pore over the 2,700-plus page bill before voting on it, it became clear that the $15 billion in COVID response money had been offset by clawing back some state relief funds that had been doled out in last year's American Rescue Plan. Rank-and-file House Democrats revolted, and leaders were forced to drop the entire COVID-response bill from the package. When asked about it at a news conference, Speaker Nancy Pelosi boiled over. "You're telling Noah about the flood," Pelosi said, in reference to House members who had complained that they didn't get everything they wanted. "Let's grow up about this, OK?" she said. "You don't like what you didn't get in the bill? I'm very unhappy with what I didn't get in the bill. You think I could have gotten something into the bill as speaker of the House? No. Because it takes six—60 votes in the Senate. That's it. That's all I'm going to say about that." All in all, it was the perfect way to pregame for a retreat performance from DJ Jazzy Jeff.

2. Madison Cawthorn
Busted by scoop machine Karl Rove.
For all the talk about Republican admiration of Russian President Vladimir Putin, Republicans in Congress are pretty lockstep in their support for Ukraine, its president, and the country's resistance to Putin's invasion. But you do catch an odd sound bite here and there. At an event over the weekend, the baffling North Carolina Rep. Madison Cawthorn was caught on video calling Ukrainian President Volodymyr Zelensky a "thug" and arguing "that the Ukrainian government is incredibly corrupt and is incredibly evil and has been pushing woke ideologies." He issued a clean-up statement later. What's secondarily odd is how this story broke. Former George W. Bush adviser Karl Rove slipped the anecdote into a Wall Street Journal column that published Wednesday night; a local news station found the video the next morning. Just what we journalists need, another competitor in "Scoops" Rove.

3. Mark Meadows
Maybe the White House chief of staff wasn't really living in this shack in the woods?
Oftentimes the political figures who go on and on about elaborate voter fraud schemes are just projecting. Consider ex–White House chief of staff Mark Meadows, Cawthorn's predecessor in North Carolina's 11th District, a regular mouthpiece for Donald Trump's claims of fraud schemes. As the New Yorker first reported this week, Meadows listed on his 2020 voter registration a mobile home in North Carolina as his residence. He never owned it, and there's no evidence he ever resided there. We shall let the lawyers discern whether this is a legal violation! But this fact pattern does fit in with what we've from Meadows over the years: He thinks he's the smartest guy in the room with the guile to pull off wildly complicated schemes. No one else who's been in a room with Meadows, though, has ever thought he's the smartest guy in the room.

4. Donald Trump
Riding around on busted-ass planes.
Trump delivered a speech in New Orleans last weekend in which he argued … let's see here … that the U.S. should put Chinese flags on F-22s and "bomb the shit out of Russia," and "then they start fighting with each other and we sit back and watch." Alrighty! You know what makes this so funny? It's that Donald Trump was actually president of the United States, and commanded the United States military, for four years. Anyway, then this joker gets on his buddy's plane to fly back to Mar-a-Lago and what happens? An engine fails, and the plane has to make an emergency landing in New Orleans. A weird day for Donald Trump and planes, all around. And what of Trump's own 757? It's been sitting around for a while, but, in an email on Wednesday, "Trump" wrote: "My team is building a BRAND NEW Trump Force One." If you clicked "YES" on "DO YOU WANT TO SEE THE NEW TRUMP FORCE ONE?" you were taken straight to … a donation page for the Save America Joint Fundraising Committee.

5. Kevin McCarthy
Breaking with Trump on the issue of whether Putin is very cool.
Before Trump was suggesting American fighter jets dress as China for Halloween and bomb Russia, he'd been in trouble for saying, at the end of February, that Putin was "savvy" and "genius" for moving into Ukraine, "a great piece of land." It was far from the first time he'd heaped praise on Putin over the past six or so years. On most of those occasions, though, other Republican leaders looked the other way. And no Republican leader is more skilled at looking the other way than House Minority Leader Kevin McCarthy. But once the invasion was in full force, even these comments were too much for McCarthy to countenance. "I do not think anything's savvy or genius about Putin," McCarthy told reporters at his press conference this week. "I think Putin is evil. He's a dictator. And I think he's murdering people right now." Hmm. No special ride-alongs for McCarthy on the New Trump Force One anytime soon!

6. Bill Barr
You bet I'll vote for that deranged madman again.
Former Attorney General Bill Barr is the latest in a parade of low-, middle-, and high-level ex-Trump administration officials to release a book documenting what an unhinged, moronic, clownish, dangerous, psychotic madman Donald Trump is. Barr tears his old boss apart in the book and says Republicans need to nominate someone else in 2024. And if Republicans do nominate Trump again, well you know what Bill Barr will do? YOU KNOW WHAT HE'LL DO? He'll … vote for Trump again. "I believe that the greatest threat to the country is the progressive agenda being pushed by the Democratic Party," Barr told NBC's Savannah Guthrie in an interview this week. "It's inconceivable to me that I wouldn't vote for the Republican nominee."

7. Stephen Miller
A 36-year-old still on his parents' cellphone plan! That's so … well let's just think about this.
The architect of the Trump administration's harshest immigration policies has no family separation policy when it comes to the ol' cellphone plan, court documents revealed this week. Miller sued to block the Jan. 6 committee from obtaining his records, arguing that his parents and siblings could get swept up in the net because they share a phone plan. This is a grown-ass married man, still on his parents' phone plan! That's sooooo ridicu- … look here's the thing. Maybe the whole family gets a better rate together, you know? And maybe he insists to his parents that he'll happily foot his part of the bill, you know? And maybe his parents say, "It's all good, Ji—STEPHEN," and it's just a totally normal thing and there's no shame to be had????