Slate's guide to the most important figures in politics this week.
Welcome to this week's edition of the Surge, your weekly literary review of books about racist babies.
The Supreme Court confirmation hearings of Judge Ketanji Brown Jackson were the biggest spectacle this week, and the Slate mothership ably covered them. We're just happy to be done watching the Senate Judiciary Committee for the foreseeable future.
But while that circus unfolded, Senate GOP primaries were blowing up all over the place. Let's start with the Show Me State, where GOP panic over the party's potential terrible nominee is reaching a new height.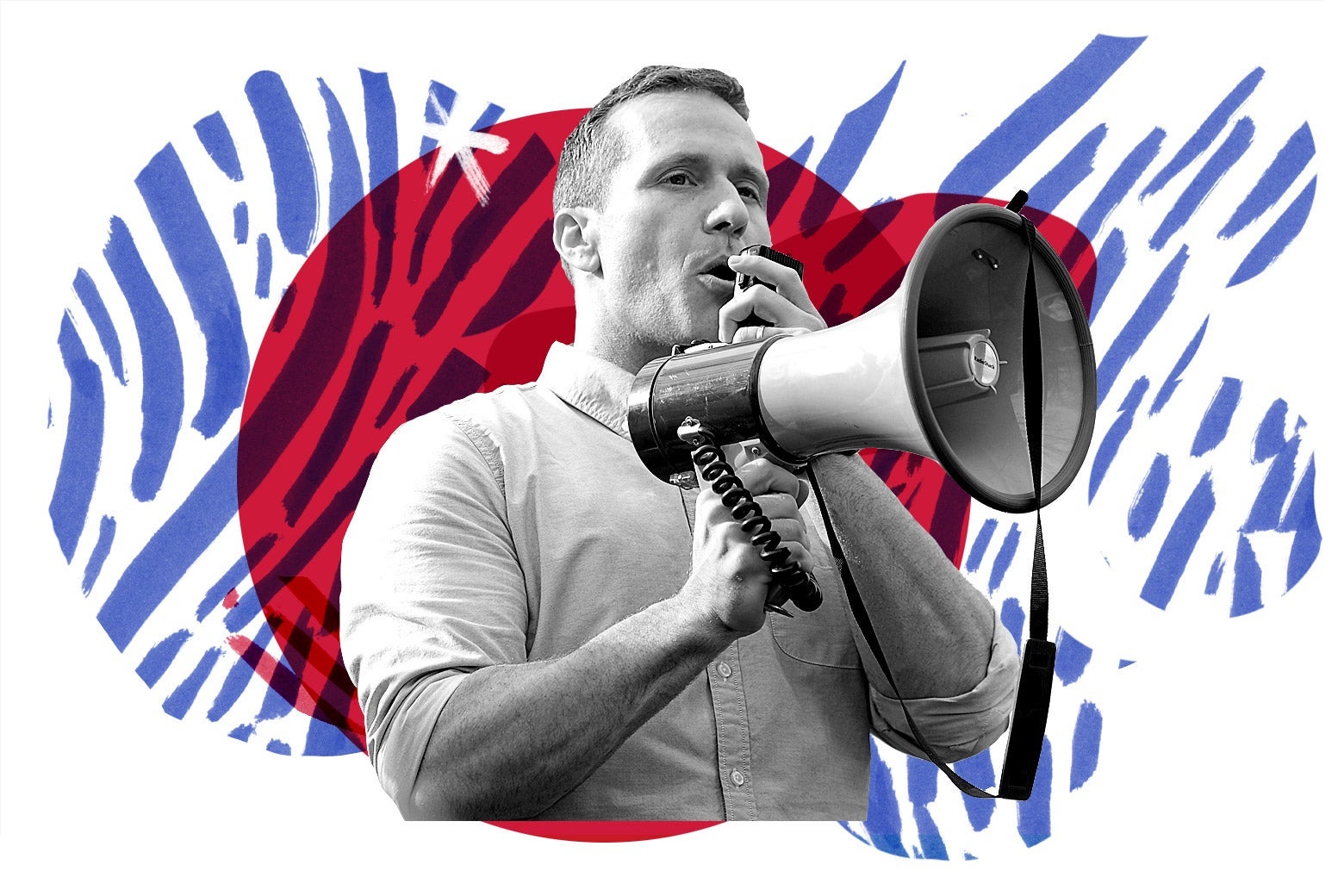 1. Eric Greitens
The GOP's Missouri mess.
National Republicans were already terrified that disgraced Missouri ex-Gov. Eric Greitens, who resigned in 2018 over a suite of scandals relating to an affair with a hairdresser, might win the GOP Senate primary against split competition and put a safe GOP seat in play come November. Ham-fisted efforts to clear the field behind a single alternative—as Sen. Josh Hawley attempted when he endorsed Rep. Vicky Hartzler—have gone nowhere. This week, Greitens' ex-wife Sheena Greitens, in a sworn affidavit as part of a child custody case, alleged that Greitens was physically abusive toward her and their children and accused him of "unstable and coercive behavior." (Greitens called the allegations "completely fabricated" and "baseless.") Greitens' main opponents—Hartzler, Attorney General Eric Schmitt, and Rep. Billy Long—called on Greitens to exit the race, as did Hawley, who said that "if you hit a woman or a child, you belong in handcuffs, not the United States Senate." There's no indication, though, that Greitens is going to drop out. His closest competitors, Hartzler and Schmitt, aren't going anywhere. And the one guy that the anti-Greitens candidates would love to see drop out—distant fourth-placer Billy Long—just this week got some encouragement from Donald Trump, who enjoys making Mitch McConnell squirm. The party has another four-plus months until the Aug. 2 primary to figure out what to do about this.

2. Mo Brooks
Since when can't a House minority backbencher pull some strings and get a presidential special election goin'?
This took a turn! Last week, we observed how Donald Trump was threatening to withdraw his endorsement of Alabama Senate candidate Mo Brooks since Brooks was tanking in the polls and Trump doesn't want to be a loser. Trump officially did it this week, accusing Brooks of having gone "woke" by suggesting last year that Americans needed to put the 2020 election behind them and look ahead to 2022 and 2024. In Brooks' telling, part of the fallout had to do with a request Trump has made repeatedly of him since last fall: insisting he "rescind" the 2020 election results, remove Joe Biden from the presidency, and hold a special election. "I told President Trump that 'rescinding' the 2020 election was not a legal option," Brooks said in a statement. We're just going to say it: This is all highly unorthodox. And it reveals the long-run issue with trying to win Trump's loyalty by, say, doing your part within the House of Representatives to try to overturn a presidential election. If you're willing to do that, Trump will think you're willing to do anything, and will push and push until eventually you have to say no. Timelines vary, but all Trump loyalists inevitably end on his enemies list.

3. Lindsey Graham
The leader of the Republican opposition to Ketanji Brown Jackson.
Much of the bile in this week's Supreme Court confirmation hearings for Judge Ketanji Brown Jackson was attributed to Hawley, who first tweeted out the oppo that Jackson was soft on sentencing child pornography offenders last week. But it was Sen. Lindsey Graham, a former chair of the committee, who cleared the way for 2024 strivers like Hawley and Ted Cruz to perform their dark arts. Shortly after Justice Stephen Breyer announced his retirement, Graham went all-in pushing for South Carolina Judge J. Michelle Childs to be nominated. The effect of that, then, was to ensure that any non-Childs pick would be viewed as "the left's pick"—or, as McConnell put it this week in announcing his opposition to Jackson, "the court-packers' pick." From there, a near party-line vote was assured, and Jackson's nomination became open season for Republicans. That absolutely included Graham, himself, who behaved progressively more like a madman as each day of the hearings passed.

4. The Senate Judiciary Committee
A brief rant.
We've been holding this in all week, so let's out with it: This committee drives us up the wall. No other in Congress has a bigger gap between its practical function and the self-importance of its members. The Senate Judiciary Committee is primarily a nominations mill. It processes judicial appointees from the president. Congrats. And yet it is comprised of THE most bloviating members of the Senate, who think their every word about the Federalist Papers is a masterstroke of philosophical insight. Oh look at me, Mr. Genius Harvard Senator, let me wax at length about Article III and the founders' intent—can it! You're voting for or against a judge based on who the president is! Talking about the founders. Good grief. These senators think this is some big-shot committee? A short walk away in the Appropriations Committee, they're splitting up the money, and no one's babbling about James Madison.

5. Joe Manchin
Finally ready to Build Back Something or Other?
Which elements of the Build Back Better Act, which the West Virginia senator felled late last year, could he support in a revived, slimmed-down package? That's an important question. But the bigger question, Senate Democratic sources have been telling the Surge this winter, is: When is he ready to vote on a revived, slimmed-down package? And it looks like he may finally be ready to go. According to E&E News, Manchin "views the April-May Senate work period as a new goal to reach a deal" on a measure, which he hopes would narrowly focus on energy, prescription drug prices, and deficit reduction. This all still sounds easier in theory than in practice. Yes, there is a lowest common denominator between Manchin and other Democrats in Congress. But a few issues. First, he is insistent that some revenue come from raising corporate tax rates, something Arizona Sen. Kyrsten Sinema has rigidly opposed. Second, his earlier offer on the climate section of the bill is no longer on the table, and he'll push for increased domestic oil and gas production as a trade for clean energy programs. Third, and most importantly: Good luck keeping this thing narrow. This reconciliation bill is likely Democrats' last opportunity to pass major tax and spending legislation without Republican votes for years. Each member, and each interest group, is going to want its cut, still. We remain skeptical.

6. Ginni Thomas
Mark Meadows' latest crazy texting buddy.
With each passing day, the Surge gets surer that we're the only people in D.C. who don't have Mark Meadows' number. His latest texting buddy, according to a series of messages obtained by the Washington Post and CBS News, is Ginni Thomas, the conservative activist and wife of Supreme Court Justice Clarence Thomas. These messages are crazy—on both ends. "This is a fight of good versus evil," Meadows texted Thomas on Nov. 24, 2020, a few days after Thomas urged him to "Release the Kraken" and prove the election was stolen. "Evil always looks like the victor until the King of Kings triumphs," Meadows continued. "Do not grow weary in well doing. The fight continues. I have staked my career on it. Well at least my time in DC on it." To this, Thomas replied, "Thank you!! Needed that! This plus a conversation with my best friend just now… I will try to keep holding on. America is worth it!" Of note: "Best friend" is a way that Ginni and Clarence Thomas refer to each other. As the Post notes, all of these communications came "during a period when Trump and his allies were vowing to go to the Supreme Court in an effort to negate the election results." They sure did!

7. Josh Mandel
Still the main event.
Sure, we led with the Missouri Senate primary. But Ohio Republicans, don't think we've forgotten about you! The debasingly aggro Trump love fest between Josh Mandel, Mike Gibbons, J.D. Vance, Matt Dolan, and Jane Timken somehow reached a new level of embarrassment during a debate last week. When Mike Gibbons, a businessman who's recently overtaken Mandel in the polls, said that Mandel had "never been in the private sector in your entire life." Mandel got out of his chair and got in Gibbons' face about how he had done two tours in Iraq. (That doesn't refute Gibbons' point, by the way.) The moderator had to break them up. "You watch what happens, pussy," Mandel told Gibbons. "You watch what happens." In the next debate, when Gibbons was asked about previous comments that women haven't been historically oppressed, he conceded that when women "weren't allowed to vote, they were probably oppressed." Eh, who's to say?