Slate's guide to the most important figures in politics this week.
Welcome to this week's edition of the Surge, your weekly politics newsletter that also aspires to leverage an offer from the Saudi crown to get paid more money to play golf. (Whaaa? Just read this.)
What a week in the grand domain of politics! We check in on a blockade over nominees in Congress and consider whether it will spill over to a blockade on or about President Joe Biden's SCOTUS pick. On the campaign trail, Republicans are trying to make sure they don't screw up a couple of key primaries, but what if they do anyway? And Vladimir Putin is surely running scared after the Senate passed a nonbinding resolution expressing disapproval of him.
But let's lead with a development in Oregon that we ranked No. 1 for a critical reason: It was good for a laugh.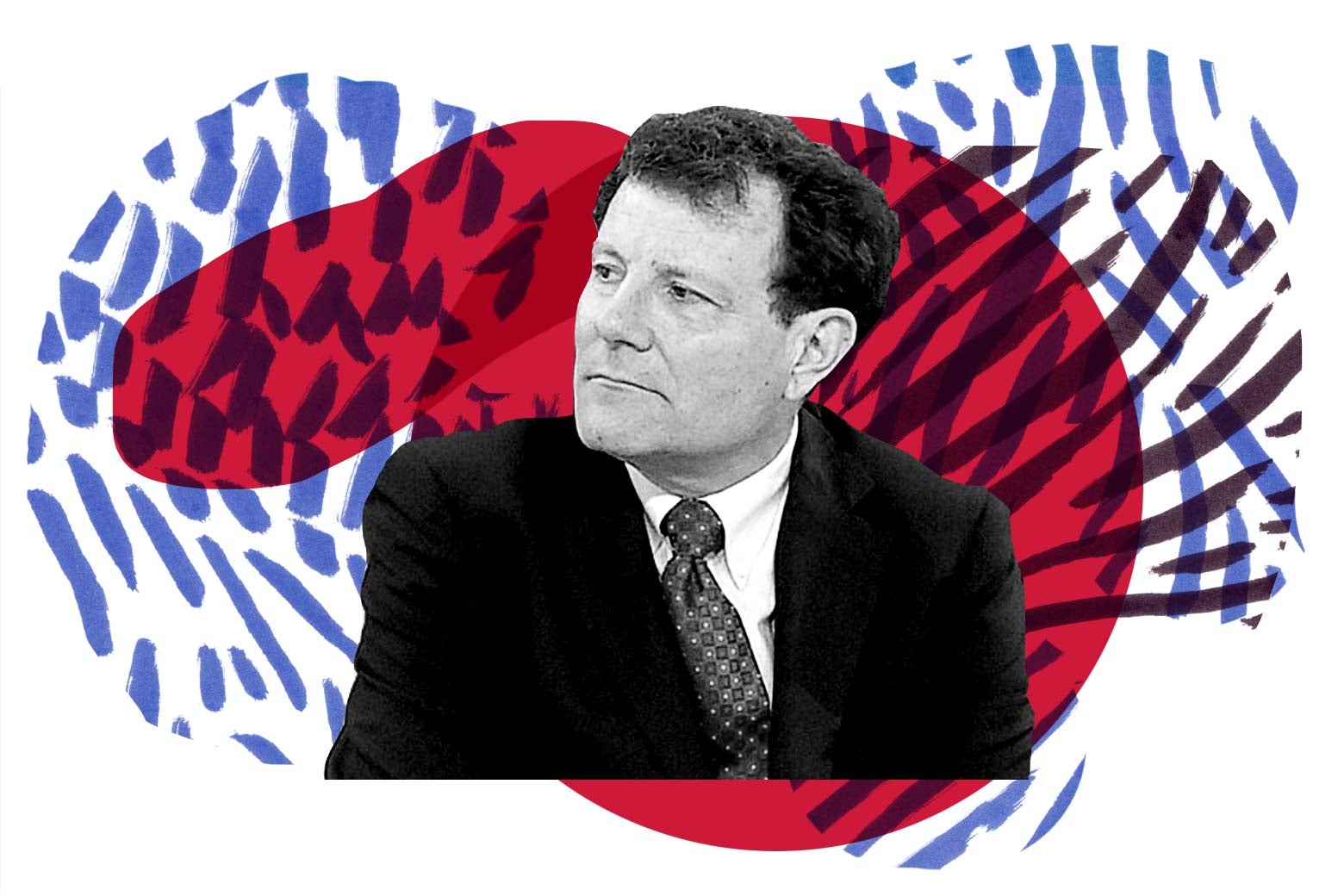 Last Week Unranked
1. Nick Kristof
If you can't BS a residency requirement, should you even be in politics?
Some advice for those feeling invincible during the Great Resignation: Before you opt to leave your gold-plated, tenured position as a columnist for the New York Times to try your hand in state politics, do run a quick eligibility check. This week, the Oregon Supreme Court unanimously upheld the secretary of state's decision that Nick Kristof, who lived and drove and voted in New York until roughly 10 minutes ago, was not eligible to run for governor because he didn't meet the state's three-year residency requirement. So now that's that, and he's just another unemployed wine tourist. But this was amateur hour! Politics 101 is learning to BS a residency requirement. Half of the Senate probably can't even point out their home states on a map—it's one of the big rectangles, uh, out there—though they can surely give a guided tour of Chevy Chase, Maryland. You will know Kristof is ready for political office when he's able to pass an Oregon residency requirement while not even pretending to leave New York.

Last Week Unranked
2. Pat Toomey
A Republican blockade over the Fed.
Each Senate committee is evenly split between the two parties under the agreement guiding the evenly split Congress. This gives Republicans one aggressive tool against Biden nominees should they choose to wield it: boycotting committee votes, and thus denying Democrats the majority quorum they need to advance nominees to a Senate vote. Pennsylvania Sen. Pat Toomey led Republicans in such a boycott this week—against Sarah Bloom Raskin, a nominee to be the Federal Reserve's top banking regulator. He and other Republicans claim they haven't received sufficient answers on a question about one of her previous jobs. Prior to that, they were troubled by an op-ed she wrote urging the Fed to use its powers to mitigate climate change. Might we suggest that Republicans' real problem with her could be that she would use her bank-regulating position to regulate banks? Democrats hope they'll be able to pressure Republicans into relenting, but this could be a protracted dispute. And it raises questions about whether Republicans might deploy this tactic on the most high-profile nominee of the year.

Last Week Unranked
3. Unnamed Supreme Court Nominee
Are Republicans going to boycott this vote, too?
First: Congratulations to the Unnamed Supreme Court Nominee (USCN) on making the Surge before we even know who you are. Once you've made this list, everything else, including being named, is gravy. But back to the question at hand: Would Republicans consider boycotting, and thus indefinitely delaying, USCN's vote in the Judiciary Committee, too? The idea was kicked around in the days following Justice Stephen Breyer's retirement announcement, but the appetite wasn't really there. It still isn't. This SCOTUS pick would replace the third Democratic appointee on a 6–3 Republican-appointed court. Those are pretty low stakes for the hell Republicans would invite by skipping work to blockade the first Black woman nominee to the Supreme Court. And unless it's a truly out-of-left-field nominee no one's heard of, Mitch McConnell would prefer to not rock the boat when the GOP already has all the advantages it needs heading into the midterms. But how could that change? Well, as you may know, Judiciary Committee Sens. Tom Cotton, Ted Cruz, and Josh Hawley have all been taking a peek at the presidency. And Cruz and Hawley, specifically, are known to take positions that might help them in a GOP presidential primary to the detriment of their Senate colleagues. We should expect both Hawley and Cruz to call USCN a Green New Deal–loving radical communist who will eliminate America. Will they push for a boycott and apply pressure on their fellow Judiciary Republicans not to abet the enemy? This is how bad tactical decisions become righteous litmus tests.

Last Week Unranked
4. Billy Long
A Missouri mess for the GOP.
We got a little carried away thinking about how Josh Hawley might screw everything up in a couple of months. What the Missouri senator did this week, though, was endorse a candidate for the state's other Senate seat being vacated by Roy Blunt. Hawley went for Rep. Vicky Hartzler; she's running in a crowded field that includes the disgraced former Gov. Eric Greitens, Rep. Billy Long, state Attorney General Eric Schmitt, Gunny McGunnerson, and others. Hawley's endorsement was seen as a move to consolidate the field around Hartzler as an alternative to Greitens, about whom D.C. Republicans are very, very worried. But consolidate the field it did not. Ted Cruz endorsed Schmitt shortly thereafter. And Long went on an extended tirade, involving any reporter who would listen and a Twitter thread featuring timestamps of communications, about how Hawley didn't give him a heads-up and wasn't straight with him throughout the endorsement process. So he's not dropping out. The best person to clear all of this up would be former President Donald Trump, who has yet to endorse. Unfortunately, Trump hates McConnell, and he knows McConnell is terrified of a Greitens nomination, so … they may not want Trump to come in and clear all of this up?

Last Week Unranked
5. Rob Portman
The mess to end all messes.
The Ohio Republican Senate primary has graced the marquee of Crazytown through this early election season, principally due to candidates Josh Mandel and J.D. Vance experimenting in new, elaborate rites of devotion to Trump and illiberalism. But the party is starting to get serious as it tries to shore up its general election prospects. The well-respected senator vacating this Senate seat, Rob Portman, this week endorsed former Ohio GOP chair Jane Timken, expressing confidence "in her ability to win both the primary and the general elections." So she's a middle ground between Trump-slobberers and a candidate like the state Sen. Matt Dolan, who's trying to consolidate the sane. It's a nice middle ground that gets you all the way to, uh, fifth place. But Timken's first ad following the Portman endorsement hinged on the theory that her opponents had small penises. Only two and a half more months until primary day …

Last Week Unranked
6. Vladimir Putin
Just got SMACKED with a sternly worded letter.
Look. We make jokes about those fusspots in the United States Senate. We make jokes, OK? But when there's a true threat to American interests and democratic values around the world, those fusspots cut the funny business and get to work. So, as Russian President Vladimir Putin prepared for a potential invasion of Ukraine, senators were determined to work together to pass a raft of punishing sanctions on Russia that would go into effect if he followed through. So they rolled up their sleeves and … yeah, couldn't agree on anything. In the end—and it took real arm-twisting even to do this—the Senate passed a piece of paper reiterating the Senate's belief that an independent Ukraine is good and it would be bad for Russia to invade it. Job well done. And they did it all in time to fly home, as this crisis climaxes, for the unmissable Presidents Day recess.

Last Week Unranked
7. Liz Cheney
The battle ramps up.
Trump's top vendetta this election season is against Wyoming Rep. Liz Cheney for her role investigating his effort to overturn a presidential election. And since it's his vendetta, it's also, by and large, the party's vendetta. The RNC joined the crusade to tank her reelection a couple of weeks ago. This week, a couple of other dominoes fell into place: The top House Republican, Kevin McCarthy, endorsed Cheney's central opponent, Harriet Hageman, in a statement that didn't mention Cheney. New York Rep. Elise Stefanik, who replaced Cheney as the No. 3 House Republican last year, also endorsed Hageman this week and did mention Cheney, referring to her as a "far-left Pelosi puppet." Trump, personally, has been trying to get Wyoming to change its law allowing voters to change their party registration on primary day. In other words, he wants to be sure Wyoming Democrats won't be able to bail Cheney out. Gov. Mark Gordon, so far, is noncommittal.