Slate's guide to the most important figures in politics this week.
Welcome to this week's very special edition of the Surge, your weekly politics newsletter coming to you LIVE (or maybe ONE DAY LATER) from Orlando, Florida, the site of this year's Conservative Political Action Conference.
What was this annual gathering of conservative media, activists, and politicians like?
Allow us to share an anecdote from after the conference's Thursday session from the Rosen Shingle Creek resort's pool bar. A slurring drunk white male attendee, wearing a Let's Go Brandon hat, walks up to a Black female attendee and says, as a pickup line, "I have six words for you: All lives matter, all the time." And it was well-received.
Below are some takeaways and recaps from the first three days of the conference, because Lord knows we weren't sticking around for Don Jr. on Sunday.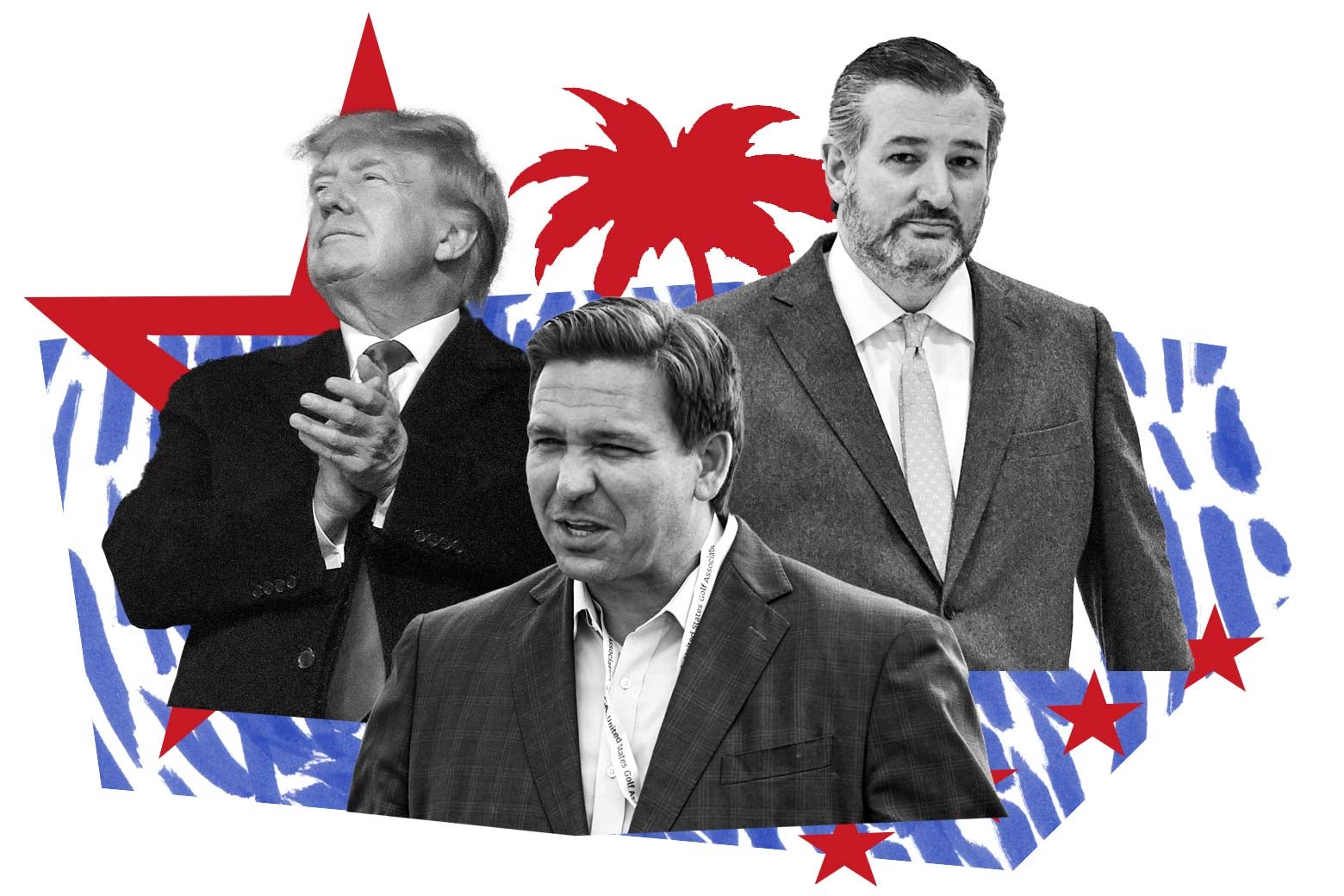 1. Donald Trump
So is that … an announcement … or?
This will be the LAST time the Surge plays the tedious "will he or won't he?" thing with Trump for at least … er, a week. On Saturday night, before devolving into his characteristic circles of ad-libbing, Trump made something close to major news. "We did it twice, and we'll do it again," he said. (To read between the lines: Donald Trump, though he's too shy to mention it often, believes that he actually won the 2020 presidential election.) "We're going to be doing it again, a third time," he said. Now, if anything he ever said meant anything, this would qualify as an announcement that he will be running for president in 2024. And why not? We did not hear or see a thing from the devoted legions at CPAC to suggest he's lost an ounce of influence, admiration, or support from his activist class, even if some newcomers were in attendance. The only rival who could scare him—potentially—might be a manifestation of the slogan "Let's Go Brandon," the utterance of which is the only cause to which CPAC is more devoted than Trump.

2. Ron DeSantis
He can certainly try!
If Trump does actually declare a presidential bid, you can kiss a lot of the Republican prospective presidential field goodbye. Most of the B-listers hustling for attention—Ted Cruz, Mike Pompeo, Josh Hawley, Nikki Haley, Rick Scott, Kristi Noem—will push back their ambitious schedules another four years. That may not be the case, though, with Florida Gov. Ron DeSantis, who successfully built a national GOP brand somewhat independent of Trump's during the pandemic. If Saturday was Trump's show, Thursday was DeSantis'. It was a gloating session about how well he's resisted the "biomedical security state" (catchy!) in D.C. to create the "free state of Florida"—where even blue-state politicians are flocking for vacations so they can bask in the liberty they've denied others. DeSantis didn't mention Trump in his speech, and vice versa—pointedly so, in Trump's case, as he spent the first 15 minutes doling out thanks to friendly politicians. Expect, if DeSantis does run against Trump, for him to home in on how Trump played along with the advice of another major CPAC villain, Dr. Anthony Fauci, for too long early in the pandemic.

3. Marjorie Taylor Greene
We, too, are "not aligned with anything that may be controversial."
For two straight years, at least one member of Congress has spoken at a competing, overtly white nationalist and antisemitic conference, Nick Fuentes' America First Political Action Conference, and then spoken the next day at CPAC. Last year, it was Arizona Rep. Paul Gosar; this year, it was Marjorie Taylor Greene. What kind of stuff goes down at AFPAC? Fuentes, a veteran of, among other things, the 2017 Charlottesville, Virginia, Unite the Right rally, cheered "young, white men" as his conference's "secret sauce," and led cheers for Russia and Putin. "Now they're going on about Russia, and Vladimir Putin is Hitler," Fuentes said. "They say that's not a good thing." When Gosar—who appeared at AFPAC in a prerecorded message this year—appeared last year, he was at least chastened enough to say that racism was "not appropriate" in his remarks at CPAC the following day. Greene said nothing about her AFPAC appearance during her CPAC panel the next day. When pressed by CBS News though, she claimed no knowledge of Fuentes' views and that she was "not aligned with anything that may be controversial." The reason she spoke at AFPAC, she said, was to address Fuentes' very large following, because "that is a young, it's a very young following." You know who else had a very large, young following …

4. Tulsi Gabbard
A gig's a gig.
The Hawaiian whose lasting contribution to the 2020 Democratic presidential primary was to serve as a heat-seeking missile against Kamala Harris' campaign is no longer in Congress. What's she been up to? Very normal Democratic politician stuff. Like constantly going on Tucker Carlson's Fox News show to deliver Russian talking points and, now, serving as the keynote speaker at CPAC's Ronald Reagan dinner. The booking of a Hawaii Democrat confused much of the CPAC crowd. But once she started rolling through the hits, everyone was along for the ride. The "biggest threat to our country," she said, "is not coming from some foreign country. It is coming from power elite here at home, and their co-conspirators in the mainstream media and the security state, who are working to undermine our freedoms from within." (Thanks, we're doing our best, humbly working to undermine a new freedom with each entry of this newsletter.) She delivered colorful descriptors, such as the "Biden-Clinton neocon-neolib establishment foreign policy" and praised parents fighting school boards. She had won over CPAC, and the Surge saw her taking photos with attendees well after her speech had ended. It is unclear what elected office Gabbard could ever win again. When that's the case, the only remaining career option is the conservative conference circuit.

5. CNN
The new arch media villain.
Over three days, we did not once hear someone at CPAC make a joke about MSNBC, the overtly liberal cable news network. CNN, though, they cannot get enough of it! Early in the conference, conservative sting-video maestro James O'Keefe introduced a defector from CNN as his latest hire. Turning Point USA founder Charlie Kirk cited CNN's "collapsing" ratings, and their hosts "taking time off," as a sign that the controlling "regime" of America is under stress. This wild rage at a TV channel—which is simultaneously accused of poisoning America and being totally unwatched—is one of the ways in which the conservative movement has plugged directly into Trump's unusual brain, in which subpar television ratings are interpreted as a form of moral impotence.

6. Seb Gorka
A quick pivot on Russia.
Many politicians at CPAC, including even Gabbard, expressed sympathy for Ukraine in their speeches. And there was a noticeable shift in the conference from when it began on Thursday—at which point the Carlson-esque talking points questioning why anyone needed to care about a dispute soooooo farrrrrr awayyyy was still the prevailing position—and Saturday, when what Russia was doing was recognized as historically bad. Alas, it's easier to play footsie with "tough" Russian autocrats in the abstract; less so when the bombs start falling. Republicans also found an adequate manly man replacement for Putin, and contrast to Weak Joe Biden, in Ukrainian President Volodymyr Zelensky. (This is a switch, too, from when they were fulsomely defending Trump's blackmail of Zelensky a few years ago.) By Saturday afternoon, the transference of feelings from Putin to Zelensky was complete. "God Bless the Ukrainian people," Seb Gorka, the Hungarian American blowhard and former Trump White House adviser, screamed at the conference. "May they make those Russian invaders bleed and die!!"

7. Nigel Farage
"Stolen election" politics: still very powerful!
The British Brexit leader who spoke Friday night at CPAC was another Russia-sympathizing conservative figure who was forced to eat his words, by begging the U.S. to save Europe from Putin's visions of conquest. (Anytime, pal.) The most striking part of Farage's speech came near the end, when he asked the crowd, "Does it make sense for the Republican Party to go on talking about the stolen election?" No, no, no, don't get him wrong, he totally believes it was stolen too! But, he said, "most voters are busy with their lives, busy with their mortgages, busy with their kid, worried about their jobs, worried about the price of gas," and "you've got to offer the voters of this country the shining city on the hill." The crowd didn't run him offstage, but hearts and minds weren't exactly changed. CPAC attendees much preferred Josh Mandel's straightforward "I believe this election was stolen from Donald J. Trump!" and its companion call that Reps. Liz Cheney and Adam Kinzinger were "traitors" for investigating Jan. 6. Another year for the books.