Slate's guide to the most important figures in politics this week.
Welcome to this week's edition of the Surge, your weekly politics newsletter giving you both the bad news about the downward trajectory of democracy and the comfy chaser—there's no plan to fix it! Let's do this, 2022!
We've taken stock of things a year after the Jan. 6 Capitol riot, and here's what we've found: Dick Cheney is basically a lib now, but the Senate still doesn't work. Joe Biden looked like he was getting less unpopular for a second, but then Mean Mr. COVID came back and tanked the president's approval numbers again. In Oregon, a New York Times Columnist Despairs.
But first, let's zoom in on a telling "gaffe."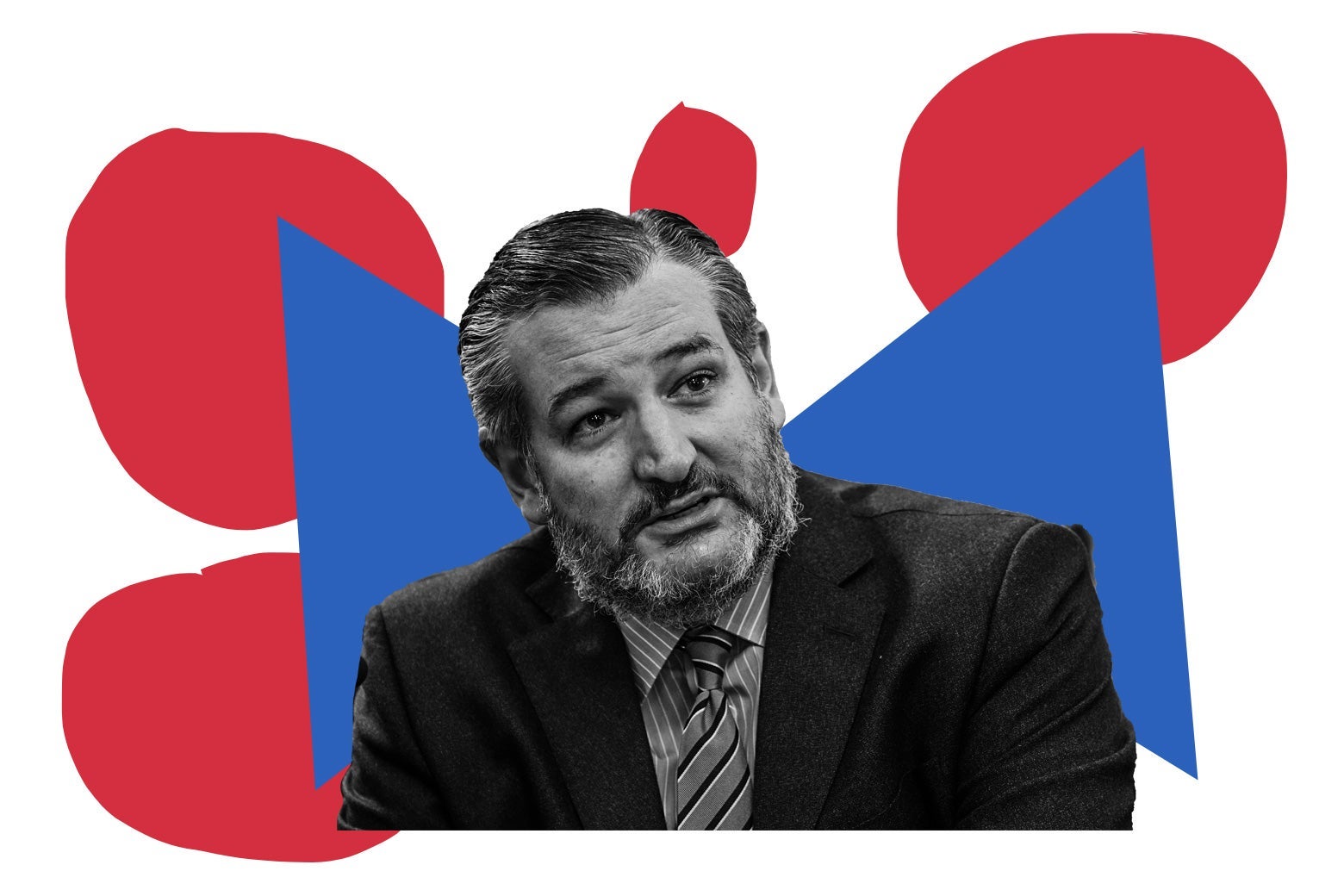 Last Week Unranked
1. Ted Cruz
Beg harder.
The best expression of the Republican Party stance on the Jan. 6, 2021, Capitol riot a year later didn't come from one of the many million think pieces published or speeches given this week. It came on Tucker Carlson's show Thursday night. During a Wednesday Senate hearing, Texas Sen. Ted Cruz had described the Jan. 6 riot as "a violent terrorist attack on the Capitol." Carlson mocked Cruz for it on his show that night. By Thursday, Cruz was on Carlson's show groveling for forgiveness. He begged Carlson to clear him for his "sloppy" and "frankly dumb" choice of words, and all Carlson would do was insist he beg harder. This was Ted Cruz in maximal damage-control mode. He would only undergo this sort of debasement if he felt he'd made a mistake serious enough to threaten his political career and hamstring his chances in a GOP presidential primary. It is a Cruz that the Surge has seen only one other time: the day after his speech at the 2016 Republican National Convention, when he refused to endorse Donald Trump. It took him months to recover his standing among the Republican base after that. Here, he is perceiving the same level of political threat among the base for having said, merely, that the Jan. 6 riot was a "violent terrorist attack." These will be the politics of the 2024 Republican presidential primary (assuming there is even a competitive one). Condemnations of what happened at the Capitol on Jan. 6 will be taboo.

Last Week Unranked
2. Dick Cheney
Democrats' new best friend.
It's not just Cruz who was too much of a lib-hugging, tree-smooching, latte-marrying establishment dweeb for the MAGA wing of the Republican Party this week. Former Vice President Dick Cheney, whom many Democrats spent the first decade of this century perceiving as the actual Devil from hell, was too far gone as well. At Thursday's Jan. 6 anniversary proceedings, Cheney, along with his daughter Liz made up the sum total of Republicans on the House floor there to commemorate the event. House Democrats lined up to greet the man. "I am deeply disappointed at the failure of many members of my party," he said in a statement, "to recognize the grave nature of the January 6 attacks and the ongoing threat to our nation." When's Dick Cheney getting his MSNBC contributor gig? Will he keynote the 2024 Democratic National Convention or simply introduce the cast of Hamilton at it?

Last Week Unranked
3. Chuck Schumer
Maybe this time Manchin and Sinema will kill the filibuster. Yeah, this time's the ticket …
OK, we're starting to feel a little like Tucker Carlson—sick of talking about Jan. 6. Let us turn to the busy 2022 legislative schedule! At the top of the agenda, now, is (another) effort to pass voting rights legislation, which would require a change in Senate rules to get past a Republican filibuster. Senate Majority Leader Chuck Schumer, in a letter to his caucus this week, said that "the Senate will debate and consider changes to Senate rules on or before January 17, Martin Luther King Jr. Day, to protect the foundation of our democracy: free and fair elections." The problem is what it has always been: Democrats would need all 50 of their votes to weaken the filibuster, and two of them—Sens. Kyrsten Sinema and Joe Manchin—simply will not acquiesce. Never say never, but this push seems like little more than an effort from Senate Democrats to show how hard they tried. Amending the filibuster is a much harder task than passing some reconstituted version of the Build Back Better Act. And the Build Back Better Act is still dead as heck!

Last Week #7
4. Mitch McConnell
The answer Democrats aren't looking for.
If there is one positive sign for Democrats on their quest to change Senate rules and pass voting rights legislation, it's that Senate Minority Leader Mitch McConnell is taking it seriously. He and the rest of Senate Republican leadership have been messaging relentlessly about how much of a catastrophe it would be for the Senate should Democrats go down that path, all in an effort to keep Manchin and Sinema from wavering. But that's not all he's doing. This week, both he and the No. 2 Senate Republican, John Thune, suggested they'd be open to reforming the Electoral Count Act, the 19th-century statute that governs—poorly—the counting of presidential electoral votes in Congress. Reforming that statute, given what happened the last time electoral votes were counted, is something that plenty of Democrats have an interest in. Their fear, though, is Republicans are extending this offer as a trap: Reforming the ECA could allow Manchin and Sinema, for example, to say they did something, taking the pressure off of them to change Senate rules for voting rights legislation. The White House, Schumer, and other Senate Democrats were adamant this week that reforming the ECA cannot be considered a substitute for action on voting rights. But if Manchin and Sinema decide differently, it might be the best anyone gets.

Last Week #4
5. Joe Biden
Never mind about that improvement in popularity.
In our latest edition of the Surge, we noted that President Joe Biden's approval had started to climb up from its nadir. Yeah, well, that's over. Just as gas prices were starting to notch down and the supply-chain crunch around the holidays wasn't materializing as terribly as predicted, the dang virus came back in a new form that essentially goes door to door infecting everyone. People are being told to take rapid tests but can't find them anywhere. The Centers for Disease Control and Prevention guidance is incomprehensible babble that is "updated" with a bit more babble every couple of days. Flights keep getting canceled and delayed, and canceled and delayed again. And what are we going to do about those drafty windows downstairs? Oh, sorry, we're getting a little off track. Biden's approval has a few more months to improve before the midterms. But maybe Democrats should stop holding their breath.

Last Week Unranked
6. Ralph Northam
Stuck in traffic, eh? Could the problem be that you suck?
The outgoing Democratic governor of Virginia, Ralph Northam, had been enjoying a relaxing final stretch to his term in office. (His successor, the Republican Glenn Youngkin, takes over next week.) Twice in recent weeks, Northam has gotten to open treasure chests found in the pedestal of a Robert E. Lee statue. Opening treasure chests is the main reason people run for governor! But if that was the dream, this week was the nightmare. Northern Virginia got about 8–10 inches of snow on Monday—more than enough to turn the entire mid-Atlantic into the Donner Party. Trucks and cars, including that of Virginia Sen. Tim Kaine, were stuck in place on I-95 through a freezing cold night. After a few days of questions about what went wrong with the state's preparation and response, Northam embraced his lame-duck status and told a radio host, in irritation, that the fault was really with stupid drivers. "I am getting sick and tired of people talking about what went wrong," he said. "Why don't you start asking some of these individuals that were out on the highway for hours: … 'Why did you feel it was so important to drive through such a snowstorm?' " You got somewhere fancy to go, Mr. Fancy Constituent?

Last Week Unranked
7. Nick Kristof
I'm quitting my job to run for gove… oh God, what have I done.
Remember when Nick Kristof quit his plum job as a New York Times columnist to run for governor of Oregon? He may have wanted to hold onto that job until he got the paperwork ready. The Oregon secretary of state announced Thursday that Kristof was ineligible to run for office because he didn't meet the state's three-year residency requirement. That opinion seems reasonable! Though he has owned property in Oregon and visits it during the summer, he held a New York driver's license through 2020 and has voted in New York as recently as the 2020 general election. He hasn't turned over his income tax returns yet, perhaps because they show he lives in New York. This decision isn't final, and Kristof plans to appeal it. In the meantime, he is blaming the Oregon "political class" for the decision and saying that his "willingness to challenge the status quo is the reason state officials are trying to toss me from the ballot." YEAH! … But also, maybe he just hasn't been an Oregon resident for three years?