Slate's guide to the most important figures in politics this week.
Welcome to this week's edition of the Surge, your weekly newsletter keeping tabs on the latest registrants at Joe Manchin's legislative morgue.
Actually, NO. Like Joe Biden, we're tired of the "tangle of day-to-day negotiations" when it comes to congressional priorities. It all stinks, so we're not even going to start talking about it for four (4) entries. That'll learn you, Congress. Instead, we will open with a slew of fun stuff, like how … *checks notes* … uh … Justice Sonia Sotomayor has a preexisting condition and had to work remotely because a colleague on the Supreme Court wouldn't don a mask?
Yikes. OK, but this first one is actually fun. As far as politics goes.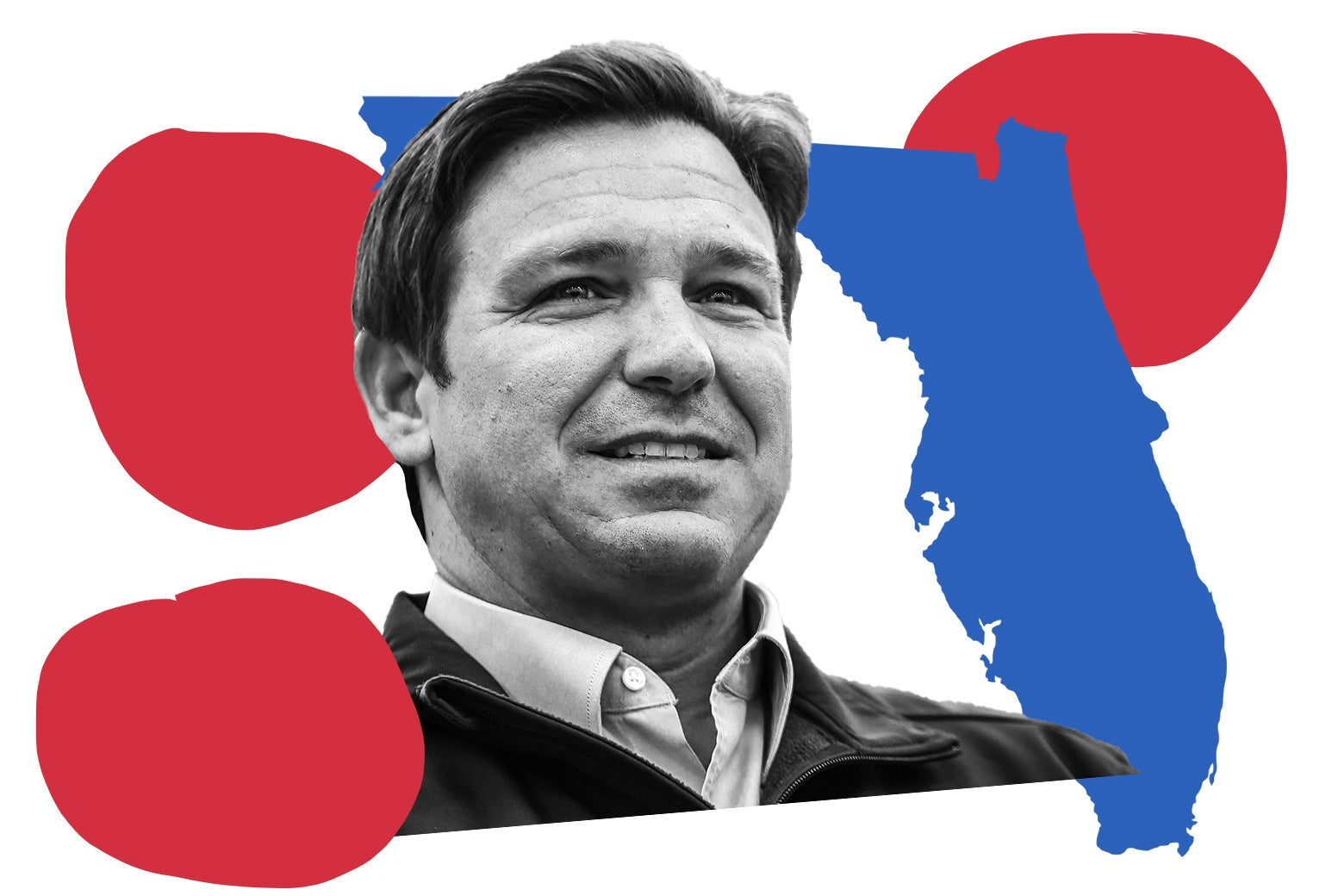 Last Week Unranked
1. Ron DeSantis
Making his move on Trump. (Politically speaking.)
Which Republican will challenge the Democratic fantasy ticket of Dick and Liz Cheney for the presidency in 2024? If the answer is Donald Trump, as we have been led to believe, many Republicans will stand aside. But there is one potential rival who has refused to say he'd stand aside if Trump were to run again: Florida Gov. Ron DeSantis. Trump has taken notice of this and is reportedly upset at DeSantis for not saying "the magic words" that he won't challenge him. In the last couple of weeks, this budding rivalry has spilled ever-so-slightly into plain view, as Trump criticized certain "gutless" politicians who refuse to say whether they've gotten a COVID booster shot. (DeSantis has refused to say.) DeSantis, meanwhile, said in a podcast interview that he regretted not pushing back harder against the feds'—i.e., the Trump's administration's—early pandemic restrictions. Trump has called discussion of the rift "fake news." But one thing about Trump is that he often lies. More likely, he is already sorting through DeSantis' family tree for relatives he can accuse, a couple of years from now, of involvement in the JFK assassination.

Last Week Unranked
2. Joe Biden
Russia might not step foot in Ukraine. Dipping a toe, though?
To the horror of the White House communications staff, President Joe Biden held a freewheeling, nearly two-hour-long press conference this week to mark the beginning of his second year. Much was said, and he ably deflected right-wing outlets' questions about the status of his brain and why he's so intent on implementing full communism. But he created a bit of a mess when discussing the possibly imminent invasion of Ukraine by Russia. In the case of such an event, what will the White House response be? Biden basically said: It depends on how invasion-y it is. If Russia makes a "minor incursion" into Ukraine, he said, "there are differences within NATO about what countries are willing to do." But the costs would be "severe" for Russia, he clarified, if it's a "major invasion." So it's like, if the Russian army just pops into the Donbas for a Sunday jaunt, some leaflet distribution, and then goes home, maybe the U.S. lets it slide? Boys will be boys, after all. If it takes Kyiv, eesh, bigger problem. The remark certainly did not sit well with Ukraine, and both the White House and State Department set about cleaning up Biden's remark almost immediately. But did Biden really say anything Vladimir Putin, who thinks every minute about exploiting splits in NATO, wasn't aware of?

Last Week Unranked
3. John Roberts
Maskgate.
It is not often that Supreme Court justices, from their majestic perch in dressing robes, dare respond to something as plebeian as a news report. But they did this week after an NPR story in which Nina Totenberg reported on the intra-justice masking gossip. Justice Sonia Sotomayor, who has diabetes, did "not feel safe in close proximity to people who were unmasked," Totenberg reported, so "Chief Justice John Roberts, understanding that, in some form asked the other justices to mask up." All of them did except Neil Gorsuch. This, Totenberg reported, was what prompted Sotomayor to start work remotely. The reporting earned two very carefully worded statements from justices. The first, a joint statement from Gorsuch and Sotomayor, said that "reporting that Justice Sotomayor asked Justice Gorsuch to wear a mask surprised us. It is false. While we may sometimes disagree about the law, we are warm colleagues and friends." The article never alleged that Sotomayor asked Gorsuch, though; it alleged that it was Roberts who did. So then Roberts issued his own statement: "I did not request Justice Gorsuch or any other justice to wear a mask on the bench," he said. In an extremely NPR-y column, Kelly McBride, the network's public editor, suggested that Totenberg issue a "clarification improving on the verb choice" about what Roberts allegedly did. Totenberg stood by her story and said that McBride "can write any goddamn thing she wants." One thing that has not been disproven about all of this is that Sotomayor has diabetes, has a seat next to Neil Gorsuch, who did indeed come to work unmasked, and that Sotomayor is now working remotely.

Last Week Unranked
4. Nancy Pelosi
Stonks.
Democrats could use a few wins on easy, popular stuff. One such thing would be to ban individual members of Congress from trading stocks. Yes! Do that! Bury anyone with campaign ads who dares vote against it! There are plenty of Democrats and Republicans interested in doing it, and it would be a useful boost to vulnerable Democrats. For some reason, though, House Speaker Nancy Pelosi, seeing this very easy thing to do, rejected it in December, suggesting that the current practice of disclosure of stock trades was enough. "We have a free-market economy," she told reporters in December. "They should be able to participate in that." You wonder sometimes if Democrats are looking forward to returning to the minority—you just get to make fun of the majority, vote no on everything, watch Kevin McCarthy sweat, etc. It's a cushy life. This week, however, Pelosi reluctantly changed her stance, saying that she still doesn't "buy into it," but if "members want to do that, I'm OK with that." Senate Majority Leader Chuck Schumer, when asked about the ban, said that he didn't own any stocks.

Last Week Unranked
5. Joe Manchin
Chonks.
With voting rights legislation left for dead indefinitely this week, Democrats are now turning to reviving the Build Back Better Act. The correct thing to do, and the thing which most Democrats have resigned themselves to at this point, is to get Joe Manchin to write down what he'll accept, convert it into legislative language, and pass it as soon as possible. Biden and the White House this week indicated they were ready to accept a "big chunk" of the BBB, if not their ideal original vision. The hardest part now, though, is getting Manchin to accept the pen. In his remarks with reporters this week, Manchin was characteristically all over the place. He reiterated that he hasn't been part of any serious talks about revitalizing the plan yet, but if he were, they would need to "start from scratch." But he did make certain human noises indicating there's still much he'd like to get done, saying he still wants to fix the tax code and bring down the cost of prescription drugs, two items that were in the BBB package. The one useful thing for Democrats in getting Manchin to write the plan—if they can—is that it gets them off the hook for the cuts that need to be made. Democrats had been uneager throughout the earlier drafting process to say no to any interest groups or members' pet policies, leading to a bloated package of temporary programs. They would love to be able to transfer that rage into the one Democrat capable of absorbing it.

Last Week Unranked
6. Mitch McConnell
Excuse me?
Mitch McConnell was majority leader long enough for us to forget that his true passion, where his creatively flourishes, is as minority leader. He's been effective this Congress in wielding the dark arts. He made the bet that facilitating the bipartisan infrastructure bill, which he supported, would make it more difficult for Democrats to pass the Build Back Better Act. It paid off. And this week, he watched as two other centerpieces of Democrats' agenda, an elections reform bill and a Voting Rights Act fix, crashed and burned. The filibuster, his treasured Senate relic, remains in place following a furious effort from Schumer to get rid of it. But in his glee to celebrate, he got a little loose with his words and made a cringeworthy gaffe that he won't soon stop hearing about. When asked what his message was to voters of color concerned about their voting rights in the midterms, McConnell said that "the concern is misplaced because if you look at the statistics, African American voters are voting in just as high a percentage as Americans." McConnell defended himself later, clarifying that he meant to say "all" Americans. It's worth noting that that argument, which the Surge hears often on the Hill from Republicans, is not a great defense.

Last Week Unranked
7. Susan Collins
You don't get points just for having a debate!!
The Senate is in such a sad state that a few minutes of actual debate on the Senate floor Wednesday night prompted the chamber to break out in applause—that's how rare actual debate is in the World's Greatest Deliberative Body. But the debate made the Surge livid because of what one of the participants, Maine Sen. Susan Collins, was getting away with. In short, Collins took umbrage at comments Georgia Sen. Jon Ossoff had made earlier in the day, asking why Collins and other senators had voted for the Voting Rights Act reauthorization in 2006 but wouldn't vote to restore a key tool of the law now. Collins insinuated he was a little brat who broke Senate rules for impugning another senator's motives and noted that the full VRA is still reauthorized until 2031. A lot of Republicans say this, and it sidesteps the question: Why won't they vote to restore federal preclearance of state and local voting laws, which is what the bill under consideration is all about, following the Supreme Court decision discarding the previous preclearance formula in 2013? Ossoff pointed this out to Collins, whose response was: Well, you've still got Section 2 of the VRA, which lets the Justice Department sue states and localities after the fact, creating an overload of cases. It revealed the gap in Collins argument: She voted for a bill with preclearance requirements in 2006, but wouldn't do so now, so does she think preclearance—which would prevent discriminatory laws from going into effect—is unimportant? Just as the debate was getting to this key question, though, other senators wanted to give their prepared speeches, so everyone sat down and clapped. Stop clapping for yourself, Senate!