Slate's guide to the most important figures in politics this week.
Welcome to this weekend's edition of the Surge, your weekly newsletter trying to keep up with the rapid, efficient pace at which D.C. institutions are solving all of America's problems to unanimous public acclaim.
If you didn't believe that voting rights legislation was toast before this week, you may want to start believing that it's toast. Chuck Schumer is even going to put it in the toaster to show you how toast it is. Trump crossed the line with Senate Republicans, meanwhile, when he was mean to a certain South Dakota senator, but at least he's still got Lindsey Graham. Sen. Marsha Blackburn had serious concerns about the "rap sheet" of a Black judicial nominee.
But let us begin with the senator who pulled the plug on this latest, perhaps final effort to nix the filibuster and pass voting rights legislation.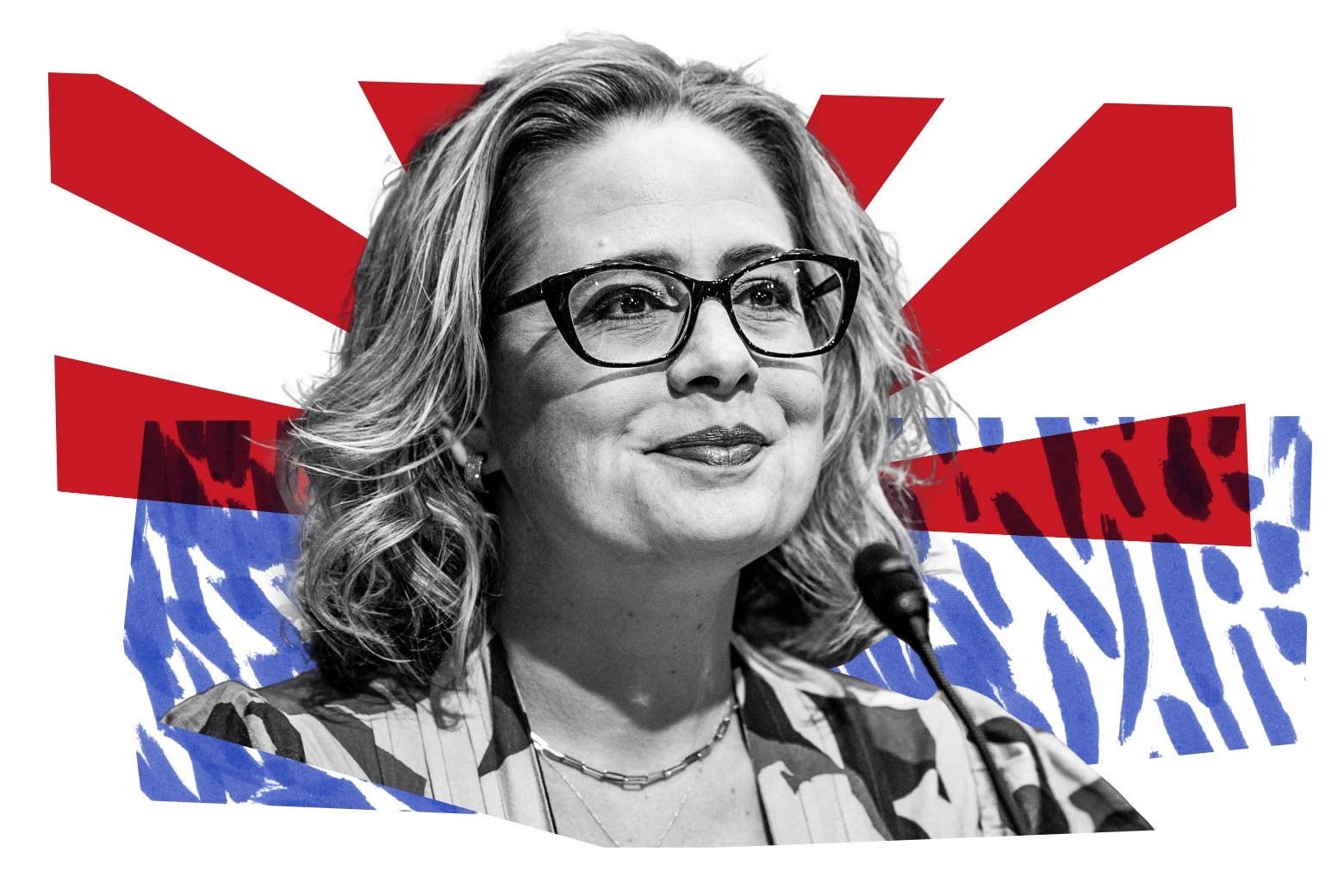 1.

Kyrsten Sinema Her turn with the dagger.

Sometimes we get so caught up in whether West Virginia Sen. Joe Manchin is going to flip on ditching the filibuster that we forget Arizona Sen. Kyrsten Sinema, Manchin's partner in defense of the chamber's sacred numerical norms. It was Sinema who took the lead role in the dyad this week. As Senate Democrats barreled toward a weekend vote on eliminating the filibuster in order to pass voting rights legislation, Sinema snuffed out whatever tiny hope remained. In a floor speech on Thursday, Sinema—before an audience of admiring Republican senators—reiterated that she would not eliminate the filibuster in any case, explaining that it would "worsen the underlying disease of division infecting our country." (Manchin was only a few hours behind her.) It was quite a way to welcome President Joe Biden to Capitol Hill, as he was about to visit Senate Democrats and urge them to break the filibuster. Unless some ~weird miracle~ goes down in the coming days, Democrats' voting rights legislation is finished, and the filibuster is here to stay. Again.

2.

Chuck Schumer Putting it on the record.

So … if a vote to change the filibuster is going to fail … why is Chuck Schumer holding a vote and devoting floor time to changing the filibuster? Many Democratic senators, including Schumer, want to go on the record to show that they were willing to change Senate rules to protect voting rights, and it was just lousy Manchin and Sinema who got in the way. And activist groups calling for them to change Senate rules to protect voting rights want—at the very least—to see the senators opposed to doing so get on the record with that opposition. The push to change the Senate rules has been nearly a year in the making and has never come close to getting there. Schumer is putting it to a vote and moving on.

3.

Stacey Abrams The great missed-speech caper.

As part of the buildup to the Senate's consideration of voting rights, Biden traveled to Georgia to deliver a sharp speech that a great number of Republicans found discourteous, unpresidential, and—buckle your seat belts, we're just going to say it—downright uncouth. Numerous Democratic senators and members of Congress rode Air Force One with Biden to the speech. One Georgia politician who was notably missing, though, was Stacey Abrams, the Georgia gubernatorial candidate whose political brand is almost synonymous with the voting rights fight. She chalked it up to a scheduling conflict, with a spokesman saying she had made a private "commitment she could not break." Now usually when someone says they can't join their party's president at a home-state speech because of a scheduling conflict, that's code for them not wanting to be seen with an unpopular president in their home state. Abrams' campaign called such insinuations "false rumors," and it's not as if her campaign has been scrubbing every mention of Biden in its speeches and campaign literature. Still, when you have a scheduling conflict with a presidential visit, you typically find a way to change your schedule.

4.

Mike Rounds No one speaks about sweet Mike Rounds that way!

It's not exactly a rare thing for Donald Trump to fart out a few statements a day trashing Republican politicians for perceived disloyalty. But he struck a nerve this week with one statement against South Dakota Sen. Mike Rounds. Trump called him a "jerk" whom he would never endorse again—never, ever, ever!!—after Rounds said on television that Biden had fairly won the 2020 election. Trump calling Mike Rounds a jerk might creep into his top 10 instances of projection, as it is very difficult for anyone who's met this extremely polite guy to describe him as a "jerk" with a straight face. It was a rare Trump statement that few Senate Republicans hesitated to push back on. "I take great exception to anybody that calls Mike Rounds a jerk," West Virginia Sen. Shelley Moore Capito said, "because he's one of the kindest, nicest, most sincere members that we have." Rounds, too, held his ground. "The former president lost the 2020 election," reiterated Rounds, who also said he was "disappointed but not surprised" by the ex-president's words. "This isn't new information. If we're being honest, there was no evidence of widespread fraud that would have altered the results of the election."

5.

Lindsey Graham A harmless threat to Mitch McConnell.

Moving on to GOP senators who are still properties of the Trump Organization, we turn to South Carolina Sen. Lindsey Graham. In an interview with Sean Hannity this week, Graham emphasized that any Republican leader must "have a working relationship with President Donald Trump. He's the most consequential Republican since Ronald Reagan." Graham was directing this dig at the actual most consequential Republican since Ronald Reagan, Senate Minority Leader Mitch McConnell. "I like Sen. McConnell," Graham added. "Can Sen. McConnell effectively work with the leader of the Republican Party, Donald Trump? I'm not going to vote for anybody that can't have a working relationship with President Trump." A couple of things to keep in mind about these Republicans who are either saying, or hinting, that they won't support McConnell in his next leadership election. First, it's a secret ballot, so they can say whatever they want in public and never have to be held accountable for it. Second, a party leadership election is not like a House speaker's election, where the speaker has to earn a majority of the whole chamber. A Senate leader just needs to get a majority of their own side's members. That leaves more than enough space for McConnell to manage defections. His perch atop Senate Republicans in the next Congress is not in jeopardy at all, especially if he leads his party back to the majority. But at least Graham got points with Hannity's audience.

6.

Marsha Blackburn Did she really… have to say… "rap sheet"… ?

We hate to report it, but report it we must: There was some procedural foofaraw in the Senate Judiciary Committee this week. Yes! So, there's an old practice in the Judiciary Committee where senators have to sign off on judicial nominees from their states before they're considered. This senatorial courtesy is in no way resilient enough to withstand the hurricane-force winds of contemporary politics, and Republicans ignored it 17 times to approve federal appellate judges under Trump. But this week, it was the first time that Democrats ignored the "rule," to consider the nomination of Andre Mathis for a Tennessee seat on the U.S. Court of Appeals for the 6th Circuit—over the objections of home-state Sens. Marsha Blackburn and Bill Hagerty. Blackburn, with her objection ignored, had to try to take down Mathis the old-fashioned way: by pointing to a history of old speeding tickets he forgot to pay that resulted in license suspensions. Her choice of words, though, was what got everyone's attention. Blackburn said she was disturbed by the "rap sheet" of Mathis who, if confirmed, would be the first Black man to serve on this particular circuit court. "We expect our judges to respect the law, not disregard it," Blackburn said. "If Mr. Mathis thought he was above the law before, imagine how he'll conduct himself if he's confirmed." This is the same Blackburn who, when her car was pulled over last year, flashed her congressional pin to a police officer to get off the hook. 

7.

Ruben Gallego Who needs to talk 2022 primaries when we can go straight to 2024?

This dumb newsletter at some point will turn its attention squarely to the 2022 election primaries. But first there are more pressing matters to cover, like 2024 election primaries. Sinema may not even have finished delivering her speech against blowing up the filibuster before Arizona Rep. Ruben Gallego, a Democrat representing Phoenix, decided to go to the House floor to give his own speech. Gallego called out Sinema by name in his remarks, saying Democrats in the House "won't shrink from protecting our democracy and the voting rights of all Americans. It's past time for the U.S. Senate and Sen. Sinema to do the same." Last fall, Gallego wouldn't rule out primarying Sinema in 2024, telling reporters that "voters in Arizona are upset with her, especially Democratic voters." His response to Sinema this week read like another step in that direction. So maybe we'll just cover this situation for the next few years? Let us know what happened in the midterms.